Tour home>> ? Route>> ? Photos>>

On Saturday July 5, 180 riders will line up in Brest, Brittany, to start the 2008 Tour de France. Of those 180, only a handful can be considered contenders for the overall win.

Here we pick out seven riders who are most likely to be wearing the yellow leader's jersey when the race finishes in Paris on Sunday, July 27.

We also select four sprint rivals who will be contenders for the green jersey, and pick out the man most likely to win the King of the Mountains shirt.

For a detailed description of how each of the jerseys are won, and for a list of every previous winner of the Tour de France, take a look at our About the Tour section.

The coveted yellow jersey is awarded to the rider who has ridden the race in the least amount of time. Consistency is key to a good performance – you have to be an all-rounder who can perform well in the mountains and time trials. Last year's winner – Alberto Contador – is not riding, as his team (Astana) have not been invited to this year's event. So 2008 will give us a brand new winner of the Tour…

CADEL EVANS


Age: 31
Country: Australia
Team: Silence-Lotto
Former mountain bike champion Evans has forged a long and very successful cycling career based on consistency. The quiet Aussie knows that you don't have to win every stage to win the race – and nor should you try. For this reason, his critics have dubbed him as boring, but already this year Evans has shown he's got a previously unseen spark to his riding. Is this the X Factor that elevates him from also-ran to champion? It's highly likely. One thing is certain, though, few people can time trial as well as Evans, and he can also match – if not beat – other riders' pace in the mountains.
Success rating:

ALEJANDRO VALVERDE

Age: 28
Country: Spain
Team: Caisse d'Epargne
Along with Evans, Valverde can be considered one of the outright favourites for the overall win. He's already won the 2008 Dauphine Libere – a pre-Tour warm-up race – and showed he's in fantastic form. Has he peaked too soon? Doubtful. Valverde is a calculating and aggressive rider whose only weakness is long time trials, which is where he lost time to his rivals last year.
Success rating:

DENIS MENCHOV

Age: 30
Country: Russia
Team: Rabobank
Menchov's Rabobank team had a torrid Tour last year. Team leader Michael Rasmussen was sensationally ejected from the race whilst wearing the yellow jersey thanks to some silly fibs about his whereabouts resulting in missed dope tests. Menchov had been Rasmussen's support man and must now be feeling that the Tour owes him a result that was taken away from him. He's a solid rider across the board, and has what it takes to get into the top five.
Success rating:

DAMIANO CUNEGO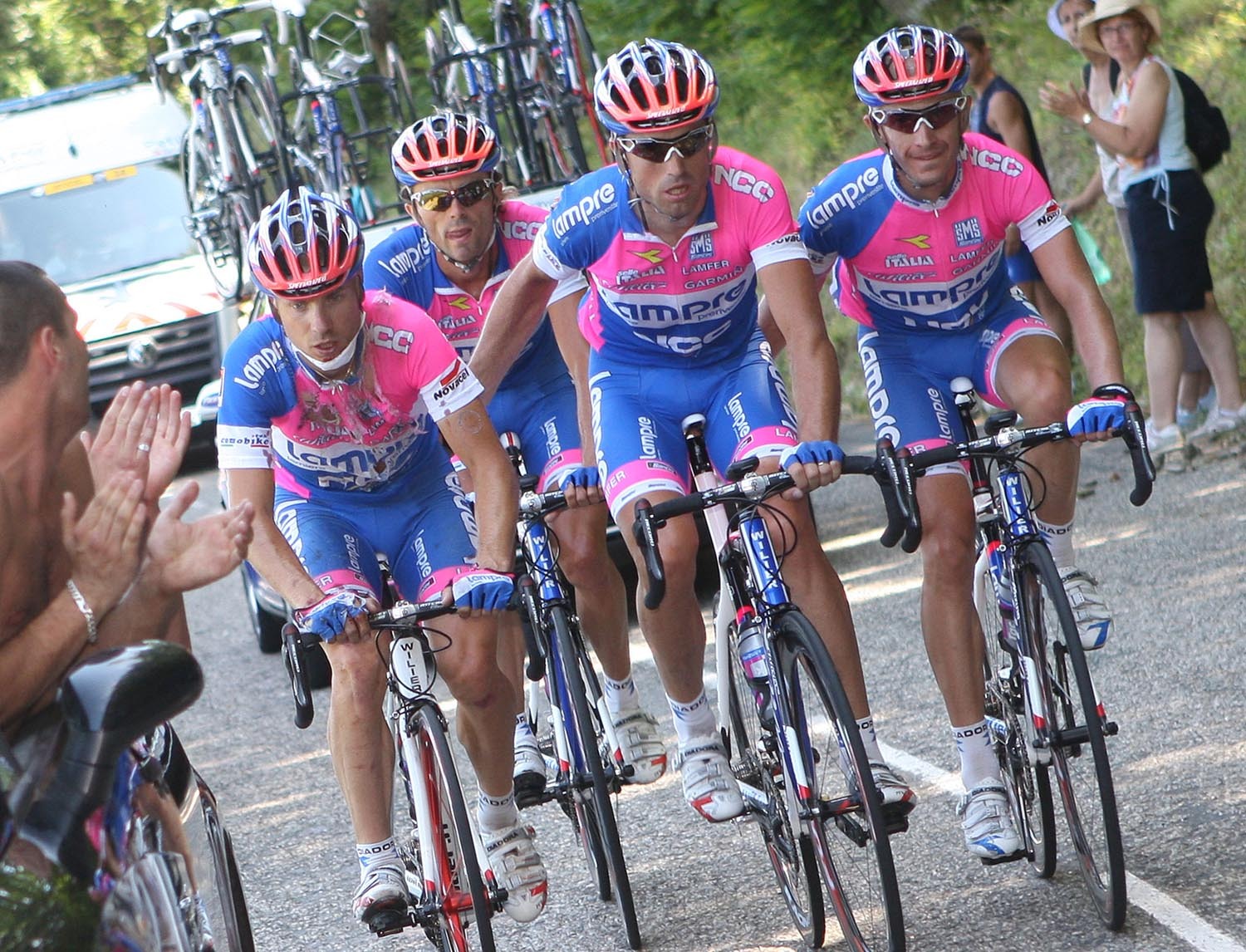 Age: 26
Country: Italy
Team: Lampre
The diminutive Italian rider suffers from yo-yoing form, but is still young enough at 26 to pull it together for a big result at the Tour. On his day, he's a great climber and can hold his own in the time trials – whether he can maintain this at the highest level for three weeks is the big question. He didn't ride the Tour last year, but was 12th in 2006.
Success rating:

CARLOS SASTRE


Age: 33
Country: Spain
Team: CSC-Saxo Bank
Sastre is no stranger to the Tour top ten, having featured in it regularly since 2002. With many of his old rivals gone, Sastre has a chance to pick things up in 2008 and move closer to the top step of the final podium. In all honesty, though, he lacks the spark needed to take the win. He's a consistent rider – like Evans – but just lacks the edge.
Success rating:

FRANK SCHLECK


Age: 28
Country: Luxembourg
Team: CSC-Saxo Bank
Schleck came 17th overall in last year's Tour, and there's no doubt that he'll be able to improve on that result this year. He's another consistent rider, but one without any real proven Grand Tour pedigree. As a team-mate of Sastre, it'll probably be a case of seeing who fares best and then getting the team behind a clear leader. Watch out for him in the mountains – the Tour's proving ground.
Success rating:

KIM KIRCHEN


Age: 29
Country: Luxembourg
Team: Columbia
Firmly ranked as an outside bet for the overall win, Kirchen could be a revelation in this year's race. He finished seventh last year, and that was largely due to his solid performance in the mountains. Columbia are a strong and experienced team, and are capable of giving him the support he needs – when not concentrating on leading out Mark Cavendish in the sprints (see below)
Success rating:

Also known as the sprinters' jersey, the green jersey is awarded to the rider with the most amount of points awarded for finishing in the top placings in a stage – and that means getting to the line first. With proven fastmen Tom Boonen, Alessandro Petacchi and Daniele Bennati not riding this year, there's a chance for one of the new sprinters to come through and bag the jersey.

THOR HUSHOVD
Age: 30
Country: Norway
Team: Credit Agricole
Hushovd is a far more adaptable rider than some of his sprint rivals. He doesn't need a pan flat stage and a huge lead-out train to punch his way to the front of the pack. in fact, it's on the tougher stages where Hushovd shows his class and builds up points that will be out of each for his rivals. Has to be the outright favourite for the green jersey.
Success rating:

ROBBIE MCEWEN
Age: 36
Country:
Team:
McEwen knows what the green jersey competition is all about He's ridden enough Tours and won enough stages to know what needs to be done. McEwen is an opportunist in the sprints, finding gaps to squeeze through to snatch the win. He's an exciting rider, but also nearing the end of his career. He didn't complete the Tour last year – you need to finish the race to get the jersey, no matter how many stages you win along the way.
Success rating:

ROBBIE HUNTER
Age: 30
Country: South Africa
Team: Barloworld
Hunter is a rider who will benefit from the absence of some of the bigger rivals – he'll no doubt step up and improve on his single stage win in 2007. It was Hunter who helped raise the profile of Barloworld last year – many critics viewed their 'wild card' entry into the Tour as a mistake. Hunter and team-mate Juan-Maurico Soler (see below) proved them wrong.
Success rating:

MARK CAVENDISH
Age: 22
Country: Great Britain
Team: Columbia
Cavendish is one of the most exciting British road riders ever. In the past two years – the period that he has been professional – Cav has quickly established himself as a sprinting force. He rode the Tour last year, but a combination of bad luck and crashes saw him quit the race with no wins. Things are different this year. He won two stages of the 2008 Giro d'Italia and finished the race – he knows he's got what it takes to beat the competition. However, he probably still lacks the experience to challenge for the green jersey so his aim will be stage wins rather than collecting points. There's always next year.
Success rating:

The distinctive white and red polka-dot jersey is awarded to the rider with the most points awarded from reaching mountain summits first. This is the domain of wiry, chisel-cheeked men with ultimate stamina.

JUAN-MAURICIO SOLER
Age: 25
Country: Colombia
Team: Barloworld
Soler rode his first Tour de France last year, and made himself right at home claiming a stage win and the King of the Mountains jersey – and finishing 11th overall. Soler's climbing agility has few rivals, even among the overall contenders, and it's hard to see anyone else challenging him for the polka-dot jersey.
Success rating:

TOUR DE FRANCE 2008: GUIDE
Tour de France 2008 homepage>>
News and features>>
Route & stages>>
Teams and riders>>
About the Tour>>