Last minute training tips for RideLondon
The big day is just around the corner but that needn't be a cause for concern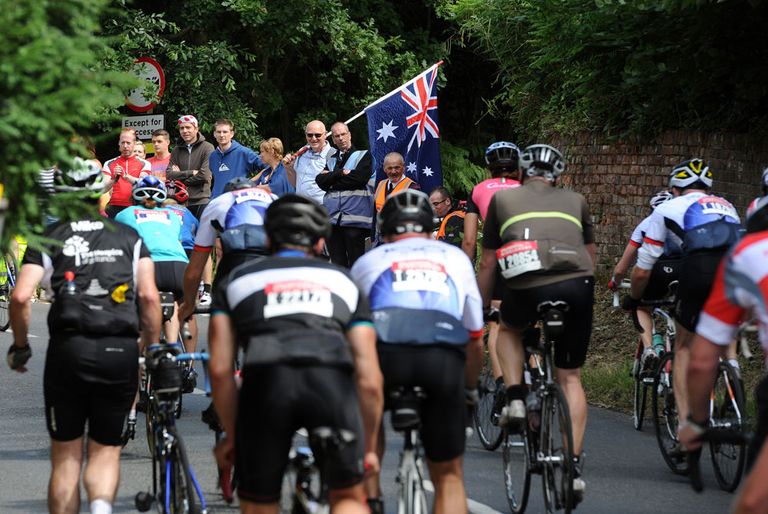 RideLondon is almost here – and if you're fighting rising waves of panic about making it round the 100 mile circuit, remember this: worrying solves nothing.
Even if you're bang on track with the training, the last few weeks and days are a good time to finalise tactics and strategy.
Either way, a century ride needs a plan so let's try to cover off some of the big basics of what your plan should include.
Training
The centre piece of any century plan is training to make certain you're going make the distance. But that doesn't mean you need to have a dozen century rides already nestling in your Strava training calendar.
>>> All the latest cycling training advice and videos
If you have the time, try to get at least one 60-70 mile ride in before the event. The adrenaline, sense of occasion and sheer presence of thousands of other riders has a surprisingly powerful effect – and that will almost certainly carry you through the uncharted territory and over the finish line on the day.
>>> Five invaluable tips to help you step up from riding 60 to 100 miles
If you're already riding good long distances on a regular basis, then increasing the length of rides by up to 10% per week will hone your form.
If there's only a week to go, don't panic train. It will achieve next to nothing and you run the risk of fatigue. It's far better to go into the event fresh and untested over the distance than knackered on the back of a pointless long ride.
Either way, a taper is essential. In the week before the event, confine your riding to a maximum of one or two short rides. If you're confident in your fitness then make these short, high intensity rides.
>>> Tips for effective rest and recovery after cycling
If you're less so, a couple of commutes to keep the legs turning is fine. Going into the ride rested is a huge advantage – so don't underestimate it.
Group riding
Being sucked along in a big group of riders at a decent pace is one of the most exhilarating experiences you can get on a bike.
On a century ride it has the added advantage of conserving a huge amount of energy. Experienced riders will strike the balance between enjoying the advantage of a draft and doing their turn at the front.
>>> Ride and race smarter: improve skills to stay safe in the bunch
If riding in a group is a more of a novelty then try your best to simulate close, fast riding with a bunch of mates before the event. Remember that it pays to "watch the jersey, not the wheel" so keep your eyes trained on the rider in front rather than glueing your gaze to his or her back wheel.
Hand signals for road riding
It makes it easier to judge changes in pace and reduces the risk of you being unable to react quickly enough to something unexpected. If you're relatively new to group riding, remember that calling out holes or pointing at obstacles is not weird behaviour, it's just sensible and nobody's going to laugh at you for doing it.
Pacing
Probably the easiest mistake to make, and one of the worst, is going out too hard. Mass start sportives on closed roads are exciting, you'll be pumped up and you'll get a surge of energy from being part of the event and surrounded by thousands of other cyclists.
>>> How to go faster by getting aero
This can easily translate into a very fast first hour. Unless you're used to sustained hard riding, this can be a real killer and you will pay the price later on. In the first hour of the event, throttle back and hold a pace that you know you can sustain for six or more hours.
This may mean lots and lots of cyclists passing you, but don't worry because you will settle in with a group who are going at your pace. Keep an eye on your speedo and make sure you have average speed displayed where you can see it easily.
>>> Common sense rules for modern road riding
You will know the kind of average speeds you're used to seeing in training. Dial back a bit and it will massively increase the chances of there being gas in the tank when you need it in the last 25 miles.
Nutrition and hydration
Posh words for eating and drinking – and there's an awful lot of confusing information out there so keep it simple. Eat something after the first hour and then eat something every half an hour.
>>> How to fuel for long distance rides
Drink just a minute or two before you're thirsty and drink plenty. The weather is obviously a massive factor in hydration, more so perhaps than nutrition, so if it's hot your fluid intake will definitely need to increase.
>>> Top 10 nutrition tips for peak performance
As you need to keep eating, try to take a variety of food with you so there's no temptation to skip eating because you just can't face another mouthful of the same thing. As a rule of thumb, real food like sandwiches cut up into bite size pieces (peanut butter and jam is good) tends to go down better in the first two thirds of the ride.
>>> Prevent muscle pain with good cycling nutrition
Use gels towards the end of the ride – they require less digestive effort when your body is beginning to tire and you'll feel more benefit from the quick hit of sugar when you need it most. Save a caffeine gel for the last hour. These work – and they can provide a real boost when you need it most.
>>> Top 10 time saving nutrition tricks
There are a lot of myths around the need to eat a massive carbohydrate rich meal the night before the event. A good dinner featuring pasta or rice is definitely a good idea, but don't massively over eat – it simply doesn't make a difference and, putting this delicately, the toilet provision at big events like this tends to be less than ideal. If you know what we mean…
The night before
If you don't sleep – don't worry. Obviously a good night's sleep is desirable but actually the evidence suggest a poor or broken night's sleep the night before an event has zero effect on performance. Try to make sure you get a really good night's kip the night before the night before the event.
>>> Sleep well, ride well
Don't forget your shoes –easier to do than you might think. Use the straps to hang them over your cross bar. And while you're at it, lay all your kit out, including any provision for bad weather, the night before.
Take a small amount of suncream in a Ziploc bag if it's forecast to be hot. Sweat degrades suncream and a quick reapplication, especially on the face, can save you from burning.
Charge your phone. Check your batteries in any devices and make sure your heart rate monitor or power meter is properly paired. It won't be easy to pair yours surrounded by a million others. If you need to carry them, plan where your car keys are going – preferably in a zipped pocket.
The day after
There's a lot of talk about "recovery rides". In fact, recovery involves lying down. There's nothing wrong with a gentle ride the day after if you feel like it, but it is far from essential.
Refill the tank with some good, wholesome food. If you like it and can run to it, a massage the day after a hard ride is a luxury. There's no firm evidence it enhances recovery, but it feels good.
>>> Refuel with real food after cycling
There is a reasonable amount of evidence that tired muscles can be helped to recover with compression clothing – but rest, good food and a modest degree of self-congratulation is probably just as good.
Good luck
Don't forget to enjoy it. A century is a great achievement and in the company of thousands of others it should be a memorable experience.