Road bikes: Light vs Aero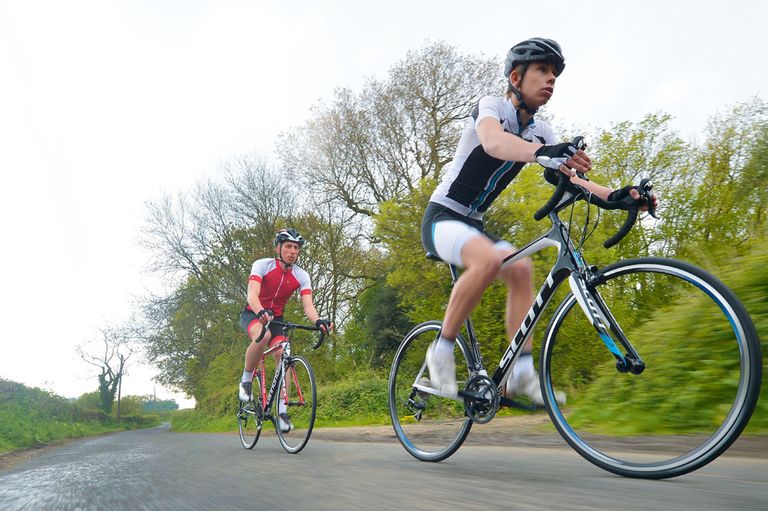 So, what's your dream bike? It's got to be a carbon frame, naturally. Steel is real, aluminium is great, but carbon means glamour, and bragging rights. It can't be any old carbon frame, though — it's got to be something a little special: unique design details, super-lightweight, and it's got to look the business.
The groupset must be high-end; we're talking Shimano 105 at least, Di2 at the top. Not just to look flash, but to give you top-notch, no-expense-spared performance. It's got to have matching brakes, too, as we're planning to really enjoy ourselves. To borrow a metaphor — one recently used in relation to Good Morning Britain presenter Susanna Reid's legs — you don't buy a Ferrari to keep it in the garage. These bikes are there to be ridden.
Is this the bike for me?
As the prices go up, so too does the importance of picking wisely and recognising your riding preferences. At £2,000 and above, we're looking at machines that are a step beyond the generally benign, sportive-friendly bikes found in the £1-1.5k market. These are specialist products.
Some will be designed as race bikes, the near cousins of machines used by professional cyclists. Others are tailored directly towards the 'challenge' ride enthusiast, with comfort uppermost. Others will exhibit a mixture of abilities. But even if you want to have your cake and eat it, you'll still need to decide which kind of cake you want.
Here we have two real beauties. The Cannondale SuperSix Evo is the world's lightest production bike frame — a jaw-dropping USP. It's not an aero frame with extras like camtail tubing, but its tubes are so thin it really doesn't need to be. And it's fitted with SRAM's flagship Red 22 groupset.
The Scott Solace is in theory a more civilised road bike. Again, it's not a pure aero frame, but it does have funky aero design details, such as internal cable routing and alternative rear brake placement. The engineer will talk about drag reduction; the bike buyer will just ogle the super-clean aesthetics. Better still, Scott has designed the Solace to be comfortable, so it represents a very potent mix.
£3799
Score
£1999
Score
Verdict
In the Cannondale's case, the unique selling point is obvious: its phenomenally light all-up weight. Nobody is ever going to say they wish their bike were heavier but, in terms of ride experience, it's hard to quantify just how different or better a 7.2kg bike is over, say, an 8.1kg bike.
However, to Cannondale's great credit, the SuperSix Evo never feels worringly light. The scales might say one thing, but your ride sensibilities tell you you're sitting aboard an ultra-stable, typical road bike. There's nothing delicate or feeble about the SuperSix Evo; it's simply a cracking bike, and its 'lightest frame in the world' title, gives additional bragging rights.
While the Scott has a different goal — to mix sportive bike comfort with top-end race bike design luxury — it's no less successful. Those design cues make for one of the most aesthetically pleasing bikes we've ever seen — and one that's just as pleasing in the saddle, with great levels of comfort and a very satisfying ride experience.
Make a choice Despite the SuperSix's quite thrilling ride, this particular Evo Red model is just a bit too rich for our tastes (and wallets). That's not to criticise the core of the bike, which is phenomenal. Look elsewhere on this page and you'll see the Evo 6 available for £1,699, or for £2,499 you could have an excellent Ultegra-shod version.
In this test, the value for money advantage has given the win to the Scott — by a whisker. It feels good to ride, it works well, and to our eyes it has an aura that exceeds even the rarefied air of the £2,000 price point. As a premium all-round sports bike, for events and every day, it's very impressive.