42 things for cyclists to do in 2013: Part one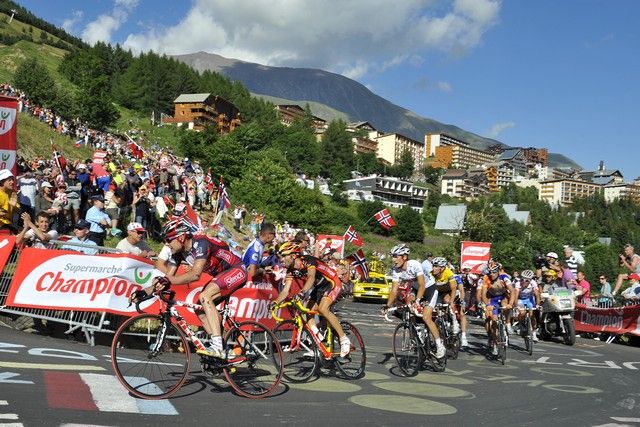 01 See the Tour de France
Every cyclist should see the Tour de France at least once in their life. You'll never really understand the hype until you stand by the road and witness the leviathan approach.
It's loud and tacky, heroic and extreme, flawed and dangerous all in one gaudy go. The Tour is sport, entertainment and commercialism rolled up into a wrecking ball that flattens everything before it.
This year is special though. No, not because it's the 100th Tour de France, it's because this is the first-ever British defence of the most revered jersey in cycling. That's why we've all got to go and see it.
The nearest stages are in Brittany and Normandy on July 9 and 10. I'll be on Mont Ventoux on July 14, but the most spectacular stage, probably the 2013 Tour's biggest contribution to its history, will be the two ascents of Alpe d'Huez on July 18. More info at www.letour.com.
02 Watch a cobbled classic
Take your pick. The big two, the Tour of Flanders and Paris-Roubaix are on March 31 and April 7 respectively.
The route, timings and everything you need to know about Flanders are here www.rondevanvlaanderen.be/en, and you can combine that one with number 11 on this list.
Roubaix is part of ASO, the Tour de France people, so details are on www.letour.fr/indexPRX_fr.html. There's also a Paris-Roubaix sportive if you fancy it: www.parisroubaixchallenge.com/us/medias.html.
03 Get to know your bike better
We aren't advocating doing every maintenance job yourself, but being self-sufficient works wonders for your cycling confidence.
Understanding your bike means you can tweak the best performance out of it, see and hear things that will help you head off problems, and you'll never be stranded with a puncture or suffer a minor breakdown while out on the road.
Enrol on a bike maintenance course or buy a bike maintenance book; there are plenty of both around. Then use the knowledge to carry out checks and do simple maintenance like lubrication and replacing worn parts, as well as keep things like gears and brakes working perfectly. A well-maintained bike lasts longer and gives a definite performance advantage.
04 Grow some sideburns
It's a while until 'Movember' rolls around again, so let's turn July into 'Suly' (erm, Sideburns July) by sprouting some support for Sir Wiggo when he rides into battle for the first British Tour de France defence.
Better still, just grow one sideburn to show equal support for the clean-shaven Chris Froome.
05 Do a credit card tour
It combines the freedom and thrill of self-supported cycle touring with the luxury of good food and a nice place to stay.
Camp by all means, and we applaud, admire and appreciate why you do it, but camping isn't for everyone. Throw in a dollop of British weather and it can be a lottery.
You need a bike with luggage carrying capacity, but most mountain bikes have that. Add some slick tyres and panniers, decide where you want to go, then head off. The CTC website (www.ctc.org.uk) contains loads of advice. Try a one or two-nighter first to test the water.
06 Revive the old-fashioned club run
When we did our 'bucket list' of things to do in cycling before you die last year we suggested joining a cycling club, or starting one of your own.
So if you did that, or were a member of one anyway, let's try to bring back the old-fashioned club run in 2013.
For one day spend the whole day with a bunch of mates out on your bike, just like clubs used to do every Sunday in years gone by. Meet up and ride out to a place for lunch, ride somewhere else for afternoon tea then return home. You'll easily cover 100 miles, maybe more.
07 Join British Cycling
If you aren't in already then at least consider it.
It's for the good of cycling and for all cyclists in this country that the internationally recognised national body has as many members as possible. But as well as strength
in numbers, BC offers a lot more, so take a look at www.britishcycling.org.uk.
We aren't saying other cycling bodies in Britain don't do good work, because they do, and join them if they represent the specific things you want from cycling. It's just that the greater the number of us there is in one place, the greater our voice will be.
08 Ride your bike for charity
Times are getting harder for charities so anything anyone can do to raise money for them helps.
Cycling's higher profile should help you get friends and family chipping in as sponsors. You could do a standard sort of challenge like a sportive, but it's better to do something different, something original, because it raises more money.
Group endurance efforts on rollers or wattbikes are good at attracting attention.
09 Go night riding
Cycling where the world is focused into a pool of light immediately in front of you, where you sense as well as see things and detect smells you wouldn't in daytime because you are working in an unfamiliar band of your senses, is something everyone should try.
A chance encounter with a night-time animal; seeing stars wink into brightness as your eyes become accustomed to the darkness; these are just two of the joys of cycling at night.
You need very good lights and reflective cycling kit, and even if you don't have to cycle at night it's still worth doing it just for the experience. Pick your roads, don't risk riding anywhere you aren't comfortable and stay safe. You might get hooked and take the next step - off-road night riding.
10 Watch the Lincoln Grand Prix
In an ideal Britain all bike races would be like this. The location is stunning, featuring a centuries old cathedral on top of a steep hill where the buildings rise up like the tiers of a wedding cake.
At the end of lap one the racers throw themselves at the hill and clatter up its cobblestones to the top. Then they zoom off into the countryside, but within minutes they're back again. Each time they climb the hill fewer racers are left at the front.
A crowd bays support not just for their favourites but for anyone left. This is repeated until a winner drags himself clear of the carnage. This year's race is on Sunday May 12; www.lincolngrandprix.org.uk.
11 Visit an iconic bike shop
Some shops are part of a longer British cycling story. They encouraged riders to pursue their dreams, they sponsored teams, individuals and races, and they were part of the fabric of cycling.
They're not just worth visiting because of their place in history; they often have fascinating displays of memorabilia for you to see as well.
So while you are on your travels and happen to be in one of the following places call in at Geoffrey Butler's in Croydon, Shorter Rochford in North London, Brian Rourke's and Swinnerton's in the Stoke area, JF Wilson's in Sheffield, Harry Hall's in Manchester, Sandy Gilchrist Cycles in Edinburgh and Dales in Glasgow. You'll be standing in the footsteps of champions.
12 Ride all of your training routes in the opposite direction
You'll be amazed how refreshing this is.
You get a totally new perspective on familiar places, and it takes no planning at all because you already know the way.
13 Put on a cycling event
If you've formed a cycling club then don't keep it to yourselves.
You don't have to put on a race, although if your
club was formed to race then your members' entries will be looked on more favourably if you organise races as well.
Be it a race, sportive or family event, British Cycling can help with advice and guidelines, and hands-on stuff like insurance. This link on its website is a good place to start: tinyurl.com/a7av386.
14 Start believing again
We've lost count of how many fresh starts top level men's pro racing and the Tour de France has had.
Doping scandals are followed by promises and resolutions, which are promptly broken, and it's all aided and abetted by a dope detection system that catches some but not others. A new chapter of this sorry history is being written now as we suffer the aftershocks of Lance Armstrong. Will things
ever change?
There have been huge advances in training. The best teams employ a backroom full of specialists who work together to optimise every stage of their riders' training and preparation. But not only have they refined training so that it's more effective than ever, they can plan training sessions and manipulate the way they are done so that they mimic the effects of doping, hopefully making it redundant.
Books could be written about this stuff, and no doubt they will, but it looks like there are reasons to start believing what you see again.
15 Set a personal challenge
Setting a goal and working towards it is a great motivator.
Simple things like accumulating the height of Everest while riding your local hills, or riding 1,000 kilometres in a month will help keep you going.
You can blog about it if you like, but you don't have to. Or you could join in initiatives that have already started, like Rapha's Festive 500, which gets people trying to ride 500 kilometres between Christmas Eve and New Year.
And of course there is the infamous Strava for you to set records and compete with others. Races are still the best motivation though.
16 Ride the Tour of Flanders Sportive
Most of the big sportives fill up very quickly because space in them is limited to a few thousand riders.
Unless you bang in an entry fast you won't get in, but the Tour of Flanders is taking up to 16,000 riders this year, so if your foreign sportive ambitions have been frustrated, give it a try.
Website: http://sport.be.msn.com/classicchallenge/1213
17 If you already ride sportives, try a race
Sportives are great. They are, without question, a challenge to complete, but there's nothing like the immediacy and the cut and thrust of a race.
Bunched racing, whether on a road, a circuit, a track or in a cyclo-cross event, isn't just you against the route, it's you against everybody else.
You focus totally on what you are doing, and you live absolutely in the moment during a race. Racing provides a terrific adrenaline rush, and when it's all over there's a feeling of real achievement, and of camaraderie.
Racing isn't ordinary life, it's a fight, but it's a fight where you end up still friends. Well, mostly. More info at www.britishcycling.org.uk
18 Ride a time trial
If you've never done it then riding a time trial will help you appreciate the masters of the discipline. Time trialling is the thinking man's or woman's cycle sport.
In a road race you either dictate or are dictated to. Time triallists must plan and they must study the course, spreading their effort along it by making constant calculations of their strength and adjusting their speed.
His manager once said that Sixties TT master Jacques Anquetil was the combination of a jet engine, a computer and a distillery. He meant he was a powerful rider with an infallible engine management system who drip-fed his energy with pinpoint accuracy through every metre of the course.
There are plenty of time trials for all comers held up and down the country; indeed, time trialling has long been a mainstay of British cycling. It's best to try a cycling club event for your first one, which are often around 10 miles long. Many clubs offer a 'try it to see if you like it' facility.
You just turn up, pay a small fee and you'll be given a start time. Before that though it's best to find out what the course is like and to ride it. Allow time for a decent warm-up then get ready in good time for your start. You'll be held up at the start so you can settle down, then you get a countdown, a big shove and you're off.
Time trials boost your fitness because there is nothing like the added spur of competition to create a hard workout. They let you know how hard you can push, and they can be used to refine your training. If you ride a 10-mile TT wearing a heart rate monitor, your average heart rate while doing so is a good approximation of your anaerobic threshold. Doing short intervals at that heart rate and longer ones five to 10 beats below will drastically improve your fitness.
More info at www.ctt.org.uk.
19 Do a track drop-in session
In the not too distant future there will be more velodromes in this country, so they will become part of more cyclists' lives.
And they aren't just for racing. Riding an indoor track is far more interesting than riding a turbo-trainer on dark nights or when the weather isn't safe outside. Outdoor tracks are a great traffic-free environment where you can get some speedy miles done.
They are also a great place to learn bunch riding skills - very useful if you're new to cycling. Tracks run drop-in sessions for new riders; try one, you'll be hooked. There's a list of British tracks here: tinyurl.com/abckfkj.
20 Ride a CW sportive
We've teamed up with Boardman Bikes and UK Cycling Events to run seven sportives in 2013:
Mar 10 (Sun) Wiltshire Wildcat Sportive: More info>>
Mar 23 (Sat) South Downs Spring Sportive: more info>>
Apr 21 (Sun) Surrey Hills Cyclone Sportive: More info>>
May 4 (Sat) Dartmoor Demon Sportive: More info>>
Jun 23 (Sun) Ripon Revolution Sportive: More info>>
Sep 1 (Sun) Malvern Mad Hatter Sportive: More info>>
Oct 13 (Sun) Box Hill Original Sportive: More info>>
To enter go to www.cyclingweekly.com/sportives
21 Become a cycling family
This isn't radical. You don't need to change your lifestyle, just start substituting car journeys for bike journeys whenever you can and make an effort to start cycling as a family.
Then when they are old enough to do it, encourage your kids to race - they'll thank you for it.
I was talking to the Milk Race winner Chris Walker's daughter, Jessica, recently and she told me she hadn't been interested in cycling at all, then her younger brother started racing.
She took it up took as well, and she made her World Championship debut in the 2012 junior road race. Now she says; "I enjoy it so much I asked my parents why they didn't make me race before."
Go to part two for numbers 22 to 42>>
This article originally appeared in Cycling Weekly magazine January 31 2013 issue