Brits should cycle and walk more, says government body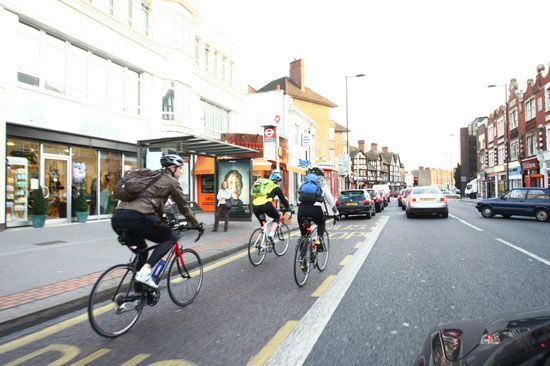 A government body says that cycling and walking short journeys from home should replace using a car in order to fight obesity and health issues in the British population.
The National Institute for Health and Clinical Excellence (NICE) published guidance notes on Wednesday to encourage "local authorities, schools and workplaces should introduce ways to enable their communities to be more physically active and change their behaviours". In other words, make it easier for people to cycle and walk, and they will do it.
The report concludes that as a whole, Britons are simply not active enough leading to a rise in coronary heart disease, stroke and type two diabetes. The risk of any of these three conditions can be reduced by up to 50 per cent if you are active.
A report published last year by Chief Medical Officers of England, Scotland, Wales and Northern Ireland concluded that inactivity was the fourth largest cause of death among Britons. The risks associated with cycling on Britain's roads are vastly outweighed by the risk of health issues if you lead an inactive lifestyle and solely use a car as your mode of transport.
NICE calculated that 61 per cent of men and 71 per cent of women in Britain are not active enough. The report says that the average time spent by Britons walking or cycling has decreased over the past 15 years 'from 12.9 minutes per day in 1995/97 to 11 minutes per day in 2007', although no statistic was published for the past five years where there has been an anecdotal boom in cycling across the country.
"As a nation, we are not physically active enough and this can contribute to a wide range of health problems," said Professor Mike Kelly, Director of the Centre for Public Health Excellence at NICE.
"We want to encourage and enable people to walk and cycle more and weave these forms of travel into everyday life.
"This guidance is aimed at making it easier for people to do this, as well as explaining the benefits and helping to address some of the safety fears that some people may have."
Philip Insall, Director of Health for Sustrans, called for more to be done to improve the safety of cyclists on the roads, as well as encouraging cycling and walking: "Inactive lifestyles are now causing as many early deaths as smoking - if a virus was this deadly it would fill the front pages and dominate debates in parliament.
"Walking and cycling are among the easiest ways to get active but many people are understandably put off by traffic, safety fears and lack of experience.
"It is now critical to make our roads safer and help everyone to feel confident on a bike or on foot. We need government and local authorities to implement these recommendations immediately to improve people's lives now and save the NHS billions in the long run."
As part of the guidance, NICE recommends that 'commissioners, managers and practitioners involved in physical activity promotion or who work in the environment, parks and leisure or transport planning sectors' consider the following:
Implement town-wide programmes to promote cycling for both transport and recreational purposes. These could include cycle hire schemes, car-free events or days, providing information such as maps and route signing, activities and campaigns that emphasise the benefits of cycling, fun rides, and others.
Ensure walking routes are integrated with accessible public transport links to support longer journeys. Signage should give details of the distance and/or walking time, in both directions, between public transport facilities and key destinations.
Develop and implement school travel plans that encourage children to walk or cycle all or part of the way to school, including children with limited mobility. Pupils should be involved in the development and implementation of these plans.
Ensure walking and cycling are considered alongside other interventions, when working to achieve specific health outcomes in relation to the local population (such as a reduction in the risk of cardiovascular disease, cancer, obesity and diabetes, or the promotion of mental wellbeing).
External link
NICE guidance notes PH41: Walking and cycling: local measures to promote walking and cycling as forms of travel or recreation
Related link
Government announces extra £20 million for cycling
CW's Health & Fitness section