Dr. Hutch: It was the best of bike shops, it was the worst of bike shops
With CW's search for the best bike shop in mind, the Doc recalls the charms of his erstwhile LBC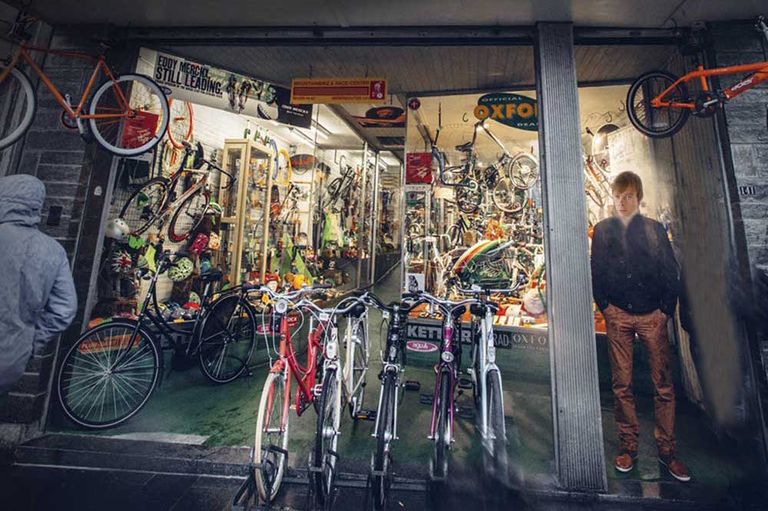 It was the best of bike shops, it was the worst of bike shops. I found it by accident, years ago, up a dingy back alley. It didn't advertise, it didn't have a sign. The windows were dark, the only clue was a few bikes outside that appeared to have been there since before the war.
These, I found out later, were bikes awaiting repair. For this bike shop didn't do anything as quotidian as sell off-the-peg bicycles — it was a shop for the sort of rider who would only ever dream of buying bespoke.
>>> Britain's best bike shops 2017 – Vote is now open
It combined, in the way bike shops used to, high-end aspiration with low-end ambience.
I was, as it happened, in the market for some wheels. So I went inside. A bell jangled, but no one came. Dark wooden shelves, stained from decades of leaky oil cans. Wheels hanging from the ceiling like stalactites. I looked in wonder, like the discoverer of a secret cave, far underground.
"Well, don't just stand there, what do you want?" said a voice.
I'd missed the small, goblin-like man sitting behind a counter in a gloomy corner. "I, um, I'm looking for some wheels," I said.
There was a long pause.
"Come on chum, I'm not f***ing clairvoyant," he said. "What sort of wheels?"
"Ah, Mavic Open CD rims on Chorus hubs. Ideally the ceramic braking surface," I said, for this was the era of handmade wheels. "Please," I added.
"What spoke pattern?"
"32-hole three-cross. Please."
"What spokes?"
"Double-butted. Please."
"Chump. Of course double-butted, do you think you're in Hamley's? What make?"
"Sapim laser?"
Old-school grouch
He sighed a sigh that seemed to come from the Earth itself. I was expecting to be told to come back in three weeks, and then three weeks later be told to come back in a month. Instead, without moving, he produced a long stick and flicked two wheels, one at a time, from the ceiling above me.
I caught them. "£180, cash only," he said. The prices were the only thing not stuck in the 1950s.
I went to the cashpoint, came back, and handed it over. He put it in a little drawer. "You're wasting your money on the ceramic braking surface," he said.
In all the times I went there it was the only occasion that I left with what I wanted. I never found out the proprietor's name, and I never managed to ask him for anything he approved of.
Watch: Dr. Hutch - How to ride a penny farthing
When I requested a Flite Titanium saddle he said, "What does a lardy boy like you want with a lightweight saddle? Try a diet." He wasn't trying to cover up a gap in his stock — he had the saddle on a shelf. But I couldn't have it. Not even after I showed him the cash.
He intensely disliked selling clincher racing tyres, clipless pedals, and anything described by the manufacturer as 'aerodynamic', and told you so. Things he refused to sell altogether included helmets, any chainring smaller than a 42, and bar tape with cushioning. He banned you from the shop if you asked for energy drinks.
He had a wooden chest with about a thousand tiny drawers. In it he had nuts and bolts and sprockets in every imperial size the old Empire could imagine. These were stockpiled against the day that the metric system would be unmasked as a communist plot.
The shop is gone, now. I don't know when it closed exactly — I'm afraid I defected to a more modern shop where they were not only prepared to sell you a pair of sunglasses, they would let you try them on before deciding. The old site is a coffee shop now, inevitably.
Even after I'd stopped going there, it was nice to know that there was a place where five-speed was cutting edge, the only energy drink that mattered was tea, and Fausto Coppi would be forever in his glory.
For all that, I can't really say I miss it.