Brits look to learn from difficult day in Mendrisio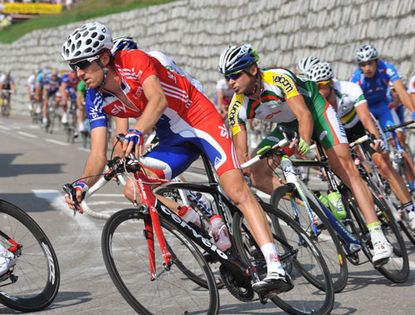 While the Australian team celebrated winning the men's world title for the first time, a few metres away, the Great Britain team was left to lick its wounds and look for the positive aspect of a very hard day of racing.
The hoped-for result of a rider in the top 20 didn't happen, but everyone learned from being involved in a major world championship team. That can only help when Mark Cavendish targets the world title in Melbourne in 2010 and in Copenhagen in 2011. Hopefully things will go much better on the expected flatter courses.
Great Britain had nine riders in the race and everyone rode well early on, doing their specific jobs of leader support, feeding and positioning.
Ian Stannard crashed out early after his tub rolled and then he hit the Great Britain team car. Fortunately, the car came off worse.
The others did what they could as the race wore on but lost contact at various stages. Most pulled out. Steve Cummings was Britain's best finisher in 52nd place, 5-20 behind winner Cadel Evans (Australia). Roger Hammond also finished, in 92nd place, in the main bunch at 10-54.


Millar battered and bruised
David Millar was not on a good day and his performance was derailed by a crash mid-race. It left him with a blooded and swollen knee. He also damaged a brake lever and had to change bikes. He continued on in the race but was dropped and pulled out five laps from the end.
"It was one of those days when everything was going wrong. And it was of those days when you don't want anything going wrong," Millar told Cycling Weekly.
"The crash happened when I was a the top of the climb. I was eating something and I had my hands off the bars. Some guys fell down in front of me. It was one of those stupid crashes and I barely had time to get my hands on the bars and just went flying into it. I banged my knee pretty hard."


Cummings gives it a go
Steve Cummings took over team leadership from Millar for the finale of the race. He was well placed but admitted he was unable to stay with the strongest riders when the race exploded.
"Everyone did a good job but when it went with two to go, I didn't have the legs. That was it. It was about having the legs and that's all I had. I felt good but didn't have the next gear," he said.
"It was going to be for Dave [Millar] and my job was to be there from laps -4 to -2. We'd planned that if something happened we'd switch roles and so when he crashed I had to try and step up. I was in the right position thanks to everyone else but I didn't have the legs. No excuses."
Top British finisher Steve Cummings
David Millar with the signs of his crash
Roger Hammond
Road World Championships 2009: Related links
News
Brits look to learn from difficult day in Mendrisio
Kennaugh proud of gutsy fourth place performance
Pooley disappointed with ride in women's road race
Cooke to fight back in women's road race after difficulat season
Millar ready to take command of Worlds team
Kennaugh ready for under-23 road race
Wiggins accepts time trial defeat
Cancellara says TT victory was 'most beautiful ever'
Men's time trial start list
Pooley disappointed with 11th in time trial
Ellingworth explains Cavendish withdrawal from Worlds
Dowsett happy with world-class ride in under-23 TT
Manning praises Dowsett after Worlds TT ride
It's Cavendish or Stannard for final worlds place
Great Britain names world championships team
Millar won't ride worlds time trial despite Vuelta win
Wiggins quits Tour of Britain to focus on worlds TT
Out of sorts Cooke abandons Tour de l'Ardeche
Cavendish keen to ride worlds despite illness
Millar set to lead GB road race team at the Worlds
Brits head home to fight for worlds places
Reports
Evans wins World Champs road race
Kennaugh notches up fourth for GB in U23 road race
Guderzo solos to victory in women's road race
Cancellara blasts to third Worlds time trial title
Men's time trial as it happened
Armstrong repeats 2006 world champs win for USA
Under-23 Men Time Trial
Women's and under-23 men's time trials as they happened
Photos
Men's road race by Graham Watson
Men's time trial gallery by Graham Watson
Women's time trial gallery by Graham Watson
Under-23 men time trial gallery by Graham Watson
Thank you for reading 20 articles this month* Join now for unlimited access
Enjoy your first month for just £1 / $1 / €1
*Read 5 free articles per month without a subscription
Join now for unlimited access
Try first month for just £1 / $1 / €1