Ghent Six Day 2018: everything you need to know
Our quick guide to the Ghent Six Day track event, which takes place in Belgium every November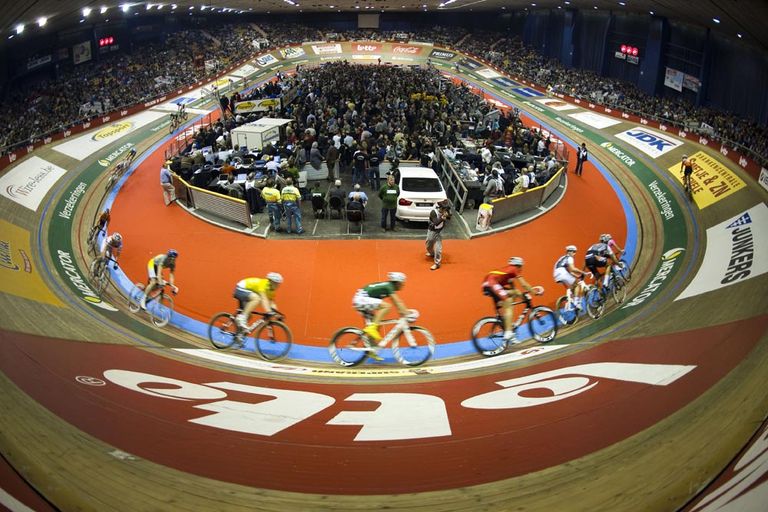 (Image credit: Watson)
The Ghent Six Day is an annual track cycling event held in the Belgian town of Ghent.
The 2018 edition of the event takes place over November 13-18.
Here we present an easy-to-follow guide to the Ghent Six Day.
So, why's it called a Six?
It's called a Six because the races last for six days. Six Day racing first gained popularity in the late 19th Century at New York's Madison Square Garden - hence the Madison - and for many years the racing really was 24-hour a day stuff. Teams of two raced round the clock for six days and nights, with one member of the team racing on the track at any one time, the other resting.
Twenty-four-hour racing? That's bonkers
It certainly is but it survived in Europe until the 1960s until finally common sense prevailed. It had become common for teams to neutralise the racing in the wee, small hours and the crowds didn't hang around either.
So how long does it last these days?
The Ghent Six Day runs for five evenings from Tuesday to Saturday, and a Sunday afternoon. The racing finishes at either 1am or 2am (6pm for Sunday's afternoon session).
Who's on the start list in 2017?
With Sir Bradley Wiggins having retired from the sport and Mark Cavendish resting up ready for his return to the road, there is a gap in the market for legendary Six Day pairings, but Ghent still has a quality field.
One of the faster sprinters in the world, Elia Viviani will be making an appearance, teaming up with fellow Quick-Step Floors rider Iljo Keisse.
Belgian track star Kenny De Ketele will be in attendance, but his regular partner Moreno De Pauw will be replaced by fellow Belgian Robby Ghys.
De Pauw will instead be riding in a partnership with Belgian Lindsay De Vylder.
Winners of the Six Day London Yoeri Havik and Wim Stroetinga will also take to the boards.
Big names will also be riding in the women's category, with Kirsten Wild from the Netherlands and Jolien D'Hoore from Belgium amongst the most notable.
Men
1. Roger Kluge (Ger)/ Theo Reinhart (Ger)
2. Kenny De Ketele (Bel)/ Robby Ghys (Bel)
3. Jasper De Buyst (Bel)/ Tosh Van der Sande (Bel)
4. Iljo Keisse (Bel)/ Elia Viviani (Ita)
5. Yoeri Havik (Ned)/ Wim Stroetinga (Ned)
6. Lindsay De Vylder (Bel)/ Moreno De Pauw (Ned)
7. Jonas Rickaert (GBr)/ Stijn Steels (Bel)
8. Marc Hester (Den)/ Gerben Thijssen (Bel)
9. Nick Stöpler (Ned)/ Fabio Van Den Bossche (Bel)
10. Otto Vergaerde (Bel)/ Jules Hesters (Bel)
11. Jesper Morkov (Den)/ Roy Pieters (Den)
12. Francesco Lamon (Ita)/ Michele Scartezzini (Ita).
Women
1. Kirsten Wild (Ned)
2. Annelies Dom (Bel)
3. Jolien D'Hoore (Bel)
4. Lotte Kopecky (Bel)
5. Shar Bossuyt (Bel)
6. Gilke Croket (Bel)
7. Marit Raaijmakers (Ned)
8. Kirstie van Haaften (Ned)
9. Valentine Fortin (Fra)
10. Amy Cure (Aus)
11. Anita Stenberg (Nor)
12. Martina Fidanza (Ita)
Under 23
1. Bryan Boussaer (Den)/ Martin Mollerup (Bel)
2. Arne De Groote (Bel)/ Nicolas Wernimont (Bel)
3. Tuur Dens (Bel)/ Brent Van Mulders (Bel)
4. Vincent Meyers (Bel)/ Robbe Snels (Bel)
5. Rhys Britton (GBr)/ Ethan Vernon (GBr)
6. Nils Weispfennig (Ger)/ Calvin Dik (Ger)
7. Victor Charlot (Fra)/ Florentin Lecamus-Lambert (Fra)
8. Filippo Ferronato (Ita)/ Jacopo Cavicchioli (Ita)
9. Arne Birkemose (Den)/ Anders Fynbo (Den)
10. Samuel Watson (GBr)/ Zach Bridges (GBr)
11. Jb Murphy (Irl)/ Fintan Ryan (Irl)
12. Oliver Frederiksen (Den)/ Matias Malmberg (Den)
What's the racing like?
Exciting but it can also be complicated to follow. There are a combination of events including:
60-lap points race: Points on offer every ten laps
Flying-lap time trial: One team member winds up the pace and then hand-slings his team-mate who is timed over the last lap
Elimination races: Raced as pairs and individuals, last man over the line on the designated sprint laps is eliminated
Derny races: Large men on motorcycles pace the riders
Scratch: races A basic free-for-all, first over the line wins
500m time trial: Fairly self explanatory
Madison: Racing as pairs, one rider in the race at a time, the riders swap over by hand-slinging each other into the action. Aim is to lap the field to increase the chance of winning the final sprint
How do they decide who wins?
It can get complicated but basically it's about trying to gain laps on the rest of the field, typically in the Madison races.
Points are awarded for every race, as well as sprint laps during the races. But there's no point being half a dozen laps down with a stack of points - you've still got to keep up. For every hundred points won, the team is awarded a free lap too.
How far do they race?
It's difficult to calculate as the riders are in and out of the race so frequently. But it's a wonder they don't go dizzy, lapping at around 11 or 12 seconds, covering hundreds of laps a night. In a week each rider will have covered not far off 1,000 kilometres - it's a tough week.
I can't understand Flemish, how will I know when the sprint laps are coming up?
Don't worry, there's a loud siren to signal sprints and the scoreboard should keep you in the picture.
Why are some riders listed on teams that they are not usually sponsored by?
Local sponsors pay to be associated with the teams.
Why the hype?
The Kuipke velodrome has an aura no other velodrome in Europe possesses. For a start the short 166-metre track makes it a tight, intimate venue, and its tumbledown, slightly worn-around-the-edges feel only adds to the charm.
Then there's the aroma - broiling hot dogs, beer, cheap perfume... And that's just the riders!
The Ghent Six Day may not be the slickest but it's the most authentic and the fans turn out year after year to pack out the arena. It's noisy, boozy and exhilarating.
How long has it been going?
Since Tuesday night... Oh, I see what you mean... the first Ghent Six was held in 1922 and was won by Marcel Buysse and the man with the greatest name ever, Oscar Egg. Great rider, but he didn't half cause a mess when he fell off.
The legends of Ghent are Patrick Sercu (who won it 11 times), Aussie Danny Clark (six wins) and the more recent hero Bruno Risi.
Isn't the racing all fixed?
How dare you suggest such a thing! Look, arrangements may be made and start money may depend on a team getting a certain result but the racing is too hard to be fixed.
The fans know too much to be conned by a team deliberately easing up too much. Of course the suspense has to be retained but it's not as pre-determined as some would have you believe.
Why do they tuck their jerseys into their shorts?
It's a tradition nowadays, harking back to a time when jerseys were baggy and had to be tucked into shorts to aid aerodynamics a little.
It looks ridiculous - we wouldn't recommend it for a Sunday club run, you'll be laughed out of town. Mind you, long socks seem to have taken off.
More info: Ghent Six Day website
The original version of this article was written by Lionel Birnie