Guide to healthy barbecue cooking
Come rain or shine, the summer months signal the start of barbeques and outdoor eating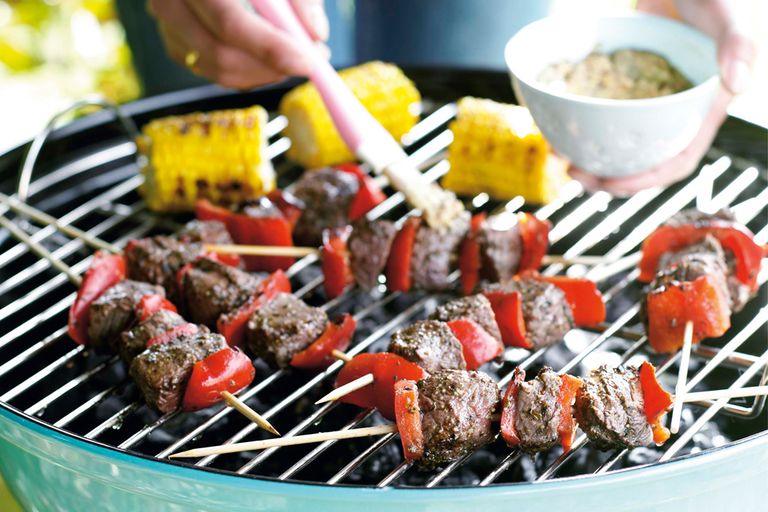 Although we love alfresco dining, our waistlines often bear the brunt. But this doesn't mean banning the barbeque - with a little imagination you can create a BBQ feast to benefit your health.
Grill, but don't burn
As the mainstay of a BBQ, meat tends to get the most attention. A good source of high-quality protein, meat can support muscle synthesis and repair in the post- exercise period.
When it comes to making healthier choices, it goes without saying that processed meats are best avoided - not only do they contain additives, fillers and sugars, high intakes of processed meats have been linked to cancers of the digestive tract. Opt for making your own burgers and if you're choosing sausages, go for those with a high percentage meat content.
>>> How to fuel for long distance rides
It might be tempting to be a flamethrower, but overly well-done and burnt meat should be avoided. When cooked at high temperatures the amino acids (protein units) in meat react to form compounds known as heterocyclic amines, or HCAs, chemical compounds which have been linked to cancer risk. The smoke that is produced from fat dropping onto the heat also contains harmful chemicals, which means that it's best to use lean cuts.
>>> Top 10 nutrition tips for peak performance
Cooking smaller pieces of meat and precooking in the oven can reduce risk as the length of cooking time and temperature both affect formation of HCAs. Marinating before cooking is also helpful (see marinade master).
If you're trying to moderate your meat intake don't forget that fish lends itself well to the barbeque - try prawn skewers or sardines. Tuna and salmon are also rich in omega 3, which can help protect heart health.
Marinade master
As well as tenderising and adding flavour, research shows marinating meat can significantly reduce the formation of HCAs, with some studies showing up to a 60 per cent reduction. It's believed this is thanks to the protective elements of the antioxidants in herbs and spices.
Some marinade ingredients such as garlic, lemon and turmeric can also help to protect against food-borne bacteria, while rosemary has natural anti-inflammatory properties.
>>> Six simple steps to healthier eating
Pop your chosen marinade ingredients (usually oil, an acid such as lemon juice, and spices) in a large plastic food bag, add your meat or fish and store in the fridge until ready to use - thinner and smaller pieces of meat will marinade faster.
New grain terrain
Once you've sorted the meat, salad and vegetables, all that remains is the carbohydrates. Your typical refined white burger bun offers little in the way of vitamin and mineral content, so opt for more nutritious grains which will do more than top up your glycogen stores.
>>> Top 10 time saving nutrition tricks
Sweet potatoes are a good source of soluble fibre and beta carotene, while quinoa boasts higher levels of protein than other cereals. Black and red rice is rich in antioxidants and adds extra colour to salads - try batch cooking and use leftovers in lunchboxes to save time during the week.
Veg out
Unlike meat, grilling vegetables doesn't result in the formation of harmful compounds, so they're a good option for the barbeque.
Thread slices of corn on the cob, quartered tomatoes, chunks of courgette and aubergine with sprigs of rosemary. Large flat mushrooms topped with feta also make a great vegetarian friendly alternative to burgers.
Sweet stuff
Swap high-sugar puddings for barbequed fruits which will count towards your five-a-day. Soft stone fruits such as plums and nectarines work particularly well - wrap in foil and sprinkle with cinnamon. Once baked, serve with yoghurt or ricotta, toasted almonds and a little honey.
Salad daze
Gone are the days of limp lettuce and soggy tomatoes - with a little imagination salads can take centre stage. Choose dark and bold coloured vegetables as these tend to contain the highest levels of antioxidant compounds which can help to offset oxidative stress in the post-ride period.
>>> The importance of power-to-weight, and how to improve yours
According to researchers at Tufts University, spinach, beetroot, red peppers, red cabbage, sweetcorn and aubergine are some of the most potent. Try a mixed watercress and spinach salad with sweet potato wedges, roasted peppers and aubergines or a beetroot slaw.
When it comes to salad dressing, watch out for fat-free varieties - these can be higher in sugar and additives so check the label. There's nothing wrong with dressing your salads with extra virgin olive and lemon - a number of vitamins and antioxidant compounds are better absorbed in the presence of dietary fat.
Avo-boost
Researchers at Ohio University found adding avocado to salsa boosted antioxidant uptake by up to 15 times that of a fat-free salsa. It's thought the naturally present fats benefit absorption.
Chip and dip
If your standard pre-barbeque preparation involves popping open a bag of kettle chips and tub of sour cream dip it's time for a rethink. It's easy to squander several hundred calories on a couple of handfuls of crisps and dips, and that's before the main event.
>>> Can crash diets work for cyclists?
The combination of starch, fat and salt is an addictive mix that you won't be able to refuse so those kettle chips are best given a wide berth.
Revive your palate by whizzing up a couple of home-made dips. Tzatziki is one of the easiest - simply stir grated cucumber, a clove of crushed garlic and handful of shredded mint into Greek yoghurt. Strained yoghurt lends itself perfectly to dips and the higher protein content will aid muscle recovery.
>>> Refuel with real food after cycling
Salsa is another winner - not only is it low in calories, it ranks highly on the antioxidant scale. Dice half a dozen tomatoes and mix with chopped onion, garlic, chilli, coriander and lime.
No fresh ingredients to hand? Turn to the cupboard - a tin of pulses is all you need to whiz up your own hummus or bean dip (see hummus made easy).
Serve with chunks of pepper or toasted wholemeal pitta strips - the fibre-rich content of the pulses and wholegrains will keep you feeling full.
Hummus made easy
Drain and rinse a tin of chickpeas or cannellini beans and place in a food processor with a clove of garlic, a heaped spoon of tahini (sesame seed paste), a squeeze of lemon juice and 50ml ice cold water. Blitz until smooth.
Photos from the Cycling Weekly media archive