Plans to ban traffic at London's notorious Bank junction revealed
A consultation will reportedly open next month to propose a ban on traffic at the Bank junction in order to make the area safer for cyclists and pedestrians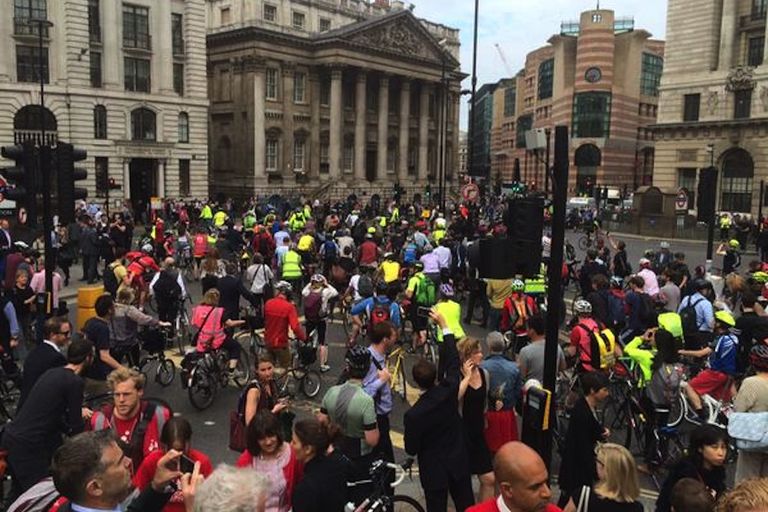 One of London's busiest and most dangerous road junctions could see all traffic except buses banned for a 12-month period to make the area safer for cyclists and pedestrians.
The junction outside the Bank of England was the scene of a fatal collision between an HGV and 26-year-old cyclist Ying Tao in June and has been the scene of several protests since.
According to London24, a joint consultation will be launched in November between the City of London Corporation and Transport for London about a year-long trial of the scheme.
The paper reports that architect and town planner Michael Welbank announced the 'Battle for Bank' plan at a formal dinner, despite it not being meant to be revealed until the end of November.
Chairman of New London Architecture, Peter Murray, wrote on his blog: "In his speech, Michael Welbank, Chairman of P&TC, launched the 'Battle for Bank' – a plan to remove all vehicles except buses from Bank Junction and restore it to its traditional role as a major public space in the Square Mile.
"The busy six way junction is a blight on the City, polluted and dangerous, it was the site of the death of Ying Tao, a young employee of PriceWaterhouseCoopers, in June this year. She was crushed by a construction HGV.
"The Corporation has plans to remove through traffic from the junction making it more friendly to pedestrians and cyclists for a twelve month period in order to test the proposition in the way that Mayor Bloomberg did in New York's Times Square. If it works it will be made permanent."
Eight cyclists have died on London roads this year, including Ms Tao. Protests and die-ins have been held around the capital to highlight the need for an improvement in cycling safety, including hundreds of people blocking the Bank junction in June, days after Ms Tao's death,