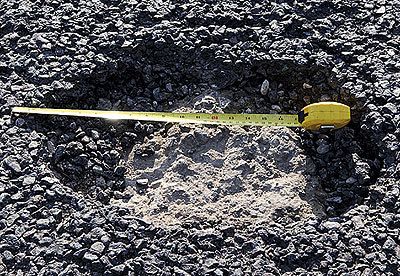 NOW you can get those potholes and off-road trail obstructions reported within minutes using the CTC?s revolutionary new online service www.fillthathole.com and www.clearthattrail.org.uk
Over 700 reports had been filed with local authorities within the first week of the websites launch. Once notified, the local authority must make repairs.
All you have to do is pin-point the site on the internet by zooming in using a satellite imaging system that identifies the spot and automatically provides map co-ordinates. Your own photos and information, including measurements of the hole, can be included and all this information then zapped by email to the relevant local authority.
The CTC say they will be working with local authorities to help them meet their duty to keep the roads and trails well maintained.
Cycling Weekly?s own pot-hole campaign, which aims to award the ?Buckled Wheel Trophy? to the worst offending Local Authority will be monitoring the fillthathole.com closely.