Subscribe to Cycling Weekly for just £5
To celebrate our 125th anniversary we are offering new subscribers 12 issues for just £5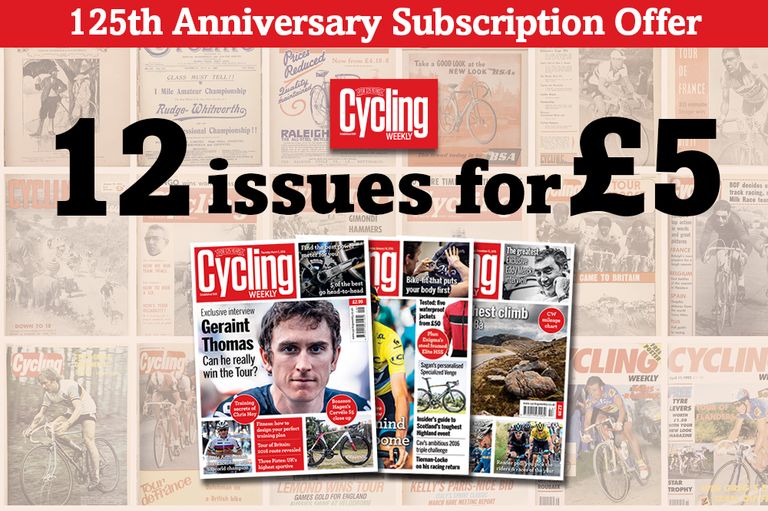 We are 125!
In this week's issue we're celebrating a century-and-a-quarter of covering cycling.
"Run by boys for boys" is how the snooty editors of the established cycling press described Cycling when it was launched in 1891. These editors, perched high on the saddles of their Ordinary bicycles – or penny-farthings – looked down on riders of Starley's new chain-driven bicycle as "seeking to become cyclists the easy way". But Cycling's visionary founder, Edmund Dangerfield, saw that the new type of bicycle was here to stay – and what's more, it needed its own weekly magazine.
In a special pull-out supplement, starting with the story of the first issue, we take a look at how we've covered the most iconic racing moments of the last 125 years, from the great Frank Southall up to Britain's first Tour winner Bradley Wiggins. We also look back at the most famous bikes and technology. If you're after a retro training plan we've found one that the legendary Reg Harris wrote for us. You'll need a silk scarf if you're to follow it properly. We've unearthed some vintage adverts that will make you laugh and cringe. And the current stars of cycling describe how Cycling Weekly inspired them to start racing.
Here's to the next 125 years!
To take us up on this fantastic subscription offer of 12 issues for just £5, which is less than 50p per issue, click here.