What's the most unusual item of food you've taken cycling?
This week's Big Question asked CW readers to name the most unusual foods they've taken cycling to keep them fuelled. In association with Decathlon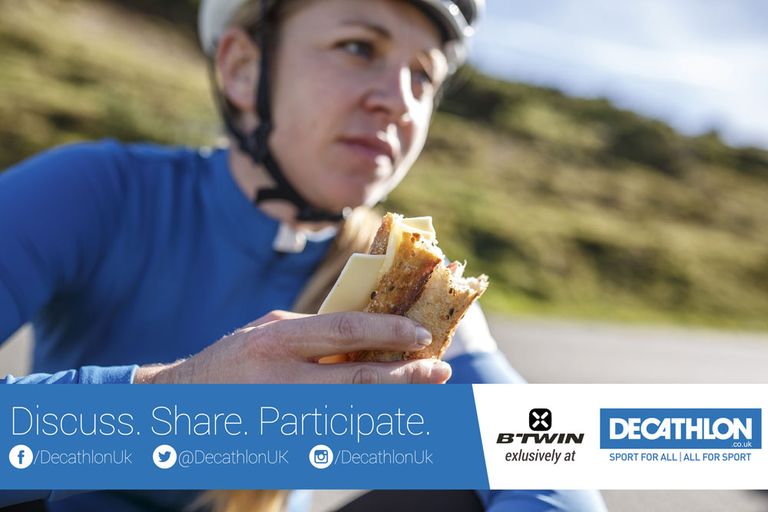 We all know the foods we should take cycling to keep us going; an energy bar, a gel, maybe a nice sandwich if you're out over lunch. But those rules aren't binding, so we thought we'd ask the CW what were the most unusual items of food that they've taken with them on the ride. And as expected, there were some amusing answers...
Presented in association with Decathlon.
>>> What ingenious bike repair has got you home after a mechanical disaster?
Add your suggestions in the comments section below.
What's the most unusual item of food you've taken cycling?
Flask of hot, home-made chicken and lentil soup. Nothing quite like it on a chilly ride.
Nadia Lewis
Chuggin' cold rice pudding out of a bidon on the National 24-hour. Tasted fantastic after I'd eaten hot baked beans and a tuna mayo sandwich mixed with soggy brown paper bag, and crumbs of fruit cake. That was a musette of pleasant surprises!
Kevin 'Herbie' Blackburn
During the blazing hot summer of 1976, I stopped at a village shop and they didn't have any non-fizzy drinks. So I filled my bidon with ice pops.
Neil Jackman
Haggis baguette.
John Fox
Had a team-mate pull a sloppy McDonald's Big Mac hamburger out of his pocket during a race. I was given a tomato once when I was in the middle of a bad bonk.
Michael Elmer
Half a kebab from the night before. They fit surprisingly snugly in a jersey back pocket.
Phil Dennis
Back before pubs all served food, packed lunches were carried in the saddle bag. Sardine and banana sandwiches were the only thing that people didn't nick if left unattended so that was my standard filling.
Richard Jordan
Seen a bloke nail three decent-sized egg custards at a receipt stop on an Audax. Don't think he took a breath between each one either.
Stephen Hooley
For the last century event I had pitta bread with Boca Burger spicy 'chicken' patty and cheese. Wrapped in foil and put it into my La Vie Claire musette.
Alonso Reyes
A Mars bar that had been in my saddlebag for months. When it was required, it had green mould on it. Suffice it to say I was having hunger knock so scraped it a bit then ate it. Still here many years later.
Dave Connor
A wild boar on a spit. Bloody difficult to change gear!
Michael McEwan
I come from 10 minutes up the road from where Beryl Burton came from, so liquorice allsorts, obviously.
Thomas Willingham
One-week-old chocolate cake. Hard as bones but still tasted good, so why not?
Victor O. Rivera
My 'fuel' used to be Love Hearts and Frubes, pre-gel era.
Terry Christopher Hudson
Filled a bidon with sherry once, à la Hennie Kuiper. Only came off three times.
Jon Stasiuk
Pancakes are normal, right?
Erik Schopman
Twenty miles with a jersey full of tamales left over from Christmas.
Aleks Medina
I was riding near Bordeaux and realised I had left all my supplies back home and only had one euro with me. There aren't many things you can buy with one euro that can help you sustain a long ride, so there I was, riding with a baguette on my back.
Romain Hiernard
Sushi — bloody lush!
Paul Wright
Many years ago, I use to take fried egg sandwiches on rides.
Gordon Moat
Gravy in a bottle!
Yatnig Fernandez
I won a first-cat road race snacking on Mega Monster Munch.
Mick Miller
Baby food: screw-cap sachet, easy to digest and there is a good variety.
Martin Millington