Midweek Most Wanted: New S-Works Tarmac, new Bontrager and MET helmets plus Eurobike goodies
A sneak peek at the latest and greatest kit we've got in our office that we just can't wait to use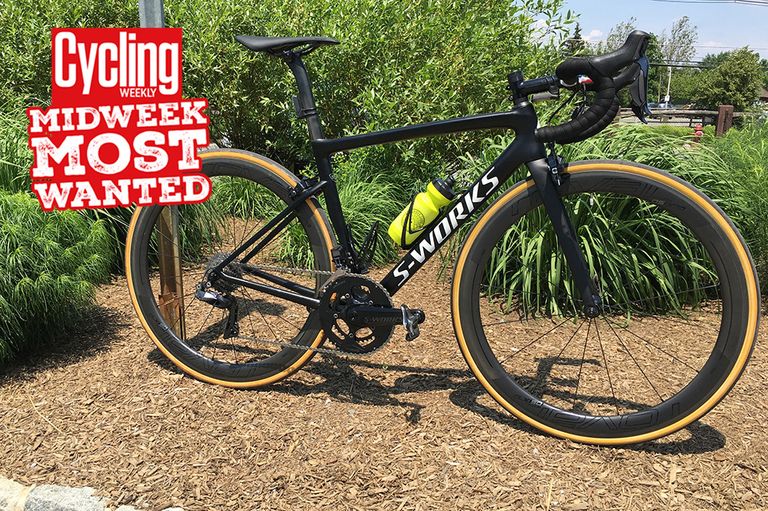 Every week we bring you a peek at the hottest products that have just landed in our office. Whether they're in for review or we just love them, we want to show you the latest and greatest bits of kit.
Specialized S-Works Tarmac
Now this is exciting. The brand-spanking-new Specialized S-Works Tarmac has just arrived. The only time we've ridden the bike so far has been at the launch, so Tech Ed Symon Lewis is looking forward to putting some miles on the new machine.
A new carbon layup means the frame's weight has been dramatically slashed (now 733g) and unlike previous iterations, the oversized tubing has been shrunk, bringing aero benefits.
Of course there's no denying the frame, with those dropped seatstays, looks a bit like a BMC TeamMachine or Giant Defy. But that doesn't stop it looking great.
MET Trenta
The all new MET Trenta just landed in the office, and it's a great-looking lid. MET has gifted the new Trenta its 3K carbon technology, which means its design team were able to reduce the helmet's EPS density by 20 per cent while not reducing its ability to absorb impacts.
The MET Trenta has become the helmet of choice for the likes of Mark Cavendish and the Dimension Data sprinters because it's as aerodynamic as it is well vented.
MET claims the Trenta is four per cent faster than its predecessor the MET Manta, and seven per cent faster than "traditional aero helmets". It becomes available in December, so keep an eye out for an upcoming review.
Hunt SuperDura Dynamo Disc wheels
The SuperDura Dynamo Disc wheels are Hunt's offering of true freedom. Designed for bikepacking or winter training, they allow you to forget about the hassle of chargers and plug sockets. Instead, the dynamo in the front wheel tops up your lights or mobile phone while you ride.
But these aren't one-trick ponies: they come with all of Hunt's well-known wheel technology. That means 25mm wide rims, disc-brake builds and 32 spokes for extra durability.
CeramicSpeed UFO drip coating
We first saw this at Eurobike, and it's a pretty novel idea. Basically, the coating is applied as a liquid but then turns to a waxy solid on the chain.
CeramicSpeed claims this to be far faster than normal lube because, as a solid, it can't pick up road debris like wet lube does.
For a full lowdown check our initial reports. It'll cost you £70 per 180ml.
Bontrager Velocis helmet
First spotted on the heads of Trek-Segafredo riders at the Tour de France, the Velocis has received a pretty thorough overhaul.
The design change means more vents in an aerodynamic shell. For £149 you get the choice of four colours and MIPS included.
Crankalicious Mud Honey Foaming Bucket Wash
Part of the Crankalicious 'Remove' selection, the Mud Honey is a powerful, PH-neutral bike cleaner that'll pull dirt away from your bike lovely and easy.
Available in both 100ml and 500ml, the wash can be used on all parts of your bike, meaning it's drivetrain and disc-brake friendly.
Veloforte bars
Handmade and real is how Veloforte describes its nuitrition – oh, and that it includes the same ingredients that the Romans used to power their legions.
Either way, the bars are crammed full of almonds and dates, are veggie and vegan friendly and are available in packs of three (£6.99), boxes of nine (£19.99), 15 (£32.99) and 24 (£49.99).
Café du Cycliste socks
All cyclists know the importance of a decent pair of socks. Not too high, not too low – these from Café du Cycliste look the perfect fit.
They're actually quite technical, too. Café du Cycliste has made them high wicking, fast drying and built with anti-blister yarn for some added comfort.