Midweek most wanted: Brand new Look 785 Huez, Le Col jackets, smart trainers and much more just in
A sneak peek at the latest and greatest kit we've got in our office that we just can't wait to use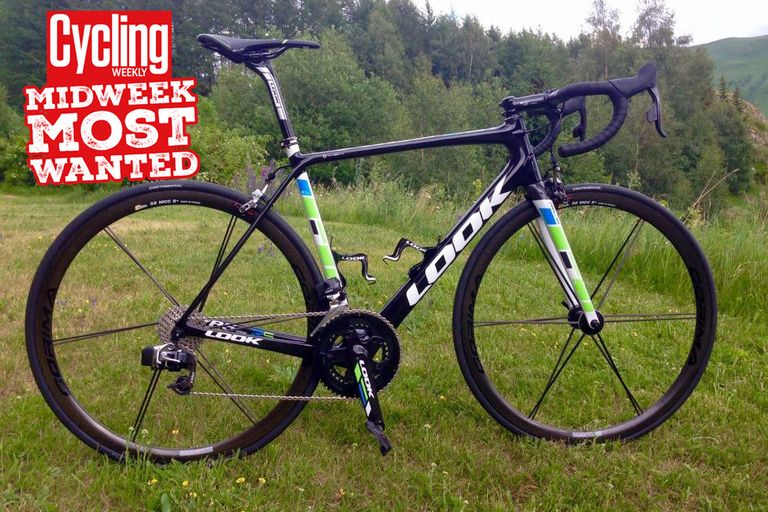 Look 785 Huez
The brand new lightweight Look 785 Huez has just floated into the office, weighing just 5.9kg for a size medium.
To break that down, this non RS version (that moniker is for the tip of the top only) frame weighs 990g and the fork 350g while it comes equipped with Shimano Ultegra Di2.
The frame is he result of nano layer, which are layers of carbon hundredth of a millimetre thick put down on top of each, with a smidge of glass fibre for good measure.
Le Pro Col C2 jacket
This is quite the stylish number from Le Col. It's lightweight, and the brand says it's as heavy as a jersey but with the protection benefits of a jacket.
In fact, the brand is so confident in its protective properties they've used a thinner fabric than competitors so that it can just be paired with the correct thermal base layer. Currently, the Le Pro Col C2 jacket retails at £220.
Tacx Flux smart turbo trainer
It is most definitely that time of the year again, and if time sweating in your garage doesn't sell turbo training to you, perhaps the Tacx Flux smart turbo trainer will.
It's riding the wave of new age training, with the likes of Zwift which is genuinely making inside sessions bearable.
It's a direct drive model, which means you remove the rear wheel and load the bike on to a cassette already attached to the machine. It fits 130mm or 135mm quick release frames but adapter kits do exist if you have a wider axle standard.
The trainer itself is a bit of a beast, with 1500watts of resistance and the ability to simulate 10% climbs.
Muc-Off Nanotube chain
Basically, this is the same concept as that chain that Bradley Wiggins ran on his hour record bike, but brought down to a consumer level (£109), pitched at those who have an important time trial coming up or Ironman.
It's a Shimano Dura-Ace chain hand treated with Muc-Off's Nano tube coating, which it claims gives a 10 watt advantage over competitor's models, and lasts in all weathers.
Once it's on your bike, Muc-Off recommends running it for four-six hours on your turbo so it wears in properly for your big event.
Bell Falcon MIPs helmet
We've always been fans of Bell helmets, and recently the Bell Stratus MIPs scored very well with us. Now, the Bell Falcon takes its design cues from the top end Bell Z20 and refines them for the price point.
For £100 you get the added protection of MIPs and a robust polycarbonate shell with reinforcing protection built in. It's got a changeable fit thanks to Bell's Float fit system and the retention dial on the rear.
Vittoria Corsa Control tyres
The Vittoria Corsa Control tyres are designed for everything. Fast rolling and supple for the summer thanks to the graphene compound, well protected for the winter and offers stacks of grip for when things get greasy.
The tyres are supple and grippy thanks to their 320tpi casing and they've got tan side walls to boot. They currently retail at 54.99 a tyre.