Midweek most wanted: a Wilier with suspension, new Look pedals and winter kit
This week's sneak peek at the latest and greatest kit we've got in our office and that we just can't wait to use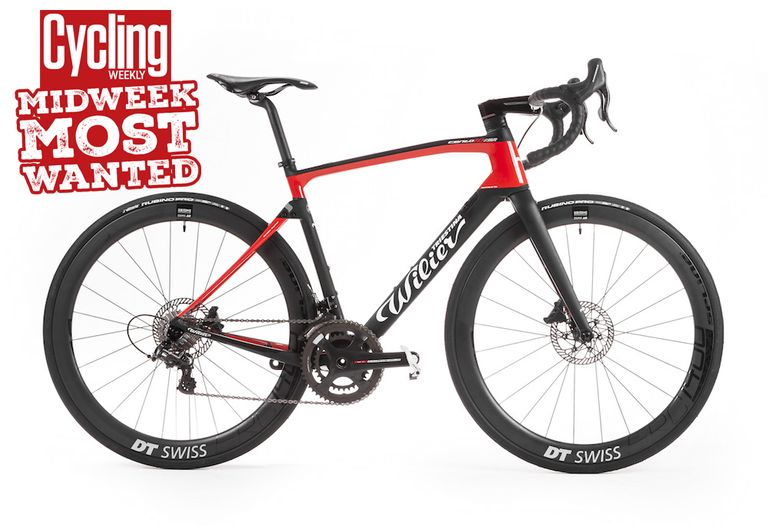 (Image credit: Cycling Studio)
Wilier Cento 10 NDR
The Cento10 NDR is Wilier's new, premium endurance bike. It builds on the Cento 10 Air race bike, incorporating an ingenious suspension system in its rear triangle to smooth out bumpy roads and has hidden cable and hose runs. We rode the new NDR at its launch in Italy. Now we've got it in for testing on UK tarmac.
Buy now: Wilier Cento 10 Air road bike from Chain Reaction Cycles for £4248.99
GripGrab CyclinGaiter
A new addition to the cyclist's armoury against rain, the CyclinGaiter is designed to stop water trickling down your leg and into your shoes, by sealing the gap. There's currently no shortage of puddles large and small to see how well it works.
Buy now: GripGrab CyclinGaiter from Wiggle for £11.95
Look Kéo 2 Max Carbon pedals
Look has updated its Kéo 2 Max and Kéo Blade pedal designs this year, with a sleeker profile and a larger contact surface, which it says leads to better power transfer. The redesign applies to all the Kéo Blade models and both the base-level composite Kéo 2 Max pedals and the slightly lighter carbon version. We've got a set of the latter in for test.
Buy now: Look Kéo Blade Carbon pedals from Rutland Cycles for £89.99
Ekoi Heat Concept gloves
If you suffer from cold fingers when riding, you may find these gloves help. They incorporate heating elements and have a battery pack hidden in their cuffs. You can select four different heat levels between 25C and a very toasty 40C. We'll be out bright and early on cold mornings trying them out.
Buy now: Ekoi Heat Concept winter gloves from Ekoi for EUR139.95
Dhb Aeron Hybrid Softshell jacket
Dhb makes its softshell that bit more comfortable when the pace hots up with its hybrid softshell jacket design. Its front-facing panels are windproof, while the rear is a warm fleece fabric, so it should breath better and shouldn't get too hot and damp. We'll be testing it on our higher tempo training rides.
Buy now: Dhb Aeron Hybrid Softshell jacket from Wiggle for £64.00
Fizik Artica R5 shoes
The latest addition to Fizik's shoe range is its Artica R5 winter boot. With its high cuff and waterproof zip, it should provide industrial strength winter protection. There's a speedlace closure to the warm inner boot.