Quick-Step Floors wear Ekoi sunnies for 2017
French internet sales brand Ekoi is kitting out the entire Quick-Step Floors team with its sunglasses this season.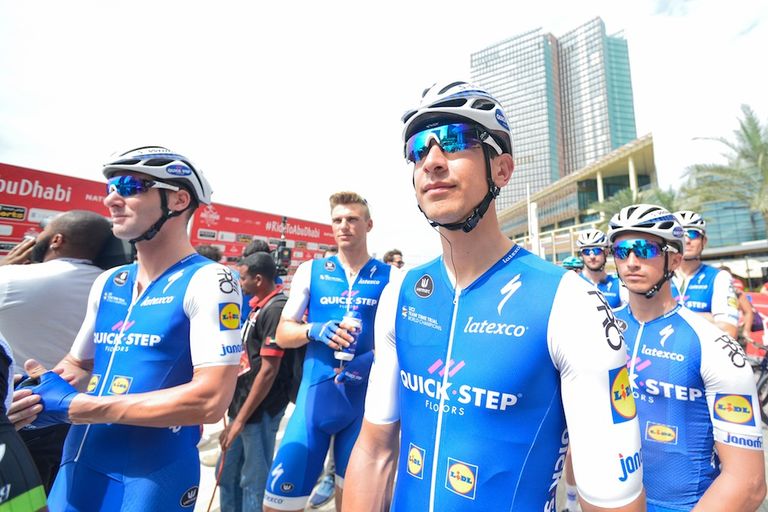 (Image credit: Yuzuru SUNADA)
Ekoi says that Quick-Step Floors team members will be able to choose from its Guerra, Fit First and Perso Evo 6 models. Guerra is a half frame design, Fit First a full frame model and Perso Evo 6 is frameless.
>>> Quick-Step Floors team boss unsure of squad's future
Ekoi points out that a rider's needs for eye protection may differ between races, with the often foul, cold weather of the Classics needing a more enclosed design than a hot summer climbing stage. It stresses the lightness, ventilation and lens quality of all its glasses.
Ekoi sells a wide range of kit, with its big selling point being the opportunity to customise items by selecting components on the site before ordering. With its sunglasses, you can choose the colours of its frame components and the lenses from a wide range of options, even choosing different left and right arm colours if you like.
>>> Cycling glasses: a complete buyer's guide
Ekoi's website includes a "virtual mirror" function that uses your computer's webcam to superimpose your selected sunnies on your face, so you can make sure you like how they look before you buy. It offers free shipping to the UK if you spend over £22.
For more info on Ekoi's range click here.
Watch: How to dress for hot conditions
Quick-Step Floors' glasses will come in the team's blue and white colours, which will also be available as an option for the public to buy from Ekoi's website.
As well as the three racing sunglass models, Quick Step Floors team members will be able to choose from four of Ekoi's leisure sunnies when not racing: Space, Lifestyle, Dopogara and Fashion, all again in white with blue accents and blue tinted lenses.