Seven must see super bikes this weekend
Seven must see super bikes at The London Bike Show this weekend, including Argon 18, Scott, Pinarello, Cannondale, Giant, Rose and Look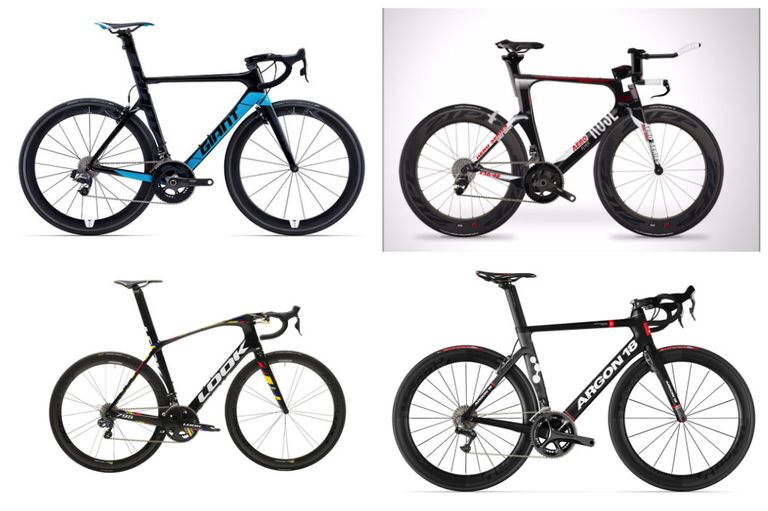 Fast, lean and, above all else, expensive – there truly is something otherworldly about pro bikes.
Rejoice, then, at the opportunity to look at these alien machines in the flesh this weekend at The London Bike Show, where they'll be displayed for all to see.
Here are the choicest super bikes on offer this weekend.
Argon 18 Nitrogen Pro Dura-Ace
That's right, all of Argon 18's bike fleet are named after various Noble gases. The noblest of them all, though, is the Nitrogen Pro Dura-Ace.
The Nitrogen Pro is the team's aero offering, as ridden by Astana on the UCI WorldTour.
>>> Five weird and wonderful products from The Bike Place Show
Cannondale SuperSix Evo disc
Cannondale's mean mountain machine comes in the form of its Supersix Evo model.
However, the one on display at The London Bike Show comes with a twist: it has disc brakes.
Giant Propel Advanced SL 0
Team Sunweb will be taking to the roads this season aboard Giant's aero offering, the Propel Advanced SL 0.
It takes the fight to the likes of the Trek Madone, and the Specialized Venge Vias in terms of being Giant's pinnacle aero offering.
Look 795 Aerolight
The Look 795 Aerolight was designed with all-out speed in mind, and certainly vies for the title of the most integrated bike on the market.
The handlebars, stem and fork are all integrated with the brake calipers hidden away out of the wind.
Watch: Wout Poels Pinarello Dogma F10
Pinarello Dogma F10
Team Sky's weapon of choice remains the renowned and well proven Pinarello Dogma.
>>> Pro bike: Wout Peols' Pinarello Dogma F10
However, new for 2017, the F10 comes with some frame changes, including a beefier bottom bracket and a now concave downtube.
Although, for 2017 Team Sky will be using Shimano's Dura-Ace Di2 groupset and wheels.
Rose Aero Flyer
There's a lot going on with the Rose Aero Flyer, so it's probably best that you just check it out yourself for real.
It's another mean aero machine, though, that's for sure. It's got a super beefy and integrated head tube for additional stiffness and it rolls on a pair of Zipp 808s.
>>> Zipp 454 wheels: Inspired by whales
Scott Addict
Traditionally, the Scott Addict is considered the company's climbing bike.
However, for 2017 the brand is also offering the disc brake equipped model as on display at The London Bike Show.
Despite the addition of beefier brakes, though, the company is still looking to keep the weight low.
The London Bike Show is running from March 17 to 20.