Shimano Dura-Ace 9000 Series in action: First ride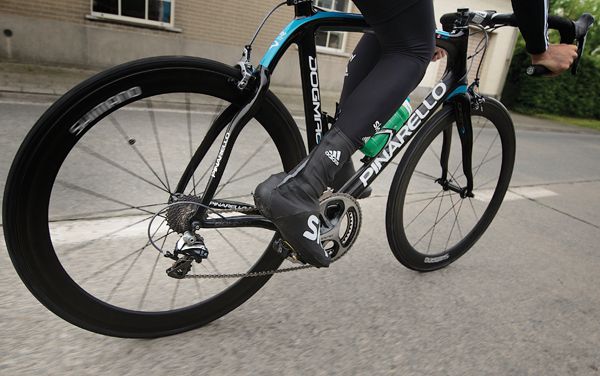 Shimano claims that adding an 11th sprocket was not the starting point for this project, instead focused on improving the experience for the rider in terms of efficiency, control and confidence.
In a roundabout way that's still kind of conceding that Campagnolo was on to a good thing years ago, but hey, Shimano were first with Electronic, so it's a bit like riding through and off - one pushes the pace, then the other.
The end result is we all benefit in the long run as the healthy rivalry amongst the manufacturers, (let's not forget SRAM too), keeps the pace at the front high.
For our first experience of 9000 series Dura Ace we were privileged to be loaned one of team Sky's new Pinarello Dogma 2s from its 'Service Course' just outside Kortrijk, Belgium, having first watched it being built from scratch, by Sky mechanic Alan Williams. Aside from the Dura Ace story for just a moment, visiting a team's Service Course is not something you're often privy to. It's like a team's secret hide-out.
Behind the usually closed doors of team Sky's Euro base was an enviable set-up and an experience worthy of mention. Totting up the sheer volume of wheels, bikes, kit, and spares was mind blowing. 25,000 bidons for a single season takes up a lot of space and I gave up counting tins of tub glue once I'd passed forty. It certainly gave you a real feel for the enormity of what's required to run a professional bike racing team.
Anyway, back to the task in hand.... We'd sat through the presentations, we'd seen it assembled onto a bike, so all that was left was to stick some miles on it. We had a few hours set aside to ride and were situated tantalisingly close to some of the well known cobbled streets used for so many of the races in that neck of the woods. Plus, uncharacteristically, the sun was shining and Sky riders Michael Barry and Alex Dowsett were along for a chin wag too. What could be better? Well the strong Belgian crosswinds could have taken a day off perhaps? But that's just picky.
The chain is now reversible, instead of the old directional chain
Huge improvement
As I rolled away from the Service Course, I was struck by just how light the shifting action was compared with the 7900 mechanical - I mean world's apart. Let's be honest now (and we think most would agree) the 7900 Dura Ace shifters were not Shimano's best effort.
The shifting action is distinctly draggy, mainly as a result of the move to internal cabling and not on par with the performance we've enjoyed in the past from its iconic flagship group. Coincidentally, I'd been riding extensively with 7900 in the lead up to this test, which made comparison easy and well let's just say it's chalk and cheese. I shoved with the 'usual' required amount of force I'd become accustomed to, and I was genuinely shocked when it felt like I nearly broke the shift lever off. It was as if the cables weren't attached, such was the lack of resistance.
Shimano has upped its game and some, for the 9000 series. Not only is the shifting much lighter action, thanks to the redesigned shifter internals giving a more direct cable routing, plus some silky, slick new polymer coated cables, but also the lever stroke has been reduced too (30% less sweep) making for a quicker, more responsive feel to the shifting to boot. The shift levers themselves have also undergone subtle re-shaping, improving the ergonomics when braking from the lever hoods, and the shifter buttons are a fraction larger.
Shimano's always had enviably smooth, silent running, to the extent that Campag and SRAM have always been chasing in this regard and that certainly continues to be the case with this new running gear. Surprisingly, the chain and cassette have not needed to be re-worked a great deal it seems, apart from Shimano having done away with the directional aspect of the chain design.
Quicker and slicker
It's possibly a contentious statement but we also believe Di2 hoods. For this tester that's a big thumbs up - this contact point is hugely important for your overall ride experience. The hood is narrower with reduced bulk and overall circumference, making it pleasingly comfortable with additional tactility offered by a softer density rubber compound too.
Our test bike had what appeared to be a single density hood, but we've also seen dual density versions, which may end up being the standard, or possibly and aftermarket option. Time will tell. More of the lever internals are covered by the new shape hood, notably the underside of the shifter, close to the bar. This not only looks neater, but means there's less, exposed parts to catch a finger, or a glove, plus less chance of dirt ingress.
The beauty of having a bike built and set up in the Service Course was getting bike measurements and fit spot on, however for 'the awkward Brit' there was a bit of a stand off over brakes. Amongst continentals I was definitely in the minority for a 'right hand front brake' and with time short, the decision was out of my hands - run with the brakes reversed and simply "take extra care".
Not ideal, but manageable under the circumstances, with dry roads and nothing too sketchy to negotiate. However it did detract slightly from my ability to fully appreciate the improvements that have been made to the brakes. It was immediately noticeable the brake feel, just like the shifting, was a lighter action.
The pivots contain bearings which no doubt aids the smooth operation, plus again the new polymer coated cables keep friction in the system to a minimum. Stopping from high speed the feel is both progressive and powerful. Shimano's claim was a modest 10 per cent improvement in braking power, and even from my slightly tentative hauling on the anchors, I would believe every bit of that statistic. Again, it's worth reiterating that Shimano's previous brake calipers were amongst the best available, so to improve on that is something in itself.
It wasn't all about the 11th sprocket
11th heaven
I've come to agree with Shimano's original mission statement that Dura Ace 9000 series is not just about the 11th Sprocket. In fact, there are so many other improvements across the board, that's actually one of the last things you'll notice. It's great to have the option to run even wider ratio cassettes, without the 'big gaps' but I was left feeling like that was just the icing on the cake of a groupset that was lighter, stiffer, prettier even, with a far superior performance to its predecessor. Shimano's design brief set out to improve ergonomics, shifting response aerodynamics, braking power, ease of set-up/assembly and finally aesthetics. Do we think it has ticked those boxes with the new 9000 series Dura Ace? A resounding - yes.
Contact: Madison


Related link
Inside Tech: Dura-Ace 9000 Groupset