Shiny new blue tools from Park Tool
Park Tool has new additions to its range of amateur and workshop tools for 2017. Here are some of the headliners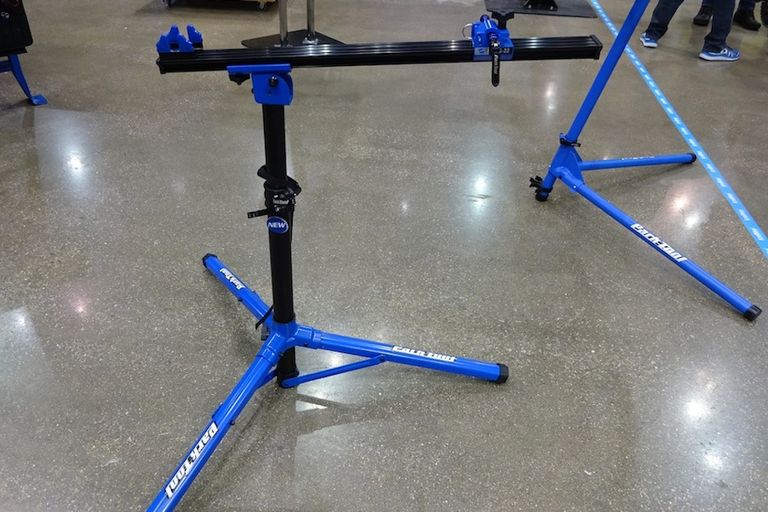 Park Tool was in town for Madison's Icebike in-house show this week and showing off some nice additions for your workshop.
For bike stores and anyone who has to clean a lot of chains, it has introduced a professional chain scrubber (£79.99). With a metal case and handle it contains replaceable brushes, increasing its longevity. Park still sells a plastic version too.
>>> How to lube your bike chain (video)
Press fit bottom brackets can be prone to creaking, so Park Tool is selling a retaining compound (£14.99) to help keep the bearings firmly in place. To ensure that they can be removed once they do need to be replaced, it sells an adhesive primer (£19.99), which you apply to the bottom bracket shell prior to the retaining compound. It also sells two different strengths of threadlocker (£14.99 each) for any bolts which might be prone to work loose.
Another useful tool for the maintenance specialist is the stubby hex wrench set (£14.99). Designed to make it a bit easier to get at awkwardly placed bolts, the ends are a bit shorter than with standard allen key sets.
If you've ever tried to replace internal cabling on a bike, you'll know that it can be a real headache. Now Park has updated its internal cable puller kit (£59.99), adding a fourth e-tube Di2 cable to the mix. All the cable have magnetic ends and there's an external guide magnet to point them in the right direction.
Park was also showing its new lightweight professional workstand (£274.99), above. Used by pro teams including BMC and Katusha-Alpecin, it's very compact and light at 5.67kg but still stable and folds up small for transport.
It's not new, but our favourite tool (apart from the pizza cutter) was the metre-long frame and fork straightener (£74.99) with its gruesome-looking serrated edge. If you need this, you're in trouble.