Tour Bikes: Michael Schar's BMC TMR01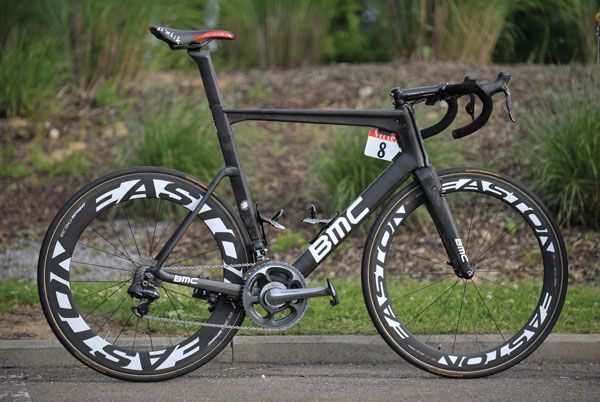 Having been given the once over at the Dauphine back in June, BMC's new Aero machine, the TMR01, is now in full commission for the Tour.
The team head out for a spin
It's a blend of TM01 and SLR01 genes; using 3:1 truncated tubing, drag reducing 'tripwire' lines (similar to golf ball dimples) and near replicated SLR01 geometry - albeit with slightly reduced slack to give a more aggressive position. The most striking element of the TMR01 is the near perfect integration giving it one of the cleanest front ends out there, achieved by the hiding all cables and wires behind a front fairing and tucking the brakes inside the fork legs, akin to the TM01.
Built with the work horse in mind
Weighing more than 1040g than the SLR01, means this isn't a climbers bike, but ideal for the likes of Michael Schar who will mostly be seen pulling at the front into the wind all day or Philip Gilbert giving it full gas in the sprint.
Wind cheating brakes
Clean lines help aerodynamics
BMC's TMR01