Vuelta a España 2021 route: Organisers announce all-Spanish route, no Madrid finish and a 'historic new climb'
The organisers of the Spanish Grand Tour have released details of this year's race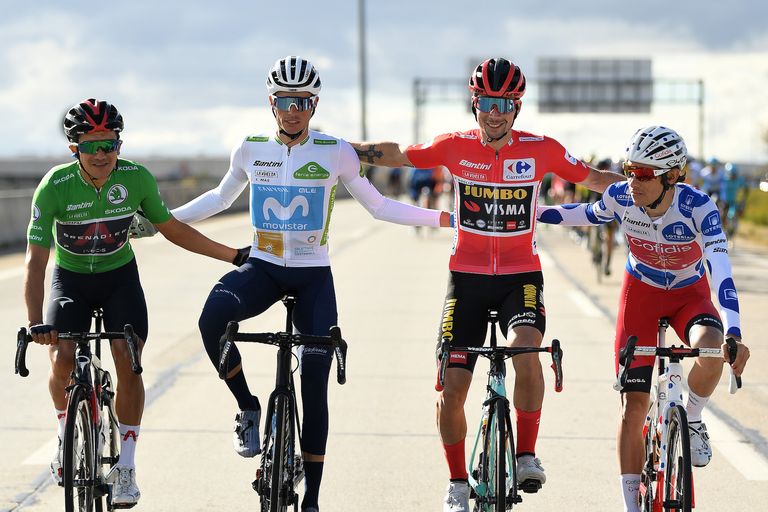 (Image credit: Getty Images)
The Vuelta a España organisers have announced the 2021 route, including an all-Spanish parcours, an exciting new climb and a finish outside of Madrid. 
This year's edition of the Spanish Grand Tour will take on a different shape due to the global coronavirus crisis, with the organisers opting to cover a large distance but to keep the race inside the borders of Spain. 
Starting on August 14 and running to September 5, the 2021 Vuelta will cover 3336km starting in the city of Burgos and will race to the province of A Coruña, which will replace the traditional Madrid finish. 
Race director Javier Guillen said: "The world is going through a very tough time right now, and this is being particularly felt in our country. 
"For this reason, we wished to design a different kind of race. It is an ambitious Vuelta, that will cover many kilometres, but will stay only within Spain. We want to showcase our country: its beauty and its potential as a tourism world leader. 
"We will be present in many territories, with a huge variety of terrains and unprecedented locations, while also visiting some of the country's largest tourist centres. This is our way of entertaining people and of promoting tourism as we await a gradual return to normality."
The race will start with an 8km time trial in Burgos, followed by an early high altitude finish at Picón Blanco on stage three.
Then it's onto the eastern including Valencia and Alicante, before the first week concludes at the Alto de Velefique in Almería. 
In the second week, the race will take on the new climb of Pico Cilluercas and then in the third week the peloton will tackle the Lagos de Covadonga climb and the brand new mountain pass, Altu d'El Gamoniteiru. 
The race will conclude in A Coruña with a final time trial. 
Vuelta a España 2021 route
Stage one - Burgos to Catedral (8km, ITT)
Stage two - Caleruega to Burgos (169km)
Stage three - Santo Domingo de Silos to Picón Blanco (203km)
Stage four - El Burgo de Osma to Molina de Aragón (163.6km)
Stage five - Tarancón to Albacete (184.4km)
Stage six - Requena to Alto de la Montaña de Cullera (159km)
Stage seven - Gandía to Balcón de Alicante (152km)
Stage eight - Santa Pola to La Manga del mar Menor (163.3km)
Stage nine - Puerto-Lumbreras to Alto de Velefique (187.8km)
Stage 10 - Roquetas de Mar to Rincón de la Victoria (190.2km)
Stage 11 - Antequera to Valdepeñas de Jaén (131.6km)
Stage 12 - Jaén to Córdoba (166.7km)
Stage 13 - Belmez to Villanueva de la Serena (197.2km)
 Stage 14 - Don Benito to Pico Villuercas (159.7km)
Stage 15 - Navalmoral de la Mata to El Barraco (193.4km)
Stage 16 - Laredo to Santa Cruz de Bezana (170.8km)
Stage 17 - Unquera to Lagos de Covadonga (181.6km)
Stage 18 - Salas to Altu d'El Gamoniteiru (159.2km)
Stage 19 - Tapia to Monforte de Lemos (187.8km)
Stage 20 - Sanxenxo to Mos. Castor de Herville (173.6km)
Stage 21 - Padrón to Santiago de Compostela (33.7km, ITT)