Sugoi RS leg warmers review
The Sugoi leg warmers are made of warm roubaix lycra fabric and have plenty of good features but the fit is a bit awkward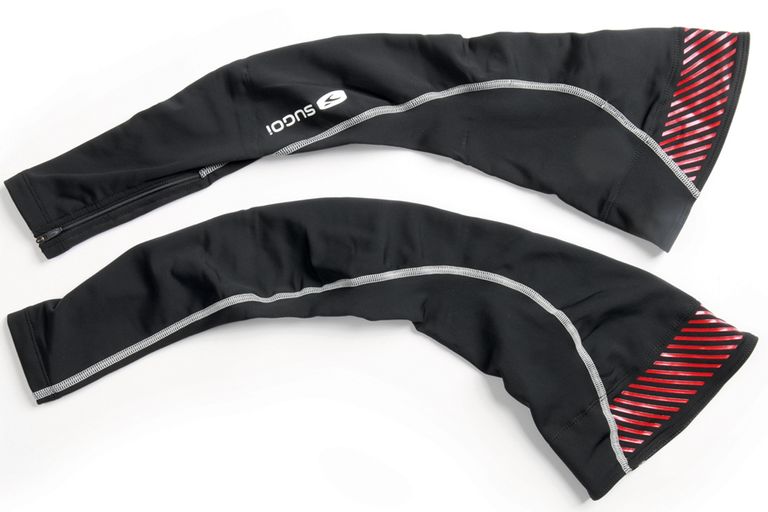 Some good features but not quite hitting the mark fit-wise
Reasons to buy
+

Great thigh grippers

+

External grippers to hold bibshorts in place
Reasons to avoid
-

Ruck up behind the knees

-

Fit not that great
The Sugoi legwarmers have quite a structured design, with a pronounced curvature and wavy flat locked seams down the sides. Indeed, they are so curvy that I initially found it difficult to work out which way on they fitted. Once I'd got them on, I found the ankle zippers quite tight to get done up, although I have never thought of myself as having particularly fat ankles.
 >>> Armwarmer buyer's guide
The real highlight of the legwarmers though is the thigh grippers. These are over 6cm wide and made of very small silicone dots, which hold the warmers up well without being constrictive or uncomfortable. The red diagonal bands on the outside are further silicone grippers to hold the warmers in place against the fabric of your shorts and stop a cold gap opening up between the two garments. These worked well and I never found that the warmers slipped down, either against my legs or my clothing.
>>> Best winter cycling gear
Sugoi's Midzero fabric is fleecy and warm, but not particularly stretchy and despite the curved fit I found that they bunched up behind the knee. This was not uncomfortable but felt slightly awkward and the fit seemed generally slightly off.