Xplova X5 GPS cycling computer review
The Xplova X5 is a touchscreen cycling computer with a camera built it, but does it live up to its strong billing?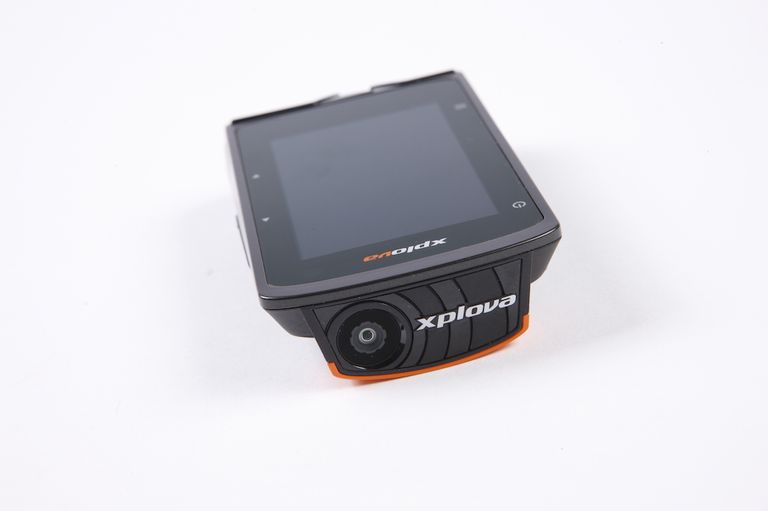 (Image credit: Cycling Studio)
There are some glaring issues in what would be an otherwise decent first stab at a cycling computer. The Xplova X5's software definitely needs some work to stop it showing random things in Taiwanese. Its navigational skills definitely need some more work before I'd trust it to get me round a long route in unknown territory.
For
+

Good touchscreen

+

Easy ANT+ partnership

+

Fully customisable data screens

+

Both buttons and touchscreen

+

Easy to navigate
Against
-

Navigation isn't up to scratch

-

Sometimes slips into Taiwanese

-

Camera footage has stabilisation issues when on out front mount
The Xplova X5 is Acer's – yes, the laptop company – first dip into the world of cycling computers. Now, we're usually a little sceptical when tech companies try and dip their hands into the sport, as it usually means they miss the point, focus too much on the tech and forget about how the product actually performs in use.
The Xplova X5, however, has largely hit the nail on the head; it's customisable, has all the metrics you could want, but it does have some fairly major issues – these we'll come to.
For now, though, we might as well start at the basics: the hardware. In fact, the hardware is one of the product's stand out feature, which isn't altogether surprising considering Acer's background in the technology world.
For starters, the touch screen isn't a total pain to use, unlike the latest Garmin Edge 820. The screen is fast and responsive, which is a big deal when it comes to riding fast and needing to swap data screens. Previously, on Garmin's 820 you took your life into your own hands when trying to operate the screen.
The additions of buttons is also a nice touch, they're a good safety net should the screen crash for some reason. However, they need a little more feedback when pressed as they're tough to operate when wearing gloves. When riding, they're a tad unwieldy, often taking more than one attempt to change screens.
The device is also pretty easy to navigate. The home screen is a data screen then you swipe left/right, up/down to reach the others. Pull the screen down from the top and you'll access the device settings – here you can customise the screens to what you like.
Similarly, the software feels largely there, albeit with some pretty obvious flaws.
For starters, when in navigation mode destination names remain in Taiwanese, despite the rest of the computer being programmed for English. In fact, the navigation tool which for me is one of the most important parts of a GPS computer, definitely needs some work.
Watch: Tech of the month April 2017
Unlike on options from Garmin, there is no turn by turn navigation, which is really a must have feature on a cycling computer. In fact, it's pretty reminiscent of google maps where you appear as a blue dot on a map. The map also displays your planned route.
Frustratingly, the screen doesn't follow you as you move, though, and if you zoom in, it can be hard relocate yourself, especially when on the fly. It's a let down that really does stop the computer in its tracks – I wouldn't take it out with me on long routes, where there's a high chance of getting lost.
In many other ways, though, it's exactly like a Garmin computer. It's easy to connect an ANT+ heart rate monitor, and you can customise the data screens to what you like.
The Xplova X5's online software is pretty clunky, too, but it's a little more navigable than Garmin Connect. However, its default map is still of cities in Taiwan. The area you'll use the most is 'MySpace', which houses your activities, footage, routes and all the good stuff. From here you're able to send your finished activities to Strava – which is all that matters, really.
Video is really the Xplova's main selling point, and it's attempting to help you do away with an additional action camera. The camera can record in clips of 3, 6, or 9 seconds and then you lace them together on the cycling computer when you go to upload the activity.
The footage itself is fine, 720p quality, but the camera could really do with some additional image stabilisation. When it's held on the out front mount provided in the box there's a lot of shaking which disrupts the footage. Happily, mounting it on the stem reduces this, and still caaptures a good field of view.
Also, you can't position the camera where you would like – it has to be mounted on the stem or out front, meaning you end up with a lot of repetitive shots.
Ultimately, there are some flaws, but the Xplova X5 is a decent first attempt. It's really nice to find a cycling computer doing touchscreen well, but the ship is sunk by its poor navigation skills. However, this might change as Xplova has just announced a software update with a specific focus on navigation.