Altura NV2 Elite jersey review
Altura's NV2 Elite jersey offers top-notch function at an affordable price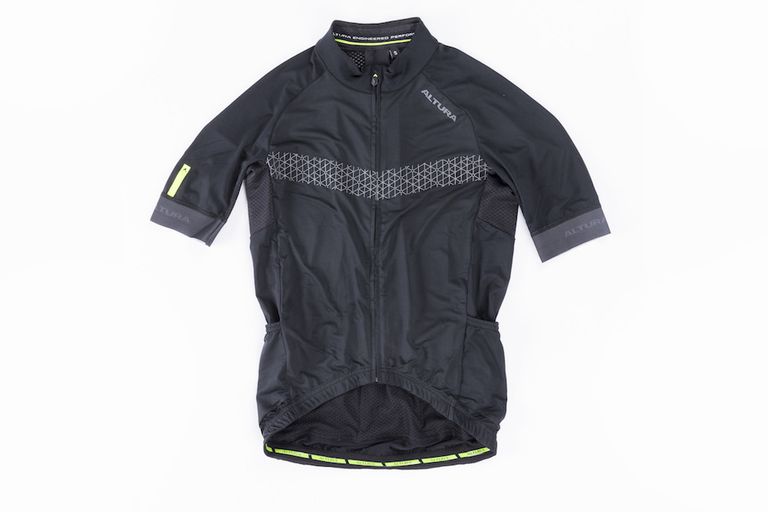 (Image credit: Cycling Studio)
The Altura NV2 Elite jersey gives you lots of technical features in a very lightweight, breathable fabric. You get plenty of storage space with six pockets and Altura's dark reflective fabrics. But it does come in black only.
For
+

Lots of storage with six pockets

+

Dark reflective material in arm grippers and pockets

+

Lightweight, breathable fabrics

+
The Altura NV2 Elite jersey is top of the brand's pile for summer weight jerseys. As well as being lightweight and breathable, it incorporates panels of Altura's Darkproof grey reflective fabrics.
This means that if you do get caught out after dark or in a sudden deluge, you've got good reflectivity, without swathes of fluoro material in the all-black design. In the Altura NV2 Elite jersey, the Darkproof fabric is confined to the sleeve grippers and a panel running down the length of each of the outer pockets. But if you want more Darkproof material, the Altura NV2 Elite bibshorts include it in their leg grippers.
The Altura NV2 Elite jersey has a racing cut, with a shorter front and longer back, with silicone waist grippers all round, so it fits well when riding. It's quite a close fit, particularly for a UK brand, but there's plenty of stretch to keep it comfortable.
The front panels and shoulders are made of a more opaque, flat fabric. Nevertheless, this lets plenty of air circulate to keep you cool on warmer rides. There's a reflective web design across the chest and the zip is concealed and backed. It's a bit fiddly to engage at the bottom, although it works fine once you've got it started.
>>> 15 of the best summer jerseys
At the back, rather than the standard three pockets, you get five open ones, so there's extra room for a couple more gels. It's also handy to keep invariably-sticky empty gel wrappers away from clean stuff. There's a sixth pocket for valuables with a concealed zip.
The rear and underarms of the Altura NV2 Elite jersey are made of an open mesh fabric that doesn't wet out, allowing plenty of air through and stopping you from getting sweaty, even on the hottest climbs.
>>> Hot weather cycling: five tips to help you keep your cool
I've found the Altura NV2 Elite jersey a comfortable garment for hot summer rides, with a good fit. But if you want a colour other than black, you're out of luck. And black isn't the best colour for keeping you cool in hot sunshine.