GORE Power Lady Windstopper jersey review
Can the GORE Power Lady Windstopper jersey be the go-to kit option for dealing with the realities of a British summer?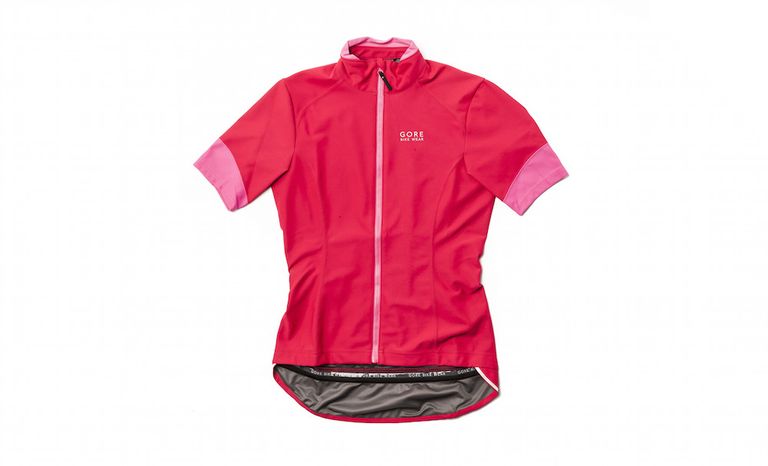 (Image credit: Cycling Studio)
Cycling Weekly Verdict
Ticking all the boxes of a windproof and water-repellent jersey, the GORE Power Lady Windstopper jersey is a good accompaniment to the British summer, especially for those looking to keep on riding in the famously changeable conditions of the British summer.
Reasons to buy
+

Windproof

+

Water repellent

+

Comfortable

+

Women's specific fit

+

Long tail and high collar

+

Reflective elements
Reasons to avoid
-

High pockets

-

Slight weight penalty

-

Limited colours
In theory, summer clothing should be all about heat reduction and barely-there fabrics but in reality a British summer is not always sunshine and heatwaves, often plagued with downpours and storm warnings. With that in mind could the GORE Power Lady Windstopper jersey be a safe option for those rides when weather is about as predictable as a Grand Tour winner?
>>> Buy direct from Evans Cycles for £139.99
Construction
The short-sleeved GORE Power Lady Windstopper jersey is the twin of the GORE Power Lady Windstopper Zip-Off jersey and is also made from GORE's proprietary Windstopper fabric which, as mentioned previously, is just about considered the gold standard by most clothing manufacturers and used by the vast majority of brands in the production of windproof and water-resistant cycling clothing.
Video: June's Tech of the month
According to GORE, the dense 100 per cent polyester Windstopper membrane system totally blocks wind from penetrating the fabric while still allowing water vapour (sweat and condensation) to escape. So, as well as protecting you from chilly wind it should also prevent you from overheating when pressing on. The 87 per cent polyester and 13 per cent elastane outer layer is also coated in a DWR (durable water repellent) coating giving the added bonus of water repellency – if only for a limited time.
GORE says it designed the women's-specific jersey cut to offer a slim fit, with a high collar and extended tail at the rear to offer as much lower back and backside protection from rain and road spray. Also at the back are three rear pockets with a fair few elements of reflective detailing.
The ride
As predicted, the GORE Power Lady Windstopper jersey is super comfortable in use. The construction of the Windstopper fabric makes it soft and unrestrictive.
The fit is close – not totally skin tight on the torso but much snugger on the arms and shoulders, thereby eliminating any wind-flap when riding. Including a silicone gripper at the waist, while allowing the longer tail to continue beyond, prevented any twisting or riding up of the jersey.
Naturally the Windstopper and DWR coating is always going to make the jersey warmer and heavier than a mesh-sided summer option, so it's no surprise to see the scales level out at 184g.
Water repellency and breathability very much depend on the volume of rain and what base layer you team GORE Power Lady Windstopper jersey with, as there is always going to be a saturation point. I personally found it spot on for a 17°C drizzly ride with a summer base layer and water-resistant arm warmers.
Water just beaded off the outside and I remained comfortable enough inside, with the usual chest sweat after a tough climb or two. However the jersey comes into its own when you point the bike downhill and realise that it's totally blocked the wind from chilling that pooled sweat.
The three pockets at the back were all usable but, as I found on the Zip-Off version, slightly high and awkward to access on the fly.
Compared to many token reflective details jerseys have these days, I was really impressed to see a sensible amount at the rear of the GORE Power Lady Windstopper jersey which, along with its slightly warmer attributes, make this a really sensible option for night rides.
Value
As with all GORE products, you get what you pay for – it's exceptionally well made with high-quality materials – but that don't come cheap and £139 for a jersey makes it a considered purchase.
With British summer temperatures variable by at least 15°C over a 24-hour period, there always has to be space in your summer cycling wardrobe for a warmer item or two. The GORE Power Lady Windstopper jersey does away with the need for an emergency rain cape or warmer gilet and, if teamed with different arm warmers and base layers, could probably get you though to late autumn too, giving it quite a long shelf life.
It wears well and ticks all the right boxes for a windproof and water-resistant jersey but, hand on heart, I don't know if I'm ready to do away with a good old-fashioned gilet and rain cape even if their combined cost is more than one 'do-it-all' jersey. But if you live more minimalistically than me, are trying to reduce your wardrobe or have joined the bike-packing movement, this could become an ideal product of choice. If this is you, then you're on to a winner. Your only grumble then might be with the colour options.