October's tech of the month: Lightweight wheels, new MET helmet and Light and Motion smart lights
Cycling Weekly's tech team take a look at what's hot this month, including wheels, helmets, lights and the new Specialized Tarmac.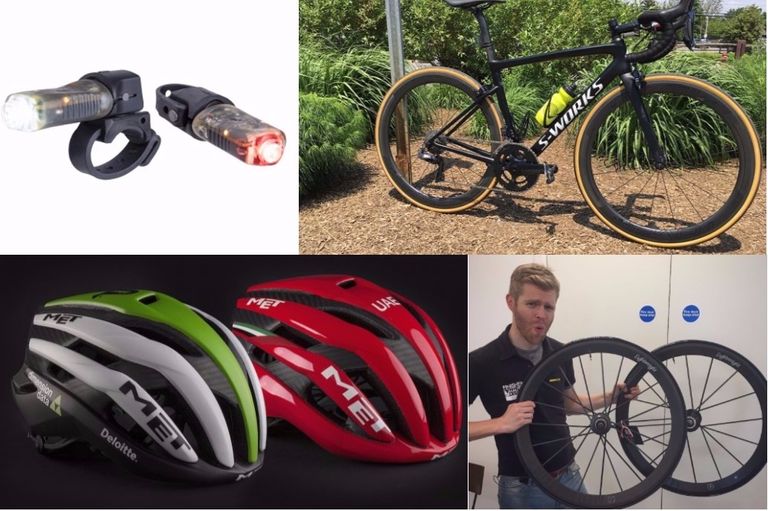 Lightweight Meilenstein Obermayer wheels
These bonkers wheels are fresh in from Germany and the missing link to Oliver's hill climb bike that he's been building over the last few months.
They're frankly mind-boggling, coming in at £4969 a pair and weighing just 940g. It's all to do with the carbon layup and how the spokes are laid directly into the rim and hub, and it's this that makes them so stiff and fast.
Light and Motion Vibe Pro Commuter Combo
The idea behind Light and Motion's flagship commuter lights is great. Basically, depending on ambient light and their motion sensors they change their output mode.
The rear light is especially bright (geddit?), and it switches from a slow pulse to a quick series of flashes, not only alerting other drivers but improving their depth perception, too.
The lights are currently unavailable but they should be by the end of November, retailing at £99.
Met Trenta helmet
We're very lucky to have this one in the office considering it's yet to be released. Although, you may have seen it in use on the head's of UAE Team Emirates and Dimension Data.
It's lightweight, weighing in around 215g and it has a special rear light to help keep you safe, too.
Tech Ed Symon Lewis has found it comfortable and cool thanks to its big vents which help push the air out the back of the helmet, like a giant rocket's exhaust...
Bike of the month: Specialized Tarmac
Symon Lewis is in love, and it's easy to see why! The new Specialized Tarmac is quite the looker with that sleek matte paint job and tan walled tyres.
The biggest changes are, of course, the new dropped seat stays and squared seat post. Specialized has also reduced the size of the tubing thanks to its Fact12 carbon.