Time trial helmet vs road helmet: which is faster? (video)
We tested which is faster: a standard road helmet or a time trial specific helmet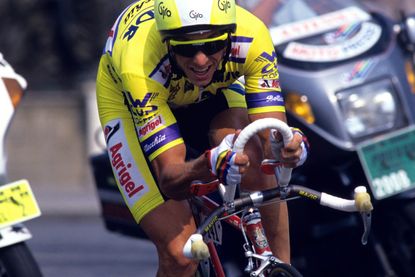 If you are a frequent time trialler and serious about going faster you are likely to have considered whether it is worth splashing out on a time trial specific helmet.
To help you make this decision, we carried out a test to see how much faster a time trial specific helmet is compared to a standard road helmet.
Science
When riding on a flat course, save for your level of fitness, the main limiting factor on your speed is the drag caused by wind resistance. It is commonly accepted that the bike accounts for 20% of the overall drag, and your body the remaining 80%.
>>> The importance of a correctly pinned on race number
There are lots of ways to buy speed, such as deep section wheels and aero bike frames. However, you do not always have to spend thousands of pounds. There are lots of cost effective ways to save watts, from the bizarre (leaving hair on your legs) to those that you've never thought about (putting on your race number correctly) — a time trial helmet could be a another way of getting some real "bang for your buck" when it comes to cheating the wind.
Helmets
Generally, standard road helmets have lots of air vents with the primary function being protection and comfort.
Whereas, although protective, time trial or aero helmets are designed for speed. As a result, they usually have fewer air vents which means they are normally hotter to wear. A standard time trial helmet is shaped a bit like a rain drop, the theory being that the tail of the helmet fills the gap between the rider's head and back, therefore reducing drag.
>>> Seven of the top time trial helmets used in the pro peloton
The obvious advantage of a road helmet is that you can wear it on every ride you do, i.e. a better price per wear. Despite this cost consideration, at most local time trials you'll see the majority of riders wearing time trial helmets rather than normal road helmets. So the question is, how much faster is a time trial helmet?
Test
For the test we used a Lazer Genesis road helmet and a Lazer Wasp time trial helmet, both medium sized.
Each test ride consisted of six laps of the 250m Newport velodrome. The only variable in the test was the helmet, i.e. we used the same rider, the same clothing, same bike (and set up) for the two test runs.
>>> Which climbs faster — an aero bike or a lightweight bike?
To calculate the aerodynamic advantage of a time trial helmet over a standard road helmet we used a CDA (Coefficient of Drag Area) system. The CDA is calculated by tracking a rider's power output and speed, along with the air density, lean angle, rolling resistance and the rider's position on the track. In short, the lower the CDA the more aerodynamic the position.
Results
As you may have expected the time trial helmet is significantly faster. If travelling at 25mph for 60 minutes there is a saving of 8.5 watts, which in real terms would equate to a substantial saving of 49 seconds.
The results table above shows that the faster you are riding the greater the saving in watts — this is because aerodynamics become more important as your speed increases. However, absolute time savings decrease due to you being on the course for a shorter total time.
>>> What is faster an aero bike or a standard road bike?
The results are clear, a time trial helmet is more aerodynamic than a standard road helmet. However, if you cannot hold your position for the duration of a time trial, in particular if you have the propensity to look down or move your head frequently, any benefits you may have made by wearing the time time trial helmet are offset by the drag created by the tail of the helmet acting like a sail. If you are one such rider, an alternative to a full on time trial helmet could be a road aero helmet.
Thank you for reading 20 articles this month* Join now for unlimited access
Enjoy your first month for just £1 / $1 / €1
*Read 5 free articles per month without a subscription
Join now for unlimited access
Try first month for just £1 / $1 / €1