Cycling Fitness Autumn issue is out now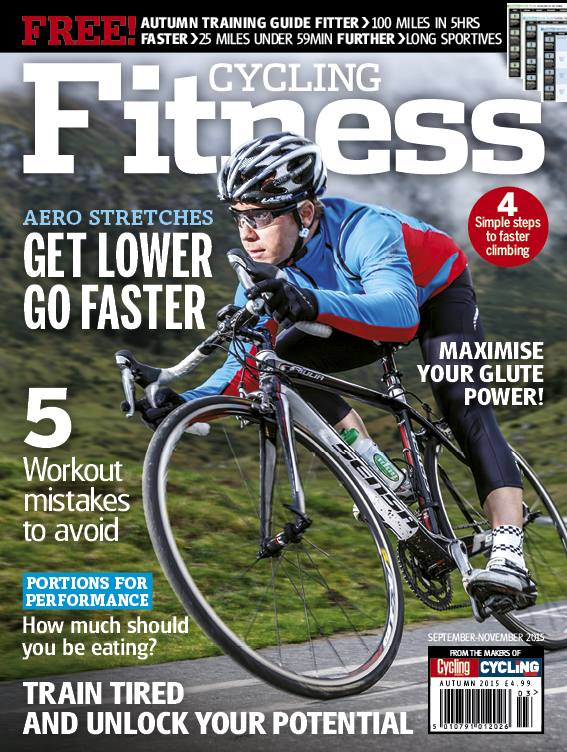 Autumn 2015 issue
Cycling Fitness features the latest trends in products, training methods and superfoods, including tantalising recipes to freshen up your diet, as well as in-depth real-life case studies and the usual 12 week training plans for riders of every level.
Cycling Fitness magazine September-November 2015 issue is on sale from Wednesday August 26 at WHSmith, major supermarkets and all good newsagents, priced £4.99
What's in this issue:
Fitness news
Beetroot, ginger, peas and burgers. All the latest nutrition and fitness news
Do you remember your first time?
Fancy trying something new next year? Find out how our readers got on in their first events
What is the ultimate cycling test?
With so many cycling disciplines to choose from we ask the question: what's hardest?
Cycling Fitness motivational phrase directory
Everyone needs a bit of encouragement occasionally
Mountain madness
Alpine passes and 550 miles makes for a fantastic event
The cold, hard facts
Should you ride with a head cold or sweat it out on the sofa beneath the duvet?
Five ways cycling can beat the ageing process
Forget expensive face creams — all you need do is ride your bike to stay young
Be good to your bones
Nutrition and exercises to strengthen your skeleton
Ride more, become happier
Cycling can increase your productivity and your wellbeing — fact!
Training tired
To get fitter you sometimes need to train even if you don't feel like it
Bottle hygiene
Dirty bottles can lead to upset stomachs and illness
Your FREE training plans
Three training plans for riders of every level
Testing
Why now is the best time to get your fitness tested
Striking a balance
Getting the right amount of rest and training is a tricky equation
Indoor workouts
A stationary trainer may make you fit — but are you missing out on the benefits of the great outdoors?
NUTRITION
Recipes
Four seasonal recipes to help get some reds, green and purples in your diet
Eat, drink and ride faster
Advice from a pro team nutritionist on how to structure your diet
Portion science
Make sure your meals are the right size to get the nutrition you need
The big toast trends
Transform a simple slice of toast into a wonder food
Label lowdown
Cut through the confusion and know what is in your food at a glance
A-Z of sports nutrition
New fitness products and supplements explained
TECHNIQUE
Stretch yourself faster
An aero position has more to do with your flexibility than your bike
Recruit your glutes
Maximise your power by making better use of these big muscles
Five workout mistakes to avoid
Classic errors and how to avoid them
Conquer a long climb
Climbing is just as much in your head as in your legs
Cycling Fitness magazine September-November 2015 issue is on sale from Wednesday August 26 at WHSmith, major supermarkets and all good newsagents, priced £4.99