UK Cycling Events launch Brewin Dolphin Velo Club
UK Cycling Events, the UK's largest cycling event organiser, are proud to announce the launch of the 2017 Brewin Dolphin Velo Series including the new Brewin Dolphin Velo Club ticket.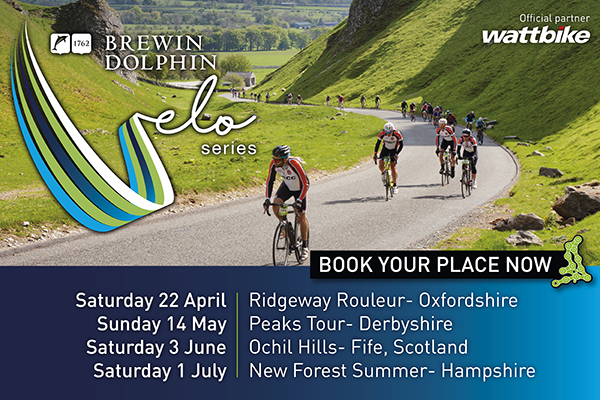 UK Cycling Events have partnered with leading wealth managers Brewin Dolphin to launch a series of four road cycling events in Oxfordshire, the Peak District, the New Forest and Scotland.
>>>Find out more and book here
Each event offers riders the chance to experience some of the most picturesque riding backdrops the UK has to offer. As with all UKCE events, each has a choice of three routes, is fully signed, fully supported (both medically and mechanically) includes electronic chip timing, marshalling and well-stocked feed stations fuelled by PowerBar energy products and food. Plus the new Brewin Dolphin Velo Club ticket for those riders wanting the ultimate VIP sportive experience. Includes custom Brewin Dolphin jersey, complimentary breakfast and lunch and the chance to ride with celebrity guests.
Laura Bailey, Partnerships and Event Manager at UKCE said: "We are really excited to be working with Brewin Dolphin and launching what's set to be a prestigious series of rides. This partnership highlights the growing recognition that cycling is a great way for businesses to connect and engage with new audiences whilst supporting the passions of their existing client base''
According to Gregory Thorpe, Director of Marketing and Communications, Brewin Dolphin: ''We have witnessed a huge surge in participation in cycling over the last few years. It's become the new golf for many professionals, who are a key target client group for Brewin Dolphin. We are excited to be working with UK Cycling Events and sponsoring the Brewin Dolphin Velo Series. We know the events will be a great draw, and we look forward to seeing some great cycling.''
2017 Brewin Dolphin Velo Series
22 April - Ridgeway Rouleur, Oxfordshire
14 May - Peaks Tour, Derbyshire
1 July - New Forest Summer, Hampshire
UK Cycling Events are offering a 20% discount on group bookings of four or more so rally your mates and get your season started!
Further details and to enter visit: www.ukcyclingevents.co.uk