Tour de France
Tour de France coverage from Cycling Weekly, with up to date race results, rider profiles and news and reports.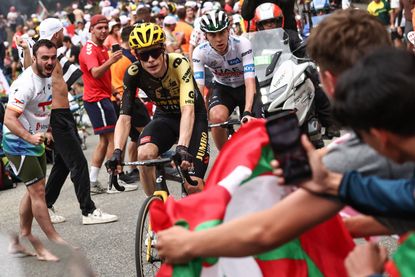 (Image credit: ANNE-CHRISTINE POUJOULAT / Getty)
The Tour de France 2024 marks the 111th edition of cycling's flagship race. In the first Grand Départ for Italy, the race starts in Florence and traces a path east across the country, before heading back west towards France and into the Alps. The race also tackles the Apennines, Massif Central and Pyrenees mountain ranges, and passes through Italy, San Marino, Monaco and France. This edition breaks from tradition, finishing not in Paris but in Nice, due to the 2024 Paris Olympics.
The three-week event is the second in the trio of Grand Tours, coming after the Giro d'Italia and before the Vuelta a España.
Tour de France 2024: Overview
Swipe to scroll horizontally
| | | |
| --- | --- | --- |
| Date | 29 June 2024 - 21 July 2024 | Row 0 - Cell 2 |
| Total distance | 3,492 kilometres (2,170 miles) | Row 1 - Cell 2 |
| Number of stages | 21 | Row 2 - Cell 2 |
| Start location | Florence, Italy | Row 3 - Cell 2 |
| Finish location | Nice, France | Row 4 - Cell 2 |
| UCI ranking | WorldTour | Row 5 - Cell 2 |
| Edition | 111th | Row 6 - Cell 2 |
| Total climbing / elevation gain | 52,230 metres | Row 7 - Cell 2 |
| Leader's jersey colour | Yellow (Maillot Jaune) | Row 8 - Cell 2 |
| Last winner | Jonas Vingegaard (Denmark) | Row 9 - Cell 2 |
| TV coverage (UK) | TBC | Row 10 - Cell 2 |
| TV coverage (US) | TBC | Row 11 - Cell 2 |
Tour de France 2024: Key information
Tour de France 2024: Grand Depart information
Florence, Italy
Saturday 29 June 2024
Tour de France 2024: The route
One for the climbers, the 2024 Tour de France route incorporates four summit finishes, spans four mountain ranges, and features the hilliest opening stage in history. One of the most interesting and intriguing routes of recent years, sitting between the predominantly hilly week one and week three sits a flatter week two, and stage nine - with an abundance of white roads; 14 sectors in total. There's plenty for the sprinters as well as the general classification and climbing specialists, although there are going to be some tough mountains to get over to reach the sprint stages, and to finish the three weeks. For the first time in 35 years, a final day time trial means the yellow jersey won't be decided on the penultimate day.
Tour de France 2024 route: Stage-by-stage
Swipe to scroll horizontally
| Stage | Date | Start | Finish | Distance | Terrain |
| --- | --- | --- | --- | --- | --- |
| Stage one | 29 June | Florence (Italy) | Rimini (Italy) | 206km | Hilly |
| Stage two | 30 June | Cesenatico (Italy) | Bologne (Italy) | 200km | Hilly |
| Stage three | 1 July | Piacenza (Italy) | Turin (Italy) | 229km | Flat |
| Stage four | 2 July | Pinerolo (Italy) | Valloire (France) | 138km | Mountains |
| Stage five | 3 July | Saint-Jean-de-Maurienne | Saint-Vulbas | 177km | Hilly |
| Stage six | 4 July | Mâcon | Dijon | 163km | Flat |
| Stage seven | 5 July | Nuits-Saint-Georges | Gevrey-Chambertin | 25km | ITT |
| Stage eight | 6 July | Semur-en-Auxois | Colombey-les-Deux-Églises | 176km | Flat |
| Stage nine | 7 July | Troyes | Troyes | 199km | Hilly/Gravel |
| Stage ten | 9 July | Orléans | Saint-Amand-Montrond | 187km | Flat |
| Stage 11 | 10 July | Évaux-les-Bains | Le Lioran | 211km | Medium mountains |
| Stage 12 | 11 July | Aurillac | Villeneuve-sur-Lot | 204km | Flat |
| Stage 13 | 12 July | Agen | Pau | 171km | Flat |
| Stage 14 | 13 July | Pau | Saint-Lary-Soulan Pla d'Adet | 152km | Mountains |
| Stage 15 | 14 July | Loudenvielle | Plateau de Beille | 198km | Mountains |
| Stage 16 | 16 July | Gruissan | Nîmes | 187km | Flat |
| Stage 17 | 17 July | Saint-Paul-Trois-Châteaux | Superdévoluy | 178km | Mountains |
| Stage 18 | 18 July | Gap | Barcelonnette | 179km | Hilly |
| Stage 19 | 19 July | Embrun | Isola 2000 | 145km | Mountains |
| Stage 20 | 20 July | Nice | Col de la Couillole | 133km | Mountains |
| Stage 21 | 21 July | Monaco | Nice | 34km | ITT |
Tour de France 2024: The teams
There will be 22 teams of eight riders at the 2024 Tour de France. This includes all 18 UCI WorldTour teams, as well as the two best-ranked UCI ProTeams, and two further squads invited by the organiser, ASO.
Tour de France 2024: General classification riders
The general classification riders set to appear on the start line in Florence on June 29 are as of yet unconfirmed.
Reigning champion Jonas Vingegaard is extremely likely to be there to defend his title, and there should be no challenges from within the team since Primož Roglič's move to Bora-Hansgrohe. However, Roglič will be making his own bid for the win as the new team leader, with the route suiting him well.
Following the route announcement in October, Tadej Pogačar said that the "end of the journey makes me smile", with the final 2 stages starting and finishing close to his home in Monaco. Pogačar is hoping to take back the top step in 2024 after two years of missing out on yellow to Vingegaard.
Remco Evenepol intends to make his Tour de France debut in 2024. Although he took a win in 2022 at the Vuelta, his performance in other Grand Tour races has been either inconsistent or blighted by illness. If he's to compete against the likes of Vingegaard and Pogačar, he'll have to up his game. It's not yet known who Ineos Grenadiers will hand the reins to, but, coming 5th overall and taking a stage win in his Tour debut in 2023, Carlos Rogríguez seems a likely choice.
Tour de France 2024: Sprinters
It's going to be a tough year for the sprinters. Jasper Philipsen of Alpecin-Deceuninck was one of the star men of last year's Tour de France, taking four stage wins and the green sprinter's jersey at the end of the three weeks. If the Belgian returns in 2024 then he will definitely be looking to defend his jersey.
Mads Pederson of Trek-Segafredo has won stages in all three Grand Tours and is likely to gain victory again in some of the harder sprint stages in 2024.
All eyes will be on Mark Cavendish in the 111th Tour de France after he postponed retirement to target the Tour win record, currently shared with Eddy Merckx, and gain his 35th win. He said, however, that he was "in shock" and that this was the "toughest course" he had ever seen, when it was revealed in October.
Tour de France 2024: On TV
As you'd expect the Tour de France will be avialable to watch in a lot of places this July.
The race is expected to be live-streamed on GCN+, Discovery+ and Eurosport, as well as ITV4, in the UK and in Europe. Subscription costs are £6.99/month or $8.99/month, and £39.99 or $49.99 for a year.
A Flobikes annual subscription will cost you $209.99 if you want to watch in Canada, while in the USA NBC Sports via Peacock Premium ($4.99 per month) will show the race. Australians can can watch the Tour for free on SBS on Demand.
And, of course, if you want to watch your local stream from anywhere in the world you'll need a VPN from a trusted company like ExpressVPN.
Tour de France: The jerseys
Much like every year in recent memory, the Tour de France jerseys and classifications are yellow for the overall leader, green for the leader in the points standings, polka-dot for the mountain classification, and white for the best young rider.
Along with the jersey prizes, there is an award for the most combative rider of each stage, with the winner wearing a red number on the following day. This is awarded each day, with a 'Super Combativity' award decided by a jury at the end of the race for the most active rider throughout the entire event.
There is also a team classification where the time of the first three riders from each team is put together to create a single time. This is then done in a similar way as the individual general classification.
In addition, there are plenty of bonus seconds up for grabs at the race. There are ten, six and four bonus seconds available at the end of each stage for the first three riders, as well as bonus sprints that are dotted throughout the race on key climbs to try and make the racing more entertaining for spectators.
Of course, there's also prize money up for grabs. For winning the 2023 edition of the race, Jonas Vingegaard collected €535,220 (£463,100), a sum which is customarily shared out among the team's riders and staff.
Tour de France past winners in the last 12 years
How does the Tour de France work?
The Tour de France is one of a trio of races that are three weeks long, known as the Grand Tours, alongside the Giro d'Italia and the Vuelta a España. The Tour is the best known and arguably the most prestigious.
It is the second of the three races in the calendar with the Giro taking place in May, the Tour usually in July, and the Vuelta in August and September.
The Tour, like all Grand Tours, takes on varying terrain with flat days for sprinters, hilly days for punchers and mountains for the climbers and GC riders, along with time trials, so that a winner of the race has to be able to perform on all types of road.
The main prize in the race, known as the general classification, is based on time with the overall leader wearing the yellow jersey. The race leader and eventual winner is the rider who has the lowest accumulated time over the 21 days of racing. Riders can win the Tour de France without winning a stage, as Chris Froome did in 2017. Time bonuses of 10, six, and four seconds are given to stage winners though, creating incentive for those general classification riders to chase individual victories and lower their overall time.
In 2020 it took race winner Tadej Pogačar 87 hours 20 minutes and 5 seconds to complete the race with the second-place rider overall 59 seconds slower. That continues all the way down to the last place rider, which was Roger Kluge (Lotto-Soudal) who finished 6 hours 7 minutes and 2 seconds behind.
The white best young rider's jersey is worked out in the same way but only riders under the age of 26 are eligible for the jersey.
The polka-dot mountains jersey and the green points jersey are based on a points system and not time. The only reason time would come into account would be if riders are tied on points, then it would go to who is the best placed in the general classification.
The team classification is based on the general classification times of the first three riders of a team on each stage. The time of those three riders is added up and put onto their team's time, creating a GC list much like in the individual classifications. The leading team gets to wear yellow numbers and helmets on each stage.
The final classification available is the combativity prize. This is decided by a race jury or, in more recent years, Twitter. This takes place just before the end of each stage and often goes to a rider from the breakaway who has put in a daring performance or attempted to liven up the stage by attacking. The winner of the combativity award gets to wear a special red race number on the following day's stage.
There is a final prize added to this with the Super Combativity prize being awarded on the podium in Paris. This is decided in a similar fashion to pick out the most aggressive, entertaining, and daring rider of the whole three weeks. Again, usually going to a rider who has featured regularly in the breakaway.
Stage winners do not wear anything special the day after apart from getting a small yellow jersey to stick on their number on their bike, this can be replaced if they win multiple stages.
Teams used to come to the race with nine riders but the UCI, cycling's governing body, decided that nine riders from each team was too dangerous and dropped it to eight, however more teams now take part.
How long is the Tour de France?
The Tour de France takes place over 23 days with 21 of them being race days. The riders get two days of resting; they usually fall on the second and third Monday of the race.
This year's race is 3,492km long, which is 2,170 miles, around the same distance from Washington DC to Las Vegas, or Helsinki to Lisbon.
Road stages can range from anything around 100km to something approaching 250km, sometimes more. This year the shortest road stage is stage 20, from Nice to Col de la Couillole, with the longest being 229km on stage three in Italy, from Plaisance to Turin.
Road stages often take around four to five hours with the longer days sometimes nudging over seven hours.
Time trials are always much shorter. Team time trials have long since gone out of fashion in the world of road racing so individual time trials are the main focus these days.
In 2024, the Tour has two individual time trials for the riders to tackle, the first on stage seven at 25km long from Nuits-Saint-Georges to Gevrey-Chambertin, and the second on the final stage from Monaco to Nice, at 34km long.
When does the Tour de France start?
The 2024 Tour de France starts on June 29 in Florence, Italy, with a road stage. There will be three full stages in Italy, before the fourth heads into France. The race finishes in Nice three weeks later.
The 2024 edition of the race runs from 29 June - 21 July, covering 21 stages.