Best road bikes 2022: top reviewed bikes for every price point
Our pick of the best road bikes we've tested at Cycling Weekly as well as our buying advice telling you what to look for in a drop bar bike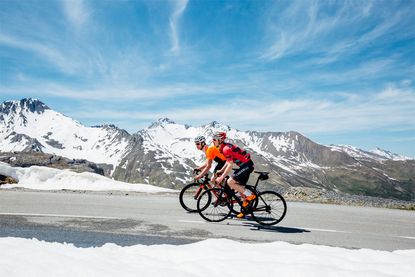 If you're looking for the best road bikes, there are more and more options available at every price point.
Road bike prices have seen a lot of inflation over the last few years and the top end models now often retail for over $10,000 / £10,000. We've divided this guide up into bikes priced at under $2,000 / £2,000, those priced under $5,000 / £5,000 and money no object options. But if you find those price tags hard to swallow, check out our guide to the best cheap road bikes which we've ridden.
The road bike sector is more nuanced than it's ever been, with frame materials, aero features, wheel construction and tyre width all offering loads of choice. The rise of the gravel bike offers a machine that you can ride on the road but that you can also take on tracks and trails, giving you more choice in where you ride.
Fortunately we've tested hundreds of road bikes at Cycling Weekly, enabling us to better help you navigate an increasingly busy and competitive marketplace, and ultimately find the road bike of your dreams.
Here are our picks of the best road bikes at a variety of different price points.
Best road bikes we've tested at Cycling Weekly
Best road bikes under $2,000 / £2,000
Specialized's budget road bike has a lightweight frame and all-carbon fork, with cables routed internally. The geometry was designed using Specialized's huge bike fit database, for a fairly upright ride position and a fit that's comfortable for many riders. There's room for mudguards and a rack, so we reckon it has the versatility to serve duty as either a first road bike, a winter bike or even a bike for commuting.
The Axis Sport wheels are on the heavy side though and the Tektro rim brakes aren't the most effective, but nevertheless the ride quality and sporty feel are up there with much pricier bikes. The weight does hold you back a bit on the climbs though, despite the range down to less than 1:1 offered by the Shimano Claris 8-speed groupset, which shares a lot of the ergonomics of Shimano's top spec Dura-Ace. That range spread over eight speeds does result in some quite large jumps between gear ratios though.
A wheelset upgrade would significantly improve performance, while the bike would also benefit from an upgrade as well. But all in all it's an impressive package for the price, making the Allez very competitive against the other best cheap road bikes we've reviewed.
Read more: Specialized Allez full review
For £1,100 the Boardman SLR 8.9 delivers a lot of bike for the money. You get an aero carbon frame and forks that have been wind tunnel tested, as well as Shimano's reliable 11-speed 105 groupset (albeit with a FSA crankset). The result is a bike that's lighter than its rivals. On test our size small weighed 8.75kg.
The ride is exceptional; responsive with just enough compliance. It's also a frame that's worthy of a few upgrades over time, making the SLR 8.9 a bike that can grow with you. The bike is available in men's and women's variants, with the difference being in the contact points fitted to the same frame. In all but the wettest conditions, the rim brakes work well and they're a worth trade-off on a bike at this price that boasts a carbon aero frame.
Read more: Boardman SLR 8.9 full review
Sharing features of Giant's more expensive bikes, the Contend has a compact alloy frame with a sloping top tube. The D-Fuse seatpost and carbon fork are designed to add compliance at the rear and the front end respectively. Along with the endurance frame geometry this gives great comfort and handling, letting you ride for longer and inspiring confidence.
There's bags of low gearing, down to 1:1, to tackle uphills and Shimano 105 gives you quality shifting, although the rather heavy weight doesn't make for sprightly performance. It's a good value proposition for its price though.
Read more: Full review of the Giant Contend
Decathlon's in-house Van Rysel brand offers great value in the Shimano 105-equipped Ultra CF. You get a carbon frameset with aero flourishes and decent alloy wheels that give stable handling and good braking from the in-series rim brakes - it's one of the few bikes that still uses rim stoppers, although Decathlon is progressively equipping its range with disc brakes. It's not particularly light, although a wheel upgrade would definitely up performance and lower weight.
The Ultra CF is available with a range of groupset options from both Shimano and Campagnolo, so you can pick a spec to match your budget and there are men's and women's versions.
Read more: Full review of the Van Rysel Ultra CF
Best road bikes under $5,000 / £5,000
Cannondale has long been a master of performance alloy frames and the CAAD13 follows in that vein. It's got long and low geometry based on that of the pro-level carbon SuperSix, with aero tube profiles leading to handling which is second to none. Priced low enough to be a first bike it's a frame that you won't outgrow.
At this price point, you get a Shimano 105 hydraulic groupset with a RS510 crank set. The wheels have had a slight upgrade for 2022, so you're now getting DT Swiss R470 rims with the Formula hubs. The only thing that we found fault with was the rather high front end stack. It's easy to rectify but means you'll have to have your head tube cut down to avoid an ugly stack of spacers above the stem.
Read more: Full review of the Cannondale CAAD13 Disc here
The Liv Langma Advanced Pro 1 Disc has received significant upgrades for 2022. The women-specific, race-ready frameset now has a stiffer front end thanks to the upgraded SL fork. There's also room for 32mm tyres making it pretty future proof too as tyres continue to get wider. Incredibly for a bike costing under £4,000, you also get a power meter courtesy of the Giant PowerPro crankset.
As for the ride, it's stiff yet compliant and the Liv both climbs and descends with confidence. On test our gripes were minor: big jumps between gears thanks to the 11-30 cassette and rims that lacked some depth. However, both of these are subjective.
Read more: Full review of the Liv Langma Advanced Pro 1 Disc
The sub-8kg (17.6lbs) weight is impressive for an aluminium disc brake bike at this price, better than many carbon bikes, while Trek's Invisible Weld Technology makes for smooth welds that look like carbon too. The bike rides more like a carbon bike than alloy as well.
The lightweight Emonda gives you great braking from its Shimano 105 disc brake groupset and plenty of comfort, thanks to its 28mm tyres, carbon seatpost and comfort-oriented ride position.
It's available in a really wide range of sizes, from 47cm all the way up to 64cm. There are some great colours too.
Read more: Trek Emonda ALR 5 full review
As a direct to consumer brand Ribble is able to deliver great value for money. The Endurance SL R Disc is the perfect example of this, with our Red eTap AXS-equipped model costing just a little over £6,500. However, as with all Ribble framesets you can use its bike builder to create the machine of your dreams - and, importantly, your budget.
The Endurance SL R Disc is a great all-rounder, benefiting from a few aero tweaks and an integrated cockpit while still being agile and compliant. On test it proved to be quick but still capable of delivering all-day comfort. The only downside, perhaps, is the weight when compared to some of its rivals.
Read more: Full review of the Ribble Endurance SL R Disc
Best road bikes over $5,000 / £5,000
Coming from the oldest bike shop in the world - established in 1860 - the Pearson HammerAndTongs is nevertheless an endurance bike that's bang up to date, with an aero frame design and plenty of tyre clearance for 32mm wide tyres and more.
As with most endurance bikes, the front end is a little higher than you'll find on racier models, but otherwise the geometry is designed for fast riding, with a short wheelbase and steep seat tube angle. We liked the front end integration and the narrow aero carbon bars.
The HammerAndTongs was a fast ride too, although we found the wheelset a little twitchy in a strongish crosswind. It's an impressive performance from a small bike brand.
Read more: Full review of the Pearson HammerAndTongs
The Merida Scultura Team road bike has seen a few updates for 2022. Now in it's fifth generation it's adopted some aerodynamic properties from the brand's Reacto aero bike, including boxy tubing, dropped seatstays and a fully integrated cockpit. The result, Merida claims, is a few watts saved.
However, this being a high-end all-rounder it's perfectly comfortable too, with tyre clearance now at 30mm. And as a bike that began life as a climbing machine it's still lightweight - in fact it's a little lighter than the previous model by just under 50 grams.
On test we found it to be a fun ride. With the benefits of both an aero bike and a lightweight climbing bike it balances speed and agility to create a bike that's responsive and assured. The new Dura-Ace is worthy of mention too, with improved braking to go alongside the reliability and performance you'd expect from this top-tier electronic groupset.
Read more: Full review of the Merida Scultura Team
The R5 is Cervélo's race-ready climbing bike. In fact it's the bike that helped Primoz Roglic to his third straight Vuelta title in 2021. As you'd expect then it's lightweight and climbs like a dream. But it also offers a supreme balance of stiffness and compliance, making it quick, agile yet perfectly comfortable too. For a bike that's built to go uphill, it descends incredibly well, providing plenty of confidence at speed.
The R5 comes in a number of high-end build options including those featuring Shimano and SRAM's top-tier electronic groupsets, Dura-Ace Di2 and Red eTap AXS respectively.
Read more: Full review of the Cervélo R5 Disc
Cannondale's aero race bike gives you top-notch aero features and aggressive looks. It's still comfortable enough for the usual mixed bag of road surfaces though. That's in part due to the extra-wide Knot 64 aero carbon wheels, which increase tyre width of the 23mm tyres fitted up to 26mm. As for the tyres, the bike comes fitted with Vittoria Rubino Pro in a 25mm width and an upgrade should help add a little more plushness to the ride.
At 7.6kg (16.8lbs), the SystemSix is adequately light, although not class-leading.
Read more: Full review of the Cannondale SystemSix Carbon Ultegra Di2
We've tested the Foil in various specs and with rim brakes (now discontinued) and disc brakes and always come away impressed with its quality and out-and-out speed. In its premium spec, the Foil ticks all the aero boxes in a superb-looking design, with well-integrated cabling and a quality set of Syncros aero wheels, along with 28mm tyres, for a bit more smoothing of the edgy ride.
There's top-spec Dura-Ace Di2 shifting, although we'd have liked to see a power meter as part of the deal. Other options see the Foil offered with Shimano Ultegra in both its electronic and mechanical offerings as well as SRAM's Rival AXS groupset.
Read more: Full review of the Scott Foil Premium
Adding aero credentials to its race-ready design and with feedback from the pros, the latest Tarmac SL7 is stiffer, more stable and more aero than its predecessor - and 45 seconds quicker over 40km at 50kph. It's also been stiffened up at the rear to satisfy the pros.
Specialized's new integrated bar and hidden cable routing aren't too difficult to work with and there's more tyre clearance - up to 32mm. It's super-light too, bettering the UCI weight limit by 200g.
We rode the top spec model, but the Tarmac SL7 range starts with the Comp for under half the price of the Dura-Ace build. It's built with a lower spec carbon used for the frame and kitted out with a SRAM Rival eTap AXS groupset.
Read more: Full review of the Specialized Tarmac SL7
Our tests showed that the Madone is one of the most aerodynamic bikes available. But Trek's in-built IsoSpeed suspension system is tuneable and makes the Madone surprisingly comfortable, despite its chunky looks.
Trek now uses a threaded T47 bottom bracket on the Madone, making it more serviceable than previous models as well as being creak-free.
We tested the most expensive eTap version of the SLR 9 but it's also available with Shimano's top of the line electronic Dura-Ace Di2 groupset, for around £1000 less. There's also the SLR 7 range, which shares many similarities but at a slightly lower price point.
Read more: Full review of the Trek Madone SLR 9
Specialized's Aethos made quite the splash on first launch. Credited with being the lightest production road frame available it's a bike designed less for racing and more for pure enjoyment.
On test we found this to be the case (opens in new tab). It offers a quality of ride that's hard to beat; not the stiffest or the most aero but rather a blend of properties that make it suited to all-day comfort while still being incredibly agile. Of course, you could race on this bike, as Kasper Asgreen did during a stage in the 2021 TdF. It's numbers are pretty similar to the Tarmac after all.
But this really is bike that excels on long rides over varied terrain. It climbs and descends like a dream and is plenty quick on the flat stuff too. Its versatility is strengthened by Specialized's desire to make the Aethos somewhat more traditional when compared with its out-and-out race bikes. Here you have a threaded bottom bracket, as well as a classic looking cockpit, without the full cable integration that saves a few watts but makes swapping out parts or fitting new cables a bit of a bind.
The only downside to the S-Works Aethos is its price tag. The 2022 version equipped with Shimano Dura-Ace Di2 retails as £12,500, while the same bike with SRAM Red eTap AXS will set you back a mere £12,000.
If you're taken with the Aethos' classic good looks but don't have £12k to spare it is offered in a number of other builds. While still very expensive the Aethos Comp (opens in new tab), for example, hits a lower price point while delivering a ride quality not too dissimilar to its pricey relative.
Read more: Full review of the Specialized S-Works Aethos
Best road bikes: buyer's guide
What's the difference between race and endurance geometry?
A key decision when choosing the best road bike for you is what you plan to do with it. Are you looking to go fast or race, or are you after a more comfortable bike for leisurely rides or long days in the saddle?
Geometry is the key factor here. A full-on race bike will put you in a more bent-over riding position, with your head and shoulders lower down over the handlebar. That's great when you have a need for speed, reducing your frontal profile to lower your wind resistance but can be uncomfortable, particularly for a beginner.
On the other hand, bikes labelled "endurance" or "sportive" will be designed for a more upright riding position, with the bars higher and closer to the saddle. That delivers greater comfort on longer rides, but may make you a bit slower.
If you're riding on hilly roads, or planning a trip abroad to the Alps for example, you'll certainly appreciate a lightweight bike. However, if you're going to spend your time riding fast on flatter terrain then aerodynamics are probably more important to you. And If you're looking to race, the stiffer, more edgy handling of a race bike will work better than the more stable handling of an endurance machine.
An increasing number of bikes are designed to take you off the tarmac as well as letting you ride efficiently on road. A gravel bike will give you wide tyres and lower gears. But many endurance or 'all-road' bikes now offer plenty of tyre clearance as well as an expansive gear range, letting you take in a wider variety of routes.
How much do I need to spend on a road bike?
You also need to look at how much you want to spend on a bike. That's not just the initial outlay, but the cost of replacing worn or damaged parts, the cost of servicing your bike and the cost of any upgrades. There's a big difference in price between lower spec mechanical parts and top of the range electronic gearing.
A bike's specs will vary a lot between manufacturers. In particular, prices will be lower at direct only brands (such as Canyon and Ribble) and in-house brands (Vitus at Wiggle or Boardman at Halfords). But to give you an idea, here's a look at common specifications at various investment levels. In the interest of brevity, some bandings are wide and therefore you would expect variation within them.
£750 - £999 / $1000 - $1500
An aluminium frame and carbon fork, aluminium seatpost and handlebar/stem, shifting at Shimano Sora or Claris level, aluminium wheels. Rim brakes.
£1000 - £1499 / $1500 - $2200
Either an aluminium frame and carbon fork at around Shimano 105 level, or a carbon frame and fork with shifting at Shimano Tiagra level. Aluminium wheels, seatpost and handlebar/stem. Disc or rim brakes. We would advise choosing rim brakes or cable-actuated disc brakes.
£1500 - £2499 / $2200 - $3500
Carbon frame and fork with Shimano 105 (lower end of budget) or Ultegra (higher end) aluminium rims, carbon seatpost, aluminium handlebars and stem. Disc brakes should be hydraulic from this price point.
£2500 - £3999 / $3500 - $5600
Carbon frame and fork, Shimano Ultegra or SRAM Rival AXS eTap (hydraulic if disc), carbon seatpost, aluminium bar/stem, aluminium rims
£4000 - £5999 / $5600 - $8500
Carbon frame and fork, Shimano Ultegra Di2 or SRAM Rival / Force AXS eTap (hydraulic if disc) with aluminium wheels, or Shimano Ultegra with carbon wheels 30mm+, carbon seatpost, aluminium bars and stem
£6000 - £7999 / $8500 - $11,000
Carbon frame and fork, Shimano Ultegra Di2 or SRAM Force AXS eTap, carbon wheels 30mm+, carbon seatpost, carbon handlebar
£8000 - £9999 / $11,000 - $14,000
Carbon frame and fork, carbon wheels of 50mm+, Shimano Dura-Ace Di2 or SRAM Red AXS eTap
£10,000+ / $14,000
Accept nothing but the best of everything. Top of the range carbon frame and fork - usually utilising stiffer carbon and therefore fewer layers resulting in lower weight, carbon wheels of 50mm+, Shimano Dura-Ace Di2 or SRAM Red AXS eTap, power meter as standard
What are the best frame materials for road bikes?
A major difference between cheaper and more expensive bikes is their frame material. Bikes costing under £1000 are typically made of aluminium alloy, with the tubes welded together. It's a material used in more expensive bikes too and can result in a strong, lightweight machine.
But pricier bikes are usually made of carbon fibre. The fibres give the bike strength and are embedded in a synthetic resin to hold them together. The mix of fibres used and their lay-up determine the bike's ride feel and more expensive bikes will use more high modulus carbon fibre, which lowers the weight without reducing the bike's strength.
Titanium is another material used in some more expensive bikes. It's lightweight, strong and doesn't rust or fatigue. And you can still find bikes made of steel tubing, which was the traditional framebuilding material. It's not quite as light as other choices, but robust and gives a distinctive ride feel.
You should also look at what the bike's fork is made of. Many bikes will have an all-carbon fork or one with carbon fork blades and an alloy steerer. This tends to absorb road bumps well for a more comfortable ride, but you can find alloy or steel forks on some lower priced bikes.
How do I choose the right size road bike for me?
It's important to get the right size bike. Most bikes come in a range of sizes to fit your stature and bike makers will usually publish a rider's height range which a bike of a specific size will fit.
You should feel comfortable seated on your bike and be able to put both feet flat on the ground when standing over the crossbar, without it touching you.
You'll usually find more detailed frame dimensions listed too, which give you more details of how your bike will fit you. The most important are reach and stack, although they're a bit complex to interpret.
In general, the higher the stack number (usually shown in cm or mm) the more upright your riding position will be. If you enjoy a 'taller' riding position then look for a more generous stack height. Equally, a shorter reach will put you closer to the bars, thus in a more upright position. For the most part, race bikes will feature a lower stack height than endurance models.
To make sure that your bike is set up correctly and to avoid the risk of injury from incorrect fit, it's well worth getting a professional bike fit. A bike fit will cost some money, although sometimes a bike shop will offer one at a discount or free when you buy a bike, but will ensure that your saddle and bars are optimally placed for efficient riding. Consider a good fit an investment.
What is an 'aero' road bike and do I need one?
Bike makers push their bikes' aero credentials, especially on more expensive machines, with claims of wind tunnel testing and time saved. Time was, an aero frameset was significantly heavier than one with the traditional round tubes, but the best aero bikes can now be as light as a non-aero one.
On the other hand, around 80% of the wind resistance comes from a rider, not the bike and those time savings are typically when riding at around 45kph/28mph. Since wind resistance increases as the cube of speed, if you're riding at half that, you'll have an eighth of the drag, so all those aero features won't make a lot of difference.
How many gears should a road bike have?
After the frame, gears are the most important thing to consider when choosing a road bike. Today many top end road bikes will come fitted with 12-speed cassettes. When paired with a double chainring this means you'll have 24 gears. Remember however that some of these gear ratios will be duplicated in certain chainring/cassette combinations.
More affordable road bikes tend to come with fewer gears. These cassette options should range from 8-speed to 10-speed, again most often paired with a double chainset.
As for groupset brands, Shimano gearing is the most common, but the other major options are SRAM and Campagnolo. Shimano's top end groupsets, Dura-Ace, Ultegra and 105 have an 12 and 11-speed cassettes, while less expensive bikes may come with 10-speed Tiagra, 9-speed Sora or 8-speed Claris.
What are the best gear options for a road bike?
When choosing a new road bike it's important that you think about the gears it comes equipped with. Fortunately if you've already matched your potential bike to the kind of riding you plan on doing, there's a good chance that the gear choice will also be well-suited.
An out-and-out race bike may come with a more traditional gearing set-up, for example 53/39 tooth chainset paired with an 11-28 tooth cassette.
Howeve