Best carbon road bike: what makes good quality carbon and five bikes to consider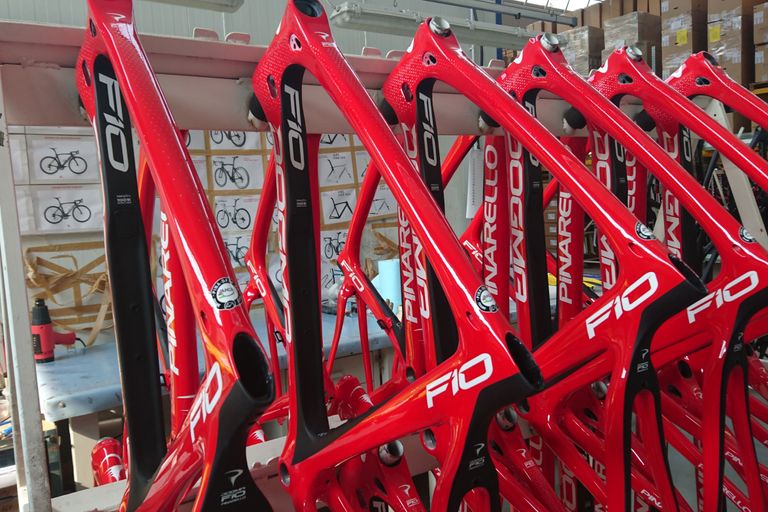 A carbon fibre bike is often seen as using the dream materialfor a road bike. When well-produced, it's light, stiff and it can be moulded into any shape.
People often refer to 'good carbon' and 'bad carbon' – usually as a pre-requisite to saying that quality aluminium is better than the latter.
>>> Should you next bike be aluminium, steel, carbon or titanium?
Most brands come up with fancy sounding titles for their own carbon construction– FACT (Specialized), OCLV (Trek) Advanced Composite (Giant) are all examples.
However, the vast majority of the raw carbon fibre actually comes from just six companies, and often goes on to be used in the aerospace industry. It's how the material is manipulated by the bike brand which influences the ride quality and strength.
The dream combination is high stiffness, low weight and at an affordable price; usually, at least one of the three has to be sacrificed in order to achieve greatness elsewhere.
How are carbon road bikes made?
Raw carbon fibre due to be used for sports equipment('Pitch' type carbon fibre is used elsewhere) is usually made from polyacrylanitrile (PAN) fibre which is heat treated to take on the shape of long and thin fibres. The greater the treatment, the stronger the carbon will be; stronger carbon requires the use of less material which drops the weight.
>>> Cheap Chinese carbon imports: are they worth the risk?
Though bike brands can use any description they like, the Japan Carbon Fiber Manufacturers Association (JCMA) grades carbon from 'Low Modulus' to 'Ultra-High Modulus'. The level of carbon awarded is based upon the Tensile elastic modulus (stiffness) andTensile strength (durability).
| | | |
| --- | --- | --- |
| Elastic modulus type grade | Tensile elastic modulus | Tensile strength |
| Ultra high | 600 GPa or higher | 2,500 MPa or higher |
| High | 350-600 GPa | 2,500 MPa or higher |
| Intermediate | 280-350 GPa | 3,500 MPa or higher |
| Standard | 200-280 GPa | 2,500 MPa or higher |
| Low | 200 GPa or lower | 3,500 MPa or lower |
Raw carbon is mixed with other magical ingredients to create a composite. Carbon on its own is too brittle, so it's mixed with epoxy resin which moulds the fibres together and makes it more able to deflect impact. Once the resin is added the material is calledpre-preg carbon.
Dassi bikes has also experimented with using Graphene mixed into the material to offer better weight to strength ratio. That's not to say, though, that the Ultra-High Modulus carbon should be used everywhere. A good carbon fibre frame uses varying grades of carbon across the construction, and while stiffness is optimum in some areas (bottom bracket shell, down tube), a little flex elsewhere (seat tubes, chainstays) is an asset.
>>>Do carbon frames have a shelf life?
When it comes to constructing a bike frame, there are two popular methods used. Most major brands will layer the sheets of carbon fibre to varying levels of thickness depending upon the quality required.
Decisions as to how the carbon layup should be distributed are usually made by experienced engineers or with the use of computer software. It's usually then tested in the real world and refined to perfection. The more investment the bike builder or brand can invest, the more sophisticated you can expect computer software used to be.
The direction in which the carbon fibres face has an influence, too - unidirectional (all facing one way) fibres offer the best stiffness to weight ratio. But they're brittle - woven carbon is much more common - so it copes with impact better and is easier to mould, particularly at complex junctions.
>>>Tifosi unveil 'lightest production bike' in the world, weighing just 4.6kg for a complete build
Often, several sections are created and then bonded together. It is possible to bond individual tubes together, and this is more popular among custom frame builders.
Since carbon can be moulded into more aerodynamic shapes, this is also a factor taken into consideration and tested with more computer and wind tunnel analysis.
Best carbon road bikes to consider
Carbon is pretty much the number one material of choice when it comes to mainstream frame construction and as such there are an awful lot of carbon bike frames out there and there's no one 'best'.
>>> Maxxis unveil lightweight tyre designed to be 'fast, not to last'
Whilst the frame material is at the heart of the bike, there are other elements to consider when choosing a new steed - the geometry, specification and value for money being key points.
We've listed some of the most well renowned carbon frames which have fared well in our reviews below. But for ultimate bike guides looking at every element of the bike, check out some of our other guides.
| | |
| --- | --- |
| Brands/topics | Model overviews and reviews |
| Price points | Bikes under £500,under £1000,under £1500,under £2000 |
| Road bike styles | Aero road bikes,Endurance road bikes,Women's road bikes,Commuting bikes,Touring bikes,Singlespeed bikes,Track bikes,Time trial bikes |
| Off road bike styles | Adventure and gravel bikes,Cyclocross bikes, |
| Other bike styles | Electric bikes, Folding bikes,Electric folding bikes,Hybrid bikes, |
Carbon road bike on a budget: Boardman SLR 8.9
Boardman's Road Team Carbon is a long-standing entry level carbon road bike, priced at £1,000 with an 11-speed Shimano 105 groupset.
The tube shapes have been designed in conjunction with wind tunnel testing, providing a significant aero boost over previous frames. The dropped seatstays, deep downtube and rounded leading edges that we are seeing in many brand's top of the range aero bikes are all present here. The carbon layup has also been designed to deliver stiffness where it's needed and to be lighter where it's not, providing a very responsive ride for the price
Read our review of the Boardman Team Carbon here
Buy now at Halfords for £1,000
Aero carbon road bike: Trek Madone SLR 9 Disc
Another benefit of opting for carbon is that it is very malleable and can be moulded into any shape, easily permitting it to be optimised for aerodynamic reasons. When we pitted aero road bikes head to head, using aero testing, we found the Trek Madone Ltd tied with the Specialized Venge. However, the Madone features the brands IsoSpeed decoupler which makes it a much more forgiving and comfortable ride.
To construct the frame, Trek uses its own 700 Series OCLV carbon. OCLV stands for Optimum Compaction Low Void and refers to the process of placing sheets into the mould, applying the ideal combination of heat and pressure to compress them, and limiting voids or gaps between the layers which could compromise strength and durability.
Read our review of the Trek Madone SLR 9 Disc
Buy now at Leisure Lakes Bikes for £11,050
Endurance carbon road bike: Giant Defy Advanced 1
As mentioned elsewhere, most frame manufacturers work with sheet carbon. Just a few brands have the capacity to work with raw carbon, and Giant is one of them.Their carbon frames use 'high performance grade raw carbon fibre' which is transformed into composite in its own factory. The resin used minimises voids whist staying strong and helps to absorb road shock.
Carbon is a particularly popular material of choice for endurance bikes because it absorbs shocks and vibration from the road much more than any other. The Giant Defy model - available in a range of spec with varying levels of carbon quality (Advanced Pro being the uppermost) - is an endurance beast with a relaxed but still punchy geometry and disc brakes.
Read our review of the Giant Defy Advanced 1
Buy now at Rutland Cycling for £4,798.99
Lightweight carbon road bike: Cannondale SuperSix Evo
The most oft-stated benefit of carbon is that it's lightweight - but obviously there are varying degrees of this. Going too light can result in a floppy, power-sucking ride and finding the ultimate balance is quite a task.The Cannondale SuperSix Evo is renowned for being a bike which strikes the balance to perfection. A disc brake model, in a size 56, has a claimed frame weight of 866g and 389g for the fork.
To obtain the perfect balance, Cannondale uses its own 'BallisTec' carbon, adjusting the layup to offer stiffness where needed whilst using less material elsewhere. There are also Hi-Mod versions which use a newer weave of high and ultra modulus fibres for greater rigidity.
Read our review of the Cannondale SuperSix Disc here
Buy now at Leisure Lake Bikes for £4,299.99
Carbon super science bike: Bianchi Oltre XR4
Bianchi is the only bike brand using 'countervail technology'. Developed for the "extreme conditions of NASA aerospace operations", countervail tech involves a unique carbon fibre architecture in which a layer of countervail viscoelastic material is embedded across the frame.The goal of this is to create a more comfortable ride and Bianchi claims vibration is reduced by 80 per cent.
The carbon geekery doesn't just involve increasing comfort, either. The Oltre XR4 is an aggressive racing machine, with an aero construction to boot.
Read our review of the Bianchi Oltre XR4 here
Of course, there's a wide range of carbon road bike choices on the market - browse our reviews section for more product suggestions.