How light can a carbon frame go?
Featherweight frames are set to plummet still further thanks to graphene carbon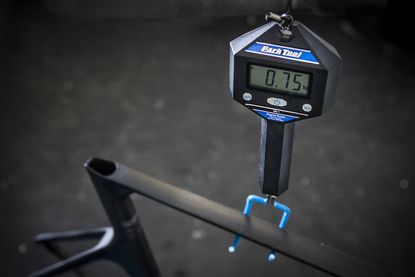 (Image credit: Cycling Studio)
Get The Leadout Newsletter
The latest race content, interviews, features, reviews and expert buying guides, direct to your inbox!
Thank you for signing up to The Pick. You will receive a verification email shortly.
There was a problem. Please refresh the page and try again.
Ten years ago a sub-kilo frame was the ultimate in composites engineering. Now 700g is the new kilo. Can carbon frames go much lighter without compromising safety and rideability?
Here in the UK, Richard Craddock of Filament Bikes hand-builds carbon frames using a tube-to-tube construction process that allows him to customise every aspect, including the weight.
>>> Is graphene cycling's next game changer?
"When I design the laminates for my custom carbon tubes I want them to be firstly reliable — to be durable and last a long time," says Craddock. "Secondly, they have to be strong. The rider can be up to 100 times heavier than the frame, and peak loads occur when hitting bumps or potholes in the road.
"Thirdly, they have to be stiff, to transfer efficiently the pedalling forces into forward motion. Lastly, they have to be light — to climb and accelerate easily.
"So the question for me would be, how light can a carbon frame go while still delivering the required performance?" asks Craddock.
"With current materials science, once a frame dips below a certain weight it has compromised on some of points one to three, so that's
not desirable."
"A 400g frame could be made and ridden but it wouldn't be a very good ride and it would be more susceptible to damage, and not just in a crash: transport, handling, small knocks, stone strikes, dropped chains, workstands and roof rack clamps would be some of the hazards to very thin laminates using very high-modulus fibres that are very brittle."
Enter graphene
However, another British manufacturer, Dassi, is convinced it could make sub-500g carbon frames in the very near future thanks to adding graphene — something that, although used in other components, at the moment no other frame manufacturer is using.
Stuart Abbott, founder of Dassi and a former Rolls-Royce aerospace design engineer, explains: "Graphene is a British invention — discovered at Manchester University in 2004. It's taken a long time to get it to a point where we can produce it in bulk and make it useable in physical applications.
Even to this day, they're still discovering the benefits of graphene because it's not completely understood — it's a wonder material. As far as we know we're the only ones to be using it and that's because we have a global licence with two of the biggest graphene suppliers on the planet, who just happen to be UK-based."
Graphene is a form of carbon and is added to the epoxy resin that is used with the carbon fibres to build the prepreg sheets that make up a frame.
"Graphene acts like a two-way Velcro," says Abbott. "It binds itself to the epoxy at an atomic level. It also binds itself from the epoxy to the carbon-fibre, which gives you an incredibly strong bond. Graphene is typically 25-30 per cent lighter [than non-graphene carbon] but up to 70 per cent stronger.
"At the moment we're at 600g but we're targeting 500g," adds Abbott.
Expert view
Stuart Abbott, CEO, Dassi
"I'm waiting for the first monocoque, aero-profile, graphene frame to come out of the factory any day now targeting 600g. As soon as you start to address the aerodynamic properties of a frame you start having to increase the size of the tubes and their profiles and that adds more weight.
"What graphene allows you to do is keep the same tube size in relative terms, but take away the amount of material you're having to apply because it's typically 25-30 per cent lighter but up to 70 per cent stronger.
"How light could a frame with graphene go? We're trying to get 500g out of our R&D process. When we get a frame back from the manufacturing facility we're looking for fatigue tests, the ISO impact tests and we're looking to compare that with the finite element analysis [FEA] that we do with the guy who designed the Airbus 380's wing.
"We've got to a point now where based upon the weight of the rider we can put that into our FEA model and give a target weight of the frame if we modelled it for the weight of the rider rather than taking an average Joe of 90kg. So we might happily be able to go below 500g for certain riders if we've got their weight."
Our take
Graphene is a gift to the cycle industry, allowing carbon frames to be ludicriously light, stiff and strong. Dassi's Stuart Abbott even claims it has vibration-damping properties, which he plans to test in the coming weeks.
The UK is leading the way in this new technology and it can't be long before the big brands get into graphene and 500g carbon frames become the new normal.
Thank you for reading 20 articles this month* Join now for unlimited access
Enjoy your first month for just £1 / $1 / €1
*Read 5 free articles per month without a subscription
Join now for unlimited access
Try first month for just £1 / $1 / €1
Get The Leadout Newsletter
The latest race content, interviews, features, reviews and expert buying guides, direct to your inbox!
Simon Smythe is a hugely experienced cycling tech writer, who has been writing for Cycling Weekly since 2003. Until recently he was our senior tech writer. In his cycling career Simon has mostly focused on time trialling with a national medal, a few open wins and his club's 30-mile record in his palmares. These days he spends most of his time testing road bikes, or on a tandem doing the school run with his younger son.