Best road bike wheels reviewed and rated: disc and rim wheelsets to supercharge your ride
Our complete guide to what to look for in the best road bike wheels, including the type of rim, the material, and the depth you should go for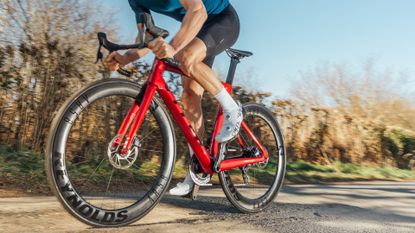 (Image credit: Future)
The best road bike wheels are top of most riders' wish lists when it comes to upgrades for their bikes. This is because, more so than most components, a quality set of road wheels can really up the performance of your bike - offering the potential for lighter weight and improved aerodynamics.
Wheels are one area where bike makers often economise to hit a price point and even the best road bikes can come specced with wheels which don't bring out the bike's full potential. It's not such an issue now as it was a few years ago - many brands have upped their game recently and are now now speccing decent wheels - but there's still much to be gained from an upgrade.
The switch to disc brakes has allowed wheel designers to be a lot more creative too, as it removed the constraints on rim width and profile that are inherent in a wheel which has to fit within a rim brake calliper. Deeper section aero wheelsets are now a more attractive proposition.
Having said that, there's still room for a quality set of rim brake wheels and we've covered our pick here too.
Road bike wheels designed for clincher tires (the sort which need inner tubes) are still the main choice for most cyclists. But tubeless tires are rapidly taking over from clincher tires and most new wheelsets are now designed so that they can be run tubeless.
Here, we've concentrated on wheelsets for road bikes, but if you're looking for new wheels for your gravel bike, we've also got a post with a selection of the best gravel bike wheels that we've ridden.
We'll start off with our pick of the best road bike wheels which we've reviewed here at Cycling Weekly. There's a lot to think about when buying a new set of road bike wheels, so further down the page you'll find a detailed guide explaining the choices and technologies to help you make the right choice.
The best road bike wheels for disc brakes
Zipp's current focus is on producing wheels designed to be run with wide, tubeless tires and at lower pressures. These are hookless rims with a 25mm internal width, so need to be run with rubber over 28mm and below 72psi.
The hookless set up does mean you are slightly limited on the tires which you can use, be we found the ride quality absolutely excellent, with these being one of the best you can currently buy - so we'd very happily accept that slightly narrower choice of tires for the benefits it brings.
The lower tire pressure requirement does deliver a softer ride feel - not to be confused with a slower one. The smoother ride delivers an almost blood like connection with your bike, coupled with the broader rim profile, allows for impressively balanced and confidence inspiring on bike capabilities. In fact, on test, we were able to hit 85km/h and they didn't once so much as give a tiny flutter, even in some gusty wind conditions.
A low rolling weight and a 66 point engagement hub also means these pick up fast and are capable of showing a clean pair of heels in any sprint.
Popping a set of Tangente Course G40 tires gravel tires on the rim the wheels really came into their own. Capable of taking up to 50mm tires and, over a 400km three day adventure, they only lost around 2psi.
Read more: Zipp 303 Firecrest Carbon road bike wheelset full review
The latest version II of the Roval Rapide CLX wheels has gone tubeless. It's a mixed depth 51mm front, 60mm rear wheelset, with differing rim widths and profiles. They're designed for tyres between 24mm and 38mm width, but aero optimised for 26mm. At 1,520g they're reasonably lightweight. Hub internals come from DT Swiss, with an EXP freehub and SINC ceramic bearings.
The mixed rim depth is designed to reduce the effect of crosswinds, so we headed off for a windy ride around an island in Oregon, as well as climbing into the mountains, and were impressed with the performance. Equipped with 30mm tyres, they even coped well with gravel.
We've also had a first look at the less pricey Roval Rapide CL II wheels. They lose the ceramic bearings and use slightly less expensive components, but only increase weight by 70g and cost around $1,000/£1,000 less.
Read more: Roval Rapide CLX II road bike wheelset full review
The Prime Primavera 44 is a great all-rounder tubeless wheelset from Prime's recently updated range. As the name suggests, these come in at 44mm deep, but there are also 32, 56, and 85mm versions for different balances of aero vs lightness.
For many, the 44mm version will strike the best balance of weight and aerodynamics. The claimed weight is 1,378g - which is very competitive, especially for the price. Our measured weight, albeit with rim tape and tubeless valves, was substantially more at 1,571g - which is more than we'd expect, even allowing for those extra parts.
Either way, on all but the steeper climbs (>12%), our tester found that the Prime Primavera 44 wheels performed excellently. Thanks to the 24 spokes front and rear, along with the 32t ratchet freehub, the wheels were highly responsive - engaging and accelerating quickly without much in the way of delay or flex. And for those after even faster engagement, there is also a 54t upgrade kit you can purchase separately.
Price-wise the wheels come in at $959.99 / £899.99 which puts them in the good value bracket of carbon wheelsets but up against some tough competition. Other rivals are generally a little cheaper, although that often comes with a weight gain. A big benefit of the Primes over several other offerings are the promised longevity of components used (thanks to steel components) and ease of replacement of items such as bearings and spokes which are all standard sizes. Long term, this aims to make the wheels cheaper to maintain and longer lasting, making them a better value investment.
Overall, there was virtually nothing our reviewer could fault about these wheels. On all but the steepest of climbs they perform brilliantly, but at the end of the day these are not dedicated climbing wheels and at inclines that steep everything feels a bit more sluggish. So if you want a wheel that can pretty much do it all, is easy to live with, and promises to be long lasting, the Prime wheels really are a superb option with different depths to suit the sort of riding you want to do.
Read more: Prime Primavera 44 road bike wheelset full review
Enve wheels come at a premium and with their Chris King hubs, the SES 3.4 Discs reflect that. They're light at under 1400g and come with the differential rim heights common to all Enve SES wheels, along with a 21mm internal rim width.
The wheels feel very stable and the wide tire stance gives a feeling of control, while they hold their speed well. They may be expensive, but the Enve SES 3.4 wheels may just be the ultimate dream upgrade.
Read more: Enve SES 3.4 Disc full review
Zipp wheels are expensive, so the sub-£1,000 Zipp 303S wheelset is a pleasant surprise. Like Zipp's other latest wheelsets, they have a wide internal rim bed and hookless bead. That lets you run lower pressures, but limits you to compatible tubeless tires of 25mm or wider only and a maximum of 72psi. You also need to look out for tire clearance, if you've got a tight frame.
Zipp says that, aerodynamically, the 303S wheels are almost the match of its much more expensive 303NSW and they feel fast, while the wide contact patch from the 23mm wide rims inspires cornering confidence.
Read more: Zipp 303S road bike wheelset full review
With a wide 23mm internal width hookless rim, the Zipp 404 Firecrest wheels support 25mm tires well, with a flat-sided profile that helps provide a smooth, aerodynamic interface between the tire and the rim. It also means that you can drop tire pressure for a smoother, faster, more comfortable ride, although it makes the rims tubeless-only.
It also drops the weight of the 58mm deep rim by around 350g to 1,528g and the price by around £800 from its predecessor. Zipp has also improved the seal design, while the freehub has a low 5 degree engagement angle for fast pickup.
Crosswind stability is good and the Zipps feel fast on the flat, while their weight is low enough for speedy acceleration and climbing.
Read more: Zipp 404 Firecrest road bike wheelset full review
Proving to be every bit as good as their rim brake siblings (see rim brake wheelsets below), the Racing Zero Carbon DB have also picked up a Cycling Weekly Editor's Choice award.
The 30mm deep carbon rim disc brake boasts the brand's own two-way fit technology, which means they can be used with either clincher or tubeless tires.
The lightweight wheels are remarkably fast, stiff and responsive, and combined with their depth makes them ideal for climbing, descending and going full gas on the flat. Without a doubt a set of Racing Zero Carbon DC will have a marked effect on any bike you ride them with.
Read more: Fulcrum Racing Zero Carbon DB road bike wheelset full review
We couldn't find anything to mark down when we reviewed the Parcours Ronde wheelset - for a £1000 wheelset it's got an impressive combination of low weight, great ride quality, aerodynamics and adaptability to road or gravel riding.
There's a differential rim depth and profile front and rear to cope with the different needs - stability at front and power transfer at rear, with the same 23mm internal width for both. Rims are tubeless compatible, although the hooked bead means that they can be used with a wider range of tires than a hookless design.
Parcours wind tunnel tests its wheels and says that although less aero than the deeper Parcours Strade, the Ronde wheels are still best in class for their depth.
Read more in our full review of the Parcours Ronde wheelset.
Designed for cornering stability, not just straight line speed, the Parcours Strade wheelset has been both wind tunnel optimised and real world tested on instrumented bikes to give you the best of both. They're tuned for the 28mm tires that are becoming the norm on disc brake road bikes.
The result is differential front and rear rim profiles and depths to reflect the different forces acting on the front and rear wheels. They're impressively stable in crosswinds and gusty conditions and proved resilient during our testing too.
Read more: Parcours Strade road bike wheelset full review
The best road bike wheels for rim brakes
The Fulcrum Racing 4 C17 is an aluminium rim-brake wheelset which combines a reasonable weight - at 1,727g - with a reasonably deep section 35mm rim for improved aerodynamics.
These wheels do fare very well when it comes to stiffness. Even when setting brake clearance as tight as I dared there was no lateral flex or brake rub when cornering at speed to sprinting out of the saddle maximally. The braking was also brilliant, for rim brakes, and amongst the best I have used, giving greater confidence when descending.
However, the narrow rim width does limit the rolling resistance performance of these wheels significantly compared to other wheels with wider rims that are optimised around chunkier tires. Comparing a pair of 23mm tires on the Fulcrum Racing 4 C17 directly to a set of wheels shod with 27mm tires, the difference in rolling resistance was noticeable - with the total system weight still being close enough as to be unnoticeable .
That said, these Fulcrum wheels do have a place for those with older rim brake models where tyre clearance is less than more modern builds. If you have an older frame, these wheels will compliment it well. But for newer frames a wider profile works better in general, and will give you better rolling resistance and aero performance with wider tubeless tyres.
Value-wise, at $540.00 / £389.99 these wheels are competitively priced against its rivals. Some of the other wheelsets come in at around 100g lighter, however they are mostly 24mm deep and also around £100 more expensive. With that weight difference feeling fairly negligible and the aerodynamic gains of a deeper section wheel being more beneficial across most terrains, the Fulcrum Racing 4 C17 do represent a solid choice.
Read more: Fulcrum Racing 4 road wheelset full review
The spec sheet sounds positively retro now: aluminium, lower section, rim brakes, but we reckon that these handbuilt wheels from Borg still tick a lot of boxes for many cyclists and that their performance outplays their modest price tag.
At 26mm deep, they're not going to please the aero crowd but at just over 1,600 grams they're reasonably lightweight and their 2:1 spoke ratio in the rear wheel helps even out pedalling forces.
Borg has its own hubs too, which can come with either standard black seals or red seals with extra weather protection. There's a choice of Shimano, SRAM XDR or Campagnolo hubs with a 36 tooth, four pawl ratchet.
We liked the Borgs' fast acceleration and free-rolling road feel and there was little flex under out of saddle acceleration. Mounting a tire was a tight fit though, as is often the case on tubeless-ready rims.
Read more: Borg 26 2:1 700c rim-brake full review
At a sniff under £800 / $1000, this performance wheelset is particularly important at what is probably the most competitive price point on the market. They're not the fastest to accelerate because they're 50mm deep, but once the Hunt 50 Carbon Wide Aero wheels are up to speed they're unstoppable and on our tests, these instantly increased our average ride speed.
As ever with Hunt wheels, they're tubeless-ready and have a very wide rim width because of it. Whichever tires you put on it will sit far wider than their stated widths.
Read more: Hunt 50 Carbon Wide Aero full review
Black Inc has designed its 'Black Thirty' to be a climbing wheel, and at a claimed weight of 1,390g (1,230g if you go tubular), it is certainly a lightweight option. It's undeniable that it's on the climbs where the wheels really shine, giving the rider a real sense of advantage.
Their racing credentials really shone through in the local crit races too, with no flexing through corners and they even rolled our tester to victory on one occasion.
The use of a 17mm internal rim and 26.5mm outer - maxing out at 27mm at the widest part- certainly matches up with current thinking which determines this to be the most wind-cheating approach when paired with a compatible tire.
A wider rim also allows you to run thicker, bump-sucking-up and better-handling rubber without an aerodynamic fall out – I teamed these with Pirelli PZero 25mm.
Read more: Black Inc Black Thirty full review
Scribe has put a lot of thought into creating a wheelset that promises longevity and durability, with plenty of nods to consumer satisfaction - such as customisable bearing options and extra spokes and nipples supplied as standard.
The rims themselves proved to be durable - though their bombproof quality comes at the loss of some compliance. You won't find any flex here, though, so if stiff is on your shopping list then these value for money hoops could be the perfect upgrade for you.
Read more: Scribe 3850 full review
How to choose the best road bike wheels
The thing is, if you want a wheel that is light and aerodynamic, while also being stiff to cope with the power you put out when sprinting, and hardy enough to stay straight and true when faced with rough roads, you're going to notice a sizeable dent in your bank account. So before buying, it's important to know exactly what you want from your wheelset.
The questions below are a general guide to the things to consider when choosing between the types of wheels that are available, but fortunately for us cyclists most wheels are spread across all three types, and in general it is possible to get a very good set of do-it-all wheels.
How important is durability to you?
If you know you live somewhere with rough roads or mixed terrain then you'll probably put a great emphasis on durability and strength, and having a set of wheels that will stand the test of time. Typically, "bombproof" wheels are shallow, with a box design and an aluminium rim. That doesn't mean they're slow though, and we've been very impressed with box aluminium rims from the likes of Hunt, Mavic and DT Swiss. Similarly, though, that's not to suggest carbon isn't strong, and many pros run carbon wheels at the toughest cobbled classics, but it can offer a harsh ride on rough ground — the pros also aren't paying for or maintaining those wheels.
How important are aerodynamics to you?
If you've just bought yourself a new aero bike, then you'll probably want a wheelset with an aerodynamic edge. These are wheels that have extra material extending down from the rim, which helps the rim cut through the wind. They can give a real advantage if you're racing, or if you want to improve your average speed on your rides. It's worth bearing in mind, though, that to get the most aerodynamic benefits you need to be consistently travelling above 32kph. Of course, if you want a deep section wheel with a carbon build you're going to be spending a fair whack. You can get cheaper, aluminium builds but these tend to be a bit heavier.
How important is a lightweight set of wheels to you?
The lightest wheels are reserved for those who do a lot of climbing or live somewhere very hilly. The weight reduction is possible because of carbon fibre builds, and other neat features like lightweight spokes, carbon fibre hubs and the general removing of any excess material – hence why they tend to have a shallower rim. As you might expect, you'll need deep pockets to buy these lightweight hoops.
Different types of road bike wheels
What are clincher road bike wheels?
Your bike probably came complete with clincher wheels and this is for good reason. Clinchers are the most common type of bike wheel currently available and are defined by the type of tire they use.
Clinchers utilise an open cross-section tire with a bead that holds it in place on the inside of the rim and uses an inner tube. This offers a great deal of convenience as it is easy to repair when you get punctures.
Carbon clincher wheels are significantly heavier than the equivalent tubulars because the rim needs to be stronger to cope with the demands of braking pressure and force from the rim. Some deep section wheels feature a carbon fairing placed over an aluminium rim. These are heavier, but are cheaper than a complete carbon rim, owing to lower manufacturing and development costs, while the aluminium brake track can lead to more consistent braking with rim brakes than many carbon rims.
What are the pros and cons of clincher wheels?
Advantages of clincher wheels
Easy to repair punctures, just by carrying spare inner tubes
Easy to change tires, can be done in minutes
Clincher tires are typically cheaper than tubulars
Disadvantages of clincher wheels
Typically heavier than a tubular rim
Higher rotational weight than a tubular
Braking surface encounters higher stress, having to withstand outward pressure of the bead and inward pressure of heat from the brakes
What are tubeless road bike wheels?
Tubeless wheels have become very popular over the last few years, with more and more brands fitting them as standard on their bikes. Instead of having an inner tube inside a tire, the tire itself creates an airtight seal against the rim, so all you have to do is inject some sealant and pump some air into the tire.
A consequence of making the rim airtight can be that it is slightly heavier, but this is somewhat offset by the lack of an inner tube. The sealant is designed to seal holes and punctures as they happen. It is still possible to get a flat on a tubeless wheel, at which point an inner tube can be placed inside, but the risk is considerably less, making them ideal for those wanting to avoid punctures. Plus, the general consensus is that these are faster than other types of wheel and tire combinations.
What are the pros and cons of tubeless wheels?
Advantages
Much lower risk of flat tires
Low rolling resistance
Disadvantages
Fiddly to set up
More weight at the rim
Generally more expensive
What are hookless tubeless road bike wheels?
The latest type of rim dispenses with the hooks that were originally designed to stop the tire from blowing off. With a hookless rim and compatible tubeless tire there's no need for the hooks anymore. Once the tire moves out of the tire bed cavity that characterises a tubeless rim and up onto the bead 'shelf', it's not going anywhere.
Not all tubeless-ready tires are compatible with all hookless rims yet – that's the only obvious drawback – but according to Zipp that will soon be a non-issue.
What are the pros and cons of hookless tubeless wheels?
Advantages
No hooks means cleaner transition between the rim and the tire – more aero
Wider internal rim with no hooks means a more stable tire with no 'lightbulbing'
Straight rim walls can be made more accurately with tighter tolerances creating a better tire interface and a lower risk of the tire blowing off of the rim
Better carbon compaction thanks to simpler manufacturing means a stronger rim
Better resin distribution thanks to simpler manufacturing means the rim can be moulded with less resin – lighter rim
Less manufacturing waste means a reduction of the costs and a lower price for the end user
Disadvantages
Not all tubeless tires are compatible with tubeless rims so tire choice is limited
Risk of tire blowing off rim with the wrong combination or overinflation
What are tubular road bike wheels?
Prior to the invention of clincher tires, tubular wheels were the only option available. Today they're a rare sight away from racing (where teams have support) as they are an enclosed tire, with an inner tube sealed or sewn inside.
The tubular tire (or "tub") is glued or taped to the rim, making them fiddly to set up very inconvenient if you have to change a tire. Tubular tires are difficult or impossible to repair if you have a flat and a lot more expensive than clinchers.
Tubular wheels are usually lighter than the clincher alternative. This is because the rim does not need to be as strong in order to hold the bead of the tire.
Bonding of the tire to the rim is crucial, in order to avoid rolling the tire off the rim while cornering. Glueing is the most traditional way and considered the most reliable, but it typically takes a couple of days to set, whereas tape is much quicker. The solvent in the glue is also harmful, whereas tape is inert.
If you are racing, riding a sportive or Gran Fondo, or training on a tubular tire and you get a puncture there are a couple of options. Sealant, such as Vittoria Pit Stop can be injected into the tire to seal the hole, but this may not work if the hole is too big.
Alternatively, a spare tub can be placed on the rim, but this will not be bonded as strongly. If you are racing, or riding with a support vehicle, tubulars can be a joy to ride, but for training rides and everyday use, even professionals use clinchers.
What are the pros and cons of tubular tires?
Advantages
Lighter wheels
Lighter rim is better for acceleration
Tubular tires roll very nicely
Can ride a short distance on a flat tire
Disadvantages
Less easy to fit than clinchers
Repairing a puncture is not as straightforward as a clincher
What is the anatomy of a road bike wheel?
Rims
The rims are usually the first thing you notice on a pair of wheels. Deeper section wheels are more aerodynamic, but are generally heavier than their shallow rim counterparts. In addition, crosswinds can catch the deeper section like a sail, which can make keeping the bike in a straight line a handful. A lower profile is much easier to control and is often lighter in weight – meaning it will accelerate faster.
Braking surface
Having a carbon or aluminium wheel is going to directly impact the braking surface of the rim. It is easier to manufacture a perfectly flat braking surface with aluminium and the surface reacts more consistently to braking force from a brake pad, particularly when it's wet, resulting in more consistent braking. In addition, aluminium can be machined to feature grooves and patterns to improve the efficiency of the braking.
Carbon braking is consistently improving as technology moves forward, but still pales in comparison to aluminium, especially in the wet. Carbon braking surfaces can also suffer from heat build, especially if you drag your brakes for a long time, which can lead to de-lamination and failure of the rim.
The move to disc brake wheels removes the need for a braking surface on the rim, meaning that it can be built lighter and with a wider, more aerodynamic profile.
Hubs
Hubs are at the centre of the wheel and contain the axle and bearings. Higher quality hubs are better made, often with superior bearings that roll with less friction. Cartridge bearings are the usual standard on anything except the cheapest wheels because they are simple to replace, although Shimano wheels all use loose ball bearings. The smoothest bearings are ceramic ones, although they come with a price tag to match.
In freewheel bicycles (i.e. anything that is not a fixie), the rear hub has a freehub body which is what holds the cassette. This means you can freewheel without turning the pedals.
Whether a wheelset is Shimano/SRAM 11-speed or Campagnolo 11/12-speed compatible depends upon the freehub body, as the different cassettes have a slightly different pattern in the way they slot onto the freehub. This isn't usually a problem as different freehub bodies can be purchased and changed on the wheel.
SRAM's 12-speed AXS groupsets utilise an XDR driver, a technology borrowed from its Eagle MTB groupsets to allow for a 10 tooth smallest cog. Shimano has also introduced a new freehub design for its latest 12-speed road groupsets, although they're backward compatible with an 11-speed Shimano freehub body.
Campagnolo has a new freehub body called N3W for its Ekar gravel groupset. Its new wheelsets will come with a compatible freehub, although the good news is that it's compatible with its 11/12-speed cassettes via an adaptor.
Note too that MTB freehubs are not compatible with road bike cassettes, as the freehub body is 1.8mm narrower on MTB wheels.
Do I need a 10, 11 or 12-speed wheelset?
Most new wheels feature a freehub body designed for 11-speed cassettes. But don't worry if you're still running 10-speed, as you can use a 10-speed cassette on an 11-speed freehub by using a spacer. These spacers are often included with the wheels, but if you are unsure, check with your local bike shop.
Campagnolo was the first cycling groupset maker to create a 12-speed groupset. The good news is that the cassette fits on the same body as the 11-speed cluster, meaning you should be able to keep using your old wheels. SRAM also now offer a 12-speed road groupset, eTap AXS, but you'll need an XDR driver, while Shimano's 12-speed groupsets are compatible with 11-speed Shimano freehubs.
Spokes and Nipples
Spokes provide support from the hub to the rim and distribute the pressure around the bike wheel, working in both tension and compression. Pay attention to the spoke count, as the more there are the stronger but heavier the wheel. Meanwhile, fewer spokes often make the wheel more aerodynamic. The shape of the spokes also matters, with flat/aero/bladed spokes becoming increasingly standard across all price points.
Nipples hold the spoke in place on the rim and are typically made of brass. When a wheel is trued the spoke tension is adjusted via the nipple. Aluminium nipples can save weight, although they're more subject to corrosion than brass nipples and can freeze to the spoke or break.
Paul started writing for Cycling Weekly in 2015, covering cycling tech, new bikes and product testing. Since then, he's reviewed hundreds of bikes and thousands of other pieces of cycling equipment for the magazine and the Cycling Weekly website.
He's been cycling for a lot longer than that though and his travels by bike have taken him all around Europe and to California. He's been riding gravel since before gravel bikes existed too, riding a cyclocross bike through the Chilterns and along the South Downs.