Best road bike wheels reviewed and rated: disc and rim wheelsets to supercharge your ride
Our complete guide to what to look for in the best road bike wheels, including the type of rim, the material, and the depth you should go for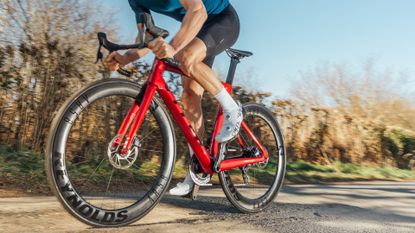 (Image credit: Future)
The best road bike wheels are top of most riders' wish lists when it comes to upgrades for their bikes. This is because, more so than most components, a quality set of road wheels can really up the performance of your bike - offering the potential for lighter weight and improved aerodynamics.
Wheels are one area where bike makers often economise to hit a price point and even the best road bikes can come specced with wheels which don't bring out the bike's full potential. It's not such an issue now as it was a few years ago - many brands have upped their game recently and are now now speccing decent wheels - but there's still much to be gained from an upgrade.
The switch to disc brakes has allowed wheel designers to be a lot more creative too, as it removed the constraints on rim width and profile that are inherent in a wheel which has to fit within a rim brake calliper. Deeper section aero wheelsets are now a more attractive proposition.
Having said that, there's still room for a quality set of rim brake wheels and we've covered our pick here too.
Road bike wheels designed for clincher tires (the sort which need inner tubes) are still the main choice for most cyclists. But tubeless tires are rapidly taking over from clincher tires and most new wheelsets are now designed so that they can be run tubeless.
Here, we've concentrated on wheelsets for road bikes, but if you're looking for new wheels for your gravel bike, we've also got a post with a selection of the best gravel bike wheels that we've ridden.
We'll start off with our pick of the best road bike wheels which we've reviewed here at Cycling Weekly. There's a lot to think about when buying a new set of road bike wheels, so further down the page you'll find a detailed guide explaining the choices and technologies to help you make the right choice.
How we test road bike wheels
You can trust Cycling Weekly. Our team of experts put in hard miles testing cycling tech and will always share honest, unbiased advice to help you choose. Find out more about how we test.
We've ridden hundreds of miles on these wheels in a variety of conditions, both on flat courses and on hillier rides. When a wheelset is tubeless-compatible, we'll have set it up tubeless too and recorded our experiences.
With our crew of highly experienced reviewers we know what to look for in the best road bike wheels.
The best road bike wheels for disc brakes
Best road bike wheels for all-round use
Specifications
Weight: 1410g
Rim type: Hookless
Depth: 50mm
Width (internal): 25mm
Spoke count: 24 (F/R)
Reasons to buy
+
Smooth ride
+
Low overall weight
+
Handle well in most conditions and terrain
+
Impact strength especially when sprinting/ high watts
+
Great price for performance wheels
Reasons to avoid
-
Some noisy freehub clunk
-
Graphics can peel off after a time
-
Only works with 28mm+ tires which are hookless compatible
Zipp's current focus is on producing wheels designed to be run with wide, tubeless tires and at lower pressures. These are hookless rims with a 25mm internal width, so need to be run with rubber over 28mm and below 72psi.
The hookless set up does mean you are slightly limited on the tires which you can use, be we found the ride quality absolutely excellent, with these being one of the best you can currently buy - so we'd very happily accept that slightly narrower choice of tires for the benefits it brings.
The lower tire pressure requirement does deliver a softer ride feel - not to be confused with a slower one. The smoother ride delivers an almost blood like connection with your bike, coupled with the broader rim profile, allows for impressively balanced and confidence inspiring on bike capabilities. In fact, on test, we were able to hit 85km/h and they didn't once so much as give a tiny flutter, even in some gusty wind conditions.
A low rolling weight and a 66 point engagement hub also means these pick up fast and are capable of showing a clean pair of heels in any sprint.
Popping a set of Tangente Course G40 tires gravel tires on the rim the wheels really came into their own. Capable of taking up to 50mm tires and, over a 400km three day adventure, they only lost around 2psi.
Read more: Zipp 303 Firecrest Carbon road bike wheelset full review
Best tubeless aero wheelset
Specifications
Weight: 1520g
Rim type: Hooked
Depth: 51mm F / 60mm R
Width (internal): 21mm
Spoke count: 18 (F) / 24 (R)
Reasons to buy
+
Differential rim depths handle crosswinds well
+
Quality DT Swiss hub internals
Reasons to avoid
-
Still more expensive than comparable wheelsets from smaller brands - $2,800/£2,500
The latest version II of the Roval Rapide CLX wheels has gone tubeless. It's a mixed depth 51mm front, 60mm rear wheelset, with differing rim widths and profiles. They're designed for tyres between 24mm and 38mm width, but aero optimised for 26mm. At 1,520g they're reasonably lightweight. Hub internals come from DT Swiss, with an EXP freehub and SINC ceramic bearings.
The mixed rim depth is designed to reduce the effect of crosswinds, so we headed off for a windy ride around an island in Oregon, as well as climbing into the mountains, and were impressed with the performance. Equipped with 30mm tyres, they even coped well with gravel.
We've also had a first look at the less pricey Roval Rapide CL II wheels. They lose the ceramic bearings and use slightly less expensive components, but only increase weight by 70g.
Read more: Roval Rapide CLX II road bike wheelset full review
Best value for all-round performance
Specifications
Weight: 1,378g
Rim type: Hooked
Depth: 44mm
Width (internal): 23mm
Spoke count: 24 (F/R)
Reasons to buy
+
Rolls amazingly
+
Hub is very quick to engage
+
Great value for their weight and depth
+
Good durability
Reasons to avoid
-
A little heavier than claimed (with tape, valves and hub end caps) - 1,571g
The Prime Primavera 44 is a great all-rounder tubeless wheelset from Prime's recently updated range. As the name suggests, these come in at 44mm deep, but there are also 32, 56, and 85mm versions for different balances of aero vs lightness.
For many, the 44mm version will strike the best balance of weight and aerodynamics. The claimed weight is 1,378g - which is very competitive, especially for the price. Our measured weight, albeit with rim tape and tubeless valves, was substantially more at 1,571g - which is more than we'd expect.
Either way, on all but the steeper climbs (>12%), our tester found that the Prime Primavera 44 wheels performed excellently. Thanks to the 24 spokes front and rear, along with the 32t ratchet freehub, the wheels were highly responsive - engaging and accelerating quickly without much in the way of delay or flex.
If you want a wheel that can pretty much do it all, is easy to live with, and promises to be long lasting, these really are a superb option with different depths to suit the sort of riding you want to do.
Read more: Prime Primavera 44 road bike wheelset full review
Best for low weight and fast riding
Specifications
Weight: 1370g
Rim type: Hookless
Depth: 38/42mm
Width (internal): 21mm
Spoke count: 24 (F/R)
Reasons to buy
+
Lightweight - under 1,400g
+
Hold speed well
+
Versatile all-rounder
+
High quality build inc. Chris King hubs
Reasons to avoid
-
Very expensive - over $3000/£3000
Enve wheels come at a premium and with their Chris King hubs and overall high-quality build and finish, the SES 3.4 Discs reflect that. They're light at under 1400g and come with the differential rim heights common to all Enve SES wheels - in this case that means a 38mm front wheel paired with a 42mm rear - along with a 21mm internal rim width.
As for the aforementioned hubs, they feature a 45-tooth engagement system, which translates to a quick pick up and minimal drag. You're also getting bearings that are made in-house, all part of a component that's designed to last a lifetime with regular servicing.
The wheels feel very stable and the wide tire stance gives a feeling of control, while they hold their speed well. They may be expensive, but the Enve SES 3.4 wheels may just be the ultimate dream upgrade - especially if you're after a set of wheels that are made in the USA
Read more: Enve SES 3.4 Disc full review
Best budget Zipp wheelset which still rides great
Specifications
Weight: 1544g
Rim type: Hookless
Depth: 45mm
Width (internal): 23mm
Spoke count: 24 (F/R)
Reasons to buy
+
Zipp wheels for the budget-minded
+
Wide rim and tire contact patch add confidence
+
Almost as fast as Zipp 303 NSW wheels
Reasons to avoid
-
Hookless bead limits tire choice and pressure
Zipp wheels are expensive, so the price of Zipp's 303S wheelset is a pleasant surprise. Like Zipp's other latest wheelsets, they have a wide internal rim bed and hookless bead. That lets you run lower pressures, but limits you to compatible tubeless tires of 25mm or wider only and a maximum of 72psi. You also need to look out for tire clearance, if you've got a tight frame.
Zipp says that, aerodynamically, the 303S wheels are almost the match of its much more expensive 303NSW and they feel fast, while the wide contact patch from the 23mm wide rims inspires cornering confidence.
Read more: Zipp 303S road bike wheelset full review
Best value for aero performance
Specifications
Weight: 1880g
Rim type: Hooked
Depth: 56mm
Width (internal): 23mm
Spoke count: 24 (F/R)
Reasons to buy
+
Stiff and responsive
+
Noticeably faster than the shallow rims they replaced on test bike
+
Look great
+
Good value compared to bigger name brands
Reasons to avoid
-
Heavier than some rivals, but not noticeably weighty
The Prime Doyenne 56 Carbon Disc Wheelset – previously known as 'RD56' – are deep section road wheels to add a bit of aero free speed to any road bike. According to Prime, the wheels are aimed at 'road riders across all disciplines who prioritise performance, technology and reliability.' On the whole, the wheels achieve these aims.
We found these wheels to be stiff and responsive – whether accelerating away from traffic lights or trying to power up a short, sharp climb. The aero improvement that you'll find with almost any deep section wheelset was immediately apparent, they weren't too sketchy in severe crosswinds either.
Read more: Prime Doyenne 56 Carbon Disc Wheelset full review
Best Zipp wheels with wide, hookless rims and fast pickup hub
Specifications
Weight: 1528g
Rim type: Hookless
Depth: 58mm
Width (internal): 23mm
Spoke count: 24 (F/R)
Reasons to buy
+
Fast on the flat, climbing and accelerating
+
Good crosswind stability
+
Wide rims help type stability
Reasons to avoid
-
Tubeless-only compatibility
-
Hookless bead means lower pressures
With a wide 23mm internal width hookless rim, the Zipp 404 Firecrest wheels support 25mm tires well, with a flat-sided profile that helps provide a smooth, aerodynamic interface between the tire and the rim. It also means that you can drop tire pressure for a smoother, faster, more comfortable ride, although it makes the rims tubeless-only.
It also drops the weight of the 58mm deep rim by around 350g to 1,528g and the price from its predecessor. Zipp has also improved the seal design, while the freehub has a low 5 degree engagement angle for fast pickup.
Crosswind stability is good and the Zipps feel fast on the flat, while their weight is low enough for speedy acceleration and climbing.
Read more: Zipp 404 Firecrest road bike wheelset full review
Best lower prce wind tunnel tested aero wheelset
Specifications
Weight: 1475g
Rim type: Hooked
Depth: 36/39mm
Width (internal): 23mm
Spoke count: 24 (F/R)
Reasons to buy
+
Lightweight - under 1,500g
+
Versatile for road or gravel use
+
Wind tunnel tested aerodynamics
Reasons to avoid
-
Some riders may prefer hookless technology
There's very little not to like about these Parcours wheels. In fact, we gave the Ronde full marks when we reviewed them - for a mid-price wheelset it's got an impressive combination of low weight, great ride quality, aerodynamics and adaptability to road or gravel riding.
There's a differential rim depth and profile front and rear to cope with the different needs - stability at front and power transfer at rear, with the same 23mm internal width for both. Rims are tubeless compatible, although the hooked bead means that they can be used with a wider range of tires than a hookless design.
Parcours wind tunnel tests its wheels and says that although less aero than the deeper Parcours Strade, the Ronde wheels are still best in class for their depth.
Read more: Parcours Ronde wheelset full review
The best road bike wheels for rim brakes
Best aluminium wheels
Specifications
Weight: 1,727g
Rim type: Hooked
Depth: 35mm
Width (internal): 17mm
Spoke count: 16 (F), 21 (R)
Reasons to buy
+
Stiff
+
35mm is deep for aluminium
+
Decent budget race wheels
Reasons to avoid
-
Traditional narrow profile not suited to tires more than 23mm
-
Not especially lightweight
The Fulcrum Racing 4 C17 is an aluminium rim-brake wheelset which combines a reasonable weight - at 1,727g - with a reasonably deep section 35mm rim for improved aerodynamics.
These wheels do fare very well when it comes to stiffness. Even when setting brake clearance as tight as I dared there was no lateral flex or brake rub when cornering at speed to sprinting out of the saddle maximally. The braking was also brilliant, for rim brakes, and amongst the best I have used, giving greater confidence when descending.
However, the narrow rim width does limit the rolling resistance performance of these wheels significantly compared to other wheels with wider rims that are optimised around chunkier tires. Comparing a pair of 23mm tires on the Fulcrum Racing 4 C17 directly to a set of wheels shod with 27mm tires, the difference in rolling resistance was noticeable - with the total system weight still being close enough as to be unnoticeable .
Value-wise, these wheels are competitively priced against its rivals. Some of the other wheelsets come in at around 100g lighter, however they are mostly 24mm deep and also more expensive. With that weight difference feeling fairly negligible and the aerodynamic gains of a deeper section wheel being more beneficial across most terrains, the Fulcrum Racing 4 C17 do represent a solid choice.
Read more: Fulcrum Racing 4 road wheelset full review
Best wide, speed increasing wheels
Specifications
Weight: 1537g
Rim type: Hooked
Depth: 50mm
Width (internal): 19mm
Spoke count: 18 (F), 24 (R)
Reasons to buy
+
Tubeless ready
+
Wide width
+
Hold their pace superbly
+
Reasonab