Disc brakes: everything you need to know
Your complete guide to disc brakes on road bikes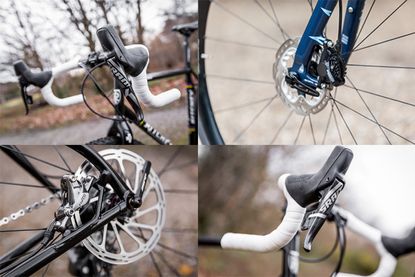 There's no escaping the inevitable progress of technology within the world of cycling. As with all aspects of modern life, the humble bicycle has had more and more revolutionary ideas thrust upon it in the last few years than ever before. We are now used to electronic and wireless shifting from SRAM Red eTap (that reliably works, before anyone mentions Mavic Zap), sub-700 gram carbon frames, 3D printed components and of course, disc brakes.
Once the reserve of the mountain bike, disc brakes have been steadily rising in numbers within the road community. When Giant unveiled its new range of Defy carbon endurance bikes for 2016 not a single rim brake was to be seen, and the same is the case with the new BMC Roadmachine. Expect to see more manufacturers following suit, already most of the high profile brands offer disc brake incarnations of their top-end offerings.
Yet, in a similar way to the age-old Shimano versus Campagnolo debate, for every rider pro disc there are equal numbers vehemently anti-disc technology. The incident involving Movistar rider Fran Ventoso — whose severe injuries believed to be caused by a disc at Paris-Roubaix led to the sport's governing body, the UCI, to suspend the trial of disc brakes in the pro peloton — has served to highlight the divide.
Uncertainty may surround the future of the technology in the professional sport however the fact remains that the disc brake option will likely be high on the list of consideration for all of us for our next purchase. The key thing is to be properly informed so you can choose the right option to suit your needs.
Rim brakes vs disc brakes: what's the difference?
All bicycle brakes are designed to push a friction-creating brake pad against a braking surface on the revolving wheel by way of a hand-operated lever. As pressure is increased at the brake lever the friction force is increased. This works in combination with a tyre's grip to slow the bicycle down.
>>> Are bikes with disc brakes faster?
The difference between rim and disc brakes is where and how the braking force is applied in relation to the wheel of a bicycle. Traditional rim brakes, as their name implies, base the braking force on the outer edge of the wheel. A disc brake focuses forces on a smaller rotor, situated towards the centre of the wheel.
What are the advantages of a disc brake?
Power
Disc brakes generate an incredible amount of stopping power, usually far more than is necessary to adequately stop a road bicycle. This allows the rider to apply much less force to the lever before the bike comes to a halt. Less hand strength leads to a decrease in muscle fatigue, especially on longer descents.
Disc brake power can also be customised by exchanging the disc rotor (the metal braking surface) for rotors of differing diameters. A larger rotor equates to more powerful brake, useful for larger riders or heavier bikes.
Modulation (control)
Pulling with a specific amount of strength on the brake lever of a rim brake can result in wildly inconsistent results. When you pull on a disc brake equipped lever, resultant braking force is much more consistent. This reliability allows you to accurately judge how much force you need to apply in order to achieve the expected result. So despite it being easier to lock up a wheel with a disc brake, the feedback at the lever means you are far less likely to do so.
>>> What do the pros really think of disc brakes? (video)
Disc brake advocates often state that disc brakes actually make you faster as technically you can spend less time 'on the brakes', allowing you to brake later before a corner and increasing the time spent at higher velocities.
Reliable, all weather braking
When you apply a rim brake in wet weather there can be a split second delay before you start decelerating. This delay is due to the brake pad displacing water and road grime from the rim to enable sufficient contact and friction. As such the actual braking force you apply in the dry might not stop you in the wet. If you have carbon rims, it might require the strength of Schwarzenegger himself to bring you to a halt. The location of the disc rotor, plus the generally protected calliper position normally results in very little impact to a disc's wet weather performance.
Mechanical vs hydraulic disc brakes
Although not all disc brakes function in the same way, the advantages described above are to a greater extent accurate for all disc brakes. At a very basic level they all feature pistons that push either one or both brake pads onto the rotor. The differences come with the way that lever force is transferred to the calliper and brake rotor.
>>> How to use your brakes properly (video)
At one end of the spectrum we have cable actuated brakes, sometimes referred to as mechanical disc brakes. These function in much the same way as a rim brake, relying on a braided steel cable to move the pistons. The upside of this design is it works in conjunction with your normal, rim brake compatible shifters. Just like rim brakes, they can suffer from cable contamination and are on the whole notoriously fiddly to set up perfectly without rubbing.
In contrast hydraulic disc brakes use a sealed, fluid filled system as the means of actuation. This allows the highest level of braking consistency due to reductions in friction and the fact that both brake pads can move in and out as required. Downside is the considerable expense of dedicated shift levers and system and the comparable lack of simplicity for home mechanics.
Disc brake maintenance
Those of you who dabble in a bit of off-road action might just be aware that everyone has their own experiences, both good and bad when it comes to disc brake maintenance. The fully sealed nature of a hydraulic brake requires minimal day to day maintenance as there is much less likelihood of contaminated cables or of a cable snapping. Hydraulic systems also, quite cleverly, self adjust for brake, so you don't have to wind in barrel adjusters or re-tension cables.
>>> How to set up your brakes (video)
Occasionally a brake might become spongy and unresponsive, normally down to tiny air bubbles trapped in the system. This requires the brake to be bled, a job that in some cases requires specific bleed kits and tools. In general, disc brake set up requires tools that are widely utilised in other aspects of cycling. Even Shimano's Splined rotor is tightened using an ordinary cassette tool.
Something to consider are the running costs of the differing systems, primarily through consumables such as brake pads. Unless you constantly ride in wet and gritty conditions, disc pads will typically last longer than a set of rim pads. This is due in part to the increase in power allowing disc pads to be made of a harder wearing compound. When they do need replacing, the costs are considerably higher than for rim brakes. Shimano pads work out at roughly three times the cost of equivalent rim pads.
What have disc brakes brought to the bike design table?
Changing the locations of the brake caliper has freed designers from the constraints of the rim brake and has brought about the ballooning of tyres and rim widths. No longer are we restricted to a 25mm tyre, with a lot of brands edging towards 28-30mm. This equates to a noticeable increase in ride comfort and improves the all important grip of the tyre.
>>> Are wider tyres really faster?
Even though disc frames are beefed up where the larger braking forces are now centred, material can be removed from more significant areas such as the middle of the seatstays. Slender seatstay profiles enable more compliance to be built in to frame designs.
Moving the braking surface away from the rim is certainly advantageous. When a rim brake is applied inevitable wear occurs to the wheel rim. Over time this wear can radically reduce wheel strength and safety. A disc brake moves the pads away from the rim allowing wheel designers to concentrate on making rims aerodynamic and get on with holding the tyre securely. Plus no more heat build up at the rim equals less chance of damage to either tyre or inner tube.
>>> Campagnolo disc brakes finally revealed
One area that is proving to be a headache with the advent of discs is the lack of consistency of designs. Rotor attachment, for example has brands split between the traditional six bolt attachment and the Shimano splined fixings. The same can be said for attaching the calliper – I.S., post mount and the new flat mount are all being utilised.
The thru-axle system, brought over from our off-road brethren, gives a much more consistent wheel attachment, reducing brake rub and increasing safety but still there are arguments over what diameter to choose. The last thing you want is to buy into the Betamax of disc brake design.
Will I need to buy another set of wheels?
Bad news here again I'm afraid. To use disc brakes you're going to need a different hub than on standard rim brake wheels in order to accommodate the rotor. The good news is that more and more companies are bringing disc specific wheels to the market, so there are plenty of options out there.
And even better, while in the past many of these wheels were simply clones of their rim brake cousins (even retaining the braking surface), most new disc brake wheels are being designed with the needs of disc brakes specifically in mind.
Are disc brakes safe?
For 2016, the UCI sanctioned the use of disc brakes at the highest level following testing during certain events in 2015. However this was suspended on April 14 following serious injuries sustained to Movistar's Fran Ventoso at Paris-Roubaix, which were believed to have been caused by a disc on the back of a bike belonging to a rider on Lampre-Merida.
Many professional riders remain worried about hot, sharp discs in the peloton in the event of a pile-up. But most accept that the risks presented to amateurs are considerably lower. Indeed the benefits of disc brakes to riders outside competition, principally better modulation and braking performance in the wet, outweigh the risks of injury from the discs themselves.
Can I race with disc brakes?
Before the UCI stepped in and suspended the use of disc brakes in road racing, a range of teams had experimented with discs, including the pioneers of marginal gains, Team Sky, since they made their debut with the Roompot team at last year's Eneco Tour. This year's Paris-Roubaix, despite being won by an outsider on rim brakes, saw both Lampre and Direct Energie equip their entire teams exclusively with disc brakes.
However at a domestic level things are a little more black and white. Although permissible in cyclo-cross and mountain bike events, British Cycling currently has no plans to allow disc brakes within domestic road races. So, if you are planning on racing on the road in the UK, rim brakes are still the only option.
Is there anything else I should be aware of?
How well and safely a bike slows down isn't necessarily all about what type of brakes are on board. For most of us a modern rim brake is more than capable of delivering the power required to bring us to a halt. There are other factors to take into consideration. Right up there is your choice of tyre. When you are relying on a two tiny, postage stamp sized patches of rubber to keep you upright, tyre grip is of utmost importance. When you pull the brake and the wheel locks up, you have overcome the friction created by the tyre and grip is lost.
Now obviously as riders we do not want tyres with too much friction, that would have a detrimental impact on our riding. But if a tyre choice allows braking forces to overcome friction too quickly when a rim brake is applied, using a disc brake will magnify these problems. In this instance disc brakes could create control and safety issues.
Should I buy a disc brake bike?
While a question mark lingers over the future of disc brakes in the professional road peloton, for many amateur riders the main question is not 'if' but 'when' will they buy a disc equipped road bike. The advantages of disc brakes, with their improved control and reliability show the system certainly has its appeals. As the majority of bigger companies jump on the disc bandwagon, it is inevitable also that improvements and standardisations will come thick and fast.
>>> Cycling Weekly Bike of the Year awards: best disc brake road bike
This hopefully means adopters will no longer become Beta testers for a new technology. True, rim brakes are still alive and kicking, with their lightweight appeal, easy maintenance and power levels being more than suitable for most. With this in mind riders in favour of the more traditional aesthetic should not despair just yet.
Thank you for reading 20 articles this month* Join now for unlimited access
Enjoy your first month for just £1 / $1 / €1
*Read 5 free articles per month without a subscription
Join now for unlimited access
Try first month for just £1 / $1 / €1