Official: UCI suspends the use of disc brakes in professional racing
Following the accident involving Movistar rider Fran Ventoso at Paris-Roubaix, the UCI will suspend the use of disc brakes in professional road racing amid safety fears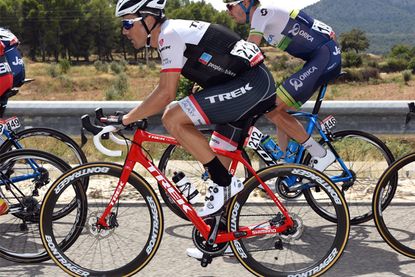 The UCI has officially suspended testing of disc brakes due to the risk of injuries suffered by riders in races.
In a press release on Thursday, the sport's governing body suspended testing with immediate effect, following a request by the AIGCP - which represents all professional cycling teams - which was supported by the Cyclistes Professionnels Associés (CPA).
CPA calls for a suspension of disc brake use in pro racing
"The UCI will now continue its extensive consultations on this subject by way of its Equipment Commission, which is made up of representatives of teams, riders, mechanics, fans, commissaires and the bicycle industry – via the World Federation of the Sporting Goods Industry (WFSGI) –, all the while reaffirming that rider security has always been and will always remain its absolute priority," the UCI said in its press release.
Watch: What do the pros really think of disc brakes?
During last Sunday's Paris-Roubaix, Movistar rider Fran Ventoso was reported to have suffered a serious injury which he said was caused by a disc brake on a fellow rider's bike, a claim that was questioned by Lampre-Merida, one of two teams using disc brakes at Paris-Roubaix.
The 33-year-old's injuries to his lower left leg required surgery on Monday. Following on from this incident Ventoso wrote an open letter in which he said "disc brakes should never have arrived in the peloton."
More on this story
Lampre-Merida manager not convinced Fran Ventoso's injury was caused by disc brake

Ventoso: Disc brakes should NEVER have arrived in the peloton

Disc brakes in the WorldTour: are they necessary on road bikes?

Speaking to Cycling Weekly on Wednesday, the CPA told us it had contacted the UCI over suspending the use of disc brakes.
"We have written a letter, with the Equipment Commission, to the UCI to formally request that disc brake tests should be suspended," the CPA said.

Thank you for reading 20 articles this month* Join now for unlimited access
Enjoy your first month for just £1 / $1 / €1
*Read 5 free articles per month without a subscription
Join now for unlimited access
Try first month for just £1 / $1 / €1