Best bike lights 2023 daytime-running and high-powered lights reviewed
The best bike lights rated, including how much to pay, the features you need, and our pick of the best bike lights on the market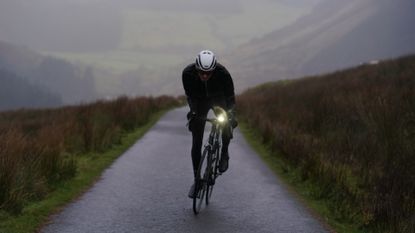 (Image credit: Future)
Best Bike Lights 2023: Jump Menu
This year Black Friday is running from November 24th - 27th. We've rounded up all the best Black Friday bike deals - spanning fully built bikes, components and tech - in our main hub page. You're guaranteed to find a bargain.
The best bike lights are essential if you're planning to ride after dark or before daybreak or even if you're out in poor conditions during the day.
Most cyclists will regularly ride after dark in autumn and winter, making bike lights an essential piece of kit, although daytime running bike lights are growing in popularity because they help you to be seen out on the road, even in bright sunlight.
We've split our guide into three categories: front lights, rear lights and light sets.
Below that you'll find all the details on our recent four-way grouptest, covering a selection of top-flight high-powered front lights. At the bottom of the page, we delve into all the techy details of what to look for in the best bike lights.
The Quick List
Front lights
Best overall
1. Magicshine ALLTY1000 front bike light
Best front bike light overall
At less than four times the price of the Exposure Strada MK12 RS AKTIV, the Magicshine ALLTY1000 provides a brighter central beam and longer battery life - all in a much lighter and more compact package. It misses out on the tech-y features of the Exposure, but for its combination of performance and price - the Magicshine ALLTY1000 is the light we'd recommend for most people.
Best for performance
2. Exposure Strada MK12 RS AKTiv
Best front bike light for performance
Exposure has a strong repution for the build quality of its lights, and cool aluminium body of the Exposure Strada MK12 RS AKTiv just exudes quality. The beam is bright and the lens provides great side illumination - the light has lumens to play with after all. It's packed with neat tech and has a rear display which gives the battery life remaining down to the minute.
Best for commuting
3. Knog Blinder 900 front bike light
Best front bike light for commuting
The Knog Blinder, despite its name, is literally out-shone by the Magicshine and Exposure lights to its left. However, the Knog Blinder's beam is still perfectly bright enough for riding at an endurance pace down unlit roads - just not bombing it at threshold. The simple silicone band makes it super easy to mount and, for regular commuting duties, it makes an excellent option.
Rear lights
Best overall
Best rear light overall
Tech-packed, boasting incredible battery life - and all whilst being competitively priced, the Magicshine SEEMEE300 is our overall winner. It has an in-built accelerometer and brightens when you brake, it castes a beam onto the floor to deliver 360 degree visibility and the battery life is claimed at an incredible 40 hours when shining at 20 lumens.
Best viewing angles
Best rear light for viewing angles
The two big pluses for the Knog Mid Cobber rear bike light are the 330 degree visibility from the main light body, giving exceptional viewing angles with a super bright 170 lumen flash. The cableless charging either cinches the deal or turns you off - there's quite a split on that. It's the most expensive but does have those USPs, if that matters to you.
Best value
3. Topeak Taillux 100 USB
Best value rear light
The Topeak Taillux doesn't pack fancy features such as ambient light detection or an in-built accelerometer. But it does have a good range of light modes, from a 100 lumen flash to an eye-catching combo of a constant beam with a flashing parameter - on that consistent/flashing mode the battery life is a respectable 10 hours. It's a solid performer and with the lowest price, it's the best value on test.
Best bike lights 2023
You can trust Cycling Weekly. Our team of experts put in hard miles testing cycling tech and will always share honest, unbiased advice to help you choose. Find out more about how we test.
Best front bike lights
The best front bike light overall
1. Magicshine ALLTY1000 front light
Best front bike light overall
Specifications
Lumens: 1,000
Band type: Allen key band clamp
Claimed battery life: 2.2hrs full
Charging: Micro USB
Reasons to buy
+
Powerful beam
+
Great battery life
+
Exceptional value
Reasons to avoid
-
Charges with Micro USB
-
Band clamp is fiddly (but versatile)
This light is really the star performer on test - it's the least expensive by quite a way, super bright and nicely designed.
Let's stick with the beam and lumens to start. It is clearly brighter, casts its beam further, and has a similar beam width to the Trek Commuter Pro RT - and that's despite both lights being claimed at 1,000 lumens and Trek's light being over twice the price. By extension, the Magicshine Allty1000 is also brighter than both the PDW Lars Rover Power and the Knog Blinder 900.
There's an interesting battle between which is brightest out of the Magicshine Allty1000 and the Exposure Strada Mk11 RS. The central part of the Magicshine's beam does shine brighter, but the Exposure Strada casts much more light to the sides, lighting up a greater area in total - as it should, with a lumen count of 1,450. Then again, the Exposure Strada costs over four times as much as the Allty1000, so in terms of light per penny, the Magicshine has the edge.
Image 1 of 5
The Magicshine Allty1000 also has the longest battery life when shining on full. On the downside, it does charge with Micro USB rather than USB-C. The battery indication is more basic than the previous two lights, with a simple green LED changing to red and starting to flash as you get to 30% and 10% charge, respectively, which isn't so helpful for power management on longer rides.
The band clamp system for the mount is really neat in how it accommodates all handlebar diameters without the need for rubber shims - which seem to invariably get lost. But the need for an Allen key and its fiddly nature means that this isn't so easy to swap between bikes. On the other hand, it uses the same quarter-turn mount as a Garmin, so can be popped onto one of those mounts which is neat.
With the super bright beam for a light which is nominally only 1,000 lumens, I was perfectly happy putting in hard efforts when riding on the darkest roads with this light. I was able to see far enough ahead and with enough detail to push up to Threshold / Zone 4 and even seated VO2 Max / Zone 5 efforts. The only question is whether the performance at this price is too good to be true - I'd hesitate to give it full marks until the Allty1000 has proved itself in a full season of riding through the cold, wind and rain.
The best front bike light for performance
2. Exposure Strada MK12 RS AKTiv
Best front bike light for performance
Specifications
Lumens: 1,450
Band type: Allen key split clamp
Claimed battery life: 2hrs full
Charging: DC
Reasons to buy
+
Wide and powerful beam
+
Detailed display
+
Clever tech
Reasons to avoid
-
DC charging is unusual these days
-
Very expensive
As expected, with its 1,450 lumen claimed output, the Exposure Strada certainly puts out a great deal of light - though it's not the unambiguous winner in this regard. Despite being less than a quarter of the price, Magicshine's Allty1000 offers up a brighter central beam than even the Exposure Strada can muster.
As mentioned earlier, this is largely down to the Exposure light spreading itself more thinly, lighting up the sides of the road to a greater extent. This side lumination isn't going to be an important consideration for all riders, but I find a greater light spread can make for a less disorientating feeling when riding in the dark.
Exposure's system for controlling the lights with the single, brushed metal button is very neat and well-thought out - but it does take a little while to get used to. Magicshine's system is more basic, but it is at least intuitive straight out of the box.
Image 1 of 5
It's a similar thing for the bar clamp - Exposure's split-clamp system is exquisitely designed, with two CNC machined pieces of metal slotting together to make the hinge and clamp. But it is rather more fiddly and harder to use than the simple - but effective - silicone strap of the Knog Blinder. The display on the rear of the Exposure Strada is a particularly neat feature of this light, displaying as it does the remaining charge of the light down to the minute.
Still, away from all the peripherals, fundamentally the Exposure Strada remains a really, really good light. Like the Magicshine, I was happy barrelling along through the dark at full tilt, with the road ahead of me reassuringly brightly lit.
This model comes with Exposure's AKTiv tech, which automatically dims the light when faced with oncoming traffic. It's really quite seamless, with the light smoothly reducing its brightness and equally smoothly returning to full strength - it's not like switching between the main beam of your headlights and the dipped beam at all.
With the light so bright, it is quite nice and reassuring having it dip when faced with oncoming traffic - you can be quite sure that you won't be dazzling anyone. Then again, if you aren't running a MTB light with a whopping 3,000 lumens and if you do have your light correctly set up illuminating the road ahead of you, arguably this tech isn't so necessary. Still, it functions well, is an extra nice-to-have, and solidifies this light as a tech-packed de-luxe model.
One of the most enduring features of Exposure lights, away from the excellent performance of the beams, is their longevity. Like Assos cycling kit, you are paying for a build quality which really lasts and should be considered alongside the (proportionality higher) upfront cost. However, against competition such as Magicshine's Allty1000, it's hard to recommend that everyone should spend that much more for Expsoure's quality. But if you have the money to invest, you won't be disappointed.
The best front light for commuting
3. Knog Blinder 900 front bike light
Best front bike light for commuters
Specifications
Lumens: 900
Band type: Tool-less strap
Claimed battery life: 2hrs full
Charging: USB-C
Reasons to buy
+
Great for swapping between bikes
+
USB-C charging
+
Robust design
Reasons to avoid
-
Beam isn't as bright as the claimed 900 lumens might suggest
-
A little expensive for how bright it is
Despite having the weakest beam of all the lights on test, I really liked the Knog Blinder 900 and think there is good application for it. You just have to be clear about the sort of riding you'll be using this light for. It's simply not bright enough for bombing along at Tempo / Zone 3 through the still of the night - but it is plenty bright for riding at an Endurance / Zone 2 pace on even the darkest roads.
For a commuter light, rather than one for post-work training rides or long-distance winter epics, this is perfectly sufficient. When wearing casual clothes, I'm not really going to be pushing any harder than Zone 2. Plus, if your commute is mainly street lit, there's simply no need for a brighter light than this as it doesn't make a significant difference to what you can see.
With those parameters set out, the features really start to shine. First is the robust silicone band of the mounting bracket - this light is super easy to swap between bikes, taking a mere handful of seconds. There is still a quick release between the mount and the light, like all the other models on test - helpful when locking up in town.
Image 1 of 5
Battery life is a handy two hours on full and the charging port is USB-C, so good future proofing there. There is a downside in that the battery indicator is as basic as the Magicshine Allty1000, with it remaining green for the most part and then changing to red at lower power percentages.
Costing £10.00 more than the Magicshine Allty1000, for most people it would make more sense to both save money and go for the brighter light. Still, given how easy the Knog Blinder is to attach and detach, along with its USB-C charging port, I can see a commuter situation in which I actually would choose to spend the extra money and go with the less powerful Knog Blinder.
Admittedly, that is a pretty specific situation in which the Knog is the more desirable light, hence the four-star overall score.
4. Trek Commuter Pro RT front light
Best for side-on visibility
Specifications
Lumens: 1,000
Band type: Tool-less split-clamp
Claimed battery life: 1.5hrs full
Charging: USB-C
Reasons to buy
+
Side lights to increase visibility
+
Good lens design - light is concentrated where it's needed
+
USB-C charging
Reasons to avoid
-
Expensive for its brightness