Best bike lights 2023 daytime-running and high-powered lights reviewed
The best bike lights rated, including how much to pay, the features you need, and our pick of the best bike lights on the market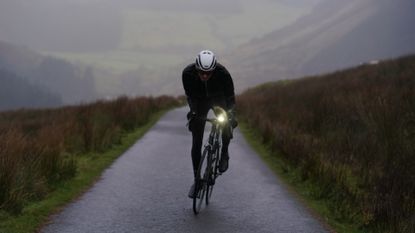 (Image credit: Future)
The best bike lights are essential if you're planning to ride after dark or before daybreak or even if you're out in poor conditions during the day.
Most cyclists will regularly ride after dark in autumn and winter, making bike lights an essential piece of kit, although daytime running bike lights are growing in popularity because they help you to be seen out on the road, even in bright sunlight.
We've split our guide into three categories: front lights, rear lights and light sets.
Below that you'll find all the details on our recent four-way grouptest, covering a selection of top-flight high-powered front lights. At the bottom of the page, we delve into all the techy details of what to look for in the best bike lights.
Best bike lights 2023
Best front bike lights
The Lezyne Macro Drive 1300XXL, as its name suggests, puts out 1300 lumens. It provides a wide beam and attaches to the handlebar via a rubber strap, which is thick and stretchy, resulting in a robust overall package when paired with the CNCed aluminium body.
You can choose to use the 'Race' mode, which lets you switch between 1300 lumens and 130 lumens, or the standard mode, where you can cycle through all seven options. The Race mode is handy as it effectively lets you 'dip' the beam.
Charging is via a micro USB cable. The battery life is a claimed 2.5 hours. We tested this twice, and found we still had either a flashing red light (indicating 5% battery left) or solid red light (indicating 5-10% left) after 2 hours 20 minutes.
All in, we concluded that this is a solid light which we would wholeheartedly recommend.
Read more: Lezyne Macro Drive 1300XXL full review
Exposure has been a market leader for some time and the Sussex based brand is known for engineering products that really last - members of the CW team have managed to keep some of Exposure's beams going for over a decade. So, whilst the price is high, if you've got the cash we'd fully recommend the Strada MK10.
The 1500 lumens is measured, not calculated - meaning that you really do get a full 1500 lumens. The beam was quite visibly the brightest of the bunch in our group test.
Battery life is 2 hours, and Exposure's digital screen actually displays the number of minutes you have left; these figures rang true for us.
Exposure also offers a full 20 modes, with a feature that allows you to select a 'sub mode' so you don't have to cycle through all 20.
The mount is a beautifully engineered aluminium construction, though it is fiddly to swap between bikes when compared with a simple rubber strap.
Read more: Exposure Strada MK10 SB full review
The Dayblazer 1500 from Blackburn is the lowest scorer on test. It lost marks for the mount, which broke during testing, largely due to its skinny profile and the amount of force required to fit it to a chunky road bike handlebar. In addition, whilst it claims to come with a helmet mount, we'd suggest it comes with a helmet mount adapter which doesn't provide all you'd need to fit the light to your lid.
On the plus side, the Blackburn Dayblazer 1500 does put out plenty of light, and it was the lightest option on test, at 143g. The body is robust, and water and grit protection is excellent.
Read more: Blackburn Dayblazer 1500 full review
Like the other lights in the Knog PWR range, the PWR Rider has a built-in USB port so you can use it as a power bank to charge other devices. It's also programmable, so you can set as many modes and light levels as you want, if the six ready-programmed modes don't suit.
At 114g, the PWR Rider is not too heavy to use as a helmet light and it's easy to attach to the bars with its integrated rubber strap mount. There's a good, elliptical spread of light that lets you ride at a reasonable pace even on unlit roads.
Read more: Knog PWR Rider front light full review
The Specialized Flux's robust aluminium construction and IP67 weatherproofing marks it out as a good all-condition option. There's a mix of spot and flood beams from the two LEDs and the light can be mounted on the bars, a helmet or via a GoPro mount.
There's a 3,400mAh battery that will give you 1.5 hours runtime on full power, with a choice of seven modes in total. The flood beam covers the width of the road and there is plenty of forward illumination, although this does limit the spot power when riding on trails.
Charging hasn't switched over to USB-C, although a full charge still takes only an hour.
Read more: Specialized Flux 1250 full review
Best rear bike lights
Bright enough for all applications and a good choice of modes makes this a great choice for most serious riders. We particularly like how the ViZ300 has a 100 lumen mode lasting 8 hours, helping to make long winter rides that much safer. Alternatively, 45 hours on a single charge will keep most commuter users satisfied without charge for well over a week.
Three powerful LEDs make up the lighting array for this light. CatEye has incorporated good lensing and a nice clear case allowing for viewing angles of 300 degrees - so no blind spots for tailing drivers. Not that it comes on all too regularly, but the light also features a low battery light in the function button so you can see when a charge is needed.
Read more: CatEye ViZ300 rear light full review
The Moon Cerberus is worth considering if you own a variety of bikes with different seat posts. The innovative hinged wings used to mount the light make it exceptionally versatile, though it might not be the most stable.
The light boasts three COB LEDs. A conventional rear-facing one is complemented by two lateral ones, ensuring that road users to your left and right also get a decent blast of light. It was this innovative set-up that achieved awards for the Cerberus soon after its launch.
Moon are known for their slick, compact lights and the Cerberus is no exception; the plush buttons aren't the easiest to locate and operate though. On the plus side, modes are well arranged and certainly not too plentiful; you won't be scrolling excessively to find what you need.
Read more: Moon Cerberus rear light full review
The Knog Blinder Square rear light is a really neat and smart light. It boasts 100 lumens of light and eight different programmes to suit your run-time and pattern preferences. The standard Blinder comes in a square, alien, cross or grid pattern further extending your flashy programme choices.
The small clasp makes it incredibly easy and secure to mount albeit with the downside of needing to swap bands for different sized seatposts. It uses a USB-A connector for charging doing away with the need for a cable and a vulnerable port but the battery indicator light itself is a bit hidden. There is also longer thinner Blinder V version available but we found the on/off switch harder to access than on the standard Square-shaped Blinder.
Read more: Knog Blinder Square and V Bolt rear light review
The main selling point for the Ravemen TR30M is the size and weight. The tiny 22 gram weight penalty is up there with the best of the smallest lights, whilst also boasting a respectable lumen count (30) and the 360 degree viewing angles.
However, you can't have everything. The TR30M does fall down slightly on battery life compared to competitors in the 30 lumen vicinity. Plus, the mount isn't the most secure – likely due to the lightweight materials used.
That said, a quick charge time, 360 degree viewing angles and the lightweight formfactor still makes this a potential option for some riders.
Read more: Ravemen TR30M rear light full review
Garmin's Varia RTL515 has four light modes, 65-lumens under the hood, and has a viewing angle of up to 220-degrees, but that's not what sets this light apart.
Hidden inside this sleek looking taillight is a rear-facing radar which can pick up cars from up to 140m / 459ft away, and when connected to a Garmin, Wahoo or other brand head unit, alerts you to and tracks cars as they approach. It may sound like a gimmick, but in our experience, it is surprisingly accurate, and often picks up cars before our ears do.
The radar also means that the light can change its lighting pattern as a car approaches, flashing more brightly and more rapidly to make certain that you're seen.
There's a robust mount that can be converted to fit different shaped seatposts and an app to configure the light and which acts as a head unit if you don't have a bike computer.
Read more: Garmin Varia RTL515 review (opens in new tab)
The Varia RCT715 is Garmin's range-topping integrated rear light, camera and radar unit – all in one. It's an incredibly versatile solution for covering your safety needs.
The rear-facing radar keeps you informed on the traffic situation behind, notifying you about cars from up to 140m / 459ft away. Our tester was surprised at how quickly he came to rely on its information and how just useful it proved.
The rear light itself has four modes, but it will also automatically change its behaviour when it senses a car approaching from behind and will change its flash pattern to further alert the driver. Our tester found the Day Flash 65 lumen setting best for daytime use and Solid 20 lumen mode for night riding.
On top of this, the camera films with a good quality at 1080p, which easily enables you to read the number plates of passing cars.
Read more: Garmin Varia RCT715 full review
Best bike light sets
The Giant Recon HL 100 and TL 100 are very simple to operate, with no long presses, counting flashes to determine brightness level or anything like that. You just cycle through the five modes by short-pressing the on/off button and it's the standard long press for on and off.
The switch, however, is a small oblong that needs direct pressure in exactly the right place. A protruding, rubbery switch would be easier but it would wreck the cube's symmetry. I can live with form over function this time, but sometimes it takes a couple of attempts to activate it, especially with gloves.
The Tail-Light (TL) is surprisingly bright – blinding even – for such a small light. It's really all you'd ever need from a rear light. The Head-Light (HL) is fine for streetlit commutes but is not enough for seeing on unlit roads – it is strictly a 'be-seen' light.
Landing in the middle ground price wise, they're well designed and have good functionality. Perfect for a lightweight, versatile, good-looking, commuter light set with a very useful daytime mode.
Read more: Giant Recon HL 100 and Recon TL 100 combo review (opens in new tab)
At 600 lumens, the Lezyne 600XL packs a punch and isn't far off being a 'seeing' light.
The front 600XL uses a permanently attached rubber strap to wrap it tight around the handlebar but it also rotates on the clamp allowing you to fit on fork leg or any odd angled position. Despite being used on the fork leg for riding LEJOG, we had no issues with the light remaining steadfastly in place.
The LEDs are arranged in a side-by-side pattern and push out a decent spread of light that in most modes works as a flood light to light up the road ahead evenly. Only in the two brightest modes does it take on more of a spot pattern, highlighting a smaller but brighter patch of the road ahead. But we can attest that even the lower flashing modes are bright enough to light up road signs from over five hundred metres away easily.
With regards the rear KTV unit, mounting is reliant on the thick rubber strap and slightly compliant rear recess on the light body. This recess is a little too narrow and the rubber a little too stiff to hold it tight against a standard seatpost. This does result in the light twisting off centre during a ride and reduces rear visibility. Something you will need to keep an eye on.
Read more: Lezyne Micro Drive 600XL and KTV Pro light set review (opens in new tab)
The Trace and TraceR lights are the smallest and most featherweight units Exposure produces and at first glance it's hard to imagine the sort of performance they are capable of. But just like David against Goliath, size isn't everything.
Tiny, robust, extremely bright and with long burn times, there really is nothing to fault the Exposure Trace and TraceR light set. Ideal for everything from commuting to being a backup set for longer trips, this is a set of lights that will provide reliable service for many a year.
The beam pattern and visibility for both lights are exceptional. The front throws out a good spread of light and in flashing mode easily lights up road signs for a few hundred metres ahead and the rear daybright mode is searingly bright. Both lights also have an extended lens that enables them to throw out a good level of side visibility, extending the safety levels.
Charging is simple and it takes just 1.5 hours to charge each from empty. A USB charging port is located under the rubber band that encircles the light. It can be a bit fiddly to pull it out of the way but you soon get used to the process. We're yet to have any water ingress so despite its flimsy appearance it works really well.
Read more: Exposure Trace and TraceR MK2 light set review (opens in new tab)
The CatEye Sync range is the next step in bike lights where up to seven units are connected together wirelessly so that when one is switched on, the others light up too. Equally, when a mode is changed or the lights are to be turned off, one press of a button on one unit will change all the lights too.
It might sound a little excessive, but we found that it did genuinely make commuting easier – particularly with a train journey splitting up the riding and consequently having to turn the lights on and off twice as often.
The rear Kinetic light has an inbuilt accelerometer, which automatically turns on high mode when it detects a deceleration. This is very bright at 50 lumens and works very well to attract attention of road users behind.
The front light, which is 500 lumens, has extended side illumination for added 'be seen' credentials. It has five light modes and seems to be super bright during night time commuting. We were especially impressed by its quality build and the Daytime HyperConstant mode.
The Wearable is a nice addition too. It is a small light but still knocks out 40 lumens. Its shape lends itself to be seen from the side also and placed on the back, clipped to a pocket or bag, gives you some extra peace of mind that you'll be seen.
Read more: CatEye Sync; Core, Kinetic and Wearable review (opens in new tab)
Front lights grouptest
We tested pitted four top performing high-powered front lights against each other: the Blackburn Dayblazer 1500, Knog PWR Trail 1100, Lezyne MacroDrive 1300XXL and the Exposure Strada MK10 SB.
You can read our summary reviews for each light above and we've set out the detail of our testing and our comparison video here.
Test protocol
Our team of three testers used these lights over the course of a month, and then met up for a ride after dark to compare the beams on a loop around Sussex.
As well as beam strength, other factors we took into account include the number of modes, how useful these were in practice, as well as battery life and the security of the mounting system and burn time.
The scores on the doors
Beam comparison