Best bike lights: best front and rear road bike lights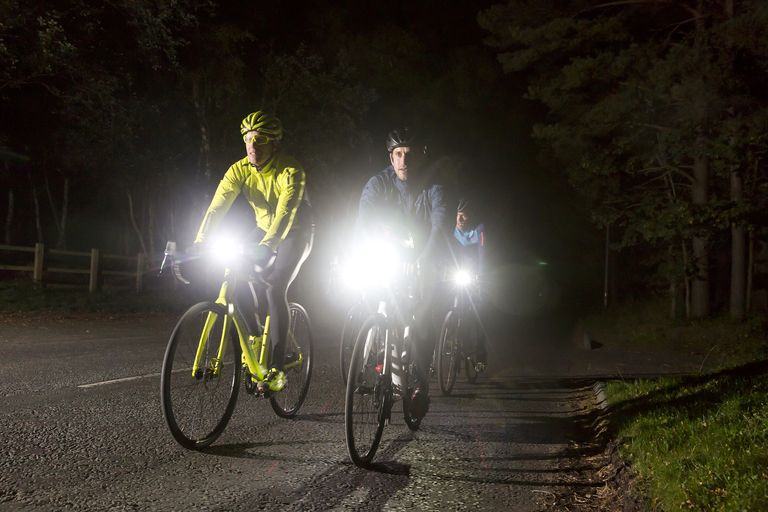 If you're planning to ride after dark, you need to have a good quality set of lights. In most places it's a legal requirement to have a white light at the front and a red at the rear, and if nothing else, riding without them after the sun has set can be really dangerous as other road users will struggle to see you.
Most cyclists will regularly ride after dark in autumn and winter, making bike lights an essential piece of kit, although daytime lights are growing in popularity because they help you to be seen out on the road, even in bright sunlight.
Sun in the eyes is often cited by motorists as a reason for not spotting a more vulnerable road user, a factor that can be negated by a set of bike lights switched on during the day to contrast the rider against the bright backdrop.
We've got more on everything you need to know when choosing a bike light below, but first here are some of our recommendations for lights worth looking into.
With each product is a 'See more' link. If you click on this then we may receive a small amount of money from the retailer when you purchase the item. This doesn't affect the amount you pay.
Jump straight to be the best bike lights you want....
Best bike lights: mini sets
Best bike lights: front lights
Best bike lights: rear lights
Best bike lights: mini sets
Front lights are generally classified as 'seeing' lights or 'be seen' lights.
Be seen lights make you more conspicuous and are designed for use on lit roads. In this case, 100 lumens is a good starting point - but 300+ will let you see more of the road ahead.
>>> Do you need daytime running lights?
Seeing lights highlight the road in front of you, and are designed for cyclists ride at night and need to illuminate the road ahead.
Generally speaking anything over 500 lumens should be good enough for a steady commuting pace where there are street lights. Anything over 700 Lumens should provide good enough visibility to allow you to ride rapidly on unlit roads and trails as it should provide you with enough foresight to ride confidently.
Be seen blinkers
Giant Recon HL 100 and Recon TL 100 combo
These cute cubes are lightweight, user-friendly 'be-seen' lights that offer good output for the outlay and for their tiny size.
Landing in the middle ground price wise, they're well designed and have good functionality. Perfect for a lightweight, versatile, good-looking, commuter light set with a very useful daytime mode.
See more UK: Giant Recon HL 100 and Recon LT 100 combo light set at Cycle Store for £35.99
Beryl Pixel Dual Light
The Beryl Pixel Dual lights are pocketable, lightweight lights that'll keep you safe on well-lit commutes home when you don't want to be lugging around heavier options. With each light being capable of emitting white or red light, these are ideal for always having on you, just in case.
See more: Beryl Pixel light set at Sigma Sports for £36.99
Seeing light sets
Lezyne Micro Drive 600XL and KTV Pro light set
Neat and compact, the Lezyne combo makes a decent, bright light set for use for commuting and occasional dark lane night riding. Burn times are good for the size of the units and charge times are relatively quick making them suitable for regular use without the need for lots of charging.
See more: Lezyne Micro Drive 600XL and KTV Pro lightset at Amazon for £68.95
Exposure Trace and Trace R MK2 light set
Tiny, robust, extremely bright and with long burn times. There really is nothing to fault the Exposure Trace and TraceR light set. Ideal for everything from commuting to being a backup set for longer trips, this is a set of lights that will provide reliable service for many a year.
See more UK: Exposure Trace and Trace R MK2 light set from Tweeks for £76.50
See more US: Exposure Trace and Trace R light set from Wiggle for $110
CatEye Sync; Core, Kinetic and Wearable
Score: 9/10
Cost: £190 for full set
The new CatEye Sync range is the next step in bike lights where three units are connected together wirelessly so that when one is switched on, the others light up too.
These are a great set of lights. Powerful enough to be seen and to see out in front with 500 lumens lighting the way. The rear lights work well as a pair but the Kinetic can be used on its own offering all you need in rear visibility.
See more UK: CatEye Sync Core front light at Cycle Store from £42.49
See more US: CatEye Sync Core at ProBikeKit from $66.99
Best bike lights: front lights
Knog PWR Rider front light
Part of a comprehensive line-up from Knog, this model will shine at 450 lumens for two hours, or up to 90 hours on the low energy flash setting.
The 'bonus' feature here though is that the Knog PWR can be used to charge up other devices, thanks to a hidden USB port, meaning you can breathe life back into your dead phone so you can make an emergency call, or your cycling computer so you don't lose a ride.
See more UK: Knog PWR rider at Wiggle for £41.29
See more US: Knog PWR rider at ProBikeKit for $54.99
NiteRider Lumina Micro 650 / Sabre 80 Combo
The solid feeling light uses a single high-powered LED to produce a nicely diffused light that illuminates a large swathe of the road ahead, with a decent central focal point for picking out road detail.
A simple push button operating system that allows you to easily cycle the four modes, which also acts as a battery warning indicator. Not the lightest of bike lights and the mounting bracket is hardly quick release, but if you are looking for a higher powered commuting light, which is good enough to ride steady on unlit roads then the NiteRider Lumina Micro 650 is a very good choice.
See more UK: NiteRider Lumina Micro 650/ Sabre 80 Combo light set at Tredz for £65.00
See more US: NightRider Lumina Micro 650/ Sabre 80 at Amazon from $66.79
Lezyne Micro Drive Pro 800XL
Lezyne's Micro Drive Pro 800XL proved to be a solid and reliable performer. The power and beam pattern allows it to provide adequate light to enable you to ride at a fairly decent rate on unlit roads without feeling like you're being held back. It's packed with good features and great build quality and the price is brilliant, the only drawback is it does have a few too many light modes.
See more UK: Lezyne Micro Drive Pro 800XL at Cycle Store for £50.99
See more US: Lezyne Micro Drive Pro 800XL at Amazon for $66.79
Cateye Volt 800 front light
At 800 lumens, this is just enough to commute on unlit roads and see where you're going. It's not so bright that it will illuminate the road just like a car headlight would, so you'll need to adjust your speed accordingly. There's six different modes and the battery will last between 2 to 80 hours depending which you run it on, taking 5 to 9 hours to fully charge.
See more: Cateye Volt 800 front light at Amazon UK for £64.99
See more:Cateye Volt 800 front light on Amazon USA for $86.83
Exposure Sirius MK9 DayBright
The Exposure Sirius MK9 DayBright is the brand's entry in to 'proper; road lights, providing all the illumination you need to see and be seen while in most environments. It puts out an impressive 850 lumens so you'll be pretty visible, but the power output and beam pattern is hard to beat. It's one of the most expensive commuting options, and you'll have to also factor in an additional £5 bracket for aero bars.
See more: Exposure Sirius MK9 DayBright at Tredz Cycles for £100
See more: Exposure Sirius MK9 DayBright at Wiggle USA for $122.79
Exposure Toro MK12 front bike light
Designed with cross country mountain biking in mind, this light puts out a whopping 3300 lumens. Running it at full power might not make you popular on a group ride, but of course, you can use a lower mode, but tackling the unlit back roads alone you'll have excellent visibility. Just make sure you lower the mode for oncoming vehicles.
The beam is tight and focused - whilst Exposure's more road-going offerings (like the Joystick) will spread it out more. The run time is two hours and this one weighs in at only 236g.
See more UK: Exposure Toro MK12 at Chain Reaction Cycles for £305
See more US: Exposure Toro MK12 at Chain Reaction Cycles USA $344.65
Lezyne Lite Drive 1000XL
Lezyne's big lumen light range has come on in leaps and bounds in recent years. This model puts out 1000 lumens and weighs 153g. Battery life is up to 87 hours, though be aware that comes down to 1.5 hours on high power mode. A full charge takes 4 hours, and the aluminum unit is attached to the handlebars with an all-in-one mount and rubberized strap.
See more: Lezyne Lite Drive 1000xl at Tredz for £70.00
See more: Lezyne Lite Drive 1000xl at Amazon for $69.99
Watch: Budget vs Premium bike lights
Best bike lights: rear lights
Rear lights are a little simpler to classify - they need to make you visible from behind, should have a battery life you can rely on and easy charging method. Here's our recommendations....
Lezyne KTV Pro rear light
A bright 75 lumen rear which offers a variety of modes, including a daytime option.
Charging is via an inbuilt USB stick, you just whip the end off and plug it in. The light uses a rubber band for mounting and can fit aero or round seat posts, though we did find it suited aero versions better.
See more: Lezyne KTV Pro rear light at Tredz for £23.00
See more: Lezyne KTV Pro rear light at Amazon USA from $24.99
Cateye Rapid X3 rear light
Plenty of modes and 150 lumens on the highest output make the Cateye Rapid X3 very competent rear light. We like that it uses two LEDs which makes the flash setting seem particularly bright and that it automatically goes into a reduced 'low battery' mode when it's running out of juice. Charging time takes about 3 hours.
See more: Cateye Rapid X3 rear light at Tredz for £41.99
See more: Cateye Rapid X3 rear light at Amazon USA for $59.95
Lezyne Laser Drive rear light
At over £50/ $50, this is quite a pricey option - but it's got a unique party trick. The 250-lumen rear bike light also incorporates laser beams which can be displayed either side of the cyclist, designed to reduce the number of close passes cyclists experience. The mount is compatible with both round and aero seat posts, too.
See more:Lezyne Laser Drive rear light at ProBikeKit for £41.49
See more:Lezyne Laser Drive rear light at Amazon USA $59.99
Bontrager Flare RT
Don't be fooled by the Bontrager Flare RT's compact size, this miniature tail light backs the punch of a flashbang. The LED inside only outputs 90-lumens, but the optics built into the lens focus the beam in such a way that the Flare RT can be seen from up to 2km / 1.2mi away. ANT+ connectivity means it can be connected to Garmin computers to show battery status and for control, and an integrated ambient light sensor adjusts brightness for maximum visibility.
See more: Bontrager Flare RT from Trek Bikes for £44.99
See more: Bontrager Flare RT from Trek bikes for $59.99
Exposure Blaze with DayBright
There's no doubt that you'll feel safer in the knowledge that you'll be much more likely to be seen by approaching cars and other traffic with the Exposure Blaze rear light attached to your bike. It truly is a dazzling light that cuts through the light pollution to grab the attention of other road users. The Daybright function is impressive in bright sunshine, especially at cutting through low level sunrays.
See more UK: Exposure Blaze rear light with DayBright at Tweeks for £80.75
See more US: Exposure Blaze rear light with DayBright at Chain Reaction Cycles from $103.99
Garmin Varia RTL515
Garmin's Varia RTL515 has four light modes, 65-lumens under the hood, and has a viewing angle of up to 220-degrees, but that's not what sets this light apart.
Hidden inside this sleek looking taillight is a rear-facing radar which can pick up cars from up to 140m / 459ft away, and when connected to a Garmin or Wahoo head unit, alerts you to and tracks cars as they approach. It may sound like a gimmick, but in our experience, it is surprisingly accurate, and often picks up cars before our ears do.
See more:Garmin Varia RTL515 from Halfords for £169
See more: Garmin Varia RTL515 and head unit from Wiggle for $225.99
Best bike lights: what do you need to consider?
We'll look at specialist lighting options in a moment, but for now, let's assume you're a road rider or commuter who wants to see and been seen when the sun sets. What do you need to consider when buying your lights?
Most modern cycle lights use LEDs rather than old-school bulbs, and such has been the advancement of technology, these can be blindingly bright.
Of course, light power is an important part of your buying criteria, but don't let that be the be-all and end-all. Beam shape and the effect of the light lens can make a huge difference — we've seen lights of supposedly lesser power trounce rivals when it comes to real-world performance.
>>> Buyer's guide to the best winter cycling clothing (video)
Even if you plan on using a light to see, it will still perform the double duty of helping you to be seen by other road users.
If you'll be riding on lit roads, you may find the need for an ultra-bright constant beam is unnecessary and a flash function at the front is perfectly adequate.
New bikes are sold with reflectors and many people dress in high visibility clothing, which are good additions but in no way make up for abike with no lights. Bicycle mounted illumination is essential for safety and to keep you on the right side of the law. A decent set of bike lights can be the difference betweenriding home safely or not getting there at all.
>>>Cyclists' guide to high visibility clothing and accessories
In the UK, law regarding bike lights is governed by the Road Vehicles Lighting Regulations, first published in 1989 but amended six times since, which says that as well as your pedal reflectors and rear reflectors (the side and front reflectors aren't actually a legal necessity) night-riders will also need lights front and back.
The lights have to be mounted on the bike centrally or to the offside, positioned up to 1.5m from the ground, and conform to British Safety or EC standards.
>>> Winter cycling survival guide: 10 tips to keep you riding
Both front or rear lights can be flashers, but if so they must emit at least four candela. "But bike lights tend to be rated in lumens or Watts, what's a candela?" we hear you cry.
It's not a particularly easy subject to explain, and they're not directly convertible units. But simply put: as long as you buy decent quality bike lights, fit them properly, and remember to switch them on, the law shouldn't be a problem.
Bike lights and the law: US
In the US, the law requires riders to have both active and passive lighting — active lighting is well...lights, while passive lighting are things like reflectors and reflective clothing.
The exact wording of the laws varies from state to state, but the summation of it all is that between sunset and sunrise or in conditions of 'limited visibility' you must have a white light pointing forwards, and a red light pointing backward.
Lumens and power
Lumens are used by the bike industry to measure the power of a light: a lumen is a unit of visible light. Since modern LEDs require far less energy, expressing their power in watts — which tells you how much energy they consume rather than how much light they produce — is redundant. For comparison's sake, a 100W incandescent bulb emits 1600 lumens.
The more you pay, the more lumens you get, but lumens burn up charge, meaning that if you want to run a high-lumen light for a long period of time it will need a big battery.
For road riding on unlit back streets, you need a 'seeing' light. This needs to be at least 700 lumens, though to ride fast like you would in the summer then 1000+ lumens is a safer bet as you'll have longer to anticipate obstacles like pot holes.
To be seen when riding on lit roads, 100 lumens is a good benchmark, but 300+ will show you a little more of what's going on at ground level ahead of you. At the rear, anything from 20 to 100 lumens is plenty.
Battery life and charging
For your rear light, the flash function is ideal. But if you're a bike commuter, with both front and rear lights also consider how effective the lamp is in terms of side lighting, as this will make you more visible from more angles and help avoid the "sorry, I didn't see you" excuse from a turning vehicle.
It's still generally a case of the brighter the better, but you also need to consider other qualities that will make your life easier. Look to see how many flash settings the light has; what the run times will be on a single charge or one set of batteries; and see if it has a rechargeable power source.
In this case, check if it needs its own special charger or if it can be recharged via USB, which aids convenience immensely. Some lights even have a helpful gauge showing how much power they have left.
>> Winter road bike tires
Bike light mounts
The last consideration is mounting. Smaller bike lights may be simply mounted using a rubber or silicone strap, whereas big lamps — especially front lights — may require a fixed bracket. Truly powerful front lights may even feature an external battery pack that will also need to be accommodated on the bike.
In any case, if you're planning to leave your bike parked up in public for any length of time, make sure your lamps can be easily removed.
>>> Best bike locks
Rear bike lights: what do you need to consider?
Though the amount of power you'll need for your front light will vary depending upon where you're riding, no cyclist should be without an adequate rear bike light. Rear bike lights will usually omit around 30 lumens or more, and generally have several modes: steady light, flashing, or a combination between the two. All options are safe and legal, but a flashing mode will usually help to save battery life and attract more attention.
Recently we have been introduced to the idea of using a rear bike light even in the day time, because it will help drivers pick you out from behind. It's also a sensible idea to double up on rear lights. Though it's unlikely, you won't be quite so aware if your rear bike light fails as you would be in the case of a front beam, so having a back-up fitted can provide extra security and peace of mind.
Back-up bike lights, helmet-mounted bike lights and extra brightness
The typical bike commuter on urban streets will only need a relatively simple set of front and rear lights. There's still every reason to buy the best you can afford, and even double up with an extra set of cheap emergency-only flashers front and back. But if you'll be riding off-road or on unlit back roads, you really do need to go for the bigger, more powerful lamps with wider beams.
To augment their bike-mounted torch, many riders also opt for helmet-mounted lights. These can be very effective and have the added benefit of directing the light wherever you are looking. However, these should be in addition to those on the bike, and not your only source of illumination.
>>> The best winter cycling jackets
Another sensible option is the dynamo light. This uses a compatible hub or wheel-rubbing bottle dynamo to convert your forward motion into electricity which then powers the light — so no need for batteries. Bottle dynamos can be disengaged in daylight hours so they don't drag unnecessarily, and at night means you'll never need to worry about run times or recharging again.
Super safe accessories
>>> Read more: It is safe to cycle on roads but here's how you can be safer
Night riding isn't just about illumination. In recent years a whole industry of associated safety accessories has come about.
There are some smart options out there designed to improve your safety. For example, Garmin's Varia radars will literally make you aware of and track cars as they approach, while the CatEye Sync range allows you to switch on multiple lights at the push of one button.
There are more innovative products appearing all the time, so do enjoy exploring the world of cycle lighting. Just remember, the basic rules haven't changed: be safe, be seen.