Best commuter bikes 2022 for practical cycling on a daily basis
Looking for the best commuter bike to get you from A to B on a daily basis? We round up some of the best bike styles for cycling to work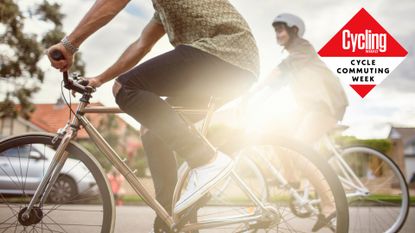 (Image credit: Future)
If you're looking for the best commuter bike for your trip to and from the office, that will keep you rolling from home to work (and anywhere else) on a daily basis with minimal maintenance, then there are several options on the market.
The ideal commuting bike for you depends heavily upon the nature of your commute: are the roads smooth? Will it include a spin down your local bike path? Or combine a stint on public transport?
Either way, you certainly won't want to be doing the daily hustle on one of the best road bikes (opens in new tab), unless you are using your commute as part of your training. Owning one of these is likely to have taken a fair bit of investment, so it's best not to subject it to the daily grind.
If you are thinking of taking to two wheels on a daily basis, you'll find these top tips for commuting to work by bike (opens in new tab) provide lots of great advice for getting the best out of riding to work. But where do you start with getting the best commuter bike to start with?
Best commuter bikes
Why you can trust Cycling Weekly Our expert reviewers spend hours testing and comparing products and services so you can choose the best for you. Find out more about how we test.
We've split this guide into these six different styles of bike. With each bike 'style' we've outlined the pros and cons and included some recommended models.
We've not included any of the best electric bikes (opens in new tab) in this list, as they need a dedicated guide on their own, but do head over if you are after a bit of motor power as they are a very popular commuting option, making for a little less exertion on the commute, so you're less likely to arrive hot or tired.
Hybrid and fitness bikes
Good for: Urban riding, gentle off-road if you choose one with wider tyres
The best hybrid bikes (opens in new tab) and best women's hybrids (opens in new tab) are the most popular choice when it comes to commuting. They're a mixture between road and mountain bikes - often combining a lightweight aluminium frame with slick yet wide tyres and disc brakes.
There are many different styles of hybrid bike - some are closer to mountain bikes and come with suspension and wide tyres (35mm or more), whilst others are effectively road bikes with flat handlebars (with tyres around 25mm-28mm). We are also seeing a select few hybrid and fitness bikes adopting smaller 650b wheels which allow for super plump rubber that eats up rough roads and paths.
If you are looking for an option that has speed as a priority, then head over to our page dedicated to finding you one of the best fitness bikes.
However, we have included one or two below for commuters wanting to get some speed and distance, and to help with comparing your options.
Best commuting bike for value
Specifications
Frame: Alloy with steel fork
Drivetrain: Shimano Acera/ Altus / Tourney 8-speed
Ratios: 46/30t, 11-32t
Wheels: Alloy 700c
Tyres: RoadSport Reflect, Wire bead 32mm
Brakes: Promax F1 hydraulic disc
Weight: TBC
Reasons to buy
+
Great value for riders after a basic do all
+
Impressive reliable shifting
+
Mounts for fenders, panniers
Reasons to avoid
-
Not the most nimble of bikes
-
Overly-upright position
The Specialized Sirrus hybrid (opens in new tab) is made of the brand's A1 Alloy butted aluminium and is the perfect commuting companion for anyone just looking to get the job done. The bike rolls on 700c wheels but with room for 42mm wide tyres, allowing it to tackle rough roads and dirt paths in some comfort, as well as being happy on the paved road. There are rack and fender/ mudguard mounts on the dropped seat stays and the fork, as well as bosses for two bottles cages inside the main triangle, making this one of the best commuting bikes for riders looking to calibrate their own mule for work.
On test, we found that the Shimano set up was superb at gear shifting, and although the more recent models are now rapid fire 2x8-speed, there will still be a wide range of gears to choose from, making even hilly commutes easier to tackle. Details such as the front chainguard to prevent greasy dropped chains are a nice practical touch on a commuter bike too.
Now the Sirrus range has been around for a while, it's been able to grow quite large, with Sirrus 1.0 up to 4.0 now on offer, with the actual Sirrus 2.0 coming in four versions, a Sirrus X 2.0 provides a more off-road happy setup, and step through versions of both the X and standard models. There's even a range of colours to choose from too.
The most recent models will come equipped with hydraulic disk brakes, a must have if your budget allows, while the entry Sirrus 1.0 comes with rim brakes, still a worthy option, especially at that price point.
2. Momentum Transend E+ hybrid e-bike
Best commuter bike for extra assistance
Specifications
Frame: Aluxx aluminium, aluminium fork
Drivetrain: Shimano Nexus 7-speed hub gear
Ratios: 38t chainset
Wheels: Alloy 650b
Tyres: CST Metropolitan Palm Bay 2.35"
Brakes: Tektro HD-M275 hydraulic disc
Weight: Not specified
Reasons to buy
+
Motor provides up to 100 miles range
+
Step through or crossbar frame options
+
Wide, comfortable tyres
Reasons to avoid
-
Motor adds weight if you need to carry your bike
The Momentum Transend E+ adds a motor to make your commute that much easier, especially if it includes hills or lots of stop-start riding. There's a Yamaha motor with 250W/60Nm power output and five different modes that augment your pedal power and drive the bike through a Shimano Nexus 7-speed hub gear that cuts down on lubrication and maintenance.
The 500Wh battery provides plenty of capacity and a range of up to 105 miles. It can be recharged by 80 per cent in under two hours. Stopping power comes from Tektro hydraulic disc brakes, while chunky 2.35" tyres and a quality Selle Royal saddle help make riding more comfortable.
The Transend E+ is available either with a crossbar or step through frame and comes in a range of four cheerful colours.
Best commuter bike for minimal maintenance
Specifications
Frame: Aluminium, aluminium fork
Drivetrain: Shimano Nexus 7-speed hub gear
Ratios: 42t chainset
Wheels: Alloy 700c
Tyres: Vee Baldy 32mm
Brakes: Shimano U300 hydraulic disc
Weight: Not given
Reasons to buy
+
Beginner-friendly design
+
Extremely versatile
+
Low maintenance drivetrain
Reasons to avoid
-
Clunky twist shifters
-
Backswept bars could be wider
Scoring nearly full marks on review, we concluded that the Marin's Presidio 2 (opens in new tab) was the ideal option for anyone who just wants a bike to get about on, without needing to fuss about or even bother cleaning it on a regular basis!
It offers a double butted aluminium frame and fork, which is a higher spec than many bikes at this price point, and is a great foundation for providing a really comfortable ride.
We adored the Shimano Nexus hub gear system. It effectively does away with an external cassette, so is super low maintenance in terms of wear and tear, and won't require the regular 'de-crudding' that a standard gear set up needs if a bike gets ridden in all weather. It also offers enough options for all but the hilliest of commutes with seven 'gears' to choose from thanks to the huge range they have. More experienced riders might find there are some large 'gaps' in this set up, but if you just want to know if you can ride it on the flat and uphill, the answer is most definitely yes.
A set of powerful Shimano hydraulic disc brakes provide ample stopping ability, while the backswept handlebars make for a great relaxed and comfortable cockpit.
If you're after one of the best commuter bikes for jobbing about town, and not much interested in the shiny pro look, then this is the one.
Best commuter bike for a jack of all trades
Specifications
Frame: Aluminium, steel fork
Drivetrain: Shimano Altera/Altus 8-speed
Ratios: 42/32/22T, 12-32T
Wheels: Alloy 700c
Tyres: Continental Contact Speed 40mm
Brakes: Tektro Auriga M275 hydraulic
Weight: 12.8kg
Reasons to buy
+
Versatile riding discipline options
+
Fun to ride
+
Competitively priced
Reasons to avoid
-
Handlebars wide for commuting in traffic
-
Flex out the saddle when on steep climbs
We found the Pinnacle Lithium hybrid bike (opens in new tab) a real joy to ride giving it full marks in the review. It would make a fantastic first adult bike for riders who start off with just commuting, but would like to add in some weekend rides with the family, or just for the joy of cycling.
The aluminium frame sports both mudguard and pannier mounts, ticking two major boxes for a versatile commuter bike, while the 40c Continental Contact Speed tyres make it possible to also hit towpaths of groomed trails.
The Tektro hydraulic disc brakes provide powerful and modulated braking even in wet conditions, whilst the 3x8 drivetrain offers a huge choice of gears, more than sufficient for even the steepest of hills, although we did notice a little flex in the frame when out of the saddle on the steepest climbs.
There are some compromises to be had on this amount of versatility though, and it's mostly around speed in the city, with the wide handlebars also reducing the bike's nimbleness.
That said, if you're after one of the best commuters that's doubles up as a weekend play toy, then the Pinnacle Lithium is a great choice and great value.
Best commuter bike for busy (aka forgetful) riders
Specifications
Frame: Aluminium, aluminium fork
Drivetrain: Gates belt drive, enviolo Trekking 8-speed hub gear
Ratios: 50T, 24T
Wheels: Alloy 700c, front dynamo hub
Tyres: WTB Slick 32mm
Brakes: Tektro hydraulic
Weight: 14kg
Reasons to buy
+
Integrate lights, fenders, and kickstand
+
Dynamo Hub for powering lights
+
Smooth, maintenance free, drivetrain
Reasons to avoid
-
Heavy relative to other bikes in its category
This Priority Continuum Onyx (opens in new tab) is another bike banger with full marks when we reviewed it. It's the perfect commuter bike for anyone who is constantly rushing around, and prone to forgetting to charge lights, maintain their bike, or not quite getting round to checking weather reports.
It comes with integrated lights, and incredibly handy dynamo hub to keep them powered.
The belt drive and hub gears dramatically reduce maintenance, and the chance of greasy marks on your clothes, as it does away with a chain and regular oiling/ greasing requirements.
The other perk is integrated fenders which keep road spray to a minimum, helping to keep the bike, and you clean and dry, ideal for when you've forgotten to pack the waterproof trousers.
The all-aluminium bike isn't the lightest, at 14kg, especially when compared to something like the Pinnacle Lithium 3 Hybrid bike, but it does include all bar the lock and rider, so in reality it's more a like for like, but without having to set all the alarms to charge lights, book in a service, or even oil a chain.
Best commuter bike on a budget
Specifications
Frame: Aluminium, steel fork
Drivetrain: Shimano TX800 8-speed
Ratios: 46/30t, 11-34t
Wheels: Alloy 27.5 inch
Tyres: Carrera Puncture Protect 1.95 inch
Brakes: Mechanical disc
Weight: 14kg
Reasons to buy
+
Mens and women's options
+
Disc brakes for improved stopping power
+
Pannier and mudguard mounts
+
Low price tag
Reasons to avoid
-
Women's specific only available in Subway 1
-
Ride might feel too ridged for some
-
Not very comfortable to ride for a long time
-
Pedals could do with an upgrade
If you are on a tight budget then the Carrera Subway 1 (opens in new tab) is worth having a look at. It comes in male and female versions (the female one has a dropped crossbar), and has some great features, such as the ability to mount mudguards, and panniers even with the large tyres.
It's these tyres that also make it a good option for some mixed terrain riding, although, it has quite a rigid feel, which could put some riders off taking it away from smooth tarmac.
It's great to see disc breaks at this price point, but be aware that they are mechanical ones, so not quite as impressive as hydraulic versions you would see on bikes slightly higher priced, such as the Specialized Sirrus 2.0, but this is almost half the price, and in general they should perform better than rim brakes in the wet at this price point.
The 24 gears are enough for hilly rides, but it's not the most comfortable of bikes for any real duration, and the pedals do need an upgrade to prevent slipping on them, but if you're after a budget option, this is one of the best commuter bikes you could get.
Stylish commuter option with added motor
Specifications
Frame: Aluminium frame and fork
Drivetrain: SRAM NX Urban 11-speed
Ratios: 42t, 11-42t
Wheels: Mavic Allroad EBM 700c
Tyres: Schwalbe Marathon 35mm
Brakes: Rever Attack U hydraulic disc
Weight: Not specified
Reasons to buy
+
Stealthy hidden motor is reasonably lightweight
+
Available with a range of specs
+
Attractive and comfortable
Reasons to avoid
-
May need to size up if you're close to the top of a size range
The Ribble Hybrid AL e offers a stylish option for the commute that includes a hidden motor and internal battery for extra assistance. Like all Ribble's bikes, you can choose between spec options with the Fully Loaded option reviewed including a rack, lights and mudguards, so you're all set up.
The motor and battery weigh just 3.5 kilograms, so the Hybrid AL e is lightweight and portable for an electric bike, but you still get a range of around 60 miles and assistance is customisable via the Mahle ebikemotion app to prioritise range or assistance to suit your riding style and commute.
The rest of the spec is well thought out with a single chainring SRAM NX drivetrain with a wide range 11-42 tooth cassette, quality Mavic wheels, hydraulic disc brakes and a comfortable saddle for commuting.
Folding bikes
Good for: Commutes with that also utilise public transport
If you're combining your journey with a train, bus ride or another mode of transport, then owning one of the best folding bikes (opens in new tab) is certainly the way to go.
Doing so can drastically cut down your travel time, giving you the chance to ride to a faster train station, cut out the walk on either side, or reduce your car journey by parking out of town and riding the rest of the way.
The nature of the folding bike also means you can pop it under your desk at work, meaning it won't be subjected to the elements or bike thieves who'd like to ruin your day, as revealed in this candid interview where a bike thief reveals tricks of the trade (opens in new tab).
Folding bikes come in all sorts of wheel sizes. The smaller the wheel size, the easier it'll be to get the bike on a train, but a bigger wheel will be quicker.
Folders are also popular among those who want a bike they can take on vacation with ease in the back of the car or camper van.
8. B'Twin Tilt 500 folding bike
Best commuting bike for foling on a budget
Specifications
Frame: Aluminium, steel fork
Drivetrain: Shimano 7-speed
Ratios: Not given
Wheels: Alloy, 20 inch
Tyres: B'Twin 20 x 1.75 inch
Brakes: Steel V-brake
Weight: 12.9kg
Reasons to buy
+
Good value option
+
Easy adjustment
+
Quick to fold
Reasons to avoid
-
Quite heavy to carry around
There are several B'Twin Tilt models available, all of which follow the same folding system, adjustable bar and saddle height, to make them ideal for sharing. The B'Twin Tilt 500, as pictured above, sits in the middle of the range and comes with a single chainring at the front and Shimano 7-speed rear cassette.
The Decathlon brand of bikes come up time and time again as one of the most impressive value for money options, so we'd expect this folding commuting bike to be more of the same.
The only thing worth pointing out is that it's a pretty heavy package, in fact it's a similar weight to the Pinnacle Lithium 3 Hybrid bike, so worth bearing in mind if you are planning on getting on and off public transport or out of a car boot.
Best commuting bike for lightweight folding
Specifications
Frame: Steel, steel fork
Drivetrain: 3-speed
Ratios: Not given
Wheels: Alloy
Tyres: Schwalbe Marathon
Brakes: Rim
Weight: 12.1kg
Reasons to buy
+
Relatively lightweight
+
Folding action works perfectly
+
Ride quality is good
Reasons to avoid
-
A little more expensive than the standard lightweight models from Brompton
We've loved any of the bikes produced by the folding market leader, and it's easy to see why with almost all our reviews giving the Brompton bike range (opens in new tab) full marks. Brompton allows you to spec your own folding bike with the ideal handlebar type, gear set up and accessory selection. This is why it's a little tricky to review just one model.
The bikes excel in their field thanks to their incredibly lightweight nature and speed of folding and compact footprint.
There are several versions to choose from, which now include an electric version, albeit for a premium price of £2595 / $3499. The M3L has the M-shaped handlebars which are comfortable for commuting and comes with three gears.
It's a premium commuter bike option, but once you've tried one, it's hard to make the compromises that other bikes require.
10. Tern Eclipse X22 folding bike
Best commuting bike for a hybrid folder
Specifications
Frame: Aluminium frame and fork
Drivetrain: Shimano Ultegra/105 11-speed
Ratios: 50/34t, 11-28t
Wheels: Kinetix Pro X Disc
Tyres: Schwalbe Kojak 35mm
Brakes: Shimano Deore hydraulic
Weight: 11.3kg
Reasons to buy
+
Rides fast, like a standard hybrid
+
Smart looks
+
High spec drivetrain
Reasons to avoid
-
A bit cumbersome when folded
-
An expensive option
Straddling both the hybrid and folding camps, the Tern Eclipse X22 folding bike gains the practicalities of larger wheels, but with the ability to fold in half. So it's the ideal commuting bike for someone who is looking for marginal gains in their journey from home to station.
The aluminium frame is built around 26 inch wheels, and disc brakes – the greater diameter makes for faster rides but means the folded unit isn't quite as small as traditional options, but it does allow it to be equipped with standard road bike parts.
To that end, it comes with an impressive Shimano Ultegra groupset and Shimano SLX hydraulic disc brakes, making this bike actually pretty high end, rivalling some of the best road bikes on the market. That might be obvious when you look at the price tag, and realise that with a few extra zeros than something like the B'Twin Tilt 500 folding bike, you would want something pretty special.
Dutch, comfort and cruiser bikes
Good for: Carrying luggage and flat roads
The traditional town bike, also sometimes called a Dutch bike, cruiser, sit up and beg or step-through. These bikes are often designed with practicality in mind and speed a little bit further down the list of demands.
Expect features such as hub gears - which require a lot less maintenance, chain guards to keep muck off your trouser leg, kickstands, dynamo lights and built in racks.
These bikes put the rider in a very upright position - so you can ride one with a bag slung over your shoulder with ease, and they carry luggage well.
Dutch bikes often feature a limited number of gears, and are pretty heavy compared to the majority of other options (expect around 13kg). The additional weight means they often feel very stable - but they're rarely a good choice if you live somewhere particularly hilly (though there are electric options out there).
11. Pendleton Somerby Hybrid Bike
Best commuting bike for traditional looks with modern specification
Specifications
Frame: Aluminium, steel fork
Drivetrain: Shimano Tourney 7 Speed,
Ratios: 36t, 14-28t
Wheels: Aluminium
Tyres: Kenda Smooth Roll, 38mm
Brakes: V-brakes
Weight: 14.6kg
Reasons to buy
+
Classic looks
+
Comes with rack and mudguards
+
Step-through frame
Reasons to avoid
-
Quite heavy so make sure you really want this look and design
A faithful iteration of a timeless classic, but this time the 7-speed drivetrain is from industry experts Shimano, giving you confidence in its reliability. The V-brakes do lend themselves to straightforward serviceability, and complete this old fashioned style bike's looks. With a bike this heavy you might find it takes some pulling to get the bike to stop, although you're probably not in danger of breaking the speed limit.
Fenders and chainguard serve to protect you from the grime of the roads and drivetrain. Coming with a pannier rack already attached, the Somerby is ready for carrying loads straight from the get-go making it actually pretty practical.
There are lots of electric versions available now, which will push the price up, but we'd say if you are serious about wanting a more traditional style bike, but don't live in a flat village or town, then the extra power will be really worth considering.
12. Kona Coco
Best commuter bike for riders wanting a classic bike with modern details
Specifications
Frame : Aluminium
Drivetrain: Shimano/ Samox
Ratios: 39/11-32 (9 speed)
Wheels : Formular hubs/ double wall alloy
Tyres: WTB Horizon Comp
Brakes: Tektro Hydraulic
Weight: TBC
Reasons to buy
+
Step-through, up right riding position
+
650b wheels makes mix terrain riding possible
+
Hydraulic brakes
+
Fenders/ mudguards as standard
+
Puncture resistant tyres
+
Kickstand
Reasons to avoid
-
Not an agile bike for speedy commutes
-
650b wheel size might not be everyone's ideal.
-
Doesn't come with baskets/ pannier racks as standard
The Kona Coco bike is a modern twist on a traditional Dutch-style bike. The frame design pay homage to the thin tubing shapes on a more historical step-through bike, but this time it's made from a more forgiving 6061 Aluminium, and corresponding aluminium fork.
Some of the cabling has been routed internally, which gives the bike its clean lines and helps keep them a lot cleaner which will mean they could need replacing at bigger intervals.
This of course is more about the rear gear cable, with the front chainring running a single 39t, with handy guard to prevent the risk of it dropping off and covering you in grease. At the back there is a good spread of 9 gear options (11-32), which will be enough for undulating terrain, but regular bike users will find there are some big jumps between the gears.
Selecting hydraulic brakes gives this traditional looking bike bang up to date stopping power, giving the most apprehensive wet weather riders much more confidence in their speed modulation capabilities.
The frame design goal is to deliver comfort, and not an agile ride, so if you're looking for a speedy commute, you will have to look elsewhere. However, if you are looking for one of the best commuting bikes, that is happy on a towpath, or old railway line, then the 650b wheels are a great addition, with their voluminous tyres, for rolling over a variety of surfaces. This won't be to everyone's liking however, and will mean a bespoke set of spares if you also have a standard 700c wheeled bike too.
The other point of note is that unlike something like the Pendleton Somerby Hybrid Bike, there aren't any racks or baskets as standard on the Kona Coco, so while it's a great looking, and functioning bike, you'll have to carry your shopping on your back unless you fork out for the optional extras.
13. Cannondale Adventure 2 bike
Best commuter bike for a comfortable step-through
Specifications
Frame: Aluminium/ Suntour NEX-E25 50mm coil fork
Drivetrain : microSHIFT M26S / Sunrace
Ratios: 38T, 11-34 (7 Speed)
Wheels : 650b Formular hub, Cannondale double wall rims
Tyres: Goodyear Transit Tour 27.5 x2.0"
Brakes: Tektro Mechanical Disc
Weight: TBC
Reasons to buy
+
Hybrid/ Dutch mix
+
Front suspension
+
650b wheels for comfort and terrain variety
Reasons to avoid
-
Mechanical disc brakes
-
Pricey option when compared to peers
There are three bikes in the Cannondale Adventure range, all with the same traditional step-through aesthetics, but with modern practicalities making them much more appealing to riders.
The Adventure could easily be placed as one of the best hybrid commuting bikes, as there are many crossover features that this bike benefits from, most notably the addition of a front suspension, providing the rider with 50mm of travel. This, combined with the 650b wheels, should give the bike ample cushioning on even rough terrain. This doesn't mean that it will be happy to grace trail centres; anyone who has tried to ride a step-though bike off-road will testify to that.
As with the Kona Coco, the 650b wheels will be hit or miss depending on the rider, so something to think about in terms of spares etc. Gears wise, you also get the single chainring, but this time just 7 gears at the rear, making the jumps across the 11-34 gear ratio pretty large.
Also similarly to the Kona Coca, the Cannondale Adventure gains disc brakes. On the Adventure 2, as shown here, however, these are mechanical ones. You could upgrade to the Cannondale Adventure EQ and, along with a few more upgraded features, gain hydraulic ones.
Whatever model you select, you will probably be looking at a premium price tag for the privilege of the Cannondale knowledge and experience of making bikes and it's only the rider/ buyer who can decide if the premium is worth it.
Singlespeed and fixed gear bikes
Good for: Speedy commuting on flat roads
A bike has one chainring and one rear cog - amounting to a single gear, with how hard it is denominated in gear-inches. Even if you purchase one of the best single speed or fixed gear bikes (opens in new tab), you'll still want to pick a bike gear which will enable you to cover the terrain you have in mind - somewhere between 65 inches and 75 inches works best for people commuting on flat roads but the ideal really does depend upon your cadence and leg strength. If this is already starting to sound like a different language, then perhaps pop over to our page on bike gears: shifting explained for beginners (opens in new tab) which will help you interpret, and you'll soon be a native ratio speaker.
Once you've got the right gear sorted, singlespeeds are beautifully simple and having one cog does drastically reduce the maintenance required. As a result, singlespeeds are favoured by city centre commuters using mostly flat roads.
Some singlespeeds use a fixed gear - and are called 'fixie' bikes for short. This means that, like the best track bikes (opens in new tab), well any track bike for that matter, there's no freewheel. You can't coast, and have to pedal constantly. Slowing down means applying pressure to the pedals - though to ride on the road legally you must have a working front brake. Fixies are often used by bike couriers - they enable quick and nimble movement, once you know how to operate the pedals.
If you're not sure if you want a fixed or freewheel singlespeed, many bikes come with a flip-flop hub - one side has a fixed-gear sprocket, and the other a freewheel, allowing you to swap between the two.
Best commuter bike for looking shiny on
Specifications
Frame: Cr-Mo
Drivetrain: FSA Tempo Track
Ratios: 48T 32T
Wheels : DA-17 Alloy double wall/ Joytech alloy hub
Tyres: Vittoria Zaffiro Slick 700x25
Brakes: Dual pivot/ Tektro leaver
Weight: TBC
Reasons to buy
+
Brilliantly good looking
+
Good for nipping about in style
+
Flip flop hub for both fixed and singlespeed options
Reasons to avoid
-
Heavy for this kind of bike
-
Under-specced for the price
Normally a bike that wasn't scoring close to top marks wouldn't make it onto the best commuting bikes buyers guide, but we figure if you're looking for a bike that is just about good looks and being shiny, then the Bianchi Pista Steel bike is for you.
On test we found that it oozes class and is a real head-turner when nipping out and about for short trips around town. It might need to be a flattish town however, as beneath all the good looks, there is a pretty heavy frameset and wheel combo.
We were very thankful for the flip flop hub which gives the option of fixed or single speed riding, and while the gear ratio (48t front/ 16t cog) was ok for a south London commute, anything undulating and this would be oversized.
There isn't much in the way of specification of parts, but with all the shine of the frameset, it would have been nice to see some higher specced cranks and wheels, especially at this price point.
It's not the most practical commuting bike, but if you're looking for something a little different and are only looking to sling a messenger bag over your shoulder, you'd be pretty happy with the Pista.
15. Creme Vinyl Uno Bike
Best commuting bike for riding out the box
Specifications
Frame: Steel
Drivetrain: Creme Classic
Ratios: 46t, 17t
Wheels: Track alloy
Tyres: Michelin Dynamic Sport, 42mm
Brakes: Dual pivot rim
Weight: 10.6kg
Reasons to buy
+
Simple, versatile design
+
Clean looks
+
Flip flop hub for single speed or fixed options
Reasons to avoid
-
High ratio to the stock gearing
The Dutch brand has been designing city bikes for just over ten years, with the Vinyl Uno one of its single speed offerings.
A steel frame and fork are teamed with rim brakes and do look the biz, and there are many riders who would appreciate the clean lines that doing away with gear cables allow.
The riser flat bar does mean that there's not much after purchase wriggle room with the bike fit, so it's worth double checking that the geometry works for you first, but this does limit faff to just saddle and stem height.
The added bonus of the Creme Vinyl Uno, is that it comes with a flip flop hub, allowing it to be either fixed or a single speed (so you can freewheel). However the standard gearing of 46/17T is a pretty big gear to push, especially on any incline, so it's worth adding a bigger sprocket and longer chain to the shopping basket if you're planning to ride somewhere with a few hills.
Entry level road bikes
Good for: Longer commutes and enjoying on the weekend
There's nothing stopping you from using your standard road bike for the commute - and if you're already a dedicated roadie using your bike for weekend and leisure rides, then it could make sense to get still more use out of it.
Some of the best endurance road bikes make for ideal commuter bikes - in that they offer a slightly more relaxed position.
If you're considering buying a new road bike with commuting at front of mind, then look for one to ensure you can fit a pair of the best mudguards when riding in autumn and winter, and check for eyelets for a pannier rack. Check out our guide to the best cheap road bikes that we've ridden.
Skinny tyres on a standard road bike mean they're more suited to good, paved, tarmac roads - so the road bike isn't the perfect choice if you want to amble along some canal paths - though the cyclocross or adventure bikes below might be an option.
Best commuter bike for adding in a road ride at the weekend
Specifications
Frame: Aluminium frame/ Carbon fork
Drivetrain: Shimano Sora
Ratios: 50/34t 11-32t (9-speed)
Wheels: Triban Tubeless Ready* wheels
Tyres : Triban Resist+ tyres
Brakes : Promax disc (mecanical)
Weight: 10.6 (medium) Claimed
Reasons to buy
+
Great price for a well thought out bike
+
Very capable of completing sportive events and road riding training/ general rides
+
Mounts for fenders/ mudguards and pannier racks
+
Wheels can take tubeless tyres for less chance of punctures
We really loved the flat bar version of this Triban RC500 (opens in new tab) , as well as previous iterations, constantly finding it excellent value for money.
This dependable and versatile option is a great commuter bike for anyone looking to up their ride time at the weekend, and is even capable of tacking the odd sportive event too.
The practical nature allows both fenders/ mudguards to be added to the frame, as well as pannier racks, making this also the perfect workhorse for mid-week commutes. This is down to a combination of the bike design, with the carbon fork, which like the Boardman SLR 8.6, is a rare find in this buyers guide to the best commuting bikes. It's also down to the highly regarded drivetrain, with Shimano Sora shifting like clockwork.
Ideally we would love to have seen hydraulic brakes, as the mechanical ones fitted do feel a little less powerful, but with the price point, this is really the only compromise that's been made.
As the review suggests, there is a flat bar and dropped bar versions to be had, with the dropped bar version, the (as was) B'Twin Triban 500SE road bike (opens in new tab), also gaining accolades from us when we last saw it and it's been further improved since then too.
A brilliant option as a cheap commuter road bike.
Best commuting bike for keeping your 'road bike' position
Specifications
Frame: Aluminium, carbon forks
Drivetrain: Shimano Claris 8-speed
Ratios: 50/34t, 11-32t
Wheels: Alloy
Tyres: Vittoria Zaffiro, 25mm
Brakes: Tektro R-315 rim
Weight: TBC
Reasons to buy
+
Sleek clean tubing aesthetics
+
Keeps a road bike geometry
+
Agile ride
Reasons to avoid
-
Wheels are a place of compromise
-
Rim brakes
There are several different options within the Boardman bike range but the Boardman SLR 8.6 version is the entry level road bike that comes with the desirable features of a commuter bike, but the aesthetics and geometry of a road bike.
The SLR 8.6 comes with mudguard and pannier mounts, as well as easier to replace threaded bottom bracket, meaning that choosing it as your commuting bike is a great option for its versatility and its easier home maintenance.
All models come with women's versions available featuring women's specific contact points, meaning that this bike is ready to roll out the box whatever the rider.
This is another entry to join the Triban RC500 in the category of an aluminium frame and carbon fork combination, but this time you gain Shimano Claris 8-speed shifting, with a 50/34t at the front and 11-32 at the rear for nice and well spaced gear changes.
The downside is that at this price point with the Boardman, you lose disc brakes and are specced Tektro rim braking. This might be an area that you want to upgrade, especially if you are using this as a second bike for commuting and training, as you will feel the difference compared to your usual road bike. To that end, you'll also want to upgrade the wheelset too. But to get you out and rolling this is a great commuting bike option.
Adventure road and gravel bikes