Best electric cargo bikes 2022 and how to find your perfect one
How to become a car free and embrace daily life on a bicycle made for two, three, four and more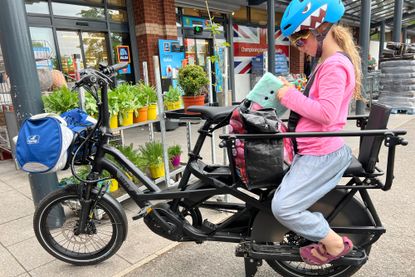 (Image credit: Hannah Bussey)
From faster commutes to drastically cutting emissions from fossil fuel vehicles, there is a multitude of benefits to owning one of the best electric cargo bikes.
With the capability of carrying two children and shopping, the latest e-cargo bikes offer a realistic alternative to the car, even when you don't live in the flat lands of Holland.
For that reason, all our cargo bikes are electric cargo bikes, as we test in far from flat terrain. If you're already a fan of the best electric bikes (opens in new tab), you'll know the benefits that a little extra power can bring on a ride, and with a heavy load, it's more of an essential feature.
We've tested the best electric cargo bikes on the market right now, putting them through their paces as a direct car swap for a busy working family, in rather hilly terrain and in a mix of rural and urban environments.
Underneath our bike recommendations, we have all your cargo bike questions answered, and include tips on how to find the best electric cargo bike for you and your family.
It's worth noting here that our e-cargo bikes are as defined by the laws in the UK and USA. Our page on how to buy an e-bike tells you everything you need to know about electric bikes before you make your purchase, and our best e-bike insurance answers questions about the law of insurance for an electric bike.