Best bicycle child seats: what to look for and recommended kids' bike seats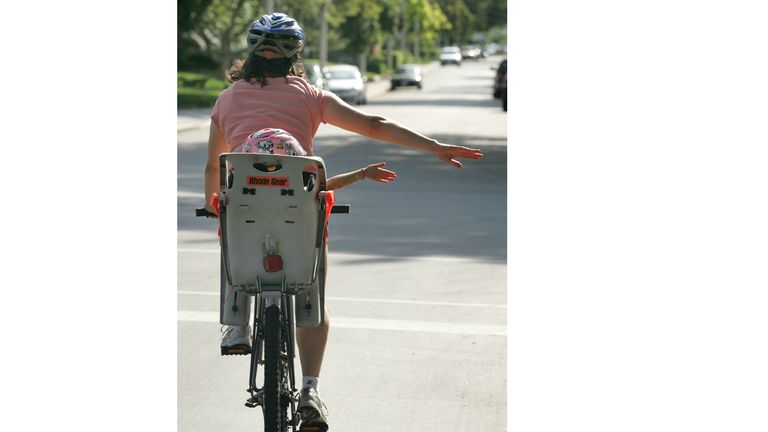 (Image credit: Ron Bull/ Getty)
Riding with a child from a young age is one of the best ways to introduce them to a life long love of cycling. Until they're capable of travelling a fair distance on their own, having them on board with you is a great way to get you all on your bike and the best child bike seats will allow you to do just that.
The most important decision to be made in parallel to buying a great child or baby seat is one of the best kids' bike helmets, which can take a little research and trying before buying, as one thing for sure is that it's not something you can get for a child to grown in to, or even as a hand-me-down.
You can start your child's cycling journey when they're really young with one of the best balance bikes, before they get up to speed and pedalling one of the best kids' bikes under their own steam.
Which child bike seat is best?
There are two main styles of child bike seats - those mounted on the front and those on the rear. These are both suitable for carrying a child from around six months, when they can sit up unaided, up to between four and six years old.
Although there's only a choice of two seat styles, there's at further choice to be made as to how the bike seat is mounted to your bike.
Our table quick reference table (below) should help you work out what the best bicycle child seat at a glance, before reading more detail a little further down the page on the differences, along with lots of helpful hints and tips when making your purchase.
Quick look guide to help finding your ideal bicycle child seat

| | | | | |
| --- | --- | --- | --- | --- |
| | Front | Rear cantilevered | Rear Rack | Rear seat and stay tube mounted |
| Mounted to | Steerer tube/ top tube/ seat tube/ seat post | Seat tube | On top or rear bike rack | Seat tube and seat stays |
| Best for | Toddlers up to 5yrs | 9months and above | 9months and above | 9months and above |
| Pros | Limited impact on bike handling, Closeness to child, Lightweight, Options for most bikes, Varity of support, adds extra seat capabilities, Exposure to riding skills | Range of ages (esp very young or older children), Reclining positions, Support options, Quick to remove | Capable of taking heavier weight, Less bounce, Option to extend for multiple seat platforms | Stable position, Less bounce, Quick release mounts, Capable of heavier load |
| Cons | Child in wind, Lack of leg room for rider, No recline option, Unlikely to be suitable for pure road bikes | Bike handling impacted, Not appropriate for all frame materials, not compatible with external cabling, Heavy, Can be too flexible, Child out of sight | Bike handling impacted, Not appropriate for all bikes, Heavy, Unable to use panniers at same time, Low position for child, Child out of sight | Bike handling impacted, Not appropriate for all bikes, Heavy, Child out of sight |
If you're carrying more than one child (as even with front and rear seats it can be tricky to mount/ dismount the bike without high kicking a child) or want to take extra luggage, then it may be worth looking in to purchasing one of the best child bike trailers or cargo bikes.
Our pick of the best front and rear child bike seats
We've got lots of helpful hints and tips on how to find the best option for you and your family a little further on in this buyers guide, but first here's our hand picked list of the best bicycle child seats we recommend.
With each product that's currently available to purchase, you'll find a 'see more' or 'Best Deal' link. If you click on this then we may receive a small amount of money from the retailer when you purchase the item. This doesn't effect the amount you pay.
The best child bicycle seat - rear
Thule RideAlong child seat
Best child bicycle seat all round - rear
Specifications
Mounting system: Cantilever
Safety harness: 3-point
Weight: 11.5lbs/ 5.2kg
Max child weight: 48.5lbs/ 22kg
Reasons to buy
+Quick release mount/ dismount+Thule DualBeam suspension system for shock absorption+Built in reflectors and light attachment point+Adjustable foot rests and straps+Detachable and water repellent padding+Five reclining options +Integrated child hand protection
Reasons to avoid
-Heavier system than other options
The Cantilevered bike seat mounts to your seat post, but is easily removed thanks to a quick release system, which can be fitted on both round frames (28-40mm in diameter) and oval frames (40-50mm diameter).
Designed and tested for children from nine months to six years, the Thule RideAlong seat sits on the DualBeam rail system, that helps smooth out the road bumps and lumps due to it's shock absorbing nature. This system also allows you to slide the seat position forward and backwards in order for you to get the weight distribution and position of your mini passenger just right for you all.
Adjusting for size is super quick with adjustable foot rests and straps, as well as a super quick and easy height and size adjustable 3-point harness.
What we really like about this great bicycle child seat is the attention to detail for the passenger as well as rider. There are five different reclining options of up to 20degrees, for naps on the move and integrated 'safety wings' which protects little hands when the bike might be leant up against a wall, both great features to have in our experience.
Weighing just over a claimed 5kg, it's not the lightest bicycle child seat on market, infact there is a RideAlong Lite which saves a kilo if that its an important factor for you, but it doesn't come with the colour reversible, water repellent, removable and machine washable padding.
There lots of spare parts available, including additional quick release brackets, great for anyone with multiple bikes, a low saddle adaptor for bikes who's saddles are positioned too low to work with the conventional set up, as well as a custom Thule rear light.
The Thule RideAlong is a brilliant bicycle child seat that will serve you well for many years, although, just keep an eye on the maximum child weight, as for us that would have been our limiting factor before suggested age range was reached. Eitherway, with a five year warranty should be all you need until your child can pedal along side you.
Burley Dash X child bicycle seat
Best child bicycle seat for built in storage
Specifications
Mounting system : Rack or frame
Safety harness : 5-point
Weight : 9.3lbs / 4.2 kg seat, 10.5lbs / 4.8 kg with mounts (claimed)
Maximum child weight : 40lbs / 18kg
Reasons to buy
+Rear storage for smaller items+Three recline positions+Three forward, backward chair position positions+Lightweight package+Quick mount+Adjustable footrests
Reasons to avoid
-Low max child weight compared to others
The team behind Burley clearly ride with kids a lot. We love it's trailers, with us recommending more than one in our best bike trailers for kids guide, so feel very confident in also recommending the Burley Dash as one of the great child bicycle seats on the market too.
Technically there are three versions of the Dash to choose from, with either a rack or frame mount, and the Dash X gaining three tilt positions, 0º, 10º, 20º, for on the go naps, similar to that of the Thule RideAlong child seat. There are also three forward/ backward positions of the seat too, making it a great option for getting as close as possible to an ideal position for rider and passenger.
An an adjustable padded 5-point harness feeds through a removeable and washable seat cushion, which along with a arm rests and adjustable footrests should keep your passenger comfortable and safe throughout the ride.
A lower maximum child weight than other child bicycle seats on offer, could can limit it's lifespan for your riding family, but this does allow it to be a lighter than others, so a good option for anyone who struggles with the additional weight on the bike.
Nice design details, such has the small build in storage, large enough for phone/ wallet/ snacks etc, and the quick fix mount/ dismount make this a really great option for spontaneous rides.
Bobike Exclusive Tour
Best bicycle child seat for multiple fitting and colour options
Specifications
Mounting system : Rack and cantilevered
Safety Harness: 5-point
Weight: 11lbs/ 5kg (claimed approx.)
Maximum child weight : 48.5lbs/ 22kg
Reasons to buy
+Multiple colour choice +Cantilever and rack fitting options+5-point safety harness+Built in LED light+Adjustable headrest+Suitable for ebikes+Matching helmet options
Reasons to avoid
-No child seat recline option
The Bobike Exclusive Tour rear bike seat comes with either rack or cantilever mounting options making it really versatile. In theory you could buy the cantilever system, and then purchase an after market Easy Mount rack system, to allow you to run both with one chair - but we would highly recommend this is something you speak to a registered dealer/ bike shop about rather than attempt to DIY at home.
Whether you opt for rack or cantilever, the fitting on and off the bike is super quick, making the Bobike Exclusive bicycle child seat simple to swap between two bikes thanks to a click and go attaching system.
Suitable for children aged between nine months and six years, the Bobike Exclusive Tour is full of top to toe adjustability, including an adjustable head rest to make it comfortable for an ever growing pillion.
Capable of taking the same maximum child weight to the Thule RideAlong child seat, the Bobike comes with a a specially designed harness to keep your child upright should they nod off mid ride. However, it doesn't match the Thule's reclining option, which is something to think about if your small one is prone to mid ride napping.
The perk of having the five-point harness is that you don't have to go over your passenger's head for clipping in and out of the chair. A real perk to if you have a wriggler and can spend ages getting a helmet just right, only to then remember you have to remove it again or completely loosen the straps.
Nice touches such as waterproof padding, a built in combination lock to prevent it being stolen and several colour options, which matching helmets available too make the Bobike Exclusive Tour a really viable option for many.
Hamax Caress child bicycle seat
Best child bicycle seat for child comfort
Specifications
Mount system : Rack, frame
Safety harness: 3-point
Weight : TBC
Maximum child weight : 48.5lbs/ 22kg
Reasons to buy
+Helmet recess to prevent head being pushed forward+Up to 20 degree recline +Built in spring suspension+Adjustable sliding back rest height+Rack version compatible with any rack+Frame version compatible with some external cabling system.
Reasons to avoid
-Harness position not ideal for older/ taller riders -Possible recline and saddle clash
The Hamax Caress child bicycle seat is at great more slightly more wallet friendly option over the Thule RideAlong child seat. The finish isn't quite as high end, but if it fits your bike, then it can be a great comfortable ride for the smaller passengers.
As with the likes of Burley Dash X child bicycle seat, there are rack and frame options, but this time, as long as your existing rack meets with the mounting criteria Width 120-180mm, Diameter 10-20mm, and is approved for 25kg weight load, you can use your existing one.
The frame mount version has been designed with a slimline section to neatly slide behind external cables on your seat tube, this isn't going to work for all bike and cable designs - but worth going in to the on line user manual to check if it would work for you.
The helmet recess is a nice touch for passenger comfort, preventing the child's head being pushed forward, however taller riders might struggle with the narrow shoulder straps which could rub the neck.
There is a duel spring suspension on both models and a recline of up to 20 degrees, although depending on your bike, this can clash with the saddle meaning it's not always possible.
Topeak Babyseat II and rack
Best lightweight child bicycle seat
Specifications
Mount system : Rack
Safety harness: 3-point
Weight : 8.2lbs/ 3.76kg (claimed total system) 6.9 lb/ 3.13 kg (Seat) 1.38 lb/ 630 g (Disc Rack)
Maximum child weight : 48.5 lb/ 22 kg
Reasons to buy
+Exceptionally low weight (claimed)+26", 27.5" (650B) & 700c wheels compatible +Disc brake compatible+Suspension system for seat+Integrated roll bar+Comes with rack+Quick mount/ dismount fitting+Adjustable footrests
Reasons to avoid
-No seat adjustments
The stand out feature with the Topeak Babyseat II and Rack system is it's exceptionally low overall weight. This child bicycle seat will appeal to riders who struggle with the balancing act of having additional weight over their rear wheel, not just due to it's lack of mass, but also due to it being positioned closer to the ground, so has less of a pendulum effect that the seat post cantilever options can suffer from, making it a more stable option all round.
Coming as a complete package, this is a great child bicycle seat for anyone looking to unbox and ride, with the racking system proving handy for additional luggage (subject to an additional purchase) which saves the rucksack knocking child issue.
With its own duel steel spring suspension system the Topeak Babyseat II should offer your riding buddy a comfortable journey, while the design of the wraparound seat with a front roll bar offers plenty of safety. Topeak say the bar also doubles up as a seat carry handle and somewhere for little hands to hold on to, so a nice additional feature that makes this child bicycle seat stand out from the crowd.
The rack is compatible with multiple wheel sizes, 26", 27.5" (650B) & 700c, as well as disc brakes, so a great option for anyone with a couple of bikes (racks are also sold separately) and also riders who are looking to use a mountain bike on family outings.
The tool free fitting, means once the rack is attached to your bike, attaching or removing the bike seat should be a very simple procedure.
Adjustable foot rests and straps does mean that there is some wriggle room for growth, so although it can in theory carry the same weights as both the Bobike Exclusive Tour and Thule RideAlong child seat, realistically the height of the child will be the limiting factor.
There's no fancy reclining options, and anyone with a custom rack will be disappointed to learn that there isn't a way of making Topeak Babyseat II work, but anyone looking for an out the box ready to roll system this is one of the best child bicycle seats.
Bobike Classic Junior
Best child bicycle seat for older kids
Specifications
Mount system: Duel point cantilever
Safety harness: Lap-belt
Weight: 9.56lbs/ 4.34kg (claimed)
maximum child weight : 77.16lbs/ 35kg
Reasons to buy
+Capable of taking up to 77.16lbs/ 35kg passenger weight+Foldable seat doubles up as luggage platform when not in use. + Bag bracket+Adjustable foot rests and lap belt.+Cheaper than other child bike seats
Reasons to avoid
-Rack can interfere with foot rests -Not compatible with e-bikes with under-seat battery mounts-Not compatible with carbon bikes-Lack of arm rests for passenger
The minimal design of the Bobike Classic Junior is a great option for any cyclists with an older passenger. Capable of carrying a pillion weight significantly higher than most bike seats, including the Thule RideAlong child seat makes this is a great child bicycle seat for kids who aren't quite up to long riding distances, but you don't want to have to start undertaking journeys by car or public transport while they get up to speed.
The duel mounting point cantilever system allows for extra structural support for the additional weight, but is still caveated with the need to pay extra attention to the style and construction material of the bike the seat it's mounted too, with carbon bikes a definite no no, along with e-bikes that use a underseat battery mounting position.
The Bobike Classic Junior seat requires an element of being tool savvy for the initial set up (or ask your local bike shop/ mechanic to help with the installation) but after that most users say that it takes a couple of seconds to mount/ dismount the seat.
The swift mounting system however, often need not apply, with the ability to fold down the seat when not in use to double up as a luggage rack, means that you might find it handier to leave this great child bicycle seat attached to your bike full time.
Talking of luggage, the seat does come with an integrated bag bracket, but is capable of working with a rack and pannier set up, although it's likely that there will be some pannier bag Vs foot interference due too the foot rest placement.
The up side is that there is plenty of adjustability with the foot rests, with even several after market foldable footrest options available to purchase. The downside is that with it's minimal design there is a distinct lack of arm rests on the Bobike Classic Junior seat, which at could make it an uncomfortable ride for longer durations for the passenger (or adult rider if idle hands start finding rear pockets/ belts etc to fiddle with).
The best child bicycle seat - front
WeeRide Safe Front Baby Bike Seat
Best front child bicycle seat for youngest passengers
Specifications
Mounting system: Suspension beam
Safety harness : 5-point
Weight: 7.9lbs/ 3.6kg
Maximum child weight: EU 33lbs/ 15kg , US 39.7lbs/18kg
Reasons to buy
+Ideal for the smallest of passengers +Fits most bikes+Lightweight system+Great position for bike stability+Adjustable footrests +Soft headrest for on the move naps+Quick release mounting/ dismounting
Reasons to avoid
-Compromised position for rider-Low max child weight-Child height limitations
WeeRide were one of the first brands to develop front child seats that straddles seat post and head tube, and with it managing to create a super stable platform for both rider and child.
WeeRide say that this great child bicycle seat is suitable for children aged one to four years, and can be placed in two positions along the beam, which is suspended between the steerer tube and seatpost. It's a very similar set up as the MacRide, below, but with a lot less interaction of the little on in the actual bike riding.
This mounting option helps to allow for some child leg growth, which along with the fully adjustable foot rests, will give your passenger as much room as possible for a long as possible.
Aimed at the youngest shredder of your riding crew, the designers clearly have ridden with little ones, and understand the importance of mid ride naps, so the WeeRide Safe Front Baby Bike Seat also comes with a cushioned nap pad out front, to deal with a sleepy head droop.
The lovely thing about front seats is that you can cocoon your mini passenger with your arms as you ride, and the handling of the bike will be significantly better than riding with a rear child bicycle.
Thanks to being focused on the youngest team member, the Weeride is overall a small package, but it will still require some adult rider position compromises to be made, with many riders requiring to ride knee out to prevent a knee-to-child-seat clash. It also does limit passenger height to the ability for the rider to be able to see over or round them.
A quick release system means mounting / dismounting the seat should be super quick and easy, but if you want to remove the beam, it will take a little longer.
The team at WeeRide are confident that it's child bicycle seat is compatible with 99% of bikes, and also see after market stem adaptors which create a bit of space for bikes with less than 5mm under the headset.
Mac Ride Child Bike Seat
Best front child bicycle seat for mini shredders
Specifications
Mounting system : Suspension beam
Safety harness: none
Weight: 4.4bs/ 2kg
Maximum child weight: 60lbs/ 27kg
Reasons to buy
+Riding experience for rider and passenger+Exceptionally lightweight and low profile+Higher rider weight limit than many front bike seats+Off road capabilities+Quick set up+Super stable
Reasons to avoid
-Compromised rider position-Passenger height limits-Pricey option
The Mac Ride is by far the most minimal of all of the best child bicycle seats, especially when compared to the WeeRide Safe Front Baby Bike Seat, on the market with just a saddle and foot supports straddling the seat post and steerer tube.
With no plastic molding support, the Mac Ride is as close to riding a bike as possible for your passenger, so they will gain the full riding experience, and learn how to absorb bumps in the road or trail by standing up and using their arms and legs (as well as benefiting from any suspension your bike may have).
Suitable for even carbon bikes, the Mac Ride is popular with mountain bikers, and weighing less than 2kg and taking less than a minute to install it's easy to see why. Once on it's a barely there set up, with little impact on the bike's balance meaning it's the best child bicycle seat for technical terrain and hills.
As a cycling family, the MacRide was a fantastic child bicycle seat, revolutionising our rides as it was only road rides with dropped bars that the seat wasn't compatible with.
Using the seat from age around three to five years old, the closeness between rider and passenger was incredibly rewarding, and gave our daughter a great understanding for how to take corners, position yourself on the road and even tackle flights of steps on the mountain bike.
While there wasn't a lot that couldn't be ridden with the bike seat, the biggest sacrifice was rider position, especially as they grow, with knees needing to poke out slightly and eventually a looking round the passenger rather than over was required (although that does depend on helmet selection for the passenger).
Tt is one of the more expensive options on the market, but a wonderful child bicycle seat that will get a lot of use so the value is priceless.
What age can a child go in a bike seat?
The exact age depends on the child and their ability to sit unaided holding their head up, remember that it ideally they will also be wearing a helmet, so that can make them a little more top heavy.
Most experts in the field of injury would recommend taking an infant younger than a year on a bicycle child seat or trailer more due to the risks associated with excess vibration / shaking and neurodevelopment than that of a crash.
There is still a huge lack of information and research around brain development and injury, so it's down to individual choice. It worth noting that in some countries and US states it's illegal for a person/ child under 16 to ride without a helmet, this will prevent very young babies being on board a bike as there won't be a helmet small enough to fit.
In some US states, notably New York, children under 1 are prohibited from being transported by bike.
The UK has no helmet or age related cycling laws.
However, whatever the law or guidance, it's vital to ensure that your choice of carrier meets the minimum safety standard for your country. In the USA it's ASTM F1625 - 00(2018) and the UK it's BS EN 14344:2004, the British Standard for "Child Seats for Cycles". Always check for the relevant standard certification before parting with your money,
Is a front or rear child bike seat safer?
As the quick glance table at the top of the page shows, there are lots and pros and cons to each of the best child bicycle seat positions. What is safer really depends of a variety of things, but mostly what do you feel confident about riding with and how old or heavy is your child.
Below is a lot more detail on each of the bike seat mounting options, including what they do well, and don't do so well at.
The best rear child bicycle seat
The most common choice for many is a rear carrying bike seat.
There are roughly three designs to choose from: seats that are cantilevered from the seat tube, mounted on to a rear rack or fixed to the seat tube and seat stays by long legs. Rear seats come in lots of shapes and sizes - they can be minimal in design or provide good back, side and even front support.
The universal downside to all rear child seats is how the additional weight impacts on your bike's handling, which at best can make the bike feel extremely heavy, and at worst make the front end too light making it a battle to keep the bike under control. The key thing is to ensure you select the right seat for the rider, child and bike and ensure it's mounted in the correct position.
The best cantilevered rear child seat
A cantilevered bike seat uses a plastic mount clamp which sandwiches your seat tube, with two prongs from the child's seat being clipped in to position on the mount. Once the mount is attached (normally via four bolts) the child seat can often be removed by a quick release system which allows the prongs to unclip, allowing the seat to be swiftly removed.
The cantilevered child seat has the benefit of acting like a mini suspension for the child passenger, but positioning the mount is key; too high up and it can make your bike's front end lift up and be difficult to control, two low and there's a risk that the springy suspension fouls the rear wheel.
While cantilevered systems are probably the easiest to fit, not all bikes are suitable, for example if you have an external cable on your seat tube, then it won't be possible to camp the mount round. Also, not all frames will be strong enough for a cantilever system, e.g an open frame without a top tube could suffer with significant seat post flex, and a carbon frame won't do.
Rack mounted child bicycle seat
With a rack mounted system, the child seat slides on to the top rails of the rack and is usually anchored in place with a safety strap that attaches to the seat tube. Again this allows for swift removal of the seat when not in use, and panniers can be attached to the rack instead.
The rack mount does mean the child is positioned lower down. If you've ever ridden with panniers you'll know it can take a while to get used to riding with this weight over your rear wheel.
Again, you need to consider if your bike can accept the child seat mounting system before investing, so check your bike rack mounting capabilities first.
Anchor point rear child seat
The final rear bike seat mount option uses two anchor points, the seat tube and seat stays, and is a bit of mix of the first two bike seat options, offering more support than just the cantilever option. It doesn't require rack mount eyelets, but you will need to check cable routing on your seat tube. Again, most seats which use this system will come with a quick release mount, allowing the bike seat to be removed with ease when solo riding.
The best front child bicycle seat
Having your young riding buddy up front opens up a new world for both of you, with the closeness between you and them at the top of the list.
There are a few mounting options, with either a cantilever off the front steerer tube or seat tube (then projecting forwards), a direct top tube mount, or a straddled bar mount which clamps to seat post and steerer tube, or a combination of the above. Most don't fit traditional road bikes.
There are a variety of designs on the market, from fully structured with lots of support to just the minimal additional child saddle, but whatever model you opt for it's generally accepted that not only is a front child seat much lighter than a rear one, but it will have less impact on the bike's handling too (although some steer tube options will make steering heavier).
A big up side of a front child bike seat is the ability to gives your riding companion great views of the road ahead, and the opportunity to learn to read the road or trail which can help how to teach your child to ride a bike.
The down sides to front child bike seat however is the fact that your passenger is having to squeeze in to the space between you and the handlebars which will inevitably mean having to ride with your knees slightly wider than your ideal riding position. It's also also worth bearing in mind that they will be in full face the wind, unless your chosen seat comes with a visor or you buy an after market one, so ensure you dress accordingly and invest in sunglasses/ riding goggles to protect little eyes from the wind and airborne partials.