Best bike panniers and pannier racks 2022
Bike panniers are a great option to carry luggage if you're going touring or using your bike for commuting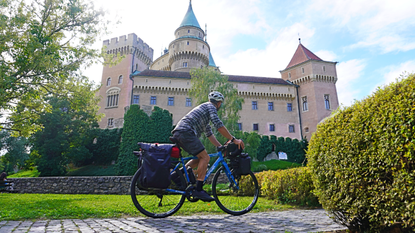 (Image credit: Anna Abram)
The best bike panniers will let you carry your luggage in comfort. But the first time you ride a bike with a rack and loaded panniers fitted, the sensation is somewhat alien. When full, panniers can add a substantial amount of weight to the bike and make any side-to-side rocking feel odd. You quickly get used to the added weight, although climbing out of the saddle may feel awkward; that's why the best touring bikes tend to have low gearing for climbs.
If you're carrying a heavy load, then placing the weight on your bike can certainly save your shoulders and back from undue stress – and you won't get the sweaty triangle associated with a backpack. Panniers can place the load lower down and may attach it more securely to your bike than even the best bikepacking bags, making for a more stable ride.
Pannier racks and panniers are popular among commuters, touring cyclists and anyone who needs to carry a substantial volume – they're great for day-to-day tasks like food shopping too.
Panniers are usually fitted to the rear of the bike, but if you've got a lot to carry - maybe on your touring bike - then front panniers are an option too.
Pannier bags need to sit on pannier racks – and thus setting yourself up is a story of two halves. Here are our picks of the best pannier racks and best panniers, both front and rear. Scroll down to the end of the page for our buyer's guide to how to choose the best bike luggage.
Best rear racks for bike panniers
1. Ortlieb Quick Rack
An ingenius, versatile design that takes the hassle out of installation and can be taken off in seconds
Specifications
Weight: 580g
Maximum load: 20kg
Reasons to buy
+
Easy to set-up
+
Quick to take off, and put back on
+
Well-made
+
Versatile
Reasons to avoid
-
20kg weight limit might not be enough for 'big load tourers'
Ortlieb's Quick Rack is a revelation where racks are concerned. Not only is the initial installation exceptionally simple, it can be removed, or remounted, in less than 20 seconds.
It's suitable for 26" and 28" (limited suitability for 29" wheels – up to max. 2.35" tyre width). Extra accessories include mudguards and adaptors for bikes that don't have eyelets.
If you only have one bike the Quick Rack enables you to quickly transform it from a road warrior to a tourer, commuter or shopper at the drop of a hat. This makes transportation a breeze too. The hooks that remain on the bike when the rack is removed are hardly noticeable.
With two hanging levels, it comfortably accommodates panniers and a rack bag at the same time without one interfering with the other.
The rack looks tidy on the bike and is well-made, encouragingly it comes with Ortlieb's 5 year warranty. While it might be more expensive than the likes of Blackburn (opens in new tab) and Topeak (opens in new tab), our tester deemed its convenience and versatility well-worth the extra expense.
Read more: Ortlieb Quick Rack review
Best affordable option with decent capacity
Specifications
Weight: 862g
Maximum load: 25kg
Reasons to buy
+
Affordable
+
Easy to mount in comparison to some
+
Sturdy, spring loaded-luggage bar
Reasons to avoid
-
Bolts deteriorate quickly
-
Short arms mean that it doesn't 'fit all wheel sizes from 26" to 700c'
LifeLine's Alloy Rear Pannier Rack is an aluminium option for those looking to keep their costs down. With an RRP of just $33.99 / £22.99 and a maximum load of 25kg, it's one of the more affordable options.
Affordability doesn't guarantee quality though. When moving the bike rack from bike to bike while testing, we noted deterioration of the bolts. This is perhaps a rack you'll want to fit once and leave on the bike to avoid rounding the bolt heads, or maybe source better quality bolts.
LifeLine claim that the rack fits 'all wheel sizes from 26" to 700c'. We didn't agree; the arms lacked length to achieve a horizontal position on a few of our bikes.
There are eyelets for mounting reflectors and lights, though compatibility may pose issues here; we couldn't find anything to fit. The spring-loaded luggage bar is a nice addition and works well.
Overall, the Lifeline bike rack is an affordable, functional option if you know that you won't be moving it from bike to bike. If you think that it'll be swapped at some point, it might be worth investing in some better quality fixings.
Read more: LifeLine Alloy Rear Pannier Rack review
Best for luggage compatibility
Specifications
Weight: 820g
Maximum Load: 26kg
Reasons to buy
+
Lives up to compatibility claims
+
Well-made
+
Easy to mount
+
Compatible with Topeak luggage
Reasons to avoid
-
We genuinely can't find any flaws with this rack
Topeak's Uni Super Tourist is an aluminium bike rack with stainless steel fittings. It's designed to 'fit most 24" to 29" wheel MTB and 700C touring bikes with disc brakes'. Out of the racks we tested, this one came out on top where compatibility was concerned; it fitted all the bikes that we tried it on.
The quality of construction and finishing is impressive. Unlike both LifeLine's and Decathlon's, the finish remained unmarked despite plenty of bike panniers being used on it.
With an RRP of $68.99 / £44.99, we'd say that this is definitely a value-for-money rack that should stand the test of time.
The maximum load of 26kg makes the bike rack ideal for anyone reliant on their bike for heavy shopping loads, keen tourers or those wanting a sleek system to carry a trunk bag; it features an MTX QuickTrack® plate which is compatible with any Topeak MTX TrunkBag or MTX rear basket.
Read more: Topeak Uni Super Tourist Rack review