Best panniers and pannier racks for cyclists
Going touring, or using your bike for commuting? You may want to opt for a panniers to carry luggage
Included in this guide:
1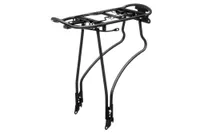 LifeLine
Alloy Rear Pannier Rack
2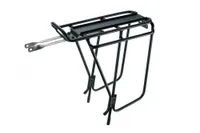 Topeak
Super Tourist DX Rear Rack
3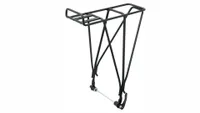 Blackburn
Expedition 1 Disc Compatible Rear Pannier Rack
4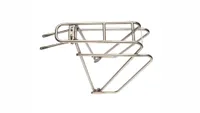 Tubus
Logo Classic Stainless Steel Rear Pannier Rack
5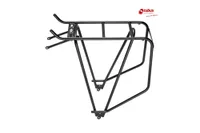 Tubus
Cargo Rear Rack
6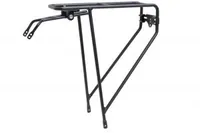 Tortec
Tour Ultralite Rear Rack
7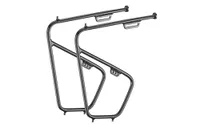 Giant
Rack It Front Rack
8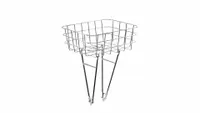 Pelago
Front Rasket Bike Rack Basket
9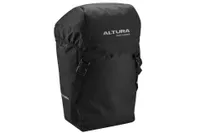 Altura
Arran 16 Single Pannier
10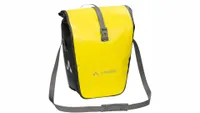 Vaude
Aqua Back Rear Pannier
11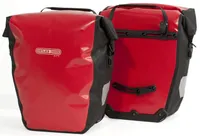 Ortlieb
Back Roller City Pair
12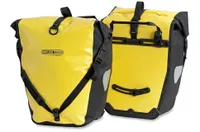 Ortlieb
Back Roller Classic QL2.1 Pannier Pair
13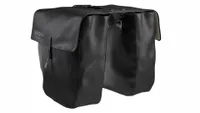 Brooks
England Brick Lane Pannier
14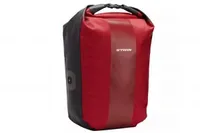 B'Twin
Elops 500 Waterproof pannier rack bike bag
15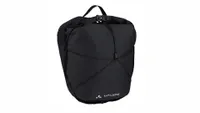 Vaude
Aqua Front Light panniers (pair)
16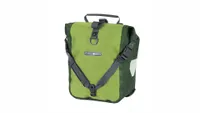 Ortlieb
Front-roller Plus Waterproof Pannier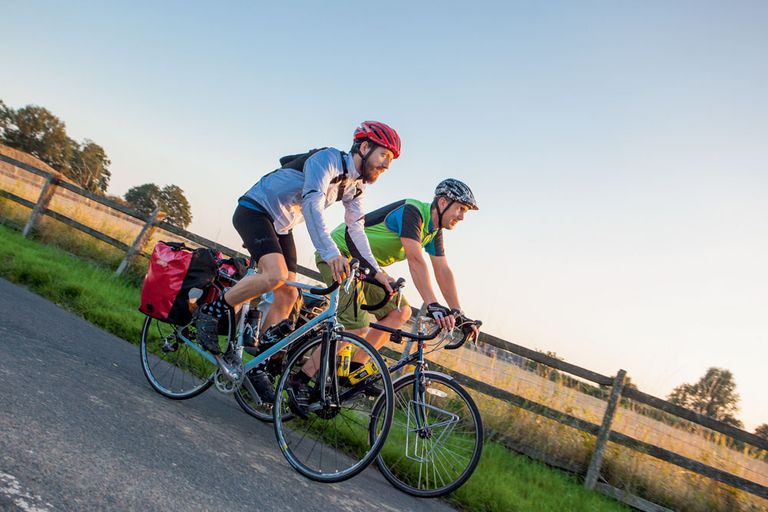 By Michelle Arthurs-Brennan published
The first time you ride a bike with a rack and loaded panniers fitted, the sensation is somewhat alien. When full, panniers can add a substantial amount of weight to bike.
>>> Best touring bikes: tourers for adventure on two wheels
However, if you're carrying a heavy load, then placing the weight on your bike can certainly save your shoulders and back from undue stress – and you won't get the sweaty triangle associated with a backpack.
Pannier racks and panniers are popular among commuters, touring cyclists and anyone who needs to carry a substantial volume – they're also great for day-to-day tasks like food shopping too.
Pannier bags need to sit on pannier racks – and thus setting yourself up is a story of two halves. Here's a look at what to look for with each component, and some product suggestions...
What to look for in pannier racks
Firstly, not all bikes are designed to have pannier racks fitted with ease – so you'll need to ensure your bike is suitable before you go and buy a rack. A compatible bike will have eyelets for panniers near the tops of the seatstays and sometimes specific rack mount eyes next to the mudguard eyes above the rear dropouts.
If your bike doesn't have eyelets, you can buy mounting systems which attach directly to the frame and rear axle, here it's important to pay attention to if the rack is or isn't compatible with your braking system, e.g disc brakes. Alternatively, there are loads of frame and saddle bags available now which are ideal for lighter-weight tourers and bikepacking.
>>> Best Bikepacking bags: A buyers guide for multi-day adventures
Assuming you have a bike set up for a rack, or you know you can get a mounting system, it's time to choose a rack.
The most common style of pannier rack is fitted to the rear of the bike – but you can also opt for a rack at the front too. If you're carrying a moderate load it's probably easier to go with the rear. If you're taking a lot of kit, opting for both and distributing it so that the greatest weight is at the back, but there's some at the front, can create more even handling.
>>> What is the best bike for commuting?
Pannier racks are typically made from steel, aluminum or titanium. Aluminium is generally cheapest, and it's perfectly adequate. Steel is the strongest, though it can rust over time – unless you opt for stainless steel. Titanium is lightweight and it doesn't corrode – but it's more expensive.
The maximum weight that a pannier rack can withstand is a pretty crucial stat, so check this before buying.
Some racks offer more heel clearance than others. Purpose-designed touring bikes usually have long chainstays designed with panniers in mind, but if you're using a classic road bike with shorter chainstays (or your feet are on the larger side) then it's worth opting for one with more space allowance.
Many brands also supply add on mounting kits that help create a better fit with your bike – providing more heel clearance, adjusting the height at which the rack fits to offer a more natural centre of gravity, or with an extended mounting system to cater for pesky disc brakes.
Best rear pannier racks
LifeLine Alloy Rear Pannier Rack
An aluminium option for those looking to keep their costs down, this pannier rack from LifeLine suits 26in and 700cc wheel bikes, and comes with spacers to ensure it fits disc brake bikes. The unit itself weighs 682g, and it can carry up to 25kg. There are eyelets for mounting reflectors and lights.
Topeak Super Tourist DX Rear Rack
An aluminium pannier rack with stainless steel fittings and top plate designed to be compatible with Topeak trunk bags. This model is designed to suit all frame sizes, though it's not compatible with seatstay-mounted disc brakes. The unit weight is 739g and max capacity is 30kg.
Blackburn Expedition 1 Disc Compatible Rear Pannier Rack
The alloy rack is designed from aircraft-grade aluminium and this rack has been designed for 700c or 29er wheels, but should suit most wheel sized bikes. As the name suggests, this is a disc brake compatible rack, but there is also a standard rim brake version too. Compatible with a child seat too, the unit itself weighs just a claimed 840g, although luggage weight tbc.
Tubus Logo Classic Stainless Steel Rear Pannier Rack
Specifications
Weight: 680g
Max capacity: 26kg
Tubus is a market leader, and the brand produces high-quality racks for serious touring cyclists. This stainless steel rack is designed with a narrow and lowered rails creating a lower centre of gravity. Designed for 26" to 28" wheels, Tubus also say that it's also a particularly good fit for smaller/ shorter frames. Pannier bags sit on each side, and there's also a platform on top that's ideal for strapping a tent or sleeping bag to. The weight is 680g, max capacity is 26kg.
Tubus Cargo Rear Rack
Specifications
Weight: 640g
Max capacity: 40kg
The Cargo rack from Tubus is made from steel and it can carry a max load of 40kg with its 640g weight – it's been designed to be extremely strong without too much heft. It's available in several sizes to suit different wheel diameters - including 26in and 700c. A light bracket is included, which is a great added extra.
Tortec Tour Ultralite Rear Rack
Specifications
Weight: 560g
Max capacity: 25kg
Made from aluminium tubing and weighing just 560g, the Tortec Tour Ultralite is one of the lightest racks on the market. The small rack is best for short tours, or commuters who would prefer panniers over rucksacks, although it can still take a claimed 25kg max weight. Not disc compatible, but will work with most mudguard set ups on 700c wheels.
Best front racks
The simple front rack system allows for multi positioning on, according to Giant, all forks that are fitted with mounts, via a two bold fixing (per side). Capable of taking a total load of 15kg the 13mm aluminium tubing creates additional space for up to two side panniers.
Pelago Front Rasket Bike Rack Basket
Pelago say the Rasket offers the strength of a rack in the convenience of a basket. The multiple fixing points mean that you can use the front rack on almost any bike with wheel sizes from 26" to 29", with or without mount fixings, with rim or disc brakes (although compatibility with thru axles TBC). Compatible with side panniers too, the stainless steel Racket combines a rack and basked for a total load offering of 15kg (5kg each load point).
The best rear panniers
Once you've got your rack sorted, it's time to choose a pannier, or two, to attach to it.
Your choice of pannier will be dramatically influenced by intended use: durability, waterproofing, maximum weight and personal style all come into the equation.
Ortlieb is pretty much the market leader. The German-based manufacturer creates highly durable, totally waterproof panniers, with roll tops that keep the moisture out.
For those carrying a lighter load, there are plenty of panniers which can be removed from the bike and used as a standard backpack or shoulder bag, useful for shoppers and commuters.
Altura Arran 16 Single Pannier
Specifications
Capacity: 16 litre
Weight: 700g
A durable, no-frills pannier that still packs a punch thanks to water-resistant Duratec 600 fabric, 16-litre carrying capacity (max weight 10kg), reflective features plus backward facing lid pocket for easy access. Each bag weighs 0.7kg and there's an inbuilt PE board for back panel support.
Vaude Aqua Back Rear Pannier
Specifications
Capacity: 24kg
Weight: 2kg
Like Ortlieb, Vaude is another gold standard brand of bike bags. The Aqua Back has a 24 litre capacity bag, and according to Vaude, is climate neutrally manufactured, using durable, PVC-free tarpaulin. The roll closure allows for size customisation and a water tight closure, while a removable shoulder strap makes it easy to transport off the bike. The pannier weighs just shy of 2kg and should be compatible with most pannier racks.
Ortlieb Back Roller City Pair
A commuter-focused pair from Ortlieb that provides heaps of quality features – albeit at a price.
These panniers can sit on front or rear racks, and they use a bright nylon material with reflectors on each side for increased visibility. A QL1fixation system makes these easy to attach to a rack with one click, and the capacity is 20 litres on each side. The closure system is a roll top with buckle closure and there are shoulder straps for carrying off the bike.
Ortlieb Back Roller Classic QL2.1 Pannier Pair
Specifications
Capcity: 20 litres
Weight: 950g
The Back Roller Classic panniers are lightweight, durable and waterproof. These are created with rugged, challenging touring in mind. Capacity is 20 litres each and these feature shoulder straps for carrying off the bike, with an array of pockets plus reflective features. They fit to the racks with sliding hooks which can be adjusted without tool, and they weigh 950g each.
Brooks England Brick Lane Pannier
If you're after practicality and a touch of classic style you can't go too far wrong with Brooks. Made from water-resistant cotton with finishing leather, each pannier has a 15-litre capacity, they can be easily rolled up when empty or carried away when off the bike. The quick-release mounting system is adjustable to suit most rack sizes with a width between from 10mm to 15mm.
The best front panniers and bags
B'Twin Elops 500 Waterproof pannier rack bike bag
The made by Decathlon house brand B'Twin, the Elops has a carry capacity of 20litres and up to 7kg in weight, making it a great option for mounting on a front rack. The pannier meets a waterproof IPX4 standard, meaning it's splash proof and water-resistant, but not total immersion proof. Featuring the Vioo Clip mounting system, it can be mounted front or rear, just check the compatibility with your rack.
Vaude Aqua Front Light panniers (pair)
Vaude says the Ultralight set of two panniers is perfect for the adventurous rider thanks to its simplicity and robustness. With a 20liter carrying capacity, the Aqua Front Light panniers are perfect for keeping goods safe and dry, with one main pocket and a smaller internal one for riding essentials. Water-repellent for all-weather use and a choice of lime green or black, both come with reflective logos and the QMR2.0 attachment system and a handy shoulder strap.
Ortlieb Front-roller Plus Waterproof Pannier
Designed with riding up front in mind, Ortlieb say the Front-Roller Plus is especially durable and smaller than traditional rear panniers, ideal for carrying low weight to help keep weight distribution balanced. The 25litre capacity bags are sold as a pair using the same QL2.1 fitting system as the rear panniers so can be interchangeable and promise to be fully waterproof.
If you are looking for where to ride tour, check out our top eight places to ride in the UK or head off the beaten track with an adventure road or gravel bike ride tour.
Cycling Weekly's Tech Editor Michelle Arthurs-Brennan is a traditional journalist by trade, having begun her career working for a local newspaper before spending a few years at Evans Cycles, then combining the two with a career in cycling journalism.
When not typing or testing, Michelle is a road racer who also enjoys track riding and the occasional time trial, though dabbles in off-road riding too (either on a mountain bike, or a 'gravel bike'). She is passionate about supporting grassroots women's racing and founded the women's road race team 1904rt.
Favourite bikes include a custom carbon Werking road bike as well as the Specialized Tarmac SL6.
Height: 166cm
Weight: 56kg