Best bike fenders / mudguards for fall and winter riding 2023
They're hardly bling, but a good set of bike guards will help you to ride through winter in comfort. We've rounded up the best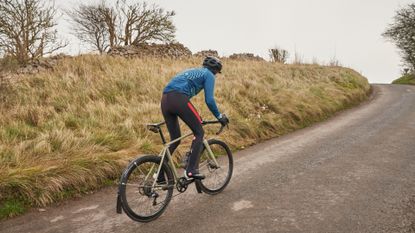 (Image credit: Future)
Get The Leadout Newsletter
The latest race content, interviews, features, reviews and expert buying guides, direct to your inbox!
Thank you for signing up to The Pick. You will receive a verification email shortly.
There was a problem. Please refresh the page and try again.
What are bike fenders / mudguards?
Let's get this out of the way before we go any further. Bike fenders / mudguards are not cool.
But boy are they useful if you cycle in a climate like ours.
There are, broadly speaking, two types of fender / mudguard: those for frames with mudguard eyes – 'fixed mudguards' – and those for frames without, known as clip-on mudguards. Of course even if your bike has mudguard eyes there's no reason why you can't use clip-ons if you're looking for a lightweight, easily removable solution.
Why fit fenders / mudguards?
Shun them at your peril. Turning up for a winter group ride on a mudguard-less bike will not win you any friends and there's a good chance it will alienate people. Many clubs have rules about guards once the clocks go back to winter timekeeping: you can violate them if you like but you'll be forced to ride at the back all day.
Need more clearance? Check out our guide to fenders / mudguards for gravel bikes.
The best bike fender /mudguards tested
Full length bike fenders / mudguards
Best overall
Specifications
Weight: 446g (as fitted)
Tire widths available: 25-35mm | 35-47mm
Reasons to buy
+
Easy to fit (for mudguards)
+
Good looks
+
Fantastic instruction booklet
+
Well made
+
No tire rubbing
+
Silent
+
Breakaway clips on both mudguards
Reasons to avoid
-
A little pricier than some others
-
Can't manoeuvre on the back wheel in tight spots as mudflap gets in the way
These anodised aluminium fenders / mudguards from Portland Design Works come in at an impressive 446g (as fitted) and they are able - with optional axle tabs - to fit bikes without traditional frame eyelets as well.
To stop your toes from clashing with the stay end caps, the Full Metal fenders / mudguards use a single stay design that is kept higher on front fender than a double stay type. It made low speed manoeuvring easier, although there was still toe overlap on my bike but that's the bike and not the mudguards fault.
PDW's full-wrap offering were remarkably easy to fit and setup, and having discrete breakaway clips at both ends which was a nice touch. Once on the bike they were super stiff which stopped any tire buzz, even when rocking the bike from side to side on a steep hill.
There are three widths available, and these 37mm wide mudguards are able to accommodate up to a 30mm tire. They looked in proportion when using a 28mm tire and there was a good amount of space to the side of the tire.
Along with the silence, the stealthy look from the matt black finish keeps everything pretty discreet. These mudguards are really good and are well worth strong consideration despite the higher price than other options here.
Read more: Portland Design Works Full Metal fenders / mudguards full review
Best value for protection
Specifications
Weight: 625g (as fitted)
Tire widths available: 18-25mm | 28-35mm | 35-45mm
Reasons to buy
+
Easy to fit to most bikes
+
Plenty of length to keep your feet and your riding companions dry
+
Sensible price
Reasons to avoid
-
Mounting can be tricky on disc-brake bikes
-
No breakaway brackets
Bontrager's NCS fenders / mudguards have a clever trick up their stays: instead of trimming them to make them fit your bike properly, you adjust the length of the stays by sliding the two parts up or down as necessary, using the built-in clamps to then lock them in place - thus providing maximum coverage without the possibility of annoying extra faff.
With that extra long coverage, our reviewer found that the Bontrager NCS fenders/mudguards offer more protection than many other 'full-length' mudguards. The rubber mudflaps at the ends of fenders further add to the length and help reduce road spray for your feet or friends, but these aren't as long as we see on some other mudgaurd sets.
The Bontrager NCS fenders / mudguards come in a range of sizes: from 18-25mm for old school road bikes and all the way up to 35-45mm for trendy new gravel bikes. The set we had on test was right in the middle, designed for 28-35mm 700c tires - which is typical for winter bikes these days.
There is a mount on the rear fender for a Blendr light (also sold by Bontrager), but user reviews on Trek's site suggest it's been a bit fragile for some folks. We didn't have an accompanying light for this review, so can't comment directly on its performance - but it's there if you would like to use it.
Read more: Bontrager NCS fenders / mudguards full review
Best value for durability
Specifications
Weight: 476g (as fitted)
Tire widths available: 23-28mm | 28-37mm
Reasons to buy
+
Stop you getting drenched when it rains
+
Famously tough laminate construction
+
ASR break-away mountings for safety
Reasons to avoid
-
No mudflaps
-
Fiddly installation
SKS's Bluemels Basic fenders / mudguards do a reasonably good job of keeping you dry. Their coverage isn't as long as some - and our tester did find that you get spray over your feet from the front wheel and anyone following behind will still get a coating.
But that said, you perfectly well attach your own mudflaps to the Bluemels Basic and extend their spray protection that way. It's simple (and cheap) enough to fashion a set from a few sheets of rubber - and there are even brands which offer funky designs, such as Raw Mudflap.
The construction consists of a sandwich of thin aluminium encased in plastic. It's not quite as rigid as an all-metal design, but thanks to the sturdy stays, our tester didn't have any issues with rubbing. But naturally, if you try to cram a wider tire than recommended - or if the clearance between your seatstays is particularly tight - you can still experience issues.
There are fenders / mudguards which do provide more coverage at a similar price - even within SKS's own range, such as the SKS Longboards. If wet weather protection is most important to you, the choice between the two is pretty obvious. But there will be those who prefer the tidier looks of the Bluemels Basics.
Other rivals include Bontrager with their NCS fenders / mudguards that are longer and easier to fit, but more expensive and the Portland Design Works Full Metal Fenders which are absolutely brilliant but are more than double the price of the Bluemels Basics.
Read more: SKS Bluemels Basic fenders / mudguards full review
Clip-on bike fenders / mudguards
Best clip-on option overall
Specifications
Weight: 380g
Tire widths available: 25-32mm
Reasons to buy
+
Easy to fit
+
Very adjustable
+
Easy to switch between bikes
+
Lightweight and stylish
+
No fender / mudguard mount points required
+
Fit aero frame profiles and tubing
Reasons to avoid
-
Not full coverage at front or rear
-
Person behind will get muddy
-
Spray from front wheel still hits up at you
-
Front guard won't fit if frame clearance to wheel is small
The SKS Raceblade Pro XL Stealth Series guards tip the scales at 380 grams, when weighed with the rubber attachment straps. They are compatible with 700c wheels and tire widths of up to 32mm. The front fender provides a coverage of 565mm and the rear 730mm.
Testing these on both traditional round tubes and aero-profiled carbon frames, the SKS Raceblade Pro XL Stealth Series fits securely and is easy to make micro-adjustments with, to ensure that the clearances between the frame and tires are sufficient. The fenders are also very quick to remove for rides on dry days.
Naturally, you (and the people behind you) get less protection than with a set of full-length fenders. But as a lightweight and quick-to-remove set (perfect for bikes without mudguard eyelets), the SKS Raceblade Pro XL Stealth Series do a respectable job, keeping the worst of the muck off and leaving you warmer and more comfortable.
This, combined with the minimally fussy fitting, makes the SKS Raceblade Pro XL Stealth Series better than any of its clip-on competitors - which generally either don't fit as well or don't offer as good protection. Value-wise they are a bit more expensive than the competition, but they are also readily available for less online.
Read more: SKS Raceblade Pro XL Stealth Series full review
Best budget clip-on option
Specifications
Weight: 410g
Tire widths available: 18-25mm | 28-32mm
Reasons to buy
+
Easy to fit to bikes without eyelets
+
Quality metal hardware
+
Toll-free adjustment
Reasons to avoid
-
You don't get full coverage so you may still get wet
The LifeLine narrow mudguards attach to the seatstays and the fork legs some way up them, so they'll work without eyelets and on both disc brake and rim brake bikes.
Their shortish coverage means that they don't need to squeeze through brake bridges and fork crowns too, so they are easy to fit. That does mean that you don't get complete coverage and wheel spray can be an issue, particularly from the front wheel.
They're easy to adjust if they do rub, just by pushing the rubber mounts up or down the bike's tubes, so you don't need a spanner. If you do want to make more significant adjustments, the quality bolts for the stays make that easy though.
Sold by Wiggle and Chain Reaction Cycles as well as other online outlets, the LifeLine mudguards don't cost a lot more than more basic options, but give better coverage and should be more durable.
Read more: LifeLine Narrow Road Clip-On fenders / mudguards full review
Best clip-on option for easy installation
Specifications
Weight: 440g
Tire widths available: 18-32mm
Reasons to buy
+
Five year guarantee
+
Easy installation requiring only one hex-key
Reasons to avoid
-
Some clearance problems, check before you buy
-
Straps look a little untidy
The Flinger Race Pro guards are an easy to install set of clip-on mudguards that fit securely to road bikes which that doesn't have specific eyelets for mounting 'guards.
They feel light on the bike relative to some other fenders / mudguards and, with excellent coverage, the Race Pros keep you, your mates and your bike much dryer than going bare or using an 'asssaver' style fender.
In the box comes a rear guard with stays attached, a rear guard extension, adjustable stays with an attachment foot, a short bracket and four rubber attachment strips. The attachment strips wrap around the seat and chain stays then link onto a hook in the bracket that holds the guard in place.
The guard is a tight squeeze, and so in the case of our tester, he couldn't fit the entire product to his road bike. That said, it was functional even with one part of the guards missing from the bike.
Read more: Flinger Race Pro fender / mudguard full review
What to look for in a bike fender / mudguard
The basic idea behind a fender / mudguard is to stop water coming off the wheels onto your body: the longer the guards, the greater the coverage and the more protection they offer — full guards also keep a lot of salt-laden winter road spray off your bike. Very narrow guards or those that are too flat or far away from the tire will also reduce protection.
As race-oriented road bikes have become lighter and more sport focused, fittings and/or clearance for 'proper' guards has fallen out of favour and many people don't have the financial wherewithal or inclination for a dedicated winter bike. All is not lost, though. There are now plenty of options for the 'close clearance' bike, from simple clip on and off options that avoid the brake and normal attachment issues, right through to fenders that look like traditional guards but bypass clearance issues through clever design — and plenty in-between.
On the other hand, many makes have noted that riders want all-weather protection and many newer bikes have increased clearance for wider tires and even some performance-oriented bikes include hidden guard mounting points.
Bicycle fender / mudguard fitting
Having a plastic cover close to your tire means there is a chance of additional noise as flopping guards can rub on the side of the tire or bounce up and down on top of it. No one wants to ride a noisy bike, so the quality and security of the fittings is just as important as the length and coverage.
Ease of bicycle fender / mudguard fitting
As the guards will be going on a bike that is also ridden 'sans fender', the ease of fitting and removal is important, as is the speed and simplicity. We like a guard set to be easy to keep together off the bike. Too many parts to get lost or slide under the fridge are never a good thing.
Get The Leadout Newsletter
The latest race content, interviews, features, reviews and expert buying guides, direct to your inbox!
Simon Smythe is a hugely experienced cycling tech writer, who has been writing for Cycling Weekly since 2003. Until recently he was our senior tech writer. In his cycling career Simon has mostly focused on time trialling with a national medal, a few open wins and his club's 30-mile record in his palmares. These days he spends most of his time testing road bikes, or on a tandem doing the school run with his younger son.