SKS Raceblade Pro XL Stealth Series fender/ mudguard set review - sturdy, rub-free and keeps off the worst of the spray
Highly adjustable, easy to fit and rock solid over rough roads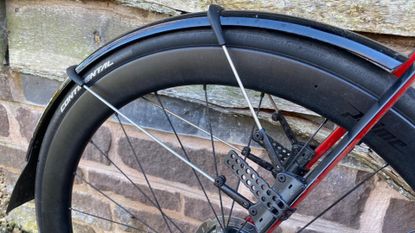 (Image credit: Andy Turner)
The SKS Raceblade Pro XL Stealth Series Fenders / Mudguards can be fitted to pretty much any frame, whether it's disc brake, rim brake, has regular tube profiling or aero tubing. The protection the fenders offer will never be as good as dedicated full length guards, however, they offer the best protection out of the mudguards which will fit such a wide range of bike frames. The weight isn't high and isn't noticeable when riding. The 'guards also hold their position well over rough terrain and I never found them rubbing on the tires. The price is a bit high, but worth the money if you want easy-to-attach mudguards that offer decent protection.
Reasons to buy
+

Easy to fit

+

Very adjustable

+

Easy to switch between bikes

+

Lightweight and stylish

+

No fender / mudguard mount points required

+

Fit aero frame profiles and tubing
Reasons to avoid
-

Not full coverage at front or rear

-

Person behind will get muddy

-

Spray from front wheel still hits up at you

-

Front guard won't fit if frame clearance to wheel is small
You can trust Cycling Weekly. Our team of experts put in hard miles testing cycling tech and will always share honest, unbiased advice to help you choose. Find out more about how we test.
SKS has built a reputation for its high quality, durable and effective fenders / mudguards. The SKS Raceblade Pro XL Stealth is designed as a clip-on system for bikes without traditional mudguard mounts.
The extent of the protection, the durability and, above all, the adjustability of these fenders has long made them a stalwart of winter riding and one of the best fenders / mudguards available.
The XL version ups the compatibility to tires which are as wide as 32mm, making them more suitable for modern road bikes (the minimum recommended width is 25mm).
SKS Raceblade Pro XL Stealth Series: construction
The SKS Raceblade Pro XL Stealth Series guards are made of a strong and stiff - yet not in the slightest bit brittle - plastic. The grips for the frame are a soft and flexible rubber, meaning that they fit well onto both round and aero profiled tubing. Strechy rubber straps are used to keep the mudguards in place.
Each guard has two adjustable metal stays on either side to keep the mudguard from coming into contact with the wheel or the frame. Adjustments are made using a small hex key which is supplied.
The fenders themselves are 565mm long for the front, and 730mm for the rear. Total weight with the elastic attachments comes in at 380g. They are made to work with 700cc wheels with up to 32mm tyres and work with both rim and disc brake framesets.
The ride
Fitting the mudguards was very easy thanks to the rubber grips and ties. It was then a case of using the torx key that came with them to adjust the length of the stays to get the fit perfect. Clearance on the frame was fine, with no points of the guards hitting or rubbing the frame - although frame protectors are supplied as well, just in case.
I really do like how the SKS Raceblade Pro XL Stealth fit so securely - as well as having such good adjustability - without the need for specific mudguard attachment points. I was even able to fit these to my time trial bike for a bit of added protection, and I was able to get the mudguards to fit totally fine.
That said, for frames with a particularly close hugging profile around the front wheel, the front mudguard is unlikely to end up fitting - think the new Cervelo S5.
In terms of the actual protection, this is a bit more mixed. The rear fender does prevent dirt and mud from being spread up your back and giving you that snail trail look. However, because it doesn't offer full coverage, you still get road dirt on the seat tube and up the back of the front mech and chainring. According to a friend of mine, the protection from spray for the riders behind is also not ideal when the roads are wet.
With the front guard, things are quite the opposite. The fender protects the frame nicely and stops muck getting under the headset and head tube. However, because it doesn't extend forward, I was getting some spray and much flicked up on the bar bag and my hands and face.
Having used the mudguards over many rides and on notoriously potholed Herefordshire roads, there has been no sign of movement in the mudguards and they haven't hit the wheels when riding - which I wasn't expecting.
There is also no noticeable difference in my perception of speed when I have them on. I went out and did a few rides at full tilt and my average speed was dented at all. Of course, there are many variables out on the road - but the point is that those variables are greater than the difference the guards make.
So, if you are still concerned about your speed through your winter riding, these aren't going to be an impediment. It was also quite easy to clean the bike with the mudguards still attached - I was concerned I might have to remove them in order to clean the bike sufficiently well, but no such problems there.
Value
There are a few other options available when it comes to guards for race bikes or lightweight mudguards. The Crud Roadracer Mk3 Fender /Mudguard Set ($76.00 / £39.99) extends a bit further around the wheel giving better spray protection up front and around the mechs.
However the adjustability is limited and getting them to fit perfectly on a bike can be a recipe for frustration in my experience, especially on ones with small clearances.
The Zefal Shield R35 Road Mudguard Set ($43.33 / £37.99) has the same problem with fitting. Then there is the Topeak DeFender RC1/RC11 Mudguard Set (£34.99) which is easy to fit, although the protection is more limited.
So, the SKS are easier to fit and still offer a good amount of coverage and protection on the bike. They do cost $75.00 / £56.00, but that's money well spent in my book
Conclusion
The SKS Raceblade Pro XL Stealth Series is a good fender/ mudguard which can be fitted to near enough any road bike frame and offer clearance for wider tyres up to 32mm which are now commonplace on road bikes.
The protection that they offer is not on par with full mudguards, but the fact that many bikes don't have mudguard mounts fitted means that these are a great option for those using aero bikes - but wanting protection from the elements - in the winter.
Fitting of the guards is supremely easy, and even when riding on rough road surfaces, there was no issue of the mudguards coming into contact with the wheel and damaging the tyres, or scuffing the frame at all.
In terms of price, they do retail at the more premium level. However the SKS Raceblade Pro XL are often available cheaper online and offer better protection than any other clip-on mudguards which are equally universally compatible but use different attachment solutions.
Overall, these are a great set of fenders / mudguards for use with modern race bikes with aero tubing and tighter clearances. You may not be able to fit the front one on all frames, but most frames will accept them. Additionally, the only other mudguards that offer this universality do not offer the same protection.
Thank you for reading 10 articles this month* Join now for unlimited access
Enjoy your first month for just £1 / $1 / €1
*Read 5 free articles per month without a subscription
Join now for unlimited access
Try first month for just £1 / $1 / €1
Andy is a Sport & Exercise Scientist, fully qualified and experienced cycling coach, personal trainer and gym instructor. He spent 3 years on the road riding for a UCI cycling team and 7 years as a BC Elite rider.
After graduating in 2020 with first-class honours in his Sport & Exercise Sciences BSc, he continued to pursue his interest in research in the field of sport science alongside setting up his coaching business, ATP Performance, and working for USA-based firm, Wahoo Sports Science. He balanced this with racing at international level, competing in prestigious events such as the Tour of Britain and the Volta a Portugal.