The best cycling overshoes: toasty toe covers for autumn and winter riding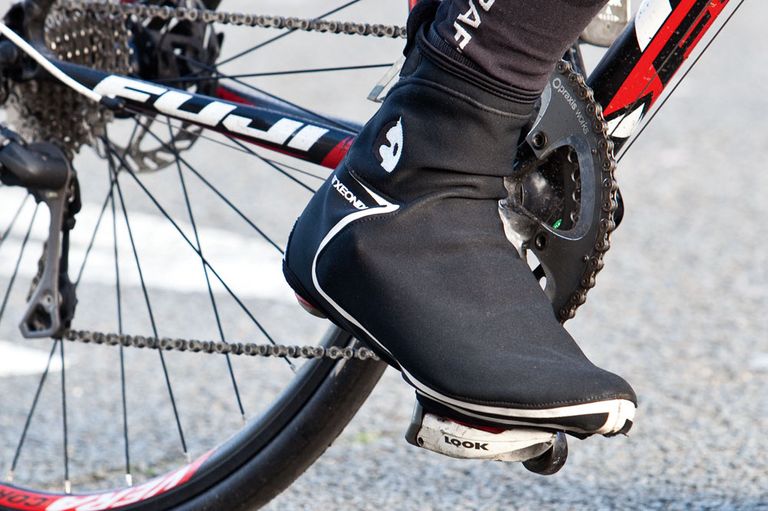 (Image credit: Cycling Weekly)
What are the best cycling overshoes?
There are several different kinds of overshoe, ones to keep you warm, dry, or both. There are even go faster options, which aren't covered here, but you can read more about aero clothing in Aero optimisation: you or the bike?
The best cycling overshoes are generally made from thick neoprene or lighter, windproof, fleece-backed fabric. Designed to keep the cold, the wet, or wind out they come with with holes at the bottom to allow your cleats to connect with the best clipless pedals.
In cold, dry weather a traditional neoprene overshoe will work as excellent insulator, but will get waterlogged in persistent, heavy rain.
For rainy days, you can opt for a more waterproof fabric, which, a similar to the Best waterproof cycling jackets , uses a DWR (durable water resistant) fabric. It's likely to be thinner, so you might take a hit of the warmth. There is much debate as to overshoes inside out outside legwear, but suffice to say, even if the overshoe itself doesn't leak, water will eventually find its way in through the openings - top or bottom (or both).
>>> Best winter cycling gloves: Keeping hands warm in the coldest months
Lighter, Windstopper-type technical fabric is designed to be windproof, and will often provide water resistance and be breathable. As with neoprene, you only have a limited time before the water gets in, but unless if it's a showery day, may be better to accept this as it will dry quickly.
The underside of even the best cycling overshoes are prone to wear. Depending on your riding style, you may want to look for a tough, seam-free base with reinforcements' at heel and toe box, especially if your often having to dab in gravel or stop at traffic lights.
>>> It is safe to cycle on roads but here's how you can be safer
Some of the best cycling overshoes will have reflective or hi-vis elements, essential when riding in poor light conditions of the cooler seasons. You'll often find that any reflective detailing on bib tights or leg warmers are covered up by overshoes, so it's important that the overshoe adds this detail, particularly at the rear.
>>> Best bike lights
Are the best cycling overshoes worth it?
Keeping feet warm and dry in winter is difficult for cyclists. Wind chill is the enemy for the extremities, add spray from the front wheel and unless your feet are appropriately insulated it won't be long before you can't feel them any more.
Can you wear the best cycling overshoes with trainers?
Technically cycling overshoes aren't designed for trainers or other non-cycling specific footwear. There will no doubt be some options for shoe protection on a bike, but even with a rain cover, you're feet will get pretty cold in standard trainers or office shoes. It's certainly worth considering giving a clipless pedal system a try for keeping your feet warm throughout the year, you'll also be very surprised to the difference it makes to your riding.
If new shoes and pedals aren't an option, you could give a standard overshoe a whirl, but you'll need to pick a size or so bigger to take account for the larger sole on a trainer, as well as a more robust underneath. Alternatively, it might be worth investing in the best cycling socks which are thermal and wind and waterproof.
Cycling overshoes reviewed
>>> Best winter cycling jackets to keep you warm when riding in the coldest weather
Reasons to buy
+Price+Windproof+Water resistant+Warm+Reflective detailing+Waterproof zip+Easy to pull on+Excellent fit
Reasons to avoid
-Nothing we could find
We were very impressed with these overshoes. They were warm, easy to put on, well-fitting, windproof and water resistant—basically all the points you want in an overshoe. Not only that, but the price is extremely competitive. With no discernible negatives, it was easy to give these a full 10/10.
A full-length waterproof zip at the back made getting them on and off a breeze. The zipper is secured by a tab at the top to stop it from slipping down at an inopportune moment. Another nice touch is the elasticated cuff with an internal silicone gripper, which helps to secure the overshoes in place.
Reasons to buy
+Great protection from the cold+Good fit+Wide choice of sizes+Water-resistant
Reasons to avoid
-Could be more durable-A little too expensive
The Windstopper fabric from Gore is windproof with a water-repellent treatment, which Sportful stitches to a stretchy, reinforced neoprene base that extends part way up the sides and the back. Made from multiple panels, they fit well over shoes, although we did find that ours did rise over the shoe heel a little, which is something to watch for when off the bike and walking.
Warm, good looking, well made and have intelligently placed reflective details, just watch for the sizing.
Reasons to buy
+Good wind insulation+Reasonably waterproof+Lightweight and not bulky+Reflectives
Reasons to avoid
-Base is prone to wear-Will wet out in prolonged rain-Yellow fabric looks dirty quickly
The front of the C5 is made from a thick version of Gore's Windstopper fabric. This is very windproof, having a three-layer structure with a built-in membrane. It's water repellent although will wet out in a downpour.
The rear of the upper is made of thinner Windstopper fabric. There are quite a few seams which, although not taped, they are flatlocked with wide zigzag stitching, which keeps them watertight enough.
The fit is close enough to prevent draughts and also helps keep out water, without being uncomfortable – particularly as the Windstopper fabric is very stretchy and flexible.
Reasons to buy
+Very warm+Great fit+High levels of waterproofing+Kevlar toes and heels add to the robustness
Reasons to avoid
-They will eventually start to lose their shape/structure, but much more slowly than others I've used
Not only are the GripGrabs bright yellow, there is reflective printing on the sides and an even more reflective rear tape tab. Made of 4mm neoprene, the overshoes do away zips in favour of a stretchy cuff, to allow you to get the overshoes on. Because this is quite deep, it helps keep water from trickling down your leg. There's a Velcro tab under the instep to hold the two sides of the overshoe together. Durability is good, but with the thick neoprene construction we got some scuffing on the cranks.
Reasons to buy
+Easy pull on/ pull off+Breathable+Very good waterproofing
Reasons to avoid
-Not for really cold conditions
There are multiple SealSkin overshoes on offer, and this is one of its lighterweight options. Appealing to riders wanting waterproof fabric, without compromising breathability. The material is high stretch, so the warmers go on and come off easily and they're machine washable.
Oversocks tend to be a little less resilient than overshoes, due to thinner material, but the Sealskinz version should be a good compromise.
Made from 3mm neoprene, these overshoes extend a good distance up the ankle comfortably covering the sock/tight overlap.
They're made from a simple pattern of two halves, with the central seam on top of the foot taped for water and windproofing. There's a zip up the back. A non-abrasive fabric is used to reinforce the underside of the toe and just behind the heel.
The thick neoprene is perfect for cold, dry days but gets waterlogged on the wet ones – as neoprene inevitably does. However, muck and filth from the lanes do not penetrate and they keep out showers.
A good deep-winter overshoe but it's a shame there are no reflectives.
Reasons to buy
+Windproof and insulating+Good fit in both toe and leg+Visible+Fleecy inside+Easy to get feet in
Reasons to avoid
-Velcro fastening is hard to align-Durability issues-No waterproof
British firm Lusso has gone for fleecy-backed Windtex fabric for its winter bootie and it's a sensible choice. Although it's not as thick as neoprene, Windtex is obviously windproof, as the name suggests. The manufacturers of Windtex also guarantee it waterproof. It's also much lighter and more elastic than neoprene so has several advantages over the heavier, more traditional overshoe material.
Lusso has created a good-looking, simple and well functioning design with the Stealth Overboot and at £30 it represents super value for money.
Castelli Toe Thingy 2 Toe Cover
Another lighter option for those who don't want a full overshoe is a toe cover, or a "toe thingy" as Castelli affectionally call it.
This windproof construction slips over the front of the shoe, with a rugged underside to provide grip and a silicone print to help keeps rips at bay.
If you get really cold toes, you can wear a set of these underneath full overshoes.
What to look for in the best cycling overshoes
We've had the pleasure of fully reviewing quite a few pairs of the best cycling overshoes - there are more full overshoe reviews here.
If, like us, you do the majority of your riding under the constant threat of rain, a fair threat of snow and likely freezing temperatures then a set of the best cycling overshoes will keep out the elements and keep you riding is essential.
Be sure to keep checking back as the season goes on for more of the best cycling overshoes.