Best bib tights for cycling reviewed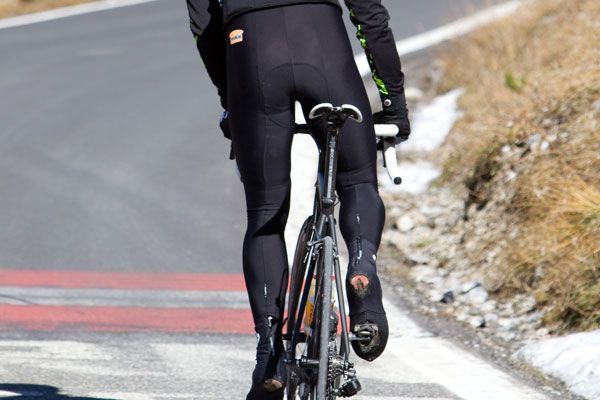 Once winter kicks in dedicated winter bib tights are essential.
Shorts and leg warmers will get many riders through September, October and perhaps November for the warm-blooded, but they aren't suited for year-round riding.
Most manufacturers now integrate a chamois into their tights: not so long ago it was common to wear unpadded tights over bib shorts. Using padded tights means fewer seams and fewer straps, but if you regularly venture out into frigid temps it will mean buying more than just one or two of pairs of tights.
>>> Winter cycling clothing: what to wear for comfortable riding
The simplest tights are made from a fleecy-backed Roubaix-style material and are neither windproof nor waterproof. With manufacturers like Gore throwing their weight around, more technical fabrics with varying degrees of moisture protection that still breathe are beginning to appear. The most sophisticated tights locate different types of fabric and different numbers of layers in the specific areas where they will be most effective against cold, wind and rain.
The best bib tights reviewed - Men's
Read on down the page for information about what to look for in winter tights. But first, here are our favourites.
With each product is a 'See more' or 'Best Deal' link. If you click on this then we may receive a small amount of money from the retailer when you purchase the item. This doesn't affect the amount you pay.
Santini Adapt bib tights
Score: 8/10
Cost: £230
Read more:Santini Adapt bib tights review
Polartec Power Wool gives the Santini Adapt bib tights a softer, stretchier feel than the type made with 100 per cent synthetic fabrics. The largest proportion of the tights – the legs/hips – is made with 21 per cent merino, so it's more than just a token twill.
Great for either side of deep winter, they're very comfortable and very well made – but they're also very expensive.
See more: Santini Adapt bib tights at BikeInn for £148.99
Assos Mille GT Ultraz Winter Bibtights
These bib tights combine excellent protection from the elements with a flawless fit. With the front cut lower than other brands, these really lend themselves to riding in an aggressive, aerodynamic position.
The high degree of stretch from the fabric not only allows for a figure-hugging fit, but it also meant that my pedal stroke felt fluid, without any of the tightness that other winterised bib tights can sometimes induce.
The RX Heavy fabric is so warm and, combined with that NEOS membrane, my legs felt as if they were in their own microclimate as I cycled past frosted fields.
See more: Assos Mille GT Ultraz Winter Bibtights at Wiggle UK for £240
See more: Assos Mille GT Ultraz Winter Bibtights at Wiggle US for $279.49
Endura Pro SL II Bibtights
Endura has got it all right with the Pro SLs. The Scottish brand has packed in an impressive number of features – including three pad width options.
Made from a windproof, breathable fabric, a DWR coating is used down the fronts of the legs and above the bum. The sides use stretchier panels and the Pro SL's legs are anatomically shaped to avoid the fabric stretching over the knee. Inside, there's a soft, red, Thermoroubaix lining to trap in the warmth.
Behind the calves are large panels of reflective dots plus white flashes at the ankles for added visibility. The ankles are zipless but the front of the bib does have a short zip above the waist to reduce strap-yank during toilet breaks.
See more: Endura Pro SL II bib tights at Chain Reaction Cycles from £97.99or see the Endura Pro SL II bib tights Wiggle US for $201
Assos HabutightsMille S7 tights
Assos's bib tights have been selected for an Editor's Choice award two years running — they're something quite special.
Fit on the legs is excellent. There are no zips to rub or get in the way, and though not wet weather-ready, HabutightsMille S7 tights are incredibly warm and breathable.
The heart of the tights is the chamois, which uses Assos's 8mm thick 'waffle' memory foam, in three layers. Then, there's the 'goldenGate', which means the pad is separate from the tight, allowing for movement.
See more: Assos LL HabuTights S7 at Wiggle for £159.00 or at Competitive Cyclsit for $249
Castelli Nanoflex Pro 2 bib tights
Castelli Nanoflex Pro bib tights
Designed for comfortable riding in the worst conditions, these bib tights are a heavyweight option with waterproof Nano Flex light overlays over the thighs, knees, and rear.
They've been around a while now, but are still a firm favourite of ours, especially as they include the included Castelli's own Progetto X2 Air chamois, which has to be a favourite pad with us at Cycling Weekly — incredibly comfortable for long days in the saddle but not too thick and bulky.
See more: Castelli Nanoflex Pro 2 bib tights at Wiggle for £200 or from Competitive Cyclist for $239.99
The best bib tights reviewed - Women's
Women's bib tights often have a slightly different upper section, with a halterneck or releasable clasp designed to make nature breaks more easy. Some, however, forgo this and offer a full-body option, which doubles up as a base layer.
>>> Comfort breaks for women: best bib shorts for an easier pee stop
Castelli Sorpasso RoS women's bib tights
On test we found the Castelli Sorpasso RoS women's bib tights to be extremely comfortable, ticking all the right boxes: warmth, water resistance, breathability and fit. There's no restriction around the knees and the pad provides ample comfort. A comfort break feature that works is on our 'would like' list for the future, but for now these have performed so excellently we're happy to overlook the omission. The ankle zips don't really serve much purpose, but didn't cause irritation, either.
See more: Castelli Sorpasso RoS women's bib tights at Wiggle for £160
Rapha Women's Pro Team Winter bib tights
Wind proof and water resistant with an almost handy, dropped tail for comfort breaks - the Rapha Women's Pro Team Winter bib tights are a go-to winter riding companion.
The fleecy inners help with both warmth and sweat wicking, and overall, the tights are breathable. It's worth noting however that they perform best below 10º for optimal temperature regulating comfort.
See more: Rapha Women's Pro Team Winter bib tights at Rapha for £210
Assos Habu LaaLaLai_S7 women's bib tights
These Assos tights feature the Swiss brand's RX Heavy Fabric which is water repellent and designed to be quick drying. The women's specific pad has 8mm of memory foam, uses three layers of 'waffle' fabric and the infamous Golden Gate floating insert.
We tested the Assos tights between 4-15°C / 40-60°F and never felt too hot or too cold.In rain, you'll never stay totally dry but huge beads of water do drop off the fabric as you ride.
See more: Assos Women's Habu LaaLaLai_S7 Tights at Wiggle for £129.45or at Wiggle US for $199.40
Sportful Pro bib tights
Ticking big winter apparel riding boxes of wind and rain repellence, warmth without overheating and comfort makes the fairly priced Sportful Pro bib tights a great option.
The overall fit on these tights is great. The small felt, in the main, like a second skin. The attention to detail around the ankle closure is a nice touch, but on review we struggled with the knee apron, which felt unnecessary to us.
See more: Sportful Pro bib tights at Wiggle from £127.50
Endura Xtract bib tights
No frills can still mean no chills with the Endura Xtract bib tights. Sumptuously warm, and great as an alternative to thermal shorts and leg warmers, some will find the lack of technical attributes and bulky padding not for them, but others will love the easy wearing affordability.
See more: Endura Xtract bib tights at Tredz for £59.99
What to look for in the best cycling bib tights
Shopping for the best bib tights that will keep you pedaling in comfort all year? This is what to look for...
Wind and waterproofing
Bib tights often use a soft and warm fleece-lined Roubaix fabric to provide insulation. However, some also incorporate windproof panels, and others go further and sew in water-resistant or waterproof elements. The more protection you get from adverse conditions, generally, the more bulky the tights will be; but sometimes a little freedom of movement is worth sacrificing. The very best bibs will be able to provide waterproof elements with a supple fabric.
Breathability
Sure, you're looking for kit to wear during cold weather. But that doesn't mean you're not going to sweat. The fabric needs to be breathable, especially at the upper body where mesh is often used.
Chamois pad
At the heart of any pair of bib tights is the chamois. This needs to provide comfort when spending hours in the saddle. In years past, brands often provided tights without a pad, to be worn over your favorite cycling shorts. These days, they can all sew in pad into tights in a way that's comfy and the reduced seam count is preferable.
>>> Best men's saddles and best women's saddles reviewed
Waist vs bibs
We've reviewed bib tights below - these have upper body portions which means they can't fall down, they don't cut in at the stomach and the chamois stays put. It is possible to get waist tights, but we'd always recommend bibs.
>>> Waist shorts vs bib shorts: which are better and why
Not what you're looking for?We've got plenty more bib tight reviews for you to check out...
We'll keep updating this page as the season goes on, adding our best-reviewed products