How to re-waterproof your cycling gear to make it perform like new
If your high tech waterproof bike kit isn't keeping out the rain, it's time to give it a reproofing to get it back to working at its best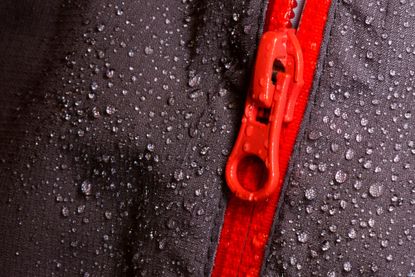 (Image credit: Getty Images)
Get The Leadout Newsletter
The latest race content, interviews, features, reviews and expert buying guides, direct to your inbox!
Thank you for signing up to The Pick. You will receive a verification email shortly.
There was a problem. Please refresh the page and try again.
If you've headed out for a rainy day ride and realised your so-called waterproof or water resistance is no longer up to the job, it's probably time to re-proof your gear.
Thankfully the best waterproof treatments will bring new life to any technical gear, as even the best waterproof cycling jackets and the best commuter cycling jackets will eventually stop working effectively over time.
All waterproof treatments will be less effective and wear off with repeated use over time, but the good news is re-waterproofing costs a fraction of the price of replacing kit.
Here's all you need to know to get your gear back to it's best water resisting ways.
Most winter cycling clothing will have an element of water protection. Our page dedicated to the best winter cycling jackets showcases our favourites for the coldest of days on the bike, and crucially how much defence against the rain they offer you.
If top to toe weather protection is in order, you'll find that it's best to team a jacket with a pair of the best waterproof cycling trousers and bib tights.
What makes cycle clothing waterproof?
Waterproofing treatments applied to waterproof or water resistant cycle clothing vary depending on the goal of the design.
Waterproof cycling gear will use a dual layer system and a fabric coating. Water resistant apparel however will often rely on the fabric coating alone, which will eventually wear off whatever it's applied to.
For total waterproofing, waterproof cycling jackets, such as the Castelli Idro Pro 2 jacket, will use two or three layers, one of which will be a membrane, either applied to the inside surface of the fabric or in a sandwich between two layers of fabric, which blocks rain.
This membrane has tiny pores in it; they're too small for liquid water droplets to get through from the outside but still let water vapour out from the inside, so you'll stay drier when riding.
This is complemented with a durable water resistant (DWR) coating.
DWR is used as the primary function on lightweight fabrics that are often water resistant, although occasionally they also use a waterproof yarn as part of the construction.
This is often found in performance cycling kit, as it makes them more breathable, but lowers their water resistance so they do breach quicker.
As DWR is applied to the outside of the garment, repelling water so that rain beads off the outer surface of your clothing, general wear and washing will degrade its ability over time.
You'll know when it's time to re-proof your waterproof cycling gear by a rude and soggy reminder.
"When the water no longer beads on the outside of the fabric," says Rose Cawte, Nikwax's Group Marketing Team Assistant, "the garment is 'wetting out' i.e. leaving a dark colour where the water soaks in".
How to get fit and fast in winter
Before you start
Read the instructions on your waterproof cycling garment before you even so much as open the washing machine or turn on a tap. While for many, an external treatment is absolutely fine, some waterproof items such as the Gore Shakedry Insulated Jacket and the rest of that range have a permanent DWR coating that shouldn't be re-treated, although you will need to wash it occasionally to keep it working optimally.
Also ensure you purchase the correct treatment. Both Nikwax and Grangers sell kits that bundle the different products you need to treat your waterproofs or other performance clothing.
Nikwax sells a specialist re-proofing product for softshell garments and both brands sell cleaning and re-proofing products for down clothing and other cycling gear, such as your bikepackingkit.
How should you re-waterproof your cycling jacket?
If you've embraced the wet weather more than a few times, and shoved your cycling kit in a regular wash, the chances are you are ready to reapply a DWR treatment.
If you haven't braved a washing machine cycle, pause and invest in a specific detergent.
"Normal laundry detergents can damage water repellency and can leave a water attracting residue on the item you want to waterproof." says Zoe Hewitt, Head of Marketing Communications at NikWax.
"Dirt can be one of the things stopping a jacket from repelling water" Hewitt continues, "so if it is not cleaned with a specialist cleaner the waterproofing may not work as well".
According to the experts, normal washing powders and liquids can leave detergent and additive residues on your clothing which stop the waterproofing from working and cause the surface to become ineffective.
Many waterproofing applications come as a system, with a specific detergent and an after spray coating.
Specialist washing agents like Nikwax Techwash or Endura Cleaner and Re-proofer will clean the dirt and grease off without leaving residues.
You can use them to wash most garments in a normal washing machine cycle, observing the wash instructions, or you can hand wash.
Washing with the detergent alone is a good way to regularly refresh your cycling gear keeping them active for longer.
However, if your kit DWR treatment is more damaged, by wear after many winters' use, it's best to follow up the wash with a re-treatment.
Depending on your re-waterproofing treatment, this can either be washed into the garment in a second wash cycle or be sprayed onto its surface.
"We also recommend using a Nikwax TX.Direct Wash-In rather than the spray on, unless you have a wicking lining in the jacket" Hewitt says. "It's easier and less messy to apply and covers the whole garment.
Her top tip is that "Spray on is great for applying to high wear areas where the water repellency may have worn off through abrasion".
Some brands suggest that once you've taken these steps to re-waterproof your cycling jacket, and you've let it dry, if its washing instructions allow you to, a gentle tumble dry can help the treatment to penetrate the fibres of the fabric better, so it will be more effective and last longer. Ironing on a cool setting can also help.
Some brands, such as Grangers products may need to be heat activated to work, whereas Nikwax ones do not.
Specialist cleaning and re-waterproofing products are more expensive than normal washing products, so you'll want to keep them for your specialist kit. Usually you can only wash one or two garments at a time, which also ups the cost. But doing it right is a wise investment to keep your technical cycle clothing at its most effective rather than buying new again.
Why does waterproofing become less effective over time?
What causes DWR to degrade?
With wear, your waterproof garments will become less effective. That's because they get dirty. Even if it's not visible, the layer of contaminants on the garment's surface causes the DWR treatment to stop working as well, so that the outer surface of the garment will get saturated in the rain and water won't bead off.
Dirt, oils and sweat from the rider will coat the inside of the garment too, partially blocking some of the pores in the membrane, meaning that there's less effective removal of water vapour from inside the garment. The result: you'll keep less dry as you ride.
How often should you clean your waterproof jacket?
Does washing a waterproof jacket ruin it and what about other waterproof cycling gear?
"I would recommend cleaning your gear every time it gets dirty," says Rose Cawte of Nikwax. "Dirt and sweat attract water and over time can damage the waterproofing of the garments, so keeping them clean is the first step to ensuring they stay waterproof.
"With the re-proofing, we recommend to treat the garments when the water no longer beads on the outside of the fabric, or if the garment is 'wetting out' i.e. leaving a dark colour where the water soaks in.
"If the garment is really dirty you can use neat Tech Wash and gently work in with a sponge or soft brush to treat stubborn stains. Then wash with Tech Wash as normal."

How to restore water repellence for Gore-Tex
Can you make a Gore-Tex jacket as good as new?
Once you've been wearing your GORE-Tex jacket for a while, you've probably noticed that its seemingly magical ability to fend off water droplets, losing its originally highly effective waterproofing.
Once water stops beading off the fabric outer, it's likely that it will be totally 'wetted out'. This means that your jacket can no longer sustain fending off constant rainfall, and this usually happens when your DWR treatment starts to fail.
According to GORE itself, the key to getting it back to its as new condition takes a few steps.
1. Wash with a mild liquid detergent, such as the ones suggests above. If you do use a regular brand, use a couple of additional rise cycles to ensure it's not left with detergent residue.
2. Spin on low and ideally allow to line dry.
3. Put the dry garment in the dryer for 20 minutes at a low temperature (60°C) or one dot (heating process).
GORE says that if water still isn't beading after the heating process, apply a waterproofing treatment on the damp garment before allowing it to line dry and then heat in the dryer again.
Remember however to take note that the GORE Shakedry jackets shouldn't have a DWR application applied.
Always read the washing instructions label of any cycling garment prior to any wash and treatment cycle.
Thank you for reading 20 articles this month* Join now for unlimited access
Enjoy your first month for just £1 / $1 / €1
*Read 5 free articles per month without a subscription
Join now for unlimited access
Try first month for just £1 / $1 / €1
Get The Leadout Newsletter
The latest race content, interviews, features, reviews and expert buying guides, direct to your inbox!
Hannah is Cycling Weekly's longest-serving tech writer, having started with the magazine back in 2011. She has covered all things technical for both print and digital over multiple seasons representing CW at spring Classics, and Grand Tours and all races in between.
Hannah was a successful road and track racer herself, competing in UCI races all over Europe as well as in China, Pakistan and New Zealand.
For fun, she's ridden LEJOG unaided, a lap of Majorca in a day, won a 24-hour mountain bike race and tackled famous mountain passes in the French Alps, Pyrenees, Dolomites and Himalayas.
She lives just outside the Peak District National Park near Manchester UK with her partner, daughter and a small but beautifully formed bike collection.