Best waterproof treatments for your cycling jacket: rated and reviewed
Here's our pick of the best waterproof treatments and cleaning products for cycling jackets and other technical outer layers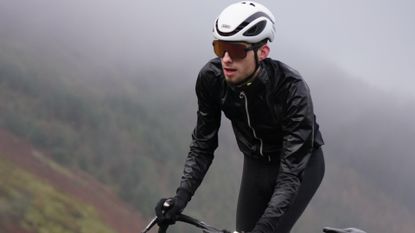 (Image credit: Future)
The best waterproof treatments for cycling jackets will help repel the rain to better help your jacket from wetting out in the heaviest downpours, keeping you drier and more comfortable.
It's a fact you don't want to hear, but even the best waterproof cycling jackets and the best waterproof cycling trousers will begin to work less effectively over time. That's largely down to surface dirt or abrasion stopping the durable water resistant (DWR) layer on the outer surface working as intended, and to sweat and oils clogging the pores of an internal membrane barrier.
It's an issue with any waterproof cycling jacket, but particularly with the best commuter cycling jackets, where the high level of traffic can quickly throw up a lot of dirt onto you and your jacket.
To restore a lot of the effectiveness, it's best to wash the waterproof item of clothing with a technical cleaner. Standard laundry detergents won't cut it because they leave residues on your jacket, causing the DWR layer to wet out. They might even strip it off altogether.
We have an in-depth explainer on how to re-waterproof your cycling kit further down below. Right up next we have the best reproofing agents that we've tried and tested here at Cycling Weekly.
The best waterproof treatments for your cycling jacket
Best for independent washing and re-proofing without the need to tumble dry
Reasons to buy
+
Easy to use - machine or by hand
+
Wash and re-proofer can be used independently
+
Don't need to tumble dry to activate
Reasons to avoid
-
Fairly dilute liquid so large volumes required
Getting your jacket clean is key to making it stay dry. Nikwax's Tech Wash and TX.Direct wash and re-proofer work together to do a really good job at both. Just put your jacket in the washing machine with first the wash and then the re-proofer and leave to dry. Unlike other re-proofers you don't need to tumble dry to activate saving you money and hassle.
Nikwax has performed really well on a range of different fabrics with varying levels of dirt. Spot cleaning before washing and using the Spray-On re-proofing treatment has really enhanced the quality of the re-proofing on even the dirtiest and most worn bits of our tester's jackets.
Read more: Nikwax Tech Wash and TX.Direct full review
2. Grangers Performance Wash
Best for technical cleaning at an affordable price
Reasons to buy
+
Reduces wetting out
+
Easy to use in washing machine
+
Cheaper per wash than Nikwax Tech Wash
Reasons to avoid
-
DWR performance never seems to last as long as the original coating
Grangers Performance Wash is designed to use in a washing machine on a standard 30C or 40C cycle. Since you only need to use 25ml per wash, it's reasonably economical, particularly if you buy the one litre eco refill pack.
It's effective at stopping both waterproof garments like Gore-Tex shell jackets and softshell products like Castelli Nanoflex from wetting out and so keeps them working well, although the treatment doesn't seem to last as long as the box-fresh water repellency - which is generally true of cleaners and reproofers and isn't unique to Grangers products.
Read more: Grangers Performance Wash full review
Reasons to buy
+
Good value
+
Good re-proofing performance
+
One step cleaning and reproofing
+
Smells very nice
Reasons to avoid
-
Need to tumble dry or iron to activate
-
Packaging heavy product
This product from Endura cleans your jacket and re-proofs it in one step, saving time and effort - the process was very simple. All you have to do is fill two caps full of the liquid, pop it in the washing machine with the garment and hit start on a full cycle as you would with regular detergent. Once the garment has been washed, you'll need to tumble dry it or (lightly) iron it to activate the waterproofing. If nothing else, using a hairdryer to speed up the drying process is another option.
We tested this on an old, well-loved jacket, which would previously get saturated immediately in the rain. Back when the jacket was new, water would bead onto the jacket. Now, since re-proofing, the jacket has almost returned to the level of waterproofing it initially boasted – a real transformation and every bit worth the price of the bottle.
Read more: Endura Cleaner and Re-Proofer full review
How to re-waterproof your cycling jacket
Re-waterproofing your technical cycling kit should usually be a two-stage process and we explain how best to keep your kit in tip-top condition, and what the best waterproof treatments are.
We've more details on how to re-waterproof your cycling jacket here.
How do I re-waterproof my cycling jacket?
First off, try washing your kit. Often just washing off surface dirt and sweat will restore a lot of the water repellent properties of your clothing and get the outer DWR coating working pretty well again.
If washing doesn't restore your garment's waterproofing or the outer surface continues to wet out in the rain, you might need to go to stage two and re-treat its waterproofing. That calls for a different set of products, which apply a new DWR coating to your jacket, either by washing in or by spraying on the outer surface.
What are the best waterproof treatment brands?
In the UK, the market for waterproof treatments is dominated by Grangers and Nikwax. The two brands make a comparable range of products, including the basic washes and re-proofers described above. Other brands to look out for include Fibertec from Germany and Decathlon's Forclaz, while some clothing brands like Endura and Assos sell their own care products.
Grangers and Nikwax also make specialist washes and re-proofing products for items like down-filled jackets and tents. Nikwax extends that further with products to treat softshells, fleeces and even horse rugs.
Thank you for reading 20 articles this month* Join now for unlimited access
Enjoy your first month for just £1 / $1 / €1
*Read 5 free articles per month without a subscription
Join now for unlimited access
Try first month for just £1 / $1 / €1