Best waterproof cycling trousers and bib tights 2022
Our pick of the best gear to protect your lower half when commuting and riding in wet weather.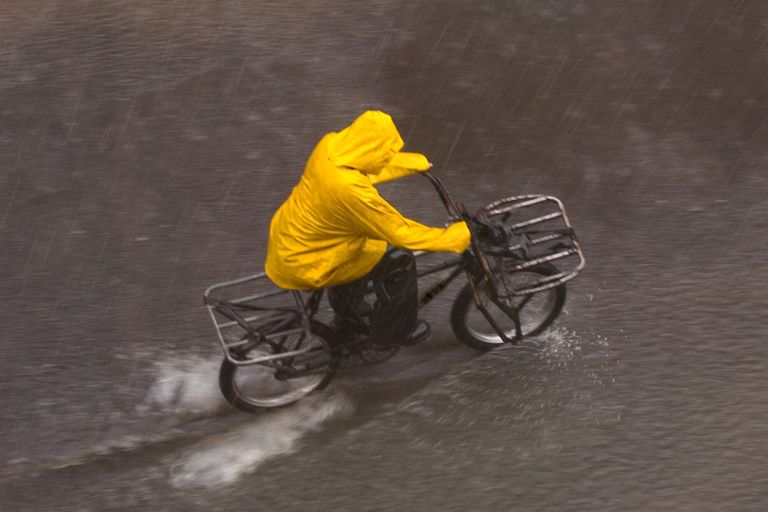 The best waterproof cycling trousers or waterproof cycling bib tights will keep your bottom half drier, particularly if you're not using a pair of the best mudguards to protect yourself from road spray.
You may already have invested in one of the best waterproof cycling jackets to get you through the rainy days on your bike - but this leaves you only half protected.
We've rounded up and updated our pick of waterproof bottoms for the all-weather cyclist and commuter, because arriving at your destination soaking wet is never fun. Our dedicated 11 tips for cycling in the rain page will give you lots of advice for how to survive the weather at its worst, and one of the biggest tips will be invest in a pair of waterproof cycling tights or trousers.
Our pick of the best waterproof cycling trousers
The best waterproof cycling trousers will generally have a fairly relaxed fit and will prioritise keeping the water out. While you might find some casual fit options that can be worn on and off the bike, many are a pull-over design that you can wear over other trousers or shorts and remove after your ride. You'll also find that many are unisex. For many women, this might pose fit issues.
While most overtrousers are marketed as rainy weather garments, they can be a great additional layer in extremely cold conditions too. Keeping your hardworking leg muscles warm in the depths of winter is invaluable.
Endura Hummvee II Trousers
Best water resistance cycling trousers for all round use
Specifications
Material : Nylon Mini Ripstop
Waterproof finish: PFC-Free DWR
Waistband: Elasticated and adjustable belt
Ankle: Elastic and Velcro
Size : S - XXL
Reasons to buy
+
Multiuse trail and urban trousers
+
Durable ripstop fabric
+
Multiple zipped pockets
+
Shorts liner compatible
Reasons to avoid
-
DWR will need re-coating
-
Not overtrousers
-
No zipped ankles
Scottish brand Endura knows a thing or two about foul weather, and its Hummvee II water-resistant trousers are designed exactly to deal with it.
Constructed using Ripstop fabric designed for durability, these cycling trousers are a great option for anyone looking for water protection across a host of different terrains.
Capable of shrugging off mud and rain, these water resistant trousers come with an environmentally friendly PFC-Free durable water repellent (DWR) finish, although that will need re-spraying from time to time.
Casual enough to look good off the bike, these cycling trousers also have a seam free seat, which means that you can ride them without cycling shorts, although they aren't designed to be worn over your non-cycling gear, like the Altura Nightvision 3 waterproof cycling trousers, meaning that should you choose to commute in them, you'll need a change of clothes once you get to your end destination.
The Hummvee IIs are compatible with Endura's own Clickfast padded shorts liner, and have a Velco style ankle closure. This can be a bit hit and miss over time if gets regularly clogged with muck, which can mean that the closure can become less effective.
With several pockets, including zipped hand pockets for off the bike usability and handy cargo pockets and a large map pocket, there are a lot of reasons that these multi-use cycling trousers could be all you need.
Altura Nightvision Women's Over Trouser
Best overtrousers for riding in low light conditions, or at night
Specifications
Material: 100% Polyester
Waterproof finish: DWR
Waistband: Elasticated
Ankle: Single velcro adjuster
Rating: 10K/10K
Sizes: 8-18
Reasons to buy
+
Wind and water resistant
+
Excellent reflective detailing
+
3 leg length options
+
Zipped pockets
+
Roomy enough to go over very bulky clothes
Reasons to avoid
-
Pockets don't handle extreme rain
-
Fit may still be too loose for some women
-
Not easy to get on over shoes due to interior gaitor
Altura's Nightvision is the original go-to range to be seen on a bike at night. The large reflective detailing should help make the wearer stand out in low light levels, with beams of light reflecting off the panels across the legs.
Unlike the Endura Hummvee II cycling trousers, these waterproof and windproof cycling trousers pull on over your existing clothing, so a great option to have stowed away in your commuting luggage should the weather take a turn for the worse while out on the bike.
The Nightvision Women's Overtrousers (opens in new tab) that we tested doesn't seem to offer much in terms of tailoring for the female form; expect a very generous fit from these. They will accommodate very bulky trousers without issue but petit women will be drowned.
Breathability and waterproofing are both good, keeping you dry in light to moderate rain without causing you drastically overheat.
If you want a trouser that pulls on over the top of shoes, these aren't the best option; they have an interior gaitor. The gaitor has benefits though; the Nightvisions are good at keep the cold air out on wintery days.
Two pockets for quick access mean that the trousers are great for not having to open to the elements when trying to get keys/work passes out. However, these are not the best of designs in epic storms; the rain does find its way in.
BTwin 100 City Cycling Rain Overtrousers
Best waterproof cycling trousers with built in shoe covers
Specifications
Material : 100% Polyester
Waterproof finish: 100% Polyurethane
Waist: Elasticated
Ankle : 2 Velcro adjusters
Sizes: S - 2XL
Reasons to buy
+
Integrated foot protection
+
Great price point
+
Wide leg end for pulling on over shoes
+
Eco credentials
Reasons to avoid
-
Body and shoe size ratio needs to work for rider
-
Durability of shoe covers limited
-
Durability of protection limited
Decathlon does the cycling basics at a bargain price and its BTwin range includes some of the best value waterproof cycling trousers you can buy.
When we tested the 100 City Cycling Rain Overtrousers, the unique, integrated shoe covers, which prevent the rain you've kept off your legs from ending up in your shoes, as well as offering protection for your feet from road spray (off the front wheel) really impressed. A wide split up the side of the leg end makes these easy to pull on over shoes. You need to make sure that the trousers Vs shoe size ratio works for you though. It's also worth avoiding walking too much with the covers on; they are not the most durable.
The overtrousers come with taped seams and have been lab tested with 60 litres of water per square metre sprayed at them for two hours, which Decathlon says simulates an average downpour. A longer period of testing has proved that this perfomance quickly deteriorates. However, they are still good for moderate rain.
BTwin says that it's used a more environmentally friendly dyeing process, giving these some eco credentials.
There isn't the level of reflective detailing which can be found on the Altura Nightvision waterproof trousers, but loops for lights on each leg. Again, testing these proved that they are limited- a light with a narrow clip was required.
Madison Roadrace Apex men's waterproof ¾ overshorts
Best waterproof cycling trousers for raceday warm up
Specifications
Material : TBC
Waist: Elasticated gripper
Ankle : N/A
Sizes : XS - XXL
Reasons to buy
+
Race cut
+
High waist at rear to prevent damp spots from rain jacket run off & rear wheel spray
+
Silicone waist gripper for stay-put fit
+
Designed to be worn over shorts/ bibtights
Reasons to avoid
-
Not full length
-
Pricey option
If it's a bit too warm for full overtrousers, Madison's overshorts will up your ventilation while keeping your upper legs and rear end dry.
They're designed for the ride position, with a tall back to prevent water ingress from either pouring off your rain jacket or from rear wheel spray.
Madison says these are a great pair of waterproof cycling trousers for breathability, and their tailored fit means that there is limited wind flap, making these a good option for warming up on a wet race day, to limit the soaking your shorts get before getting to the start line.
Their shorter leg length means that they they won't afford total lower body protection, so won't necessarily be a commuting cyclist's cup of tea. However, they do stow away nicely, making them a good option for overnight adventures. Our guide to absolutely everything thing you need to go bikepacking (opens in new tab) has lots of useful hints and tips for how to get started.
From our experience with waterproof and water resistance clothing, the price tag does reflect the performance, and with the Madison brand we'd expect these to live up to their breathability and waterproofing claims; you just have to be prepared to pay a little extra for it.
Madison Protec Women's 2-Layer Waterproof Trousers
Best for a subtle look in any weather
Specifications
Material: 100% Polyester
Coating: C6 DWR
Waistband: Elasticated with drawcord
Ankle: Two Velcro adjusters
Rating: 5K/5K
Sizes: 8-14
Reasons to buy
+
Subtle look doesn't scream cyclist
+
Comfy/rustle-free fabric
+
Breathable
+
Good protection in cold weather
Reasons to avoid
-
May lack length for some
-
Minimal reflective detailing
These are Madison's cheapest pair of waterproof trousers and while protection levels are limited- they fend off light rain well but don't cope so well with prolonged, very heavy rain, they still have their merits. In our grouptest, the Protec's (opens in new tab) were our testers favourite trouser for cold weather, not just rainy days.
The fabric is noticeably softer than others we tested and moves freely; it simply doesn't scream waterproof trousers. Out of the female-specific trousers on test, these offered the best fit, though they lacked a little length for our tester that won't be an issue for everyone.
They have a wide leg end, so it's not too much of a battle to get them on over a pair of shoes.
Their more subtle looks mean that you aren't in a rush to take them off when you're off the bike- there's no rustling and they offer decent levels of breathability. If you want a pair of over trousers for more than just rainy riding, these are a good option.
They fall down on reflective detailing; only the two Velcro adjusters are reflective.
dhb Flashlight Waterproof Trousers
Best lightweight, packable trousers for long or short legs
Specifications
Material: 100% Nylon
Waterproof finishing: Polyurethane
Waistband: Elasticated with toggle drawcord
Ankle: Single Velcro adjuster
Sizes: XS-XXL with short, reg, long leg length
Reasons to buy
+
Lightweight and packable
+
Decent reflectives
+
Good protection in wet weather and cold conditions
+
Three leg lengths in each size
Reasons to avoid
-
Very thin fabric may lack durability
-
Not easy to pull on over shoes
On test, the dhb's Flashlight's (opens in new tab) did everything well. They offer decent protection in both windy and rainy weather, they have some good reflective detailing, though perhaps not quite up to the standard of Altura's Nightvision's, and breathability is as good as any other out there.
Sizing is comprehensive and dhb offers three different leg lengths in each of the sizes available. Not all manufacturers offer this and if you fall into the category of 'longer-than-average', or 'shorter-than-average' leg-length, these will be ticking a box for you.
There is only one ankle adjuster with these, an additional trouser clip might be a good idea to avoid flapping fabric near the drivetrain.
Their most distinguishing features is their lightweight, packable nature- they'll take up very little room in a rucksack, pannier or bar bag. However, this might work against them- fabirc is exceptionally thin, wear-and-tear may well set in quite quickly as a consequence.
These are a pair of trousers to consider if you want something with minimal bulk and weight that will perform in a variety of conditions.
Our pick of the best waterproof cycling bib tights
Unlike cycling trousers, the best waterproof bib tights will be for cyclists out on a dedicated ride, who still want performance on the bike, while keeping the rain at bay for as long as possible. Bib tights are really an extension of shorts, so expect a built in pad and a tight fit, these aren't for wearing over anything, so remember to bring non-cycling clothes for once you're off the bike.
It's worth noting here that waterproof cycling trousers Vs waterproof cycling bib tights will differ in definition, with the latter generally proving more water resistant, but when water does eventually breach it will be warmer once it reaches your skin.
Best waterproof cycling bib tights all round
Specifications
Material : Nanoflex Xtra Dry fabric
Seat pad: Progetto X2 Air pad
Colours: Black only
Sizes: S - 3XL
Reasons to buy
+
Nanoflex material shrugs off water
+
The Progetto X2 seatpad is one of the most comfortable tested
+
Comfortable articulated cut
Reasons to avoid
-
Waterproof inner calf material can be a little baggy on skinny ankles
-
Weightier than other winter bibtights
We tested the previous version, which we rated really highly based on the combination of its all-round weather proving performance which is teamed with high-end comfort.
This version still gets Castelli's top of the line Progetto X2 Air pad and a double-face knited fabric for extra warmth, giving it a temperature range of between zero and ten degrees.
The newest iteration however is even better as it uses Castelli's latest Nanoflex Xtra Dry surface coating to repel water, a double layer over the seat and reflective waterproof splashguards on the lower legs, making it one of the best pairs of waterproof cycling bib tights.
This double fabric and other features do mean that these are one of the more weightier pairs of cycling bib tights on the market, so it's something to consider if you are wanting to keep the overall cycling weight package down, but in our experience we'd take the comfort and look for weight savings elsewhere.
The only other criticism is that the fit around the ankle could be tighter, although it's worth remembering that Castelli can come up small.
They are an expensive purchase, but absolutely worth it if you're doing a lot of cold, wet weather riding.
Gore C7 Partial Windstopper Pro Bib Tights+
Best waterproof cycling bib tights for long distance comfort
Specifications
Material : GORE® WINDSTOPPER®
Seat pad: C7 Pad
Colours: Black/ Black, Black/ Yellow
Sizes: S- XXL
Reasons to buy
+
Pad design is exceptionally comfortable
+
Wind and waterproof
+
Relatively lightweight
Reasons to avoid
-
Not many reflective details
Another top notch option for longer road rides in wet conditions, the Gore C7 tights are windproof, breathable, insulated and water repellent, using Gore's own Windstopper membrane-based fabric.
We highly rated the GORE C7 Long Distance+ bibshorts for their great seat pad, which is placed at the centre of the kit's design, rather than as an insert. This meant that on test it had an excellent placement and kept us comfortable in the saddle all day.
The wind and water stopping fabric has been strategically placed in order to offer the most protection where it's needed. In-between sits either a brushed fleece or a lighter mesh, to help keep the overall weight low and help prevent overheating.
In general Gore clothing is considered one of the industry's gold standards when it comes to winter protection, so we'd expect an awful lot performance-wise from this pair. That's reflected in the price, although it's slightly cheaper than the Castelli Nanoflex Pro 2 Bib Tights, with the only obvious missing feature being the level of reflective detailing.
Best waterproof cycling bib tights for winter warmth
Specifications
Material : RX Heavy- brushed warp-knit
Seat pad: MILLE GTO c2 Insert
Colours: Black
Sizes: S - XL
Reasons to buy
+
Winter warming
+
Great fit
+
Comfortable seat pad
If you were looking for the best waterproof cycling bib tights to get you through even the harshest of winters, then the Assos Mille GT Ultraz Winter Bib (opens in new tab) tights are the ones for you.
They manage to balance all the warmth and water resistance you'd want on the bike with a flawless fit.
They are oozing with features to protect you in the foulest of weather. Assos' OSMOS Heavy material that provides exceptional insulation. On top of this, Sphere Ultra Hole wicks away excess heat. The 'geoprene' layer expertly repels water and fits snuggly around the lower leg without letting any water sneak inside.
The pad was exceptionally comfortable, taking the harshness of the road away from the ride, even on the longest of days in the saddle.
There is no shying away from the price tag, but it's a lot cheaper than investing in an indoor bike as these will enable you to get out in all weathers.
Best waterproof cycling bib tights for women
Specifications
Material : Nanoflex 3G fabric, Nanoflex Xtra
Seat pad: Donna Progetto X2 Air seamless pad
Colours : Black/ pink, black/reflex, blue/reflex
Sizes: XS - XL
Reasons to buy
+
Warm on cold rides
+
Breathable properties
+
Reasonably priced for water resistant bib tights
Reasons to avoid
-
No comfort break solution
-
Zipped ankles won't work for some
We highly rated the Castelli Sorpasso RoS women's bib tights (opens in new tab). So much so that we presented them a covered Cycling Weekly Editor's Choice Award.
On test we found them superbly comfortable. They ticked all the boxes that you would want in a pair of waterproof cycling bib tights in that they provided great warmth, had a very comfortable pad insert and were genuinely water resistant.
The downside was that while the bib tights themselves were more than up to the job of a long day in the saddle, the lack of a swift comfort break option meant that it was a case of all layers off when needing to respond to nature's call: not ideal when it's raining and cold, and more often than not, not in a warm cafe.
Our tester wasn't a fan of ankle zips, but the legendry Castelli Nanoflex 3G fabric more than made up for it with its high level of stretch being partnered with Nanoflex Xtra Dry for a dream team outfit for what is a really competitive price point in the water resistant bib tight world.
Best waterproof cycling bib tights for comfort breaks
Specifications
Material : Polyester mix fabric water and wind resistance
Seat pad: Women's specific
Colours: Black only
Sizes : XXL - XL
Reasons to buy
+
Dropped tail for easy comfort breaks
+
Water and wind resistant front
+
Spray-proof rear
+
High thermal properties
+
Some reflective detailing
Reasons to avoid
-
Loose fit on ankles
-
Magnetic clasp can be fiddly
The DWR treated Rapha Women's Pro Team Winter bib (opens in new tab) tights do a great job of getting you through miserable weather, with one of the most important features for women - a dropped tail. This means that taking a comfort break doesn't require the removal of all your upper half clothing, something that we really missed on the Castelli Sorpasso RoS women's bib tights.
These waterproof cycling bib tights were great at offering front and rear weather protection, as well as keeping you generally warm on cold rides.
The ankle fit could have been better, and the magnetic clasp on the bibs less fiddly, but overall, if you want to keep warm and dry for as long as possible, including when nature calls, you can't go far wrong with these.
Best waterproof cycling trousers or best waterproof cycling bib tights?
When weighing up the options between the best waterproof cycling trousers or cycling bib tights, it's really important to think about the kind of cycling you'll be undertaking in them.
If you're committed to experiencing reasonably short daily rides no matter what the weather, you'll want something robust, that can pack down, which offers as much protection as possible and that you can swiftly get on over your non-cycling clothes.
If you're looking to keep the road spray and drizzle off without overheating, then a good pair of casual water repellent trousers could be just the job.
Alternatively, if you're looking for wet weather protection on longer rides, such as winter club runs, then you'll find that waterproof cycling bib tights, with their tight fit, comfortable seat pad and extra warmth are the ones for you.
Do waterproof cycling trousers stay waterproof?
This all depends on the fabric they are made from and if there is any surface treatment. You'll find that most durable water repellent treatments will wash off after a while and you will need to re-apply a DWR treatment to rejuvenate their waterproofing.
If you're not sure where to start, our pages on the best waterproof treatments for your cycling jacket and how to re-waterproof your cycling jacket are just as applicable to your waterproof cycling trousers or waterproof cycling bib tights.
Best waterproof cycling trousers: what to look for
Cycling cut
When you're riding a bike, you'll be bent over rather than standing upright. It's therefore useful to have a cut that's higher at the back than at the front, so you've got adequate coverage of your rear end, with plenty of overlap with your upper half clothing to stop rain from getting in from above and spray from below.
It's also a good idea to look for waterproof cycling trousers that are wide enough at the knees not to get in the way as you pedal, but tight enough at the ankle not to get caught in your gears. Leg length adjustment is useful to help keep the ends of your trousers out of the way.
Breathability
It's easy to get hot when you're cycling. Since you'll usually be wearing a waterproof top as well as your waterproof bottoms, that means that you can easily get sweaty, particularly if it's warm and humid.
A pair of waterproof cycling trousers made of breathable fabric will let sweat out better, helping to keep you more comfortable as you ride. See our guide to the best waterproof cycling jackets for more on waterproofing and breathability.
Seam sealing
The best waterproof cycling trousers will be seam sealed. That's where there's waterproof tape applied over the seams to prevent water ingress through the stitching. Water entry through the seams is something that can occur in prolonged downpours, with the extra pressure due to your forward movement helping the water to force its way in.
Reflectives
Wet weather makes you less visible to other road traffic, so it's a good idea to have reflective elements on your clothing. They'll come as part of most cycling-specific kit, but may not be present on non-specialist items. It's also worthwhile to use daytime running lights to increase your road presence.
Packability
If the sun does make an appearance on your ride, it's useful to be able to take your waterproof cycling trousers off for a more comfortable experience. If you're on a road bike stowage may be limited to your pockets, especially if you've already got one of the best packable rain jackets for cycling to pack too.
Even if you're using a backpack, you probably don't want half of it taken up by a damp pair of trousers. So the ability to pack small is useful in a pair of waterproof cycling trousers, although a weightier pair might be more durable.
Zips
Leg zips are useful on waterproof cycling trousers. They make getting the trousers on and off a lot easier, without needing to remove your cycling shoes. Plus, some waterproof trousers will have thigh zips, letting you get a bit more ventilation without needing to take them off completely.
Best waterproof cycling bib tights: what to look for
All the above are relevant when looking for the best waterproof bib tights to buy, it's just that your purchase considerations will be coming from a slightly different angle.
Cut
The cut of a pair of waterproof bib tights will be much closer than cycling trousers, mostly because the rider will still be looking for performance more than for total waterproofing.
While these will seem closer to a race fit than trousers, it's worth bearing in mind that even the most advanced wind and water resistant fabrics won't be as flexible and stretchy as simple Lycra, so will have a slightly boxier fit than a standard race cut pair of bib tights, and will often have a weight penalty.
The best waterproof cycling bib tights will have an integrated seat pad too. This is usually the same as the pad found in the brand's bib shorts, so it's worth investing in a pair of tights that do carry it across if you know you get on with it well. Some waterproof bib tights also have a more waterproof pad, which is a really good investment, as a wet seat pad can get waterlogged and really uncomfortable very quickly.
Breathability
Waterproof cycling bib tights will be much more breathable than a pair of waterproof cycling trousers that go over your clothing. Again however, fabric that tends to offer water protection will do so in both directions, so don't expect them to be as breathable as your regular pair of the best cycling bib tights.
Reflective details
In general, no matter where you ride, as soon as the rain falls, so do the light levels. For us it's a no brainer to have reflective detailing on any waterproof clothing, but watch for how this is applied on bib tights as their stretchy nature can mean iron-on details soon peel off.
Dropped tail
For women this feature will come into its own on your first cold ride that necessitates a comfort break. Without one, you'll find you'll be required to remove all of your upper half first, meaning that no matter how well performing your waterproof jacket or bib tights are, you'll quickly be soaked to the skin unless you're in a dry cafe.
Paul started writing for Cycling Weekly in 2015, covering cycling tech, new bikes and product testing. Since then, he's reviewed hundreds of bikes and thousands of other pieces of cycling equipment for the magazine and the Cycling Weekly website.
He's been cycling for a lot longer than that though and his travels by bike have taken him all around Europe and to California. He's been riding gravel since before gravel bikes existed too, riding a cyclocross bike through the Chilterns and along the South Downs.