Best waterproof and breathable cycling trousers 2023: a round up of bicycle pants for commuting
Our pick of the best waterproof and breathable cycling trousers to protect your lower half when commuting and riding in wet weather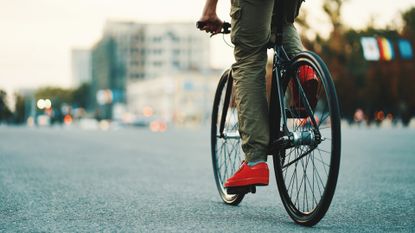 (Image credit: Getty Images - Yonatan Firdaus / EyeEm)
Best waterproof and breathable cycling trousers 2023: Jump menu
The best bicycle commuter pants and waterproof cycling trousers will help keep your bottom half drier on wet weather rides. Equally, there are also offerings that are designed for drier weather and the ability to perform when you're off the bike.
We've rounded up and updated our pick of bottoms for the all-season cyclist and commuter to include pants that are designed to keep you dry, ensure you're comfortable and help you stay seen in low-light conditions.
More information on what details to look for in a pair of cycling pants / trousers can be found at the bottom of the page. Up next are our top picks of the best-performing options we've reviewed. If you're interested in the best commuter cycling shoes, best commuter pedals, or the best commuter jackets - we've got guides covering all those products, too.
The Quick List
Best waterproof cycling trousers: Our picks
Best lightweight pants
Best lightweight, packable trousers for long or short legs
Specifications
Material: 100% Nylon
Waterproof finishing: Polyurethane
Waistband: Elasticated with toggle drawcord
Ankle: Single Velcro adjuster
Sizes: XS-XXL with short, reg, long leg length
Reasons to buy
+
Lightweight and packable
+
Decent reflectives
+
Good protection in wet weather and cold conditions
+
Three leg lengths in each size
Reasons to avoid
-
Very thin fabric may lack durability
-
Not easy to pull on over shoes
On test, the dhb Flashlight did everything well. They offer decent protection in both windy and rainy weather, they have some good reflective detailing, though perhaps not quite up to the standard of Altura's Nightvision trousers, and breathability is as good as any other out there.
Sizing is comprehensive and dhb offers three different leg lengths in each of the sizes available. Not all manufacturers offer this and if you fall into the category of 'longer-than-average', or 'shorter-than-average' leg length, these will be ticking a box for you.
There is only one ankle adjuster with these, so an additional trouser clip might be a good idea to avoid flapping fabric near the drivetrain.
Their most distinguishing feature is their lightweight, packable nature - they took up very little room in our pannier and would easily fit into a rucksack or bar bag. However, this might work against them- fabric is exceptionally thin so wear-and-tear may well set in quite quickly as a consequence.
These are a pair of trousers to consider if you want something with minimal bulk and weight that will perform in a variety of conditions.
Read more: dhb Flashlight Waterproof Trousers full review
Most waterproof
Best for waterproofing performance
Specifications
Material : Waterproof-breathable Artex Hardshell 3L ripstop fabric
Waterproof finish : Seam taped for wind and waterproofness
Waistband: Elasticated waistband
Ankle: Cinch straps keep pant legs away from chain and crank
Size: X-Small to XX-Large
Reasons to buy
+
Very, very waterproof - could wear in a monsoon
+
Good adjustability from numerous straps and Velcro fittings
Reasons to avoid
-
Not made from particularly breathable material
The Showers Pass Transit Pants are a fantastic waterproof option with a relaxed fit, as they're designed to be worn over the top of other clothes. The elasticated waistband is comfortable and even features Velcro fastenings for suspenders/braces - if you're into that!
They're impressively waterproof and kept our legs completely dry through a couple of downpours when riding.
These trousers do not have pockets. The cinch straps around the calf proved extra useful as they kept our tester safe from splash off the road and there are ankle zips to make getting them on and off over shoes a little easier.
The heavy-duty fabric does mean that they're not particularly breathable though and we ended up damp from sweat when worn on dry days.
Read more: Showers Pass Transit Pants full review
Off-the-bike practicality
Best riding trousers for wearing off the bike
Specifications
Material: 94% nylon, 6% spandex
Waterproof finish: None
Waistband: Buttoned with belt looped
Ankle: Tapered, roll to show reflective features
Size: Waist 28-36", two-three leg lengths per size
Reasons to buy
+
Styled trousers that are practical for riding
+
Wear on and off the bike
+
Subtle and styled riding details
Reasons to avoid
-
No water resistance
-
Rear pockets too small to secure a phone
-
Not available in female fit
Rapha's Technical Trousers are a rare beast - practical on the bike and stylish off it. As you'd expect from Rapha these are well-made, great fitting. trousers with some stylish and functional features. There are reflective logos on the inside of the leg, that show when you roll up the cuff for riding, and zipped and button-fastened pocket closures. The narrow leg isn't too prone to getting coated with chain lube.
These aren't full-riding cycling trousers, there's no seamless crotch or waterproofing, the legs aren't tailored for the knee articulation required for riding and the rear zipped pocket isn't big enough to fit some smartphones. Get the trousers wet and they can feel clammy and take a long time to dry, as we found after getting caught in a shower.
Although this makes them less useful on the bike, they look more "normal" off it and the fabric's stretch makes for comfortable riding.
The Rapha Technical Trousers are available in a range of sizes and leg lengths. There's no women's version though.
Read more: Rapha Technical Trousers full review
Most durable
Most durable cycling trousers for all round use
Specifications
Material : Nylon Mini Ripstop
Waterproof finish: PFC-Free DWR
Waistband: Elasticated and adjustable belt
Ankle: Elastic, velcro and zipped
Size : S - XXL
Reasons to buy
+
Durable ripstop fabric
+
Multiple zipped pockets
+
Shorts liner compatible
+
Very comfortable, especially in lower temperatures
Reasons to avoid
-
DWR will need re-coating
-
Not overtrousers
Scottish brand Endura knows a thing or two about foul weather, and its Hummvee II water-resistant trousers are designed exactly to deal with it.
Constructed using Ripstop fabric for durability, these cycling trousers are a great option for anyone looking for water protection across a host of different terrains.
Capable of shrugging off mud and rain, these water-resistant trousers come with an environmentally friendly PFC-Free durable water repellent (DWR) finish, although that will need re-spraying from time to time with one of the best waterproof treatments.
Casual enough to look good off the bike, these cycling trousers also have a seam-free seat, which means that you can ride them without cycling shorts, although they aren't designed to be worn over your non-cycling gear, unlike the Altura Nightvision 3 waterproof cycling trousers, meaning that should you choose to commute in them, you'll need a change of clothes once you get to your end destination.
The Hummvee IIs are compatible with Endura's own Clickfast padded shorts liner and have a Velcro-style ankle closure. This can be a bit hit-and-miss over time if gets regularly clogged with muck, which can mean that the closure can become less effective.
The Hummvees feature several pockets, including zipped hand pockets for off-the-bike usability, handy cargo pockets and a large map pocket.
These aren't the most waterproof option that money can buy, but the Hummvee range is notoriously durable and these trousers are no different - there are a lot of reasons that these multi-use cycling trousers could be all you need.
Read more: Endura Hummvee II Trousers full review
Best multi-purpose pants
Best trousers for a little bit of everything outdoors
Specifications
Material: 88% nylon/12% elastane (main panels); 85% nylon/15% elastane (contrast)
Water resistant: DWR
Waistband: Zip fly, press stud and belt
Ankle: Elasticated cinch
Sizes: XS - XXL
Reasons to buy
+
The stretch of the material gives a good fit and allows lots of movement
+
Features and material means they suit lots of activities
+
Good sized, well placed pockets
+
Small pack size to stash as extra layer
Reasons to avoid
-
Cut and seams around crotch and rear aren't flattering
-
No reinforced areas where wear is higher
-
Press stud waist fastening is small and fiddly
Designed for general outdoor activities, Rapha's Men's Explore Pants don't aim to be fit for just cycling. They're made from a stretchy nylon fabric which gives excellent freedom of movement. The lightweight material is abrasion resistant and DWR treated too so it's water repellent. Plus, the shorter leg length and ankle adjustment means you can keep them away from muddy shoes and filthy chains. As they're not cycling-specific there's not any reinforcement to high-wear areas like the crotch so they won't stand up to regular riding as well as other more dedicated trousers.
There are good-sized zipped pockets on the thigh and deep ones at the front although these aren't so useful on the bike.
We thought that the sizing was small compared to Rapha's other trousers and shorts. We also found the cut of the trousers meant they hung a little awkwardly around the crotch and bum. There's a choice of three colorways and six sizes but no women's version.
Read more: Rapha Men's Explore Pants full review
Most reflective
Best overtrousers for riding in low light conditions, or at night
Specifications
Material: 100% Polyester
Waterproof finish: DWR
Waistband: Elasticated
Ankle: Single velcro adjuster
Rating: 10K/10K
Sizes: 8-18
Reasons to buy
+
Wind and water resistant
+
Excellent reflective detailing
+
3 leg length options
+
Zipped pockets
+
Roomy enough to go over very bulky clothes
Reasons to avoid
-
Pockets don't handle extreme rain
-
Fit may still be too loose for some women
-
Not easy to get on over shoes due to interior gaiter
Altura's Nightvision is the original go-to range to be seen on a bike at night. The large reflective detailing should help make the wearer stand out in low light levels, with beams of light reflecting off the panels across the legs.
Unlike the Endura Hummvee II cycling trousers, these waterproof and windproof cycling trousers pull on over your existing clothing, so they are a great option to have stowed away in your commuting luggage should the weather take a turn for the worse while on the bike or at work.
The Nightvision Women's Overtrousers that we tested don't seem to offer much in terms of tailoring for the female form; expect a very generous fit from these. They will accommodate bulky trousers without issue but petite women will be drowned.
Breathability and waterproofing are both good, keeping you dry in light to moderate rain without causing you to drastically overheat.
If you want a trouser that pulls on over the top of shoes, these aren't the best option; they have an interior gaiter that gets in the way. The gaiter has benefits though; the Nightvisions are good at keeping the cold air out on wintery days.
Two pockets for quick access mean that the trousers are great for not having to open to the elements when trying to get keys/work passes out. However, these are not the best of designs in epic storms; the rain does find its way in.
Read more: Altura Nightvision Women's Over Trouser full review
Best for all-day comfort
Best for all-day comfort
Specifications
Material: 100% polyester
Waterproof finish: DWR coating
Waistband: Drawstring
Ankle: Tapered leg
Size: S-3XL
Reasons to buy
+
Comfortable
+
Warm
+
Casual looks
Reasons to avoid
-
Only lightly water-repellent
-
Rear waistband could be higher
Altura's Grid Softshell Pants certainly give off tracksuit bottom vibes – and they do offer a similar degree of versatility, being highly usable for non-cycling activities such as walking, wearing over shorts as well as their more bread-and-butter commuting purposes.
Made from a DWR-coated polyester, the Altura Grid Softshell Pants are lined with a grid-fleece that is designed to trap heat – and they did an excellent job at that. The Softshell pants also have a decent amount of stretch to them, further boosting the comfort both on and off the bike.
As well as being warm and comfortable, our tester found that the Softshell Pants did indeed offer some protection from light drizzle. In heavy rain, it took about three miles before the fabric ultimately wetted out – although it's worth noting that some water did seep in through the untaped seams before that point.
Regarding the fit, Altura's Grid Softshell Pants are long enough for full coverage with no flapping around the ankles. The drawstring waist is high enough for decent coverage of the small of the back and is simple to secure.
Read more: Altura Grid Softshell Pants full review
Best cycling trousers with shoe covers
Best waterproof cycling trousers with built in shoe covers
Specifications
Material : 100% Polyester
Waterproof finish: 100% Polyurethane
Waist: Elasticated
Ankle : 2 Velcro adjusters
Sizes: S - 2XL
Reasons to buy
+
Integrated foot protection
+
Great price point
+
Wide leg end for pulling on over shoes
+
Eco credentials
Reasons to avoid
-
Body and shoe size ratio needs to work for rider
-
Durability of shoe covers limited
-
Durability of protection limited
Decathlon does the cycling basics at a bargain price and its BTwin range includes some of the best-value waterproof cycling trousers you can buy.
When we tested the 100 City Cycling Rain Overtrousers, the unique, integrated shoe covers, that prevent the rain you've kept off your legs from ending up in your shoes as well as offering protection for your feet from road spray, really impressed. A wide split up the side of the leg end makes these easy to pull on over shoes. You need to make sure that the trousers vs shoe size ratio works for you though. It's also worth avoiding walking too much with the covers on; they are not the most durable.
The overtrousers come with taped seams and have been lab-tested with 60 litres of water per square metre sprayed at them for two hours, which Decathlon says simulates an average downpour. A longer period of testing has proved that this performance quickly deteriorates. However, they are still good for moderate rain.
BTwin says that it's used a more environmentally friendly dying process, giving these some eco credentials.
There isn't the level of reflective detailing which can be found on the Altura Nightvision waterproof trousers, but there are loops for lights on each leg. Again, testing these proved that they are limited- a light with a narrow clip was required.
Read more: BTwin 100 City Cycling Rain Overtrousers full review
Advice for buying waterproof cycling trousers
Do waterproof cycling commuter pants stay waterproof?
This all depends on the fabric they are made from and if there is any surface treatment. You'll find that most durable water-repellent treatments will wash off after a while and you will need to re-apply a DWR treatment to rejuvenate their waterproofing.
If you're not sure where to start, our pages on the best waterproof treatments for your cycling jacket and how to re-waterproof your cycling jacket are just as applicable to your waterproof cycling trousers or waterproof cycling bib tights.