Best waterproof cycling jackets tried and tested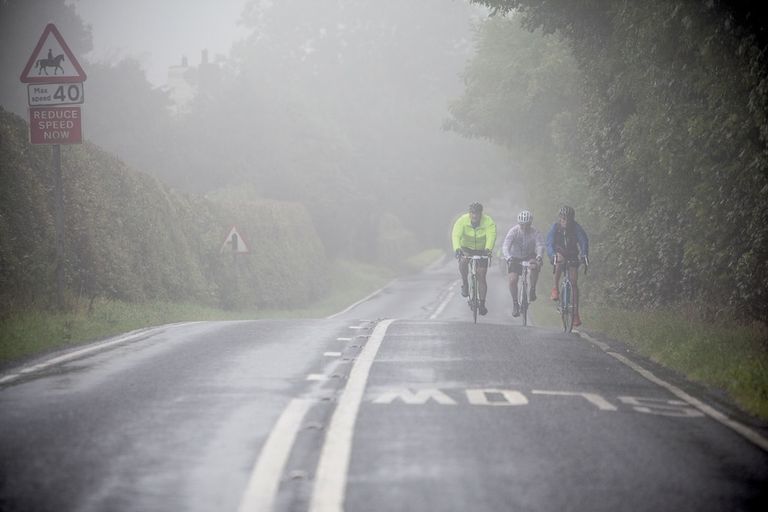 (Image credit: Daniel Gould)
The best waterproof cycling jackets can do far more than the traditional rain cape used to do. With the latest breathable fabrics, riders no longer need to worry about the famous boil-in-the-bag scenario.
Even basic, relatively cheap packable jackets allow sweat and condensation to be transferred from the inside to the outside of their fabric while keeping out rain. The best waterproof cycling jacket will keep you dry through the foulest weather, allowing you to head out of the front door if you've had enough indoor cycling or aren't privileged with the choice.
If you are having leave home in the wet, you might also like our guide on the best waterproof cycling trousers and tights
When it comes to choosing the best waterproof jacket for you, it can be a bit of a minefield with lots of technical terminology to wade through from a huge selection of clothing manufacturers. Below the list of our favourite jackets either because we've reviewed and rated them, or because we know the brand well and it can be trusted to come up trumps time and time again.
There's more information on how to pick your best waterproof jacket lower down, along with these on the way waterproofing, breathability and other featured are graded.
Our pick of the best waterproof cycling jackets
Reasons to buy
+Feels nice against the skin+Fleecy collar+Stretchy+Easy to operate zip+Great fit+Breathable
Reasons to avoid
-Price-Tight cuffs
Available in a men's or women's cut the Le Col Pro Rain Jacket impressed us as one of the most effective waterproof jackets with high breathability.
The men's model fitted close to the skin, with tight cuffs to create a smooth glove to sleeve transition, although we found the women's version a bit generous so would suggest sizing down on your normal choice.
Like most of even the best waterproof jackets, after a while, it'll start to lose its waterproofing qualities, that just means the tangled fibres have loosened up to the point that liquid water can now pass through. To tighten them back up, all you need to do is whack the jacket in the tumble dryer on a light setting and it'll go back to its waterproofing ways.
Reasons to buy
+Very light+Nice slim fit+Good looking+Excellent performance
Reasons to avoid
-Only available in navy
Made from a three-layer waterproof fabric with a DWR coating, as is standard for this type of garment, the dhb Lab Aeron is so thin we found it to be one of our favourite waterproof jacket's for packing down really small, weighing just 103g. Despite this, it's tough and survived a tumble on hardpacked ground.
The fit is skinny, with long arms and narrow shoulders and the collar fleece-lined for extra insulation, which also stops water trickling down. All the seams are taped, the lightweight YKK zip works smoothly and the jacket rounded out by a perfectly judged drop tail which prevents your chamois and lower back from getting soaked.
Reasons to buy
+High visibility+Good waterproofing
Reasons to avoid
-Baggy fit-Doesn't pack down that small
The Firestorm from Altura is a lightweight waterproof designed for easy pocket stowing, suited to those rollercoaster days where mother nature seems to be experiencing serious mood swings between dry/sunny and wet/wild.
What really sets the Firestorm apart is its added visibility. All too often, kit designed for low light conditions come in black – and so this all-over reflective material really sets the offering apart as one of the best waterproof jackets for visibility, a major plus for me.
Sizes range from 8 to 18 in the women's and S to 2XL in the men's. In the size 8 on test, I still felt the jacket was quite baggy – becoming quite flappy in the wind – so a closer fit could be an improvement in future iterations.
Reasons to buy
+Waterproof+Exceptionally breathable+Close fitting+Easy to put on and off on the move+Lightweight+Stowable+Raceable
The Sportful Stelvio is a close-fitting, lightweight stowaway jacket which we found went a long way to reducing the misery of a wet ride.
The price is high — but some of the other stats explain why. This jacket weighs just 156g but comes with a breathability rating of50,000g/m2/24hrs (most come with a rating of 5,000 to 8,000g/m2/24hrs!) and a waterproof rating of 20,000mm. That's pretty darn good. We also found it to be one of the best waterproof jackets on test for taking on and off on the move thanks to the sleeve design.
Reasons to buy
+Very warm+Impressively waterproof+Not clammy
Reasons to avoid
-A tiny bit short on the arms-The price
Ok, so strictly speaking this may not be a jacket, but it's as good as. In wet weather, its water resistance is good enough to keep you dry, with visible beading on the surface rain and road spray literally roll-off. A high collar keeps the wind and chills out while a long tail protects your back from road slop.
Reasons to buy
+Fit+Looks+Wind protection+Water Resistance
Reasons to avoid
-Cold initially due to lack of weight
An Editor's Choice award winner in 2018, the Assos Mille GT Winter Jacket is as much about keeping you at the right temperature when riding in blustery conditions as it is about rain protection. But it does both really well, with a low weight and a mix of fabrics to keep off windchill without getting too hot or clammy.
Reasons to buy
+Extremely waterproof+Very warm+Great fit, especially on the arms+Very thorough finishing touches
Reasons to avoid
-Only available in black-Long tail folds up when riding
Another winter jacket that fends off a downpour too, the Vega Xtreme uses Polartec Windbloc fabric with a built-in membrane and DWR surface treatment for waterproofing plus the insulation for rides down to freezing making it one of the best waterproof jackets for keeping you warm on a really cold ride. The fit is well tailored, so there's no windflap, there's an extra-long tail and enough waterproof storage for all your ride kit.
Reasons to buy
+Lightweight+Breathable+Waterproof
Having been caught in pretty heavy downpours of over an hour, the Rapha Lightweight Shadow jacket actually over delivers it's promises. On test we found it to be probably the most breathable jacket on the market, and even donned it as a windblocker as part of a winter outfit, making it really versatile.
The race fit will appeal to may riders, so too will it's packability. Nice touches such as the reflective elements and the two way zip makes this waterproof stand out from the crowd. It just missed a 10/10 due to the price, but now it can be almost certainly found with money off - it's a no brainer purchase.
Reasons to buy
+Weather protection+Fit+Packability+Breathability
Without doubt one of the best performing full waterproof rain jackets we have ever tested, let alone in the packable category. The Idro 2 uses Gore-Tex Shake Dry fabric to ensure complete weatherproofing, yet a quick shake and it is dry enough to comfortably put back in your pocket. The fit is excellent with plenty of length in the arms and a tall collar. It is very expensive and lacks any additional features but the performance more than makes up for any shortcomings.
Reasons to buy
+Price compared to other Shakedry jackets+Packability
Reasons to avoid
-Fit and comfort-Sealing
Rapha's entry into the Shakedry jacket category actually proves to almost be a bargain compared to its rivals. Our tester had this to say about it lauded Gore's Shakedry fabric for its ability to keep the precipitation the outside, while also preventing the boil in a bag feeling on the inside.
Overall it provides excellent weatherproofing and is lightweight enough to pack into a pocket and forget. The fit could be improved, but most riders will be more than happy to overlook this when the alternative is being soaked - from the inside and out.
Read our review of the Rapha Pro Team Lightweight Jacket review (men's)
Read our review of the Rapha Pro Team Lightweight Jacket review (women's)
Reasons to buy
+Waterproofing+Breathable+Great fit+Manages to make hi-viz chic+Packable
Reasons to avoid
-Cuffs let in water-Two-way zip tricky to operate with one hand
Made from a softshell, Scholl Tex fabric, designed specifically for the Equip RS, the jacket is waterproof as you can get, but also breathable. The hydrophilic membrane is DWR coated, seams are taped and it's race cut design helps keep most of the water out, although the stretch wrist band did let it down when not orientated directly out of rain spray. It's not quite as compact as some of the others on this list, but Swiss jacket will easily stuff into a pocket and the high viz colour options get the thumbs up from us as one of our favouite waterproof jackets.
Reasons to buy
+Wind proof+Water resistant+Featherweight+Small package
Reasons to avoid
-Arm and chest fit
The race fit Santini Scudo windbreaker jacket boasts wind proofing and water resistance in a featherweight package. Ultra-lightweight jacket does have a little less waterproofing than some of the other rain jackets here but still offers 100% windproofing, making it ideal for those days when the weather just can't make its mind up and threatens showers. Packing down to less than the size of an apple, it will fit into a jersey pocket with space to spare becoming one of the best waterproof jackets to always carry with you.
With water simply shedding off the edges, the Scottish brand Endura knows a thing or two about creating weather beating kit and the Pro SL Shell jacket is no exception. It's one of our favourite waterproof jacket's that comes with a hardshell construction rather than a skimpy rain cape, but despite this it proved easily packable, even coming with an elasticated band to wrap it up in, and it fits snugly in a jacket pocket. Great wet-weather jackets don't tend to come in small sizes, so it's impressive Endura has achieved what it has with the SL Pro.
Gore's Shakedry rain jacket tech still rules the roost when it comes to lightweight protection. It's very waterproof, but still breathable and the Shakedry tech really does work, so you don't end up with a heavy, soggy mass in your pocket once the sun does come out.
The features are almost endless, with elasticated cuffs, extra stretchy fabric and even a little pocket at the rear to stuff itself in to for neat stowing, it's easy to see why it's one of the most superior waterproof jacket's on the market. There are so many big deals with the Shakedry rain jacket that it's hard to focus on just one. There's the fact that it's has permanent waterproofing properties, meaning that you don't have to re-apply the DWR protection that 99% of all waterproof/ water resistant jackets come with. Then there's the bonkers 98g that a size small weighs. Oh and did we mention it was also insulated? It's expensive, but cost per wear is outstanding.
Best waterproof cycling jacket: What to look for
Key elements to look for in a waterproof jacket are waterproofing, breathability, fit and packability. The best waterproof cycling jacket for you will perfectly match your priorities for your style of bike riding. We've got in-depth details of all these features below – but as a quick summary:
Waterproofing: There's a big difference between waterproof and water-resistant. Waterproof will normally come with a claimed waterproof rating of at least 10,000mm, be multilayered fabric with a perforated membrane, have taped seams and storm-proof zips. Water-resistant will usually have a Durable Water Resistant (DWR) coating and be lightweight, making it more packable.
Breathability: It's a tricky balance between staying dry from rain and staying dry from sweat. Breathability can also be rated and claimed ratings of above 10,000g will help prevent you from boiling on the inside. Generally speaking, the more waterproof a fabric is, the less breathable it becomes, although there are some expensive exceptions to the rule. Jacket design often takes account of breathability with the inclusion of more breathable fabrics under the arms, or additional ventilation.
Fit: It's horses for courses, or in this case: jackets for jockeys. Fast riding or racing will require a tight-fitting rain cape, which minimizes fabric flap to maintain your aero performance, while slower all-day affairs may be more comfortable with a looser fit for layering up underneath. Other fit details, such as a long tail to keep your backside dry or thumb loops will appeal to some, but not others.
Packability: If conditions are changeable, then it's likely you'll want to be able to stow the jacket in a rear pocket. Waterproof jackets tend to be heavier and bulkier, and don't often pack down small enough for a rear pocket, while water-resistant options can usually be scrunched into a ball the size of a fist. But the technology has come a long way since the original Gore-Tex days, and Gore's 'Shakedry' technology, also adopted by some third parties like Castelli and Rapha, is exceptionally waterproof and very lightweight. Take a look at our guide to the best packable rain jackets if that's better suited to your needs.
What do cyclists wear in the rain?
Clearly the most important thing you want to know about any waterproof cycling jacket is how waterproof it is. There are plenty of jackets out there that claim to be "water-resistant" (usually meaning that they have a Durable Water Resistant (DWR) coating applied to the fabric), but these will only keep you dry through showers and relatively light rain. If you want a proper waterproof cycling jacket for real wet weather riding, then you're going to want something with a little more protection.
The good news is you can get some idea of how waterproof a jacket is by doing a bit of research into any prospective purchase, with an increasing number of manufacturers stating the waterproof rating of their waterproof cycling jackets.
"But what's a waterproof rating!?" we hear you cry. Well, it's basically a number, and the higher the better. The number is calculated on the basis that if you put a 1in x 1in square tube over the fabric, how high could you fill the tube with water before it starts to leak through.
>>> 11 tips for cycling in the rain
For the best waterproof cycling jacket, you're going to want something with a waterproof rating north of 10,000mm, although there are a number of jackets on the market that claim to offer more than this. However, "claim" is the key-word in this sentence, with no central body set up to test these figures, and manufacturers generally doing the testing of their own products.
It's also not all about the fabric when it comes to making a waterproof cycling jacket waterproof, with other features playing an important role. Most crucial of all are the seams. You can make a waterproof jacket out of the most waterproof material in the world, but if you then stitch a load of tiny holes in it, it's not going to do its job very well.
>>> How to dress for wet weather cycling
The solution to this is taping the seams, a process which covers the seams with a waterproof material, helping to keep the water out. All of the best waterproof cycling jackets will have this feature, although some will only have taped seams in crucial areas such as the shoulders and back, rather than across the whole jacket.
The other area where water is likely to get in is through the zip. This is particularly the case if you're riding in the wet in a group, where water is constantly being sprayed up onto your chest by the back wheel of the rider in front. Unsurprisingly the solution is a waterproof zip, which has tightly meshing teeth. It may have a storm flap either on the outside or on the inside too.
Breathability
For all that, probably the major factor that distinguishes a good waterproof cycling jacket from a bad one (or at least a great one from a good one) is breathability. If you're working hard (as we hope you are!) then you're going to be building up quite a lot of heat inside the jacket, so a good degree of breathability will allow sweat to escape.
As with waterproofing, it's possible to put a number to breathability, and again it's a case of the higher the better. In this case the number refers to the weight (in grams) of water vapor than can pass through a 1m x 1m area of fabric over a 24 hour period. So if you have a jacket with a 20,000 breathability rating, 20,000g of water vapor can escape through the fabric in 24 hours.
Dress properly for your winter riding
Again, the best waterproof cycling jacket, you're going to want that number to be more than 10,000 (g), but as with the waterproof rating you should always be a sceptic, with manufacturers carrying out all the testing rather than an independent body, and the testing is for the fabric only.
Fit
As with any piece of cycling clothing, making sure your waterproof cycling jacket fits properly is a crucial part of the equation. However, it's not a case of one size fits all, with different cuts being better suited to different types of riding and riders.
If you're using a water proof jacket for fast rides, such as heading out for the local chain gang regardless of the weather, then you're going to want a relatively slim-fitting jacket which won't flap too much in the wind or descending, holding you back with its poor aerodynamic performance. However, you don't want it to be too tight, just in case you want to add extra layers underneath in really cold weather.
For everyone else, a slightly looser fit might be more suitable, giving the possibility for bulkier layers underneath and possibly greater comfort too, especially if you're using it to for commuting and need to fit non-bike wear underneath. That said, watch for loose-fitting collar and cuffs could also undermine an otherwise very waterproof cycling jacket, acting like a bucked for rain beading off your helmet or sleeves.
Packability
If you're riding in changeable conditions, then packability is an important thing to look for in a new waterproof cycling jacket. If the sun comes out after it's chucked it down for the first two hours of your ride, then you're going to want something that will stuff down small enough to fit in a rear pocket. Don't forget you'll also be packing spares and ride snacks - so make sure you have space for it if you are starting out your ride with it on.
>>> Buyer's guide to the best winter cycling jackets
However, in general, waterproof cycling jackets that offer good waterproof protection are fairly bulky, so the majority will not pack down that small. Although new technology is making smaller jackets ever more waterproof it should come as no surprise that if you want a jacket that will both keep you dry in heavy, persistent rain, and will pack down small enough to fit into a jersey pocket, you'll pay dearly for it. Gore's Shakedry technology is a great example: it's extremely lightweight, highly hydrophobic but usually only comes in the most expensive jackets.
Other fit details such as thumb loops are probably the most common extra feature found on many waterproof cycling jackets. These are designed to stop the sleeves from riding up, creating a gap between the cuffs of the jacket and your gloves, but are a love or hate feature, as some riders find this interferes with radial grip.
To keep your derriere dry from wheel spray it's also worth looking for a waterproof cycling jacket with a drop tail (or bumflap). However this isn't a case of manufacturers just adding an extra bit of material at the bottom of their jacket, and it'll need to have some silicone grippers or other devices to prevent it from riding up. It's also worth considering fitting mudguards for when the temperature drops, rain in the cold is far worst than a summer shower. Fenders will keep the majority of spray off your backside, but consider fitting extra long ones to be courteous to riders behind.
>>> Best mudguards for winter riding
If you're on a long ride, then you're also likely to need to access the rear pockets of your jersey in order to get at any energy bars or gels you might have stashed in there. With this in mind, many waterproof cycling jackets will have some sort of opening at the rear. If yours doesn't then it's easy enough just to lift up the tail of the jacket to access your pockets that way.
>>> Buyer's guide to bib tights
Finally, it's also worth looking for a waterproof cycling jacket that has some sort of soft fabric on the insides of the cuffs and collar. This will really help with comfort, feeling much nicer against the skin than the cold, crunchy material found on the inside of most waterproof cycling jackets.
How much should I pay?
With the advent of new fabric technologies and new manufacturing techniques, wet-weather bike gear has come on leaps and bounds over the past few years, making the best water proof cycling jacket a must-have piece of kit for any rider.
The sky really is the limit when it comes to buying a waterproof cycling jacket, with some options from certain premium brands nudging north of £300 /$400. However, the good news is that you don't need to spend nearly that much to get a great jacket for you.
>>> How to get your bike ready for winter (video)
In general, however, you really do get what you pay for in rainwear, as ticking all the boxes of breathablity, fit, size and waterproofing means some serious technology.
If you're looking just to keep the worst of the weather out while not going flay out, then breathability isn't a massive issue (for example, if you're just using the jacket for commuting to and from work) and are willing to do a bit of shopping around, then you can easily pick up a really good waterproof cycling jacket that will keep you nice and dry for less than £50/ $50.
For something that will offer better breathability, more features, and probably a closer fit, then you are going to have to spend a little more money. You don't need to get the market leader, but expect to spend somewhere between £100-£150 / $120-200 price range, as this will offer a whole host of options without getting you in too much trouble with your bank manager.